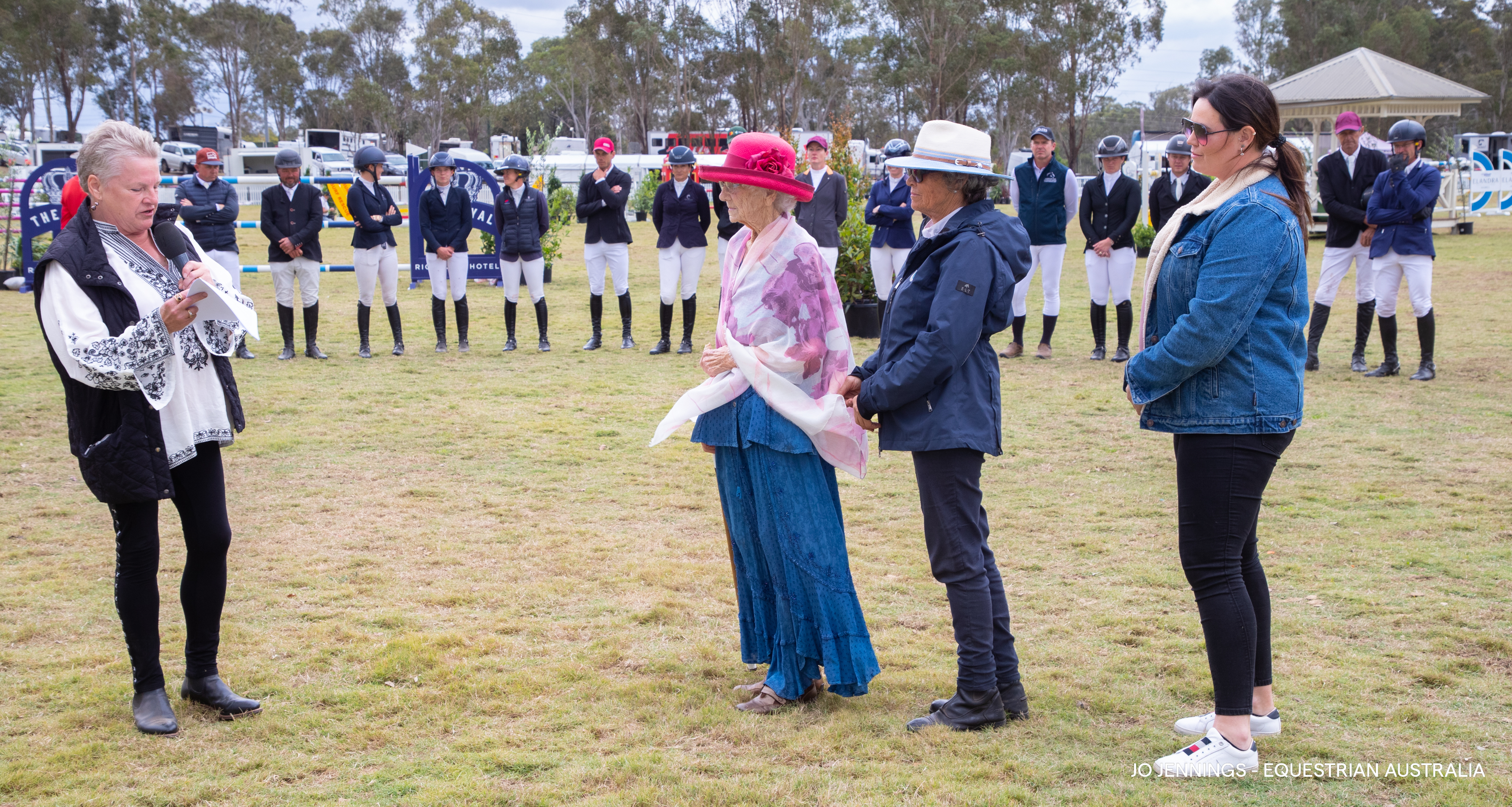 Joyce Brook – 100 Years Young
At the recent 2023 Australian Jumping Championships, competitors, officials and fans took time to share a special birthday celebration with Joyce Brook (mum of Jumping star Colleen Brook) who is about to turn 100 years young.
Joyce was born on the 14th November 1923 (a birthday she shares with King Charles) and spent her childhood on a farm near Coffs Harbour.
With 100 years of experience to share with family and friends, Joyce is the model of aging gracefully and still lives independently, cooking and caring for herself in her home on Colleen's property.  Her daughter said "As I was going out the other day, she asked me if I wanted her to give the horses some hay at lunchtime? Mum still has plenty of spirit and enjoys her life."
EA asked Colleen Brook to help with the background information that honours this milestone birthday for a woman who has been a driving force in Australian equestrian sport and has an outstanding record of achievement to show for her years of passion and service.
Colleen proudly reflected on her mum's full and eventful life.  "Joyce is one 12 children and as part of a farming family horses were always around and mum rode regularly, competing at local shows in every event she could. Her favourite activities were hunting and showing.
During World War 2, Joyce was in the Army, stationed in Sydney. After the war she became a fitness instructor in the Army Police Force.
When the war ended Joyce returned home and met Bob Brook who was a brother of a famous horse rider of the time, Gertie Brook. 
Joyce and Bob married in 1947 and made their home in in Thora, a tiny place with a community hall, general store, church and tennis courts. Thora is 20kms from Bellingen at the foot of the Dorrigo Mountain on the road that leads to Armidale in the New England region.
The couple had three children, two sons and a daughter and both parents supported the endeavours of their family in every way they could. All of the Brook children rode horses when they were young and Geoffrey, the eldest went on to become a pilot, loving his experiences with Lear Jets. Stephen developed a fondness for horsepower of a different kind and was a very successful racing car driver.  As most horse lovers know, Colleen Brook enjoys an enviable career in showjumping and her contribution has made an indelible mark on the sport.
Colleen regretfully added, "Sadly, Geoffrey passed away in April this year and has left his loving family with a wealth of treasured memories."
Joyce was a member of the Bellingen Show Committee and active in many other sports over the years.  She was in the first group of Pony Club Instructors back when the PC movement started in NSW.
The family moved to Sydney and Joyce gave her knowledge and time to Pony Clubs in Zone 19. Joyce and Bob became interested in Judging and Course Designing and they both worked hard to achieve Level 3 accreditation.  Bob and Joyce Brook loved their involvement with equestrians and this saw them travelling to many of the eastern seaboard shows and eventing competitions, giving to the sport that meant so much to them.
Equestrian NSW presented Bob and Joyce Services to Sport awards for their contribution to Eventing and Showjumping.  The couple have been honoured as Local Sporting Heroes earning a place in EA's National Hall of Fame for their Services to the Sport.
Colleen tells, "Joyce and Bob loved to sit and talk rules.  Sometimes their discussions became spirited, but always a respectful quest to understand and apply the rules as fairly as possible. Joyce was often heard saying "Know your rulebook, or at least know where to look!" "
"Sadly, my dad Bob passed away in 2011, but Joyce continued to judge right up until the Covid Pandemic in 2020.  She took the responsibilities of judging very seriously and was always early to arrive and the last to leave, just in case there were protests."
 Joyce has 4 grandchildren and 3 great grandchildren with Colleen's daughter Elizabeth Koob carrying forward the family's equestrian legacy, no doubt with the guidance of her famous mum and a lifetime of experience passed on by her legendary grandma.
Happy birthday Joyce Brook, you are an inspiration to us all.