The lowdown on long-weekend equestrian action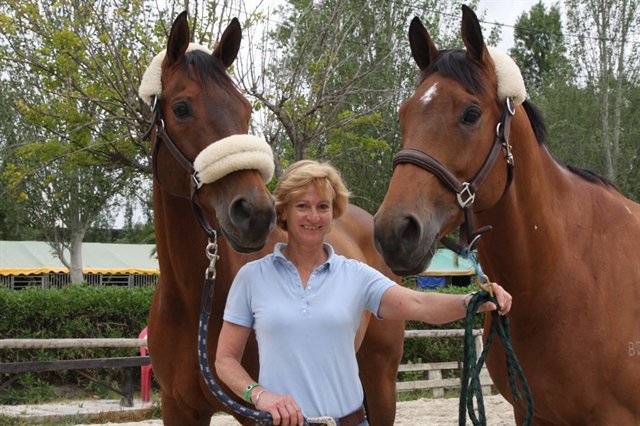 Alison Rowland with Bickley Brook Bella (l) and Bickley Brook Bianca (r) 
walking early this morning in Lisbon.
There is plenty of equestrian action coming your way this long-weekend and there are Australians in action both here and overseas.
Locally, the focus is on the 56th annual Melbourne International Three Day Event which begins today.
Among the 27 starters in the CCI3* are Olympians Shane Rose, Megan Jones and Sonja Johnson.
Jones and Rose will both compete on horses which will make their CCI3* debut - Jones with Flowevale Maserati and Rose with CP Qualified - while Johnson, who has made the trip from WA, is pairing with the 11 year old Belfast Mojito.
There are also seven Victorian riders in the line-up and each will be aiming to become the first local rider in nine years to win the title. Not since Emily Anker in 2004 has a home state rider won the 3* event. Emily's husband Will Enzinger could be the one to break the drought and has two horses in the mix - S Jamaimoand Ruban Son.
For more news, draws and results visit the MI3DE website http://www.equestrianvictoriaevents.com.au/Melbourne3DE/
Abroad, Australia is one of 11 nations represented at the Furusiyya FEI Nations Cup Jumping event at Lisbon (POR) and the team of Alison Rowland, Rory Hovell, Olivia Hamood and Evie Buller has drawn ninth in the order to go.  http://www.feitv.org is live streaming from Lisbon and coverage begins at 2:55am AEST.
Team member Alison Rowland enters the event in fine form having recently won the CSI3* Grand Prix at La Bossier (FRA).
"Bella was fantastic at La Bossier and the win was very positive for our team program.  The mare didn't touch a fence all weekend. It was actually a pleasant surprise to win.  We were last to go in the jump-off and I knew I could be faster than the English rider.  We took the same lines but were tighter in the turn backs than him and fences all stayed up. She was very easy.
"Since then we have travelled to Lisbon taking three days to get here.
"We arrived early enough so that we had a few days to recover. The horses travelled well and we came as a team with Rory Hovell, Sara Isbister (who is competing at this event as an individual) and Oliva Hamood.  We met with Evie Buller along the way in Palencia on the second night and made our way down to Lisbon.
 "We have spent the last two days training with Gilbert Boeckmann which was a very good freshen up for all of us leading into the Nations Cup event," Alison said.
Meanwhile the 2013 Longines Global Champions Tour resumes this weekend and has some of the world's top riders returning to the Olympic city for the fourth round of the series. Edwina Tops-Alexander is one of three Australians competing over the weekend and is currently sitting in 7th position on the overall leader board.
You can watch the Global Champions Tour on Eurosport on Foxtel or via live streaming on the GCT website http://www.globalchampionstour.com/