Mary Hanna wins Boneo Park CDI3* GP Freestyle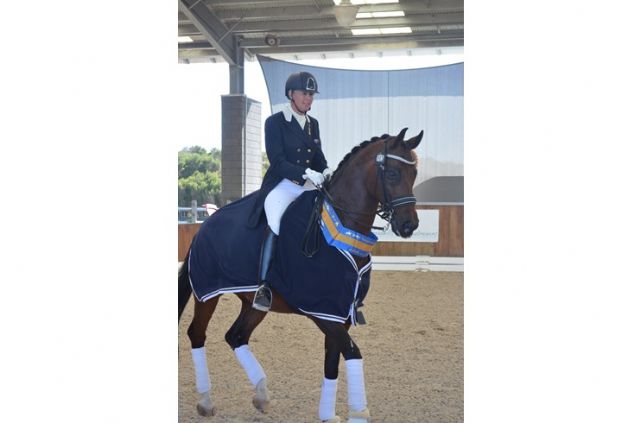 Rozzie Ryan had the Grand Prix treble within her sights after winning the Grand Prix and GP Special at the Boneo Park CDI3*, but a standout performance from Olympian Mary Hanna in the GP Freestyle put a halt to Ryan's clean streak.
Hanna and her Olympic mount Sancette were awarded a score of 71.625% for their freestyle test and finished ahead of Heath Ryan and Regardez Moi who were in second with a score of 70.725% and Rozzie Ryan and GV Bullwinkle who were third with a score of 69.875%.
Hanna's mount will now enter quarantine in preparation for his trip to Europe where the pair will contest the FEI World Cup Final for dressage in Lyon, France. The combination secured its position in the final after winning the Pacific League World Cup Final at last year's Saddleworld Dressage Festival.
The Freestyle capped off a successful three day event which received high praise from both riders and spectators.
Full results from the Boneo Park CDI3* are available http://equiscore.com.au/?page_id=1001
24 January 2014
Rozzie Ryan wins Boneo Park CDI3* Grand Prix
Rozzie Ryan produced a commanding performance in Friday's Boneo Park CDI3* Grand Prix to take out Australia's first major dressage title for 2014.
Ryan and her mount GV Bullwinkle were the standout performers on the day scoring 69.48%. They finished ahead of the London 2012 Olympic combination of Mary Hanna and Sancette which earned a score of 68.76%.
Caroline Wagner and Tango V rounded out the top three with a score of 67.84%.  
For riders vying for the position reserved for an Australian based combination on the World Equestrian Games (WEG) long list, today Grand Prix's was the final chance to post a strong score.
Confirmation of the best placed combination following today's Grand Prix to follow…   
Also on Friday, the second of three Para-Equestrian WEG observation events got underway with Paralympic gold medallist Joann Formosa the standout performer of the day scoring 71.80% in the Grade IB team's test.
Other Para-Equestrian winners on Friday include Morgan Webb-Liddle (grade 1A), Danielle Weymark (grade 2) Lizzie Sobecki (grade 3) and Kaye Hannan (grade 4).
Full results from all day one events are available HERE
Para-Equestrian riders will take to the arena again on Saturday to compete in the Individual Championship Test with Grand Prix dressage to resume on Sunday with the staging of the Freestyle.  
For more news and results please visit the Boneo Park CDI3* website.