National Volunteer Week - Change Maker: Karen Herald
Linda Laing nominated Karen Herald as a Change Maker to be recognised during National Volunteer Week.
Her nomination was so detailed, we felt worthy of a article!
It's remarkable, the impact that one person can make with their contributions - what an amazing woman!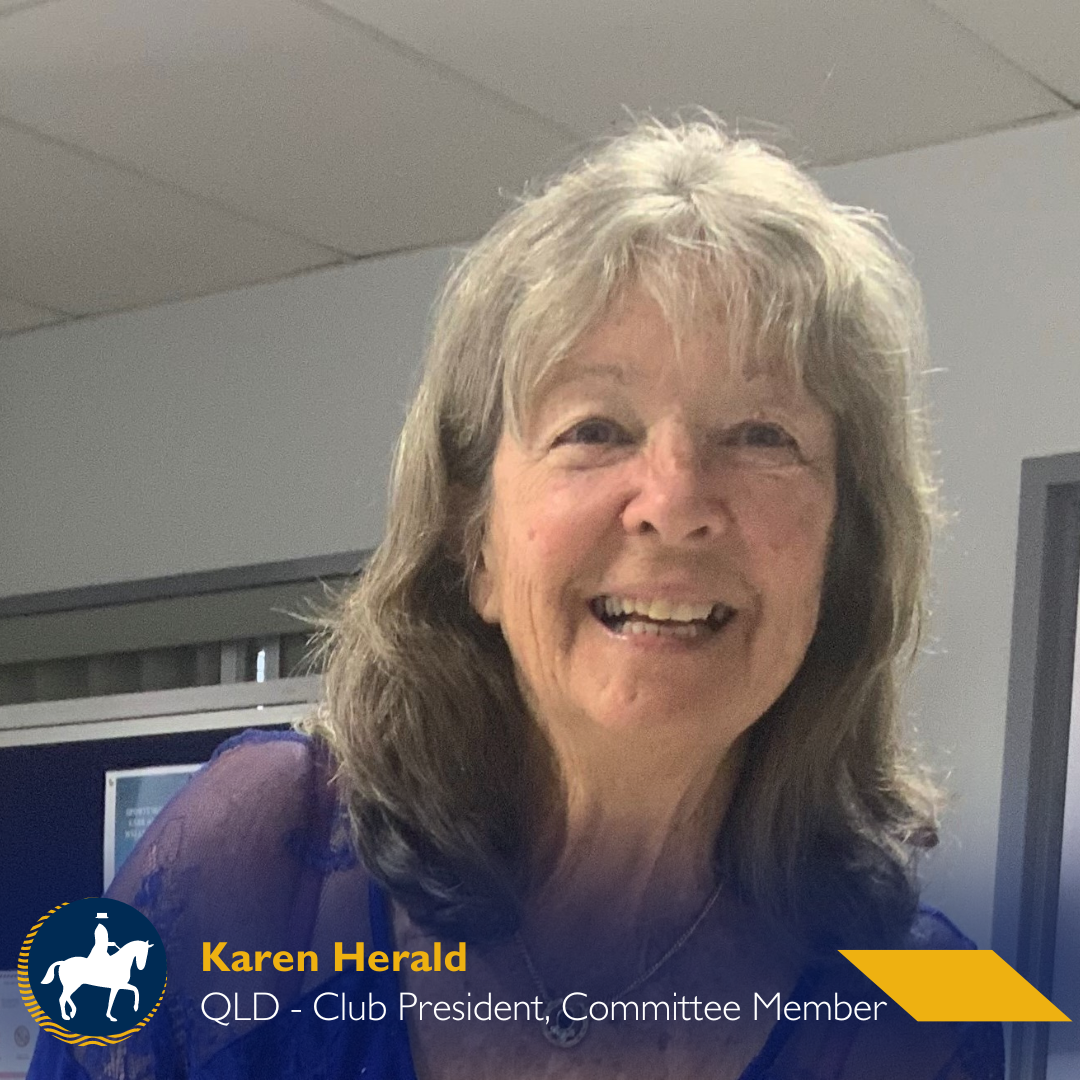 Here's what Linda wrote about Karen
Karen's real success comes from managing Caboolture Dressage Group (CDG) (one of Queensland's most prestigious dressage groups). She encourages people to participate, improve skills, and develop innovative programs.
As President (2000/2022), alongside her committee, she has led the way to:
Encourage and enable competitors to improve their skills, results, and develop confidence by partaking in regular protocol sessions both at CDG and other clubs.

Increase club membership from 255 (2019) to 440 (2022). • Update CDG governance consistently ensuring the club was current with best practice

Event Director all CDG official competitions

Ensure that all events ran according to EA policy whilst developing a friendly atmosphere for competitors, volunteers, etc

Delivery of successful 2022 Events Calendar to support all riders and horses at any level.

Continuation of coordinating subsidised lessons program using expert coaches for members to support their development.

Under Karen's leadership CDG has run at least 2 judges' seminars each year; pioneering the super G level seminar which enabled participants to be fast tracked achieving G level status in 1 weekend.

Facilitated and coordinated a wide range of sponsorship for events, classes and programs and supported a range of equestrian stakeholders by developing innovative new programs:

"The Summer Series" (held over three events) in 2019 attracting 90 riders; growing regularly by 2021, 170 riders/217 horses riding in 700 tests.

Development of CDG HEROs program –a fresh and innovative volunteer management and retention management program.

Sponsorship and the Summer Series success has made the club financially strong enabling CDG to introduce annual Senior and Junior Rider Sports Development Camps. o Worked cohesively with Racing Queensland to include dedicated classes and activities to support more retired racehorses to participate in Dressage.

Developed a paperless honorarium system for judges and stewards enabling streamline payment (via scan a QR code)

Securing regular grants from $1200- $50000 Karen strives to go above and beyond.
Outside of her role as President, she will work with other clubs to support the delivery of their successful events; regardless of her role as a qualified judge, or official steward, you will always find Karen in the set-up, pack-up, providing mentoring advice and representing as a true role model of the sport (Belinda Burt CDG Committee)
Equestrian Queensland Board (2003-2009)
Chair

Chair meetings, liaison with other state chairs, attend meetings interstate, liaise with EA National Board and with Management & staff of EQ, ensuring all equestrian disciplines were represented fairly at a Board level.
Dressage Queensland (DQ) Committee (approx. 9 years)
Chair

As chair of DQ initiated the Dressage Forum in 2006 which brought all riders, judges, coaches etc together to brainstorm and identify what the Qld dressage riders wanted. This enabled DQ to establish goals and develop the relevant education for coaches, judges and grass roots riders.
Australian Dressage Committee
DQ Dressage Judges Sub Committee (2012 – 2022)

A very active committee that has organised regular seminars, workshops, zoom meetings for judges and candidates, to attend for reaccreditation purposes as well as upgrading purposes and establish:

Judges Buddy system someone wanting to become a judge is paired with a Judge Educator and Judge Mentor which has assisted many judges to upgrade.

Zoom coffee/catch-up session in 2021/22 to assist judges who couldn't travel and felt isolated due to covid enabling participants to discuss problems they encountered.

DQ Organising Sub Committee (2010-2022)

A regular mentor for judges and stewards. "Karen is an avid supporter dressage judge education, always offering and encouraging younger candidates to attain their prerequisites by planning mentors to be available at her CDG shows, giving them access to electronic tablet scoring for free, tabulating and spreadsheeting their results for the mentors" (Maria Schwennesen)
Queensland State Squad Selector 2017 – current
Administrator/Volunteer at Interschool Events (2018 – current)

Technical director 2018 Interschool Nationals held in Toowoomba 2018; and last 4 State Interschool Championship, regional championships and other interschool events.

Ensured that interschool competitions were run under the EA dressage rules for consistency & fairness by having input into the schedule, the draw, the selection & appointment of judges. This ensured organisers followed EA rules, as well as ensured welfare of horses and safety of riders.

Removing the impact of bullying by building a friendly, supportive environment using older interschool participants as mentors and support to the younger newer participants.

Continuing Education Karen has continually strived to learn in ways that assist in the development of the Sport

Became an EA accredited judge in 2000 progressing through to a National A level judge in 2013, Para-equestrian judge in 2012, Carriage Driving judge in 2016

Accredited as an FEI Level 1 steward in 2008

Appointed an assistant Steward Educator in 2022 to support the education of National Stewards within Qld

Technical delegate – undertaking this role for many clubs and is happy to drive long distances to help clubs who run Regional Championships As a result of her commitment to ongoing learning and skill set Karen has consistently benefited a range of Dressage stakeholders:

Encouraged and enabled competitors to improve their skills, results, and develop confidence by partaking in regular protocol sessions both at CDG and other clubs.

Ensured all CDG events were conducted with an exceptionally high safety standard, use of accredited stewards, was consistent with the application of EA rules applied fairly to all competitors (regardless of experience) and ensured the welfare of the horse and riders were always maintained.

Volunteered in an official capacity at Queensland Premier Dressage events (eg Brisbane CDI, State and National Championships, Qld Festival of Dressage (when it was run) as well as National events such as National Youth Championships, National Interschool Championships and Australian Dressage Championships.

Regional clubs struggle to access high level judges. However, Karen travels extensively throughout Queensland judging EA dressage, eventing, interschool dressage and pony club events. "Karen Herald's dedication to the equestrian Sport of Dressage and to grass roots clubs in country Queensland, such as Maryborough Active Riders (MARC), can only be described as inspiring and selfless. When MARC approached the subject of holding their first 2** event, it was Karen's down to earth approach and support, answering our many questions that made us feel very much at ease. As TD, judge and mentor Karen has always gone above and beyond…. giving 120%". (Lynne Larkin President MARC)
"Karen's contribution to the sport of dressage spans many many years. Her dedication and hundreds of hours as a volunteer should be recognized." Irene Bakels-Noreen.