Photo credit Julie Wilson
Peachey Leads Australian Reiners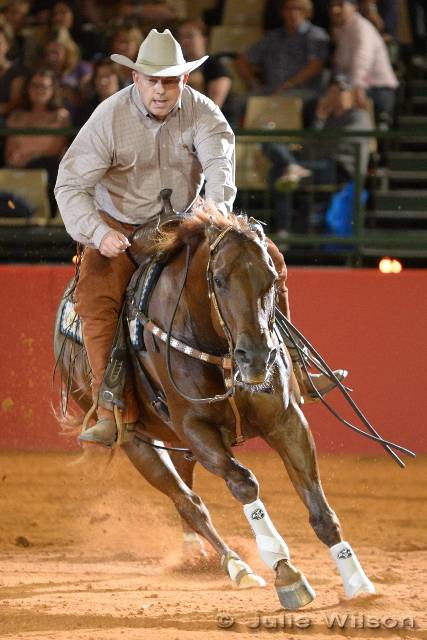 Equestrian Australia (EA) is pleased to announce the appointment of Rodney Peachey to the role of Chef d'Equipe for the Australian Reining Team at this year's FEI World Equestrian Games in Tryon, USA.
Peachey, himself a highly experienced competition rider and trainer, is no stranger to the position having served as the team's Chef since the 2010 World Equestrian Games in Kentucky. He said he is honoured to lead the Australians again in 2018.
"It's an honour to represent my country and have the team support me and want to be part of again," said Peachey.
The New South Welshman is hopeful of a good result for the Australian Reining Team at WEG in September.
"Our effort at WEG in Normandy was unbelievable and we overachieved there so if we can at least equal that it will be great."
"We are a minnow on the world stage and it's hard for us to get a lot of the top horses like the other teams have but with the majority of the athletes in contention for the team being based in the US now it improves our chances greatly as far as horse quality goes," he added.
EA High Performance Director Chris Webb congratulated Peachey on the appointment;
"With the World Equestrian Games just around the corner welcoming back Reining to the EA family is an exciting time for horse sport lovers.  We are happy to announce the appointment of our Chef d'Equipe in Rodney Peachey again for this campaign.  Rodney is highly respected amongst the international reining community and we are delighted he can lead the Reining team to his third consecutive WEG," he said.
Former Reining Australia President and long-serving Board member Susan Camfferman will assist Peachey in the role this year.
The Toowoomba based horsewoman attended WEG in 2010 and was a non-professional rider for more than a decade and has bred and shown Quarter Horses most of her life. She hung up the spurs two years ago to focus more on the administrative side of the sport she loves.
 "I'm really excited and appreciate the opportunity to learn the Chef role. I will be shadowing Rodney and get to know the intricacies and challenges of what the role entails," said Camfferman.