Report from Furusiyya FEI Nations Cup in Lisbon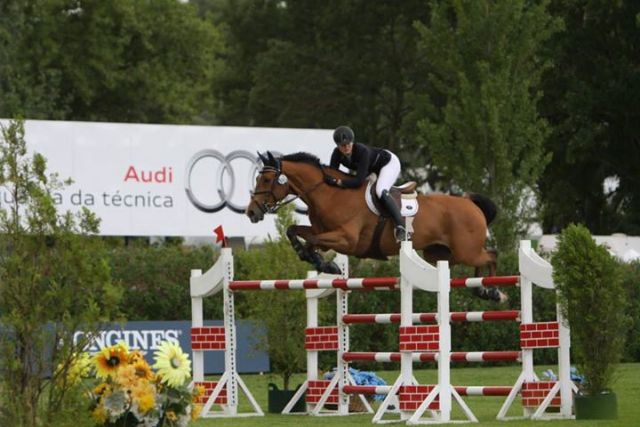 Evie Buller and Yalambi's Landor
The Furusiyya FEI 3* Nations Cup took place in Lisbon, Friday 7th June in the quaint and established setting of the Hippodrome which was hosting their 93rd consecutive Nations Cup competition. A total of eleven teams and forty four riders were contesting the competition at this particularly popular grassed venue highlighted by unseasonably cold and damp conditions.
The course, which was designed by Bernardo Costa Cabral, was constructed up to 1.60m and consisted of 12 obstacles requiring 15 jumping efforts.  A twisting course that asked riders to double back at regular intervals 360 degrees to the next jump also contained a few related distances, in particular to the open water early on in the course and also to the final fence, an oxer after the combination.
Leading the charge in the division 2 league were Sweden (152 points), Finland (141 points) and Norway (139 points).  However none of these nations were present and it was left to Ireland, Switzerland, Netherlands, France, Great Britain, Spain, Brazil, Belgium, Italy and home country Portugal to battle for the points. Although Australia cannot obtain points in Europe Division 2 they have been fortunate to be accepted to compete at this level of competition.
Most mix of Nations Cup teams consisted of experienced riders alongside young aspiring riders and upcoming young Grand Prix horses. over Portugal's leading international course designer Costa Cabral Bernado's tracks.
Accompanied by Chef d'Equipe, Annie Lever, the Australian team was relatively young in terms of horses power and consisted of two of Australia's top young talent who were making their debuts, giving them the opportunity to gain experience at Nations Cup level.
First Round
Alison Rowland who is by no means lacking experience at this level and started as the leading strength of the team riding Bickley Brook Bella. An unfortunate four fences down yet within the time of 79 seconds allowed saw them incur 16 penalties.
Olivia Hamood, aged 20 years, from Queensland, rode second team spot on Glen Haven Eternal Flame. Competing in their first Nations Cup, they put in a gallant effort right until the final treble combination, the last line before home, incurring two refusals resulting in elimination.
Although things didn't go quite to plan, Olivia was quite pleased in the main. "I was happy with her as she is still quite green at this level," commented Olivia. "Up until the wall at fence 10 she felt okay.  She had a foot in the water and possibly chopped her heel then and continued to back off considerably and this may have contributed to our downfall.  To be honest the experience has been very positive with good team spirit and support when it didn't go so well. We will move on now to the next class."
Third out Evie Buller, from Bokal Western Australia, was determined to put prior performance jitters of inexperience water jumping behind her with the eight year old Yalambi's Landor.  The teenager kept her cool even though they had the first fence down, and only incurred 4 further penalties to complete with 8 penalties in total and pleasingly no issues at the water jump.
Rory Hovell braced the team as anchor and achieved an excellent round on Yalambi's Val d'Isere VDL with just one rail at the Longines double felling the first vertical element of fence nine.
"The horse felt really fresh and coped very well overall and he is developing at this level.  It was great having Gillie Bockmann here to warm up and I am looking forward to the Grand Prix."
Rory Hovell and Evie Buller qualified to line up with 60 of the best combinations to compete in the Grand Prix of Lisboa on Sunday 8th June.
Second Round
Despite many nations incurring faults and very few combinations achieving clear rounds, in fact only 7 clears were achieved in the first round, eight teams progressed to the second round with Australia out of contention.
The second round was run in reverse order of team ranking from the first round with the best performed last to go.
Half way through the second round the Belgians were out in front and were never removed from their first position and there was no need to call on World Champion Philippe Le Jeune for a second round.
It was smiles all around for Great Britain to second place with a bevy of young riders making their debut in the Nations Cup events. Third to Brazil who had the experienced Rodrigo Pessoa helming their team.
Belgium grabbed the lead at the top of the Europe Division 2 league table following the Lisbon Nations Cup victory.
Full results and further event coverage is available on the event website http://csiolisboa.com/WP/