Rolex FEI World Cup Jumping season comes to a cloase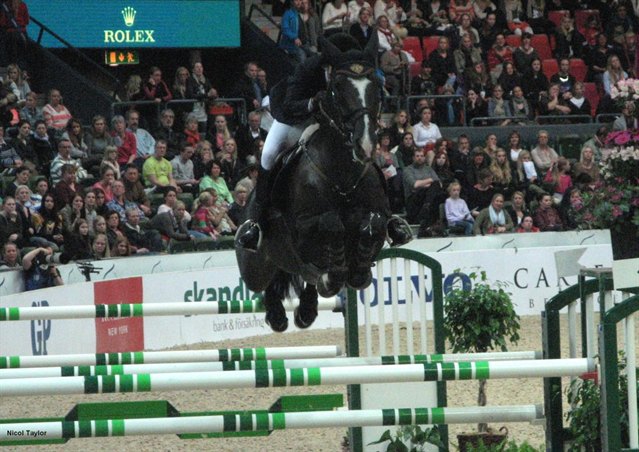 Edwina Tops-Alexander and Ego Van Orti 
At the 2012/2013 Rolex FEI World Cup Jumping Final 
Photograph:Nicol Taylor
The third and ultimate round of this year's Final was held overnight in Gothenburg, Sweden and resulted in Beezie Madden of the United States being crowned overall winner. 
Madden and her mount Simon defeated Switzerland's Steve Geurdat and Nino des Buissonnets in two way jump-off.
Aboard the youngest horse in the field, the 9-year-old Belgian-bred bay gelding Ego Van Orti, Edwina finished with five penalties in each round of the Sunday's final.
Edwina will now turn her attention to the Global Champions Tour and begin her campaign for three straight successive titles when the opening round begins in Madrid this weekend.
27 April 2013
Edwina makes a comeback in round 2 of the Rolex FEI World Cup Jumping Final
Edwina's start at the Rolex FEI World Cup Jumping Final competition was not ideal but she recovered well in the second round with the 9yo gelding Ego Van Orti.
Being first in the ring in front of 20,000 spectators is always a challenge however the combination delivered a perfect clear round - the first of 15 for the event.
The pair finished this second round of the Final in 7th place and moved from 38th position on the rankings to 23rd earning the right to contest the final competition on Sunday. Edwina is delighted with the maturity that Ego showed in last night's class, and is looking forward to the final day of competition.
Olympic champion, Switzerland's Steve Guerdat (Nino des Buissonnets), won the second leg of the Final but it is Portugal's Luciana Diniz and Lennox who hold the lead going into Sunday's deciding competition after the three riders lying ahead of her on the leaderboard all faulted today.
 
26 April 2013
Update: first round results now available! Rolex FEI World Cup Jumping: Watch Edwina Tops-Alexander take on the world's best
Edwina Tops-Alexander didn't get the start that she was hoping for in the opening round of the Rolex FEI World Cup Jumping Final in Gothenburg, Sweden.
Riding the 2004 mare Erenice Horta, Tops-Alexander finished down the order in the first of three deciding competitions after the combination had three rails down.
Tops-Alexander will be looking have another chance to put a good performance on the board when the second round gets underway.
This first round was won by America's Beezie Madden and Simon.
There were 39 starters from 17 countries in the field.
The Rolex FEI World Cup™ Jumping and Reem Acra FEI World Cup™ Dressage Finals, which take place in Gothenburg (SWE) this week, will be live on FEI TV, the FEI's official video platform. The broadcasts will take place according to the following schedule, please note the time :
Thursday, 25 April:
12.00 CEST (8pm AEST) – Reem Acra FEI World Cup™ Dressage Final, Grand Prix
18.30 CEST (2:30am Friday AEST) – Rolex FEI World Cup™ Jumping Final, Competition 1
Friday, 26 April:
18.00 CEST (2:00am Saturday AEST) – Rolex FEI World Cup™ Jumping Final, Competition 2
Saturday, 27 April:
13.15 CEST (9:15pm AEST) – Reem Acra FEI World Cup™ Dressage Final, Grand Prix Freestyle to Music
Sunday, 28 April:
14.00 CEST(10pm AEST) – Rolex FEI World Cup™ Jumping Final, Competition 3