Rose's reign ends, Lyle takes Exhibition Eventing crown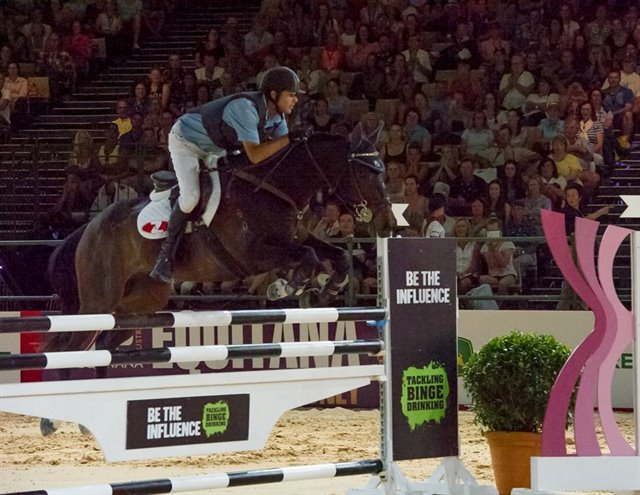 Sam Lyle and Carson Hill 
Photograph:Nicole Bartleet
Shane Rose's reign over Exhibition Eventing came to an end on Friday and it was his close friend Sam Lyle (of Sutton Forrest, NSW) who ended his tenure.
The pair joined a host of Australia's best event riders in Sydney late on Friday to contest the third annual Be the Influence Equestrian Grand Final at the Dome Arena.
Lyle was in seventh position following the dressage phase but with his mount Carson Hill he safely navigated the jumping course without knocking any rails and only picked up a small number of time penalties. No other combination could replicate their performance, including Rose who was the only rider to attempt the joker fence, which he cleared.
Exhibition Eventing is an adaptation of traditional eventing that starts with a dressage phase and ends with a combined cross country and jumping component which takes place within an arena. In the jumping phase, riders are presented with a joker fence which is optional to jump and is set much higher than the other fences. If they clear the fence it wipes off four penalties but if they knock it down eight penalties are added to their score.
Traditional eventing also takes place indoors but today's exhibition eventing final brought the horses and riders inside first time. While it proved a hit for the spectators, the unfamiliarity of competing in an indoor arena proved a challenge for some horses which aren't familiar with the arena atmosphere.
Lyle had the advantage of going late in the order and benefited from the advise of Rose.
"Shane's such a great competitor, he told me to take it easy. A lot of people who went out first went too fast, so I took a cautious approach so I could clear all the jumps.
"Shane is one of my really good mates so it's nice to beat him for a change, he beats me a lot.
"It's great to win a big event such as this," he said.
Rose was undefeated at Exhibition Eventing leading into this afternoon's final and he was on track to win his third successive title when he cleared the very tall joker fence early into his jumping round, but an unusual refusal at one of the skinny cross country jumps cost him in time penalties. He went on to knock another two rails adding a further eight penalties to his score and saw him finish the event in second position.
Third went to Elizabeth Lowery and KL Kismet.
Full results from the Be the Influence Equestrian Grand Final: Exhibition Eventing are available at http://www.equitana.com.au