Phelps Media
Rowan Willis & Everse W, winners of the 2019 Sun Life Financial Derby
The final day event of the of 2019 Spruce Meadows Summer Series was the Sun Life Financial Derby. The riders were still rearing to go and thirty-five horse/rider combinations stepped through the clock tower to take on one of longest, most challenging courses at Spruce Meadows.

First unveiled at the Spruce Meadows 'National' tournament in 1985, the course is more than a kilometer long and boasts twice the number of obstacles of a traditional Grand Prix.  The late Pamela Carruthers (GBR) re-designed her original course in 1990, and up to last year only 21 riders had turned in clean rides over 689 attempts. The derby features every natural obstacle in the International Ring including the ever intimidating Devil's Dyke, the table top, the Double Liverpool and the famous Spruce Meadows Bank.  It a true test of endurance for both horse and rider.

Thirty-five horse/rider combinations stepped through the clock tower to take on the Derby track, looking to make it around with as few faults as possible knowing even 12 faults could result in a top placing. Jordan Coyle (IRL), who was on a roll from the morning's competition, continued his momentum through to the derby and became the 22 clear round ever posted. But it wasn't over. Nicolas Pizarro (MEX), and last year's winner Rowan Willis (AUS), also posted clear rounds. There would be a three horse jump off.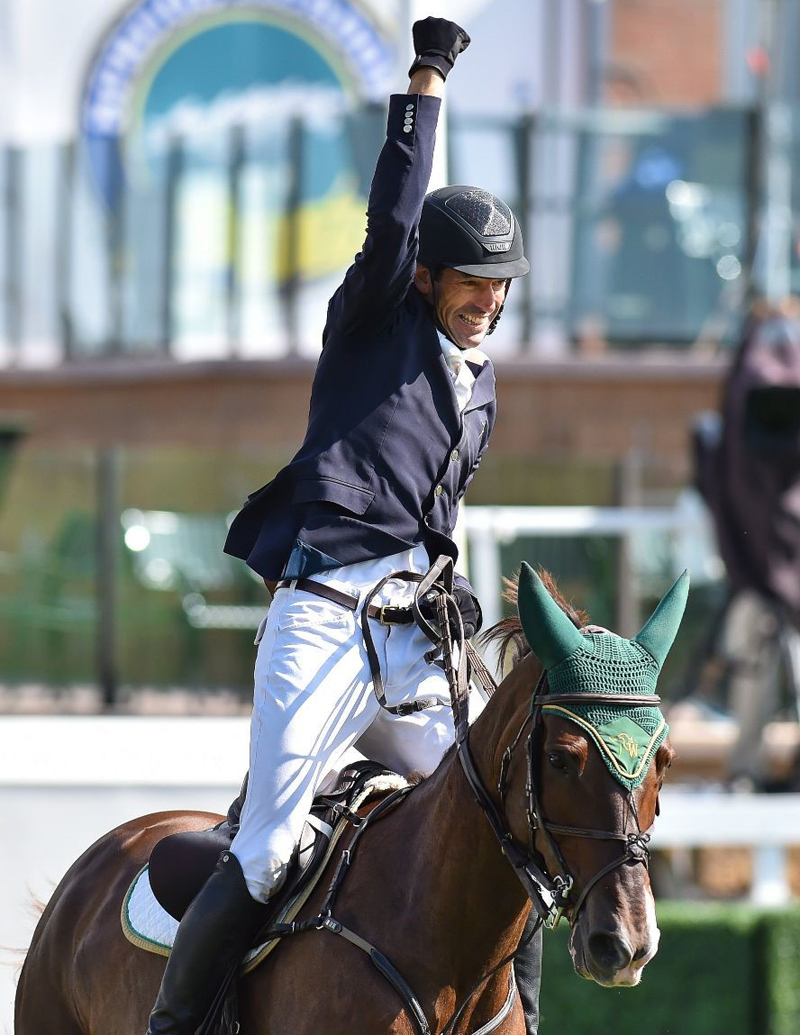 Coyle was first in for the jump off and was clear and fast with a time of 37.16s. Pizarro was next through the clock tower and while he tried to catch Coyle's time, he would have 8 faults in the process. All eyes were on Willis as the final horse in the jump off. Aboard Everse W, his 10 year old Dutch gelding, the pair took all the risks and it paid off. They crossed the finish line with a time of 36.36s and no faults to take the victory.
It was the second time there were three clears in a derby and there have been 24 in total since 1990. This was the final class of the 2019 Spruce Meadows summer series.
"I'm so happy," said Willis, smiling widely. "He jumped fantastic today. With these guys in the jump-off, it was never going to be easy and I was lucky to be last to go. I just had to take a risk to beat Jordan and it paid off today.
"It really suits his style of jumping. I suppose I have aimed for this class for the week. Luckily, it paid off," said the 39-year-old Willis, who whipped through the abbreviated course in a time of 36.36, eclipsing Coyle and Eristov's blistering time of 37.16. Pizarro and Ares took down a couple of rails.
*Supplied by Spruce Meadows