In the Stable with…Rowan Willis
Showjumper Rowan Willis is quickly becoming a household name as he continues to jump into the spotlight on the international circuit. The Australian rider and his spirited mare Blue Movie, better known as 'Carrots', were part of the history making team at the World Equestrian Games (WEG) where they finished in 6th place and qualified Australia for the Tokyo 2020 Olympic Games, the best performance ever by an Australian Jumping Team in WEG history.   
Not one to shy away from hard work and challenging horses Rowan has also earned himself a reputation as a gifted horseman who adapts his training methods to suit each individual horse. This is perhaps most clearly demonstrated in his top mare Carrots, whom he very rarely rides at home.  "Blue Movie is ultra-careful, and that has often been the problem. The less I stress her, the better she is and I don't actually rider her that much. I mainly lead her off another horse, and we do a lot of hacking. Leading her has been a good way to get her to do a lot of fitness without stressing her out" explains Rowan.
We have compiled some of your most burning questions for Rowan; we hope you enjoy this insight into the training philosophy of one of Australia's top jumping riders.
What are some qualities you look for in a horse?
I look for a horse that is athletic, has a really nice canter, but most of all has the attitude to do the job.
What did you find the most difficult when you first became a professional?
I would have to say moving from Australia to England, to the other side of the world, and leaving all my friends and family. 
How do you manage to have such great results with Carrots by not riding her at home?
It helps I have known her for her whole life. It did take until she was 10 or 11-years-old to get her trust and start getting results. Now we have got a system that works for both of us and that suits her uniqueness.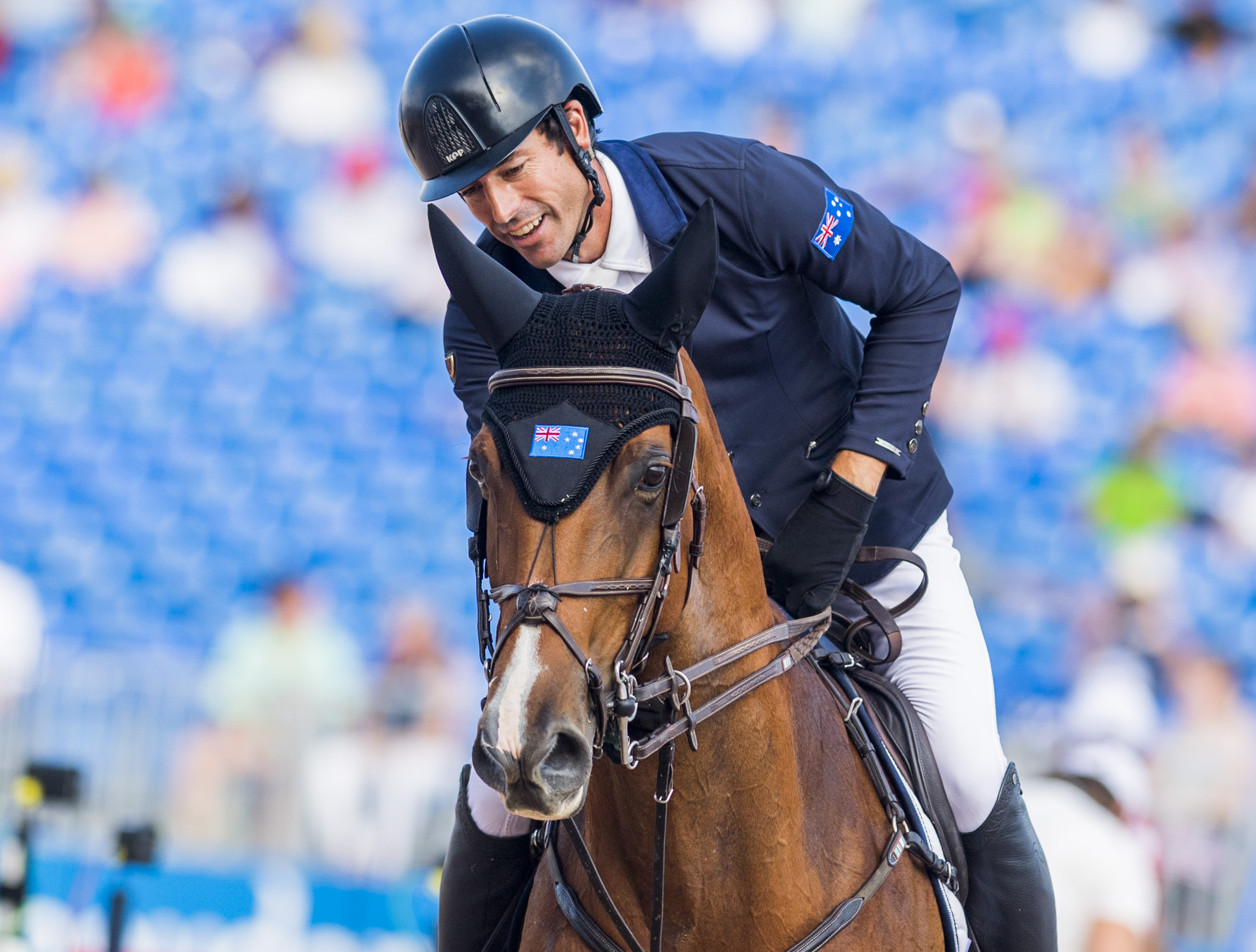 Rowan Willis and 'Carrots' at WEG. Photo credit: Cara Grimshaw
What is the most rewarding experience you have had with horses and riding?
I am very satisfied to have produced Carrots to Grand Prix level after many years of people doubting her, myself included. Now she has proven to the world her ability and has turned out to be the horse I always believed she could be.
How often do you ride at home?
The horses at home get worked 6 days a week with a combination of lunging, schooling and hacking out. 
How often do you get back to your base in the UK?
I try to get back to the UK at least three times a year. Unfortunately that is going to change this year due to Covid-19. When I am in the UK my base is now West of London.
Do you take horses in for training?
I have a select group of clients that I am able to offer training to.
How do you get horse off the leg?
It is not normally an issue I have with my horses but if I do I like to get out of the arena into a good open field and make sure my aides are precise, and to make sure they are fit enough to do the job. I find working them in an open space encourages them to go forward.
Rowan and Carrots competing at the Palm Beach Masters, USA. Photo credit: Kirsty Pasto
Do you use a bridle or halter when lunging?
It really depends on the horse. Most of mine just go in a headcollar but if I am jumping or want to work a bit more seriously then I do use a bridle.
If I don't have a good paddock for the horses to go out in what can I do instead?
You can use walking and hand grazing as well as a good long hack so they are out of the arena and just relaxing.
How to improve lightness of the seat?
To improve the lightness of seat I like to practice at home in a two point position and really concentrate on my lower core stability. I find this also helps you gain a lot stronger lower leg position.
What is your favourite victory so far?
Being part of the Australian Team that qualified for the Tokyo 2020 Olympic Games at WEG in Tryon was definitely a standout moment. As far as the victory, it would have to be winning the 8-year-old Championships on Dory, as I had bred her myself so the win meant a lot.
How long would you work your horses in a typical schooling session?
I like to walk them for 20 to 30mins before I start schooling them and then up to 30mins of work. Then try to finish with 10-20mins of walking just to relax them.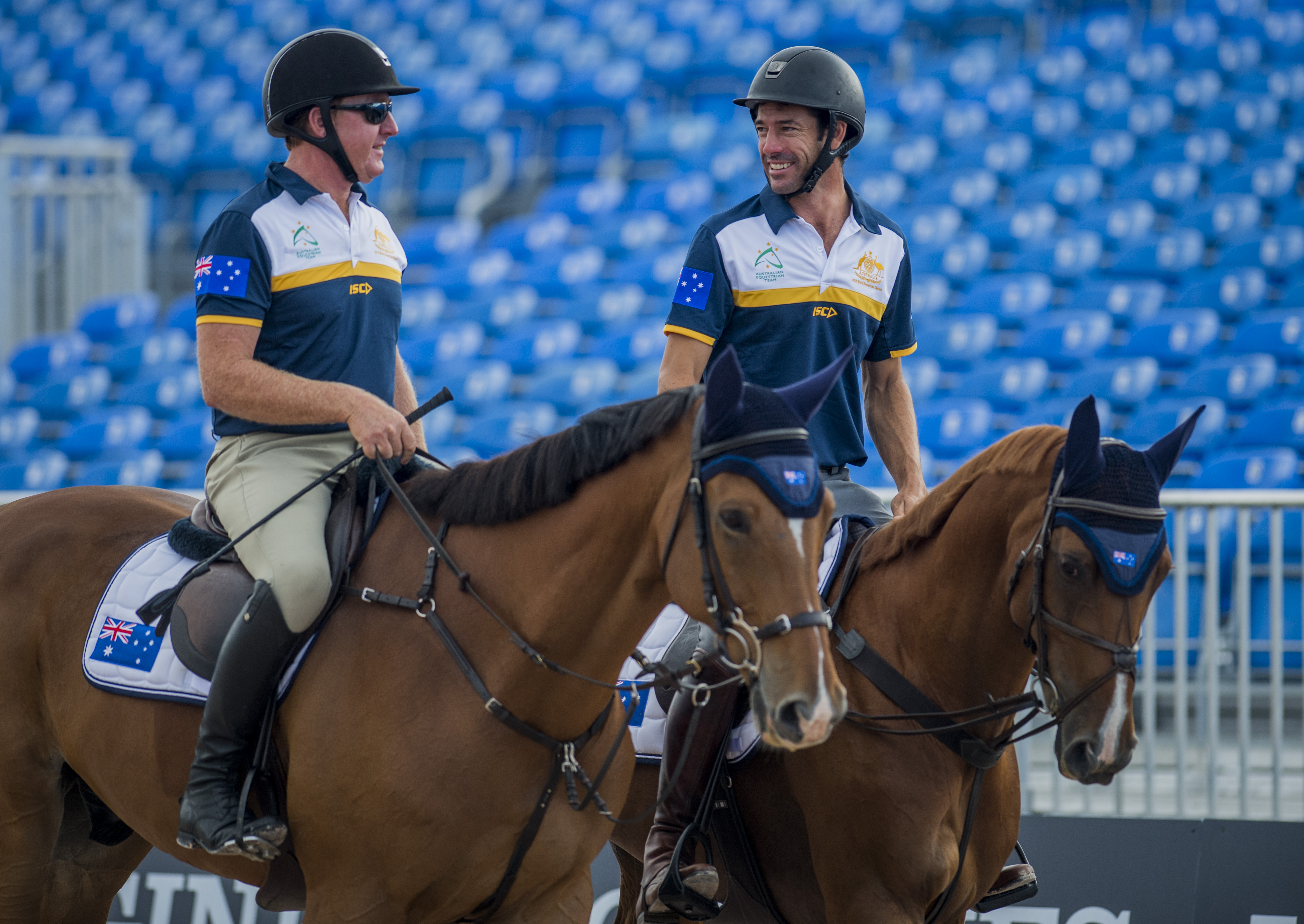 Rowan Willis and teammate Scott Keach at WEG 2018