In the Stable with...Chris Burton
The name Chris Burton is synonymous with eventing glory. The talented Australian rider has amassed a trove of victories across the globe earning the admiration of young riders and professionals alike. The Olympic bronze medallist has also been selected to represented Australia at three World Equestrian Games and prior to the onset of Covid-19 had an incredible six horses qualified for Tokyo 2020. 
In addition to racking up the wins over the course of a stellar career, Chris is also focussed on producing his talented string of horses that look set to be stars of the future. However, amid all the glory the ever-humble Chris keeps his feet firmly on the ground with the support of his young family.
Last year Chris also invested his time in giving back to the Australian equestrian community, acting as a mentor for the EA High Performance Eventing Generation NEXT Squad riders and hosting a number of virtual workshops, offering training exercises, advice, and reviewing the riders individual training sessions.
We caught up with Chris to hear all about his team of horses, his new yard and how he manages a work-life balance.  
How are your Tokyo 2020 plans progressing, considering the distruption of Covid-19?
Originally we had 6 horses qualified. We took the view to have a quieter 2020 with those horses when Covid hit, so they all still need to do a 4*S to re-qualify, we will focus on that at the beginning of 2021 I am so lucky to have such depth at the top end of my team and that is down to having an incredible team of owners. However, it only takes one horse to win a medal and that is what we will focus on. 

You have had some incredible dressage scores this year, have you been specifically working on dressage at home?
We are lucky enough through the EA High Performance Program to be working with Ton de Ridder. I have also been doing quite a bit of ground work and positive reinforcement training with my horses, especially to work on the halt.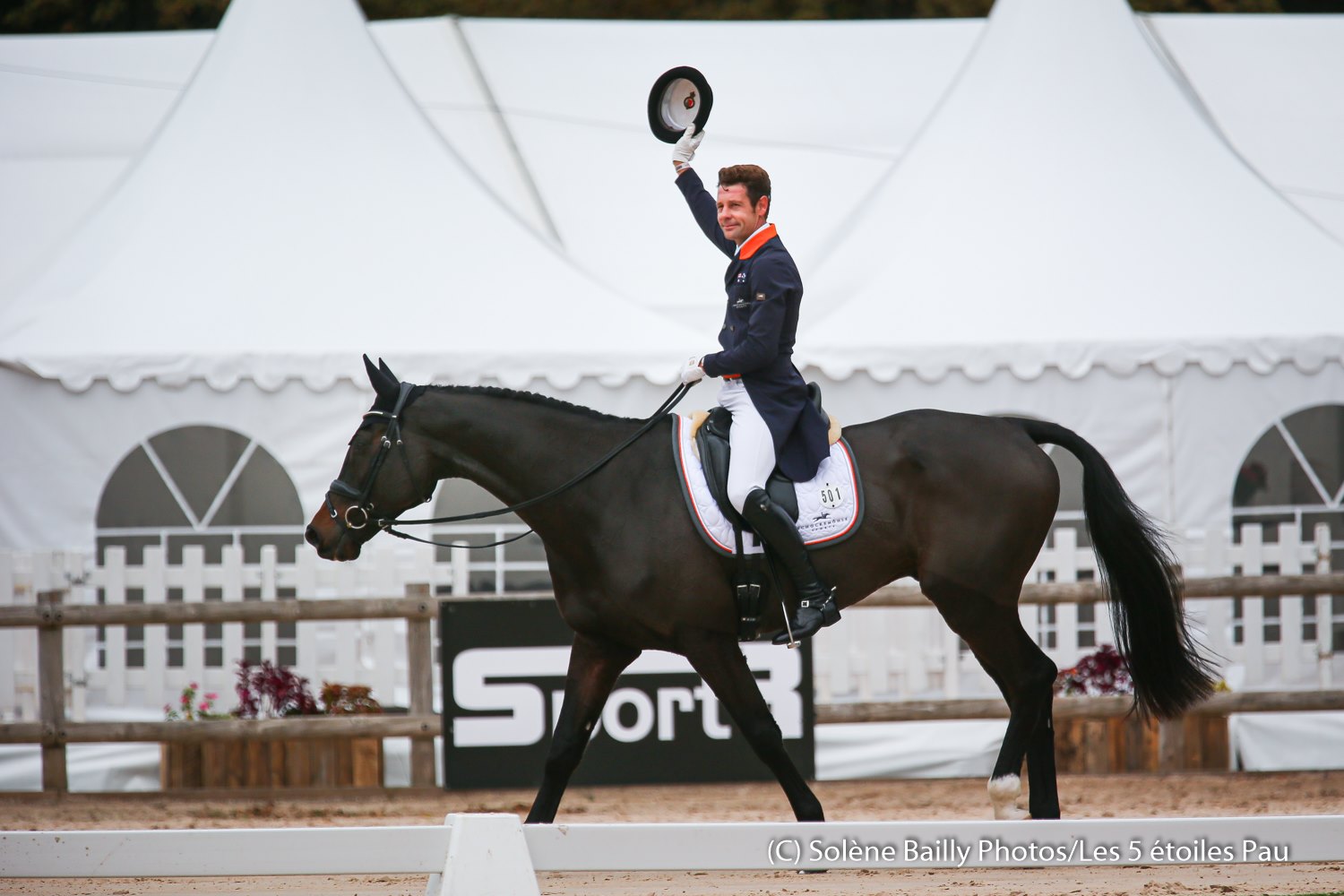 How do you juggle your hectic schedule and ensure a work-life balance?
It is much easier this time of the year when we are not away competing so we catch up on a lot of family time. It has been a really nice off season. Our boys are still young so we take them to most of the competitions. They love it and Harry is old enough now that he really takes in the fun of a trip away and has some great little friends on the circuit. I love having them there, it is a nice distraction from the pressure of the competition and an amazing leveller if things haven't gone your way. I will never forget the feeling of disappointment at Kentucky as I walked out of the showjumping arena having just had 2 rails on Nobilis and I saw Bek and Harry and it just disappeared. We live on the yard and that really helps as I can come in and have lunch with the family, not many working parents have that luxury. 

How important is good horsemanship in eventing and what is your relationship like with your horses? 
Horsemanship is everything. It is a tough sport and your horses need so much confidence in you. For me, I think it is important to be clear in your training, a horse cannot have confidence if it is confused. The key aim in all my training is to be able to communicate with my horses with the very lightest of aids, I basically want to be able to think about slowing down on cross country and have them respond. I think this is really important for safety of both horse and rider. Horsemanship also extends to the care of the horses, I am very involved in the management of my horses and I work closely with my team with all things from feeding, farrier, grooming and understanding what makes each individual horse happy. We are really proud of how relaxed and happy our horses are. 

Looking back can you reflect on what it was like when you first moved to the UK to pursue your eventing career?
It was a huge life decision, I arrived here with an incredible team of horses and I will always be so grateful to all those owners who supported me in the move. I will always be very grateful to Sam Griffiths who took me in and gave me so much advice on managing my horses and choosing the right competitions. I could not have done it with out him. I was also very lucky to have Bek come into my life shortly after. I had a good business in Australia before I left, but the first few months in England were more focussed on competing rather than setting up a business. Bek stepped in and took over that side of it, letting me focus on competing and we are so proud of the business we have grown together. We always look back to that first year where we were paying feed, vet and farrier bills and then having to make sure there was enough left for groceries. We are so grateful to our owners, sponsors and staff who have helped us along the way.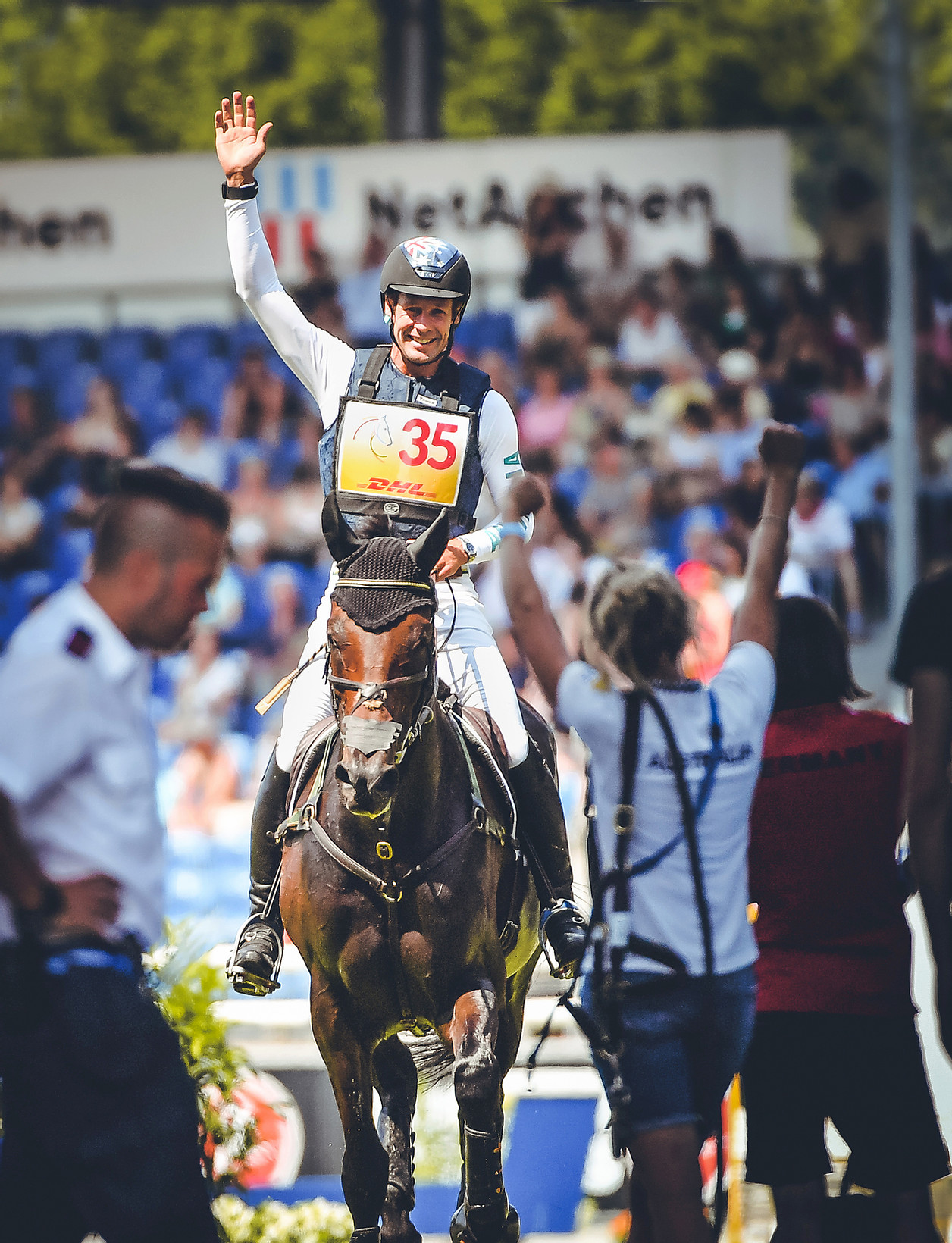 You recently moved to a new yard, can you tell us a bit about that? 
Yes funnily enough we are back in Dorset where we started and we love it. We are so fortunate to have come into contact with Dr Geoffrey Guy and Kate Guy who own the yard. Dr Guy wanted to set up a centre of excellence and we have been helping with the design of the yard and its facilities. I never dreamt of being able to train in such amazing facilities. We have dedicated arenas for each discipline and each has a carefully choses surface suited to training that discipline. A cross country schooling field complete with 2 water jumps, ditches, banks and lots of portable fences. Amazing hacking for our hill work, a therapy centre with aqua treadmill and vita floor as well as two inclining treadmills. 
London 2012 was your first Olympic Games, what was that like for you, and looking back how have you developed since then? 
The Olympics are so unlike any competition we do and that was actually quite a big adjustment for me at London. I was fortunate enough to have Shane Rose advise me that the best thing to do is to 'go with it'. We normally stay on site with the horses, in the truck with our family and at the Olympics you stay off site at the Athletes Village which can be quite a distance from the venue, so there is a lot of travel and team organisation. It is such an incredible experience in so many ways. The athletes village is full of athletes of so many shapes and sizes from all over the world and it is interesting talking with other athletes about their sport. We wouldn't often get the opportunity to do this. And the competition itself is so incredible, it makes you so immensely proud to be Australian and you just get such an overwhelming sense of the country you are representing.