Tomkinson and Diamantina IV named DJWTS Champions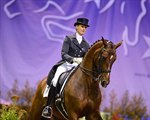 In one of her final performances before leaving Australia for Europe, Maree Tomkinson has produced outstanding results, broken her personal best and debuted on the 2014 Be The Influence Leader Board at the annual PSI Dressage and Jumping with the Stars CDI-W held in Werribee over the weekend.
Maree Tomkinson on her Oldenburg mare Diamantina IV achieved a personal best score in the CDI- W Grand Prix Freestyle with a score of (71.150%), Caroline Wagner and Tango V placing second (69.300%) and Chantal Wigan in her debut competition for 2014 finishing in 3rd place with (68.500%).
It was a similar story in the CDI-W Grand Prix with Maree placing first with a score of 68.760%, followed by Wagner in second with a score of 68.660% and Wigan in third with a score of 66.320%.
The 2014 Be The Influence Equestrian Grand Final Leader Board for Dressage welcomes some new additions after the weekend's results with Maree and Diamantina IV debuting to 4th place, whilst Caroline Wagner holds onto her top position with a score of 72.725%. Chantal Wigan along with Fiona Selby also have also earned prominent places on the board.
Maree and Diamantina IV as well as Caroline Wagner and Tango V intend to head to the next Be The Influence Equestrian Grand Final Qualifier for Dressage held at The Sydney CDI from the 1st – 3rd May 2014 at SIEC.