Top 10 thrash it out in crucial stage in the 2013 GCT series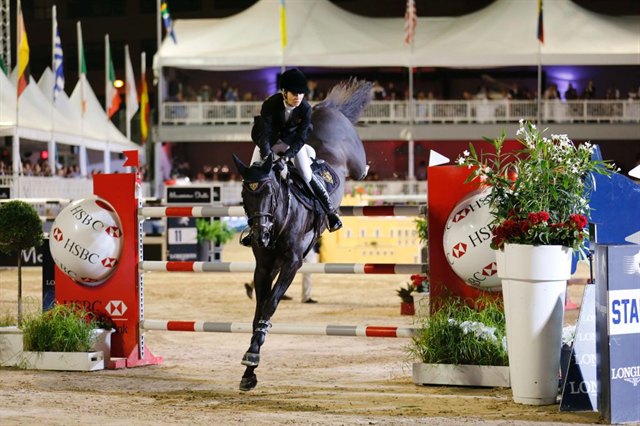 Edwina Tops-Alexander and Guccio third at the 2013 Monaco GCT 
Photograph:Stefano Grasso/GCT3
The temperature is set to soar in Estoril as the fight for the top of the ranking intensifies as the world's best riders breeze into town for the seventh leg of the championship series.
With temperatures heading for the high 90's at the weekend, riders will need to keep an ice cold focus to triumph in the Longines Global Champions Tour Grand Prix of Portugal on Saturday evening. The stars of world show jumping are here in big numbers including Christian Ahlmann, Nick Skelton, Ludger Beerbaum, Rolf-Goran Bengtsson, Edwina Tops-Alexander, Meredith Michaels-Beerbaum, Kevin Staut, Ben Maher, Denis Lynch, Gerco Schroder and top Portuguese rider Luciana Diniz.
Laura Kraut will be fighting hard to hold on to her overall lead on 132 points. Christian Ahlmann (124 points) and Edwina Tops-Alexander (123 points) will be ruthlessly piling on the pressure in the big 1.60m class with a €285,000 prize pot. Riders will have to switch from the small sand arena at Monaco last weekend to the more spacious grass showground on the Portuguese Riviera. One of the hall marks of the Longines Global Champions Tour is that only the best riders can win the overall season as they must be able to master arenas that vary hugely in size and surface and also jump by day and night.
In action for Australia at this weekend's event: Alison Rowland, Julia Hargreaves and Georgina Harvey.
This evening's first 5* competition will give an indication of who is on form ahead of the Grand Prix to be broadcast by Eurosport on Saturday night. You can catch all the action via the livestreaming service available on the Global Champions Tour Website:http://www.globalchampionstour.com 
Replays will also be broadcast on Eurosport on Foxtel, visit: http://tv.au.eurosport.com/ and serach equestrian for times.