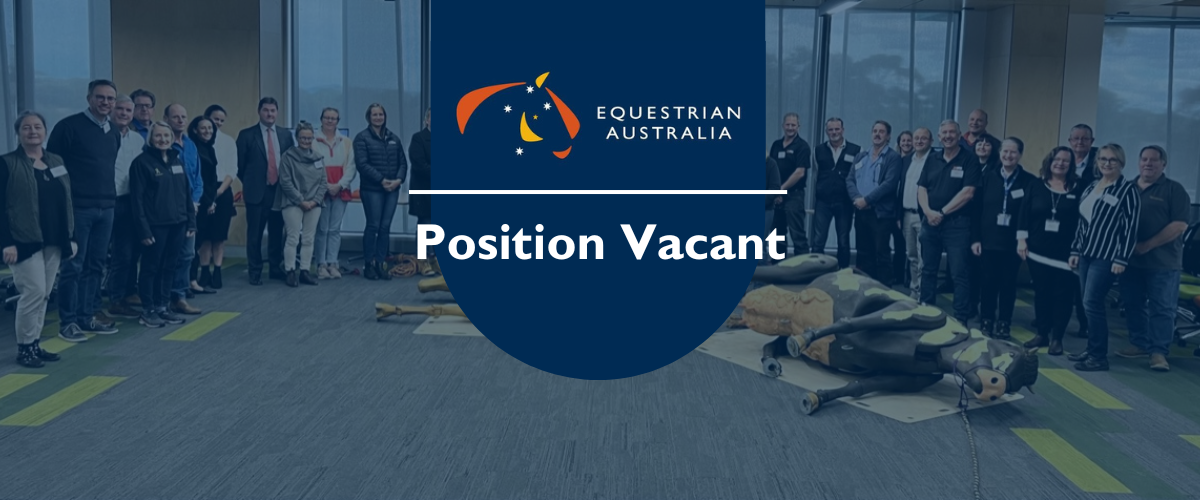 We are Recruiting - National Health and Safety Services Officer (NHSSO)
Join a leading Olympic/Paralympic Sport
Homebush location – Flexible Working arrangement for the right candidate
Optional Part-time or Full-time 12 Month Maternity Leave Cover Contract
Flexible working hours
Equestrian Australia (EA) is the peak body for the administration of Equestrian Sport in Australia. The organisation manages four Olympic / Paralympic sports and four non-Olympic sports. Each discipline carries an inherent level of risk, and EA has appointed a National Health and Safety Manager (NHSM) to oversee that best-practise health and safety risk management processes are implemented for participating members and their horses. The role of NHSM requires a supportive sport operations team and a person who is diligent and capable in assisting EAs NHSM. The NHSSO will work collaboratively with and under the directive of EAs NHSM for all health, safety and welfare sport operations items and projects. Both the NHSM and NHSSO report to EAs General Manager - Sport Operations. 
The NHSSO will be responsible in assisting EAs National Health and Safety Manager (NHSM) in key administrative and projects works for Health, Safety and Welfare in accordance with their skills, sport knowledge and capabilities.
EA is committed to providing a healthy and safe environment for all equestrian sport activities, along with the welfare of athletes and their horses being a high priority. This twelve-month maternity-relief position commencing in February 2023 (start date negotiable) is an opportunity for a candidate who is passionate about health, safety, and welfare to join EAs sport operations team. This role offers the candidate a chance to learn about operations within equestrian sport, develop new processes and projects with the NHSM, whilst interacting with key stakeholders in equestrian such as athletes, coaches, judges, officials, stewards, volunteers, committees, and State Branches. 
If you enjoy horses and the sporting opportunities provided by the human-horse connection, want to engage in sport, learn from passionate people and wish to make a difference in health, safety and welfare, this role is for you. Also, if you have skills in either health, safety or welfare, or combinations of these, this role will enable you to use your creative mind and knowledge to assist the NHSM as a valued member of EAs Health and Safety Team. Our sports community is inclusive and consists of all ages and levels of sporting abilities. This role affords the candidate an opportunity to support equestrian athletes, uphold sport integrity and EAs social licence, whilst supporting the health, safety and welfare of EA participants and their horses. 
Preferred skills:  
Experience in a similar role is desirable
Experience in Health, Safety and Welfare
A good understanding of risk management practices 
Exceptional communications (verbal and emails etc)
Good conflict resolution skills
Excellent administration skills (MS Teams & committee processes beneficial)
Good working knowledge of the principles of sport operations  
Equestrian knowledge is an advantage
Experience in stakeholder engagement
Willingness to:
Work after hours if requested to suit our volunteer committees
Participate in domestic travel and overnight stays if/as required
Gain a Working with Children Check
If you are intested in joining our team as our National Health and Safety Services Officer on a 12 month maternity leave cover contract, please send your curriculum vitae (cv) and cover letter outlining the skills and experience you will bring to the role to the General Manager – Sport Operations [email protected] prior to 3rd February 2023, 5.00pm AEDT.
Please note interviews may be conducted prior to the close of applications, so don't delay.
View the Position Description Here
 National Health and Safety Services Officer PD.pdf