World Equestrian Games in sight for Para-Equestrians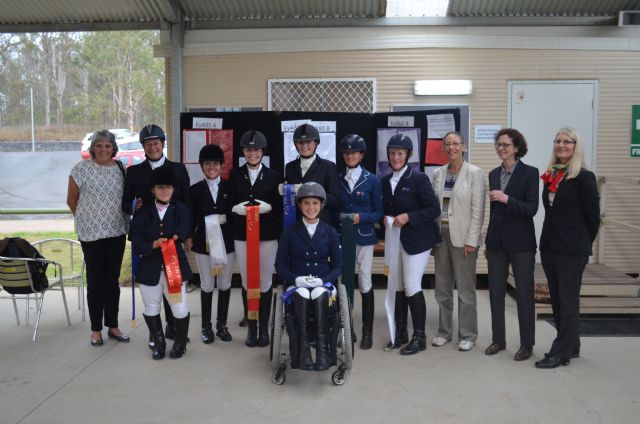 The third and final para-equestrian observation event for World Equestrian Games (WEG) hopefuls was held at the Sydney International Equestrian Centre recently with fierce competition resulting in strong scores across the grades.
For Australian based combinations wanting to secure one of the four WEG positions on offer, the final event marked the end of a three month selection trial which began with the Saddleworld Dressage Festival in December 2013 and continued at the Boneo Park CDI3* in January.
In order to be considered for selection, Australian based combinations needed to compete at two out of three observation events.
At the Sydney event the competition was the fiercest in grade three, with the line-up including Paralympian and WEG bronze medallist Sharon Jarvis (WA), Paralympian Hannah Dodd (NSW) and first time WEG hopefuls Chelsea Higgins (QLD) and Elizabeth Sobecki (SA). 
Unfortunately for Jarvis, her WEG campaign was brought to an end after an injury sustained to her horse, Let's Imagine, prevented her from contesting the final event.  Ellie's (Let's Imagine) injury was more serious than originally thought, she is now on the road to recovery but just not quick enough for the final selection event just held." An optimistic Jarvis is looking ahead to the 2016 Paralympic Games. "So it is onwards and upwards and starting to put the plan into place for Rio," she said.
On the opening day of competition, combinations took part in the team's test and in grade three there was less than one percentage point separating Sobecki, Higgins and Dodd. Queensland based Higgins ended the first day in third position but returned on day two to produce a personal best in the individual championship test. "It was amazing. It was the best ride I have had in a very long time at a competition. In fact out of all the selection events it was the best ride I have had out of all of them, and it was a great place to do it. "Today I took a deep breath, had a little bit of belief and faith in myself and it seemed to have worked, I just need to believe that I can do it. "If there wasn't the tough competition that there is, I don't think I would work as hard as I do, but because it's so tight and because it's so tough I work really hard." On the third day Higgins blitzed the field with a score of 74.00% in the Freestyle.  "I can't even tell you how it would feel to make the team for WEG, it would be a dream come true," she said.
The event was also a significant occasion for 22 year old Emma Booth as it was her time competing at a Para-Equestrian event. Although she was not contesting WEG selection, the event was a milestone for Emma, who was seriously injured in a car accident on her way home from the Albury Horse Trials in 2013, resulting in paraplegia.   "I have really enjoyed being back in the competition ring, and it's been great meeting everybody and they have all been friendly and welcoming, it's been a really great week." "I am enjoying the road so far and I am looking forward to the future ahead. My long term goal is definitely Rio," she said. Emma says the return to riding has helped her physically and mentally. "My first time back on a horse was pretty amazing. I had been in hospital for about four months, I hadn't been out of my chair or a bed for six months, so then being able to get into the saddle and feeling a horse moving underneath me was pretty liberating, it was very exciting."
WEG hopefuls must now wait until European observation events are staged before learning who makes the team. The first Northern Hemisphere event will be held at Moorsele (BEL) CPEDI from 25-27 April and Roosendal CPEDI (NED) from 8-11 May.