1964 Tokyo Olympic Games Jumping Team
 Bridget (Macintyre) Hyem, Barry Roycroft, Kevin Bacon, John Fahey, Kalman de Juranek (Coach)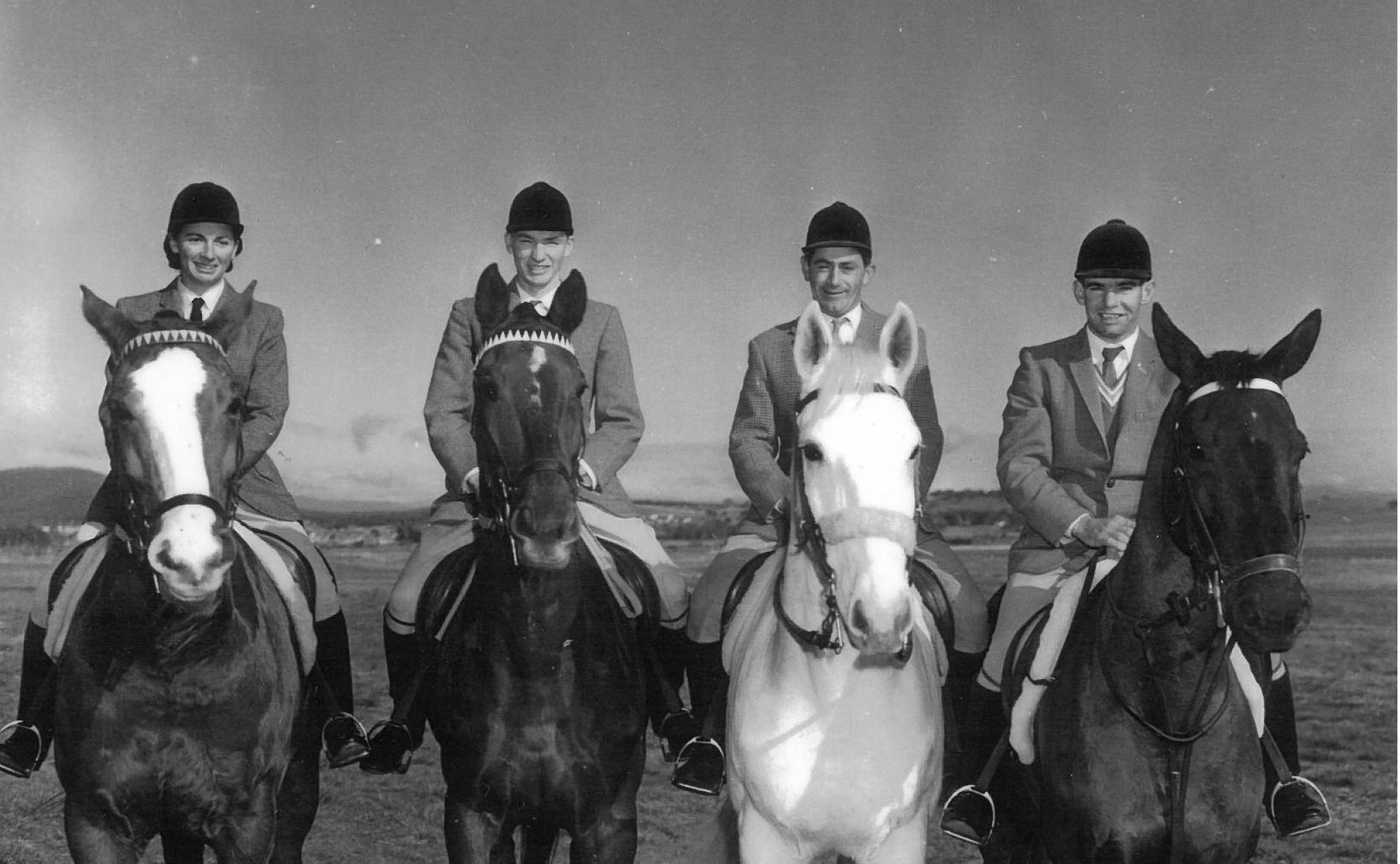 The 1964 Tokyo Olympics was a record-setting Games for the Australian Equestrian Team. The Jumping Team made history in three ways.
Firstly, Bridget Macintyre (Bud Hyem) was selected as the first woman to represent Australia in the Olympic Equestrian Team. Bud has since been the breeder of two Olympic gold medal winning horses, Kibah Tic Toc (1992) and Kibah Sandstone (2000) both ridden by Matt Ryan.
Secondly, John Fahey riding Bonvale finished in fourth place which still stands as our best individual performance by a Jumping rider at the Olympic Games. Riding in the main Olympic stadium Fahey was unlucky not to win an individual silver medal. Knocking a rail that John says he "never should have had down," placed him in equal third and the tie was broken by a jump-off. Peter Robeson (GBR) jumped clear to take the Bronze Medal and Fahey ultimately finished in 4th place.
Thirdly, the team consisting of Bud aboard Coronation, Fahey and Bonvale and Kevin Bacon on Ocean Foam finished in seventh place, which no Australian Olympic Jumping Team has bettered to this day.
The EFA decided that the standard was now high enough to send a show jumping team to the 1964 Tokyo Olympics; Australia had previously only been represented at the Olympics in Eventing. Jumping in Australia was advancing toward the international standard with heights between 4 feet 6 inches (137cm) and 5 feet 3 inches (160cm). In order to be ready for the 210-second Olympic course that they would encounter at Tokyo, the riders spent 6 months of rigorous training and self-discipline.
After six months of training the team selected to compete was Kevin Bacon with his old partner Ocean Foam; John Fahey with his brilliant little black gelding Bonvale; Barry Roycroft with a new horse Genoe and Bud McIntyre on Coronation.
When the time came to depart for Toyko there was no such luxury as a plane flight, all horses and riders travelled by ship. Each horse had to be loaded individually into a crate to be hoisted by crane on to the ship's deck. Open at the top, the crate sides only came to wither height giving the horses' full view of the ground dropping away from them – an unknown and terrifying experience.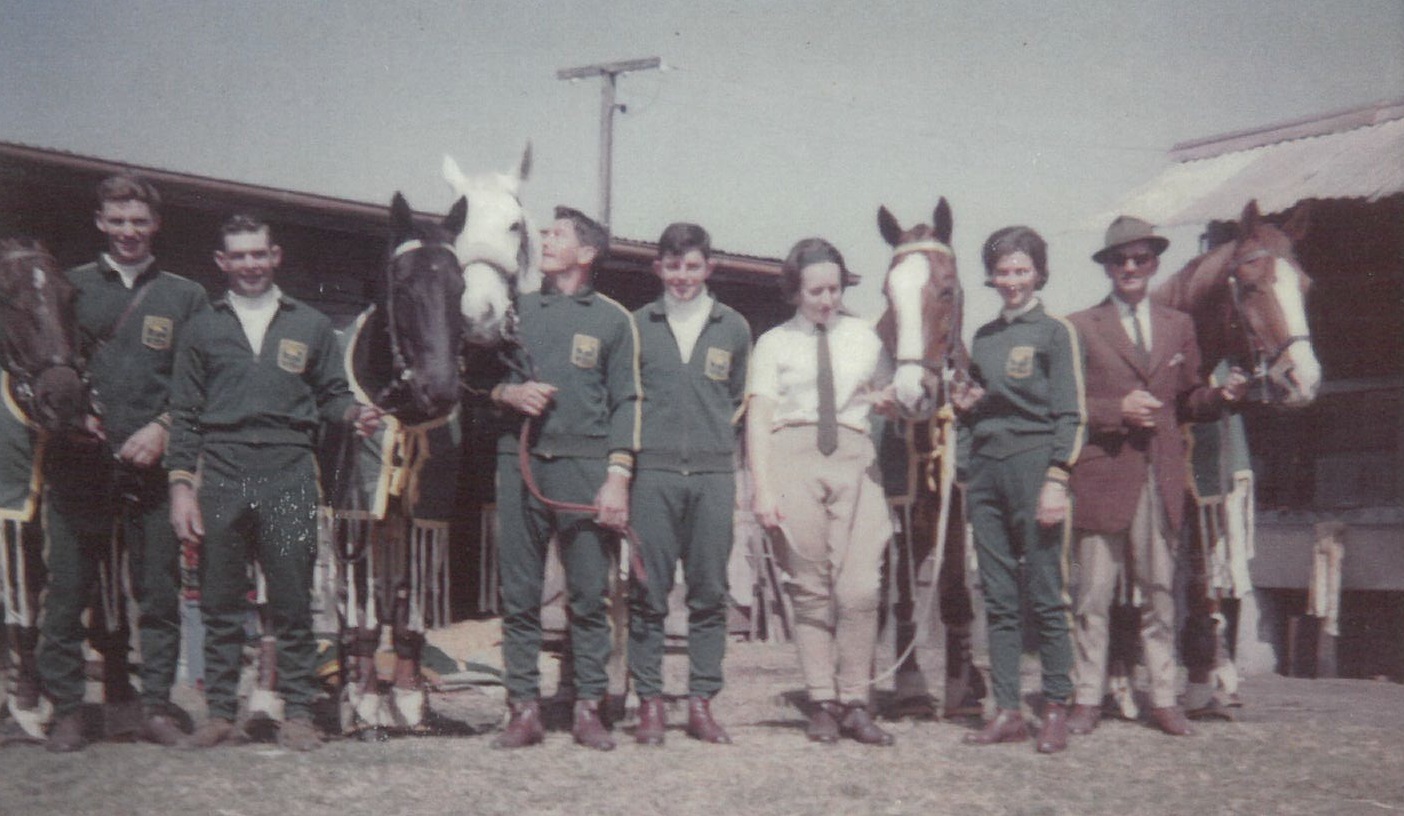 The horse travelled by ship to Kobe then continued the last 580 kilometers by road. 
Showjumping was on the last day of the Games, the course was not easy and although it appeared to be not overly high, spreads were big and the ground was still heavy from prior rain. The Australian's were up against riders from Britain, Italy, Korea, Argentina, Japan, USA, Mexico, France, Russia, New Zealand, Spain, Switzerland and Germany – in all 46 riders.
The first round proved to be difficulty for all riders and all competitors came away with faults. John Fahey and Bonvale were the first Australian's to compete and jumped a courageous round incurring only eight faults.
Due to a leg problem, Bud and Coronation had done little jumping in the days before the event however jumped well and only had 16 faults. Kevin Bacon and Ocean Foam were the last to compete were sitting on 8 faults coming into the last fence. Kevin, in an effort to lift his horse from a false ground line, checked his horse severely causing Ocean Foam to stop and Kevin came off. He remounted, pulled the jump for a total of 29.5 faults – 21.5 faults incurred at the last fence.
The second course of the event proved difficult with only one clear round. The star of the Australian team was the gallant pint sized Bonvale and John Fahey. In the second round he again jumped for a tally of only 8 faults. Bud and Coronation jumped a solid 23.5 faults and Kevin and Ocean Foam had 24 faults. Australia finished with an overall total of 109 points was out of the team placings eventually finishing seventh.
John Fahey and Bonvale were currently sitting in equal third place, this was the first time that equal points had occurred in an Olympic equestrian event and it was thought to award might be divided as is done in other showjumping events. After some deliberation from the jury the order came for Bonvale and Fahey to jump off against the Great British pair of Peter Robeson and Fire Crest. Unfortunately Bonvale had 2 fences down while Fire Crest was clear pushing them back into 4th place.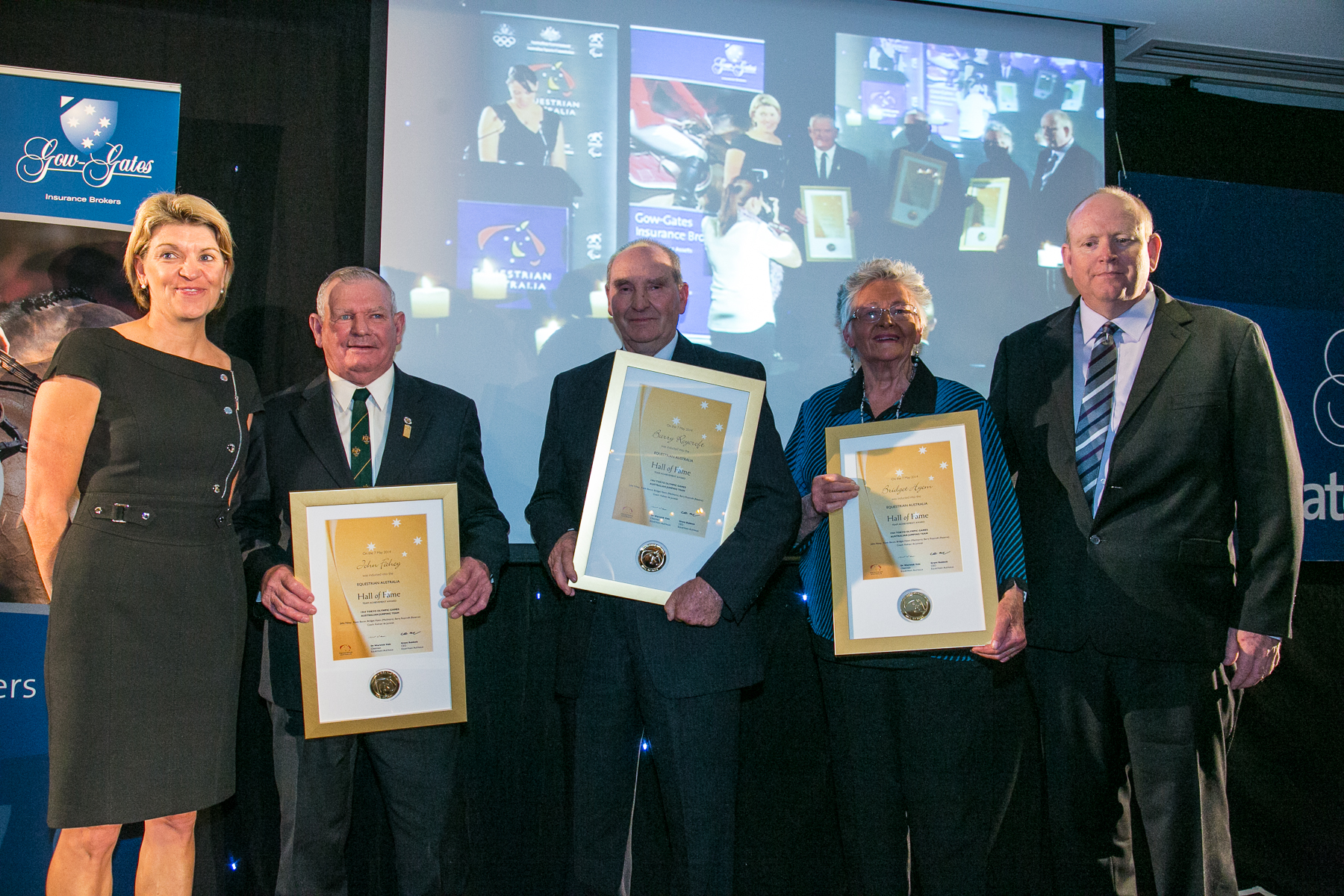 John Fahey, Barry Roycroft & Susan Solling (sister of Bridget Macintyre) accept the award from Dr Warwick Vale (EA Chair) and Kitty Chiller (AOC)