1976 Australian Eventing Team Montreal Olympic Games
Bill Roycroft, Wayne Roycroft, Merv Bennett & Denis Pigott, Coach: Franz Mairinger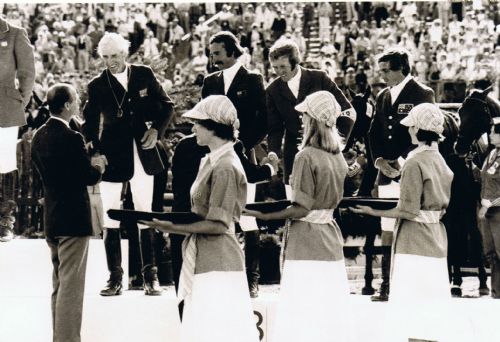 With their bronze medal success, the eventing team which represented Australia at the 1976 Olympic Games in Montreal were responsible for a fifth of Australia's total medal haul.
The team of Bill Roycroft and Version, Wayne Roycroft and Laurenson, Mervyn Bennett and Regal Reign and Denis Pigott and Hillstead were among 49 riders from 13 nations to contest the team's eventing competition at the XXI Olympiad.
The team departed for Montreal five weeks before the Games and directly entered the Equestrian Olympic Village in Bromont. Security was extremely tight following the tragedy which had unfolded in Munich four years earlier.
Bill, Wayne and Denis performed good dressage tests but the atmosphere was too much for the six-year-old Regal Reign and he and Merv were relegated to the bottom of the field.  The duo bounced back on Cross Country day and along with Wayne and Denis produced a clear round to move the team into the bronze medal position. Bill encountered a fall but he remounted and finished the course.
Leading into the final day of competition Australia stood in third place and each of the combinations produced a clear show jumping round to secure the bronze medal for Australia. It was the second time that father and son had stood side by side on the dais in the bronze medal position, having done so eight years earlier in Mexico City.
Individually, the highest placed Australian was Wayne who finished in fifth, while Merv was 12th in the placings,  Bill was 16th and Denis was 20th.
Team members were received as heroes upon their return to Australia. The Australian Olympic team collectively won just one silver medal and four bronze medals in Montreal so the eventing team's victory was a significant achievement.