EA Accredited Coach Logos
Before downloading the logos for any use, please read through the extract of the Equestrian Australia Brand Guidelines shared below.
Colour Application
Our specified Primary colours are Pantone 539 (Navy), Pantone 180 (Ochre) and Pantone 124 (Gold). When using these colours for 4 colour (CMYK) reproduction or for the web, please use the appropriate breakdown: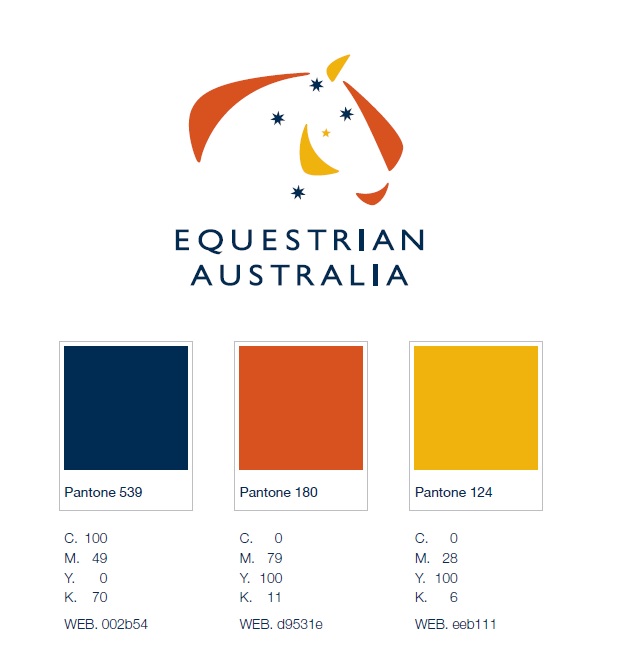 In those cases where the logo cannot be applied in its primary colour (above), it can be used in solid black. Both positive and negative versions are allowed. However, the positive version is preferred. The logo can also appear reversed on each of the primary colours as a background, when required.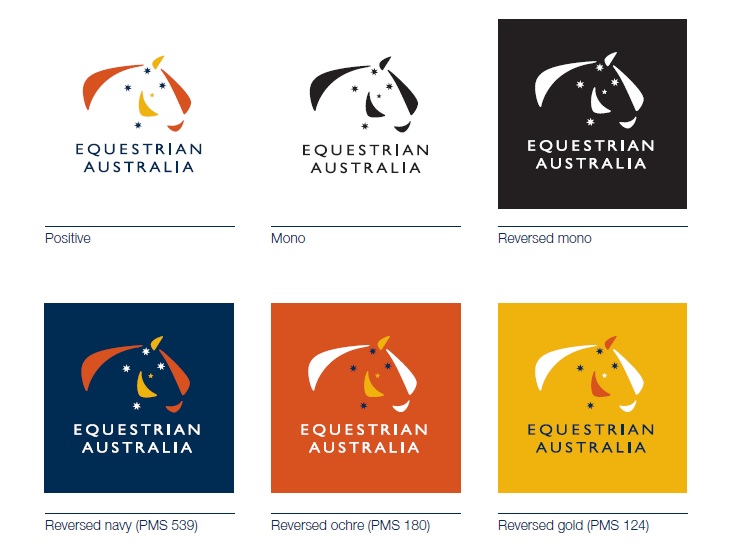 Clear Space
The Equestrian Australia brand mark must be surrounded by adequate clear space. The clear space is the distance allowed between the brand mark and other elements such as typography, illustrations, other marks or the trim edge of a printed item. The minimum clearance between the logo and other elements should be one times the 'X' height show here.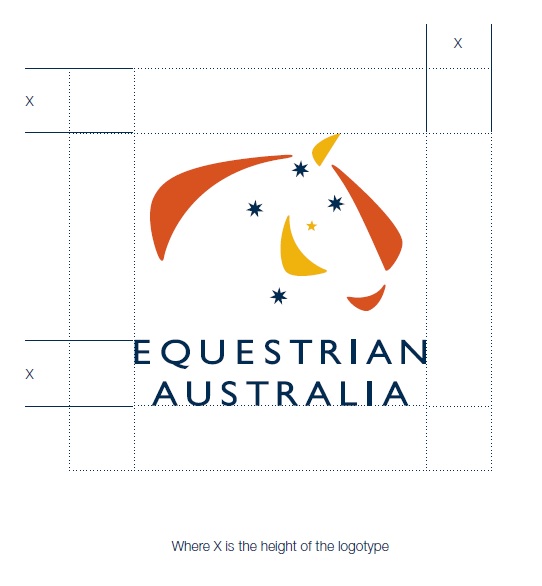 Minimum Size requirements 
The Equestrian Australia logo may NOT be reproduced on printed material any smaller than set out on this page. The original logo must NOT be less than 16mm wide in any usage. Landscape NOT less than 32mm.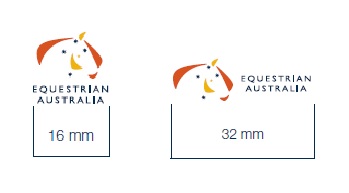 Typographic Application
The typeface for titles, headlines and subheads in printed material should be Gill Sans in all its weights and versions. 
The typeface for body or paragraph copy should be Arial or Arial Italic.
When using fonts for web, you should use a font from the Arial family.
Incorrect Logo Usage
The Equestrian Australia logo should never be modified or applied to unspecified backgrounds. Below are some examples of what NOT to do. 
Coach Merchandise
Visit the Equestrian Australia Coach and Official Store for our range of quality merchandise for Coaches and Officials. Proudly identify yourself with your qualification on a range of polo shirts, long sleeved business shirts, padded vests, padded jackets, caps and satchels all with the Equestrian Australia logo and the word Coach or Official
Download the Logos
To download the "Equestrian Australia Accredited Coach" Logos, please follow the Dropbox link below. Please make sure you read the above instructions before using the logos.