Risk Management Update for Athletes
Halfway through a new eventing season is a good time to review and consider the various risk management and safety initiatives being implemented to reduce the level of risk inherent in eventing.
We should recognise at the start that eventing is a sport that does carry an inherent level of risk and all of us, officials and riders alike, should prepare and train accordingly to minimise that risk.
A lot of our efforts are focussed on the XC phase where risk is considered highest and in particular, those efforts (as the Hartington report recommended) are directed at preventing horse falls.
A number of factors conspire to produce a horse fall and whilst much of the time aberrations in one or more of these factors can occur without incident when these aberrations line up they can produce unfortunate results. This is simply represented in the "Swiss Cheese" model of risk management below.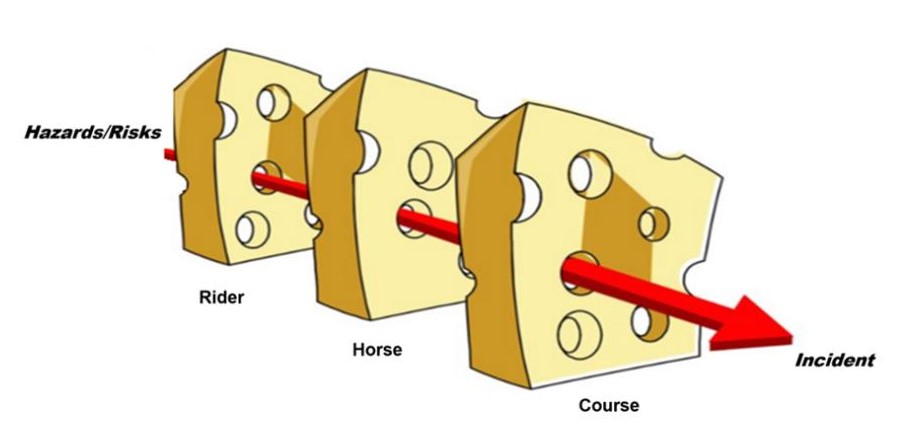 The FEI risk management vision distinguishes between prevention, protection and management measures. 
This update focusses on preventative measures and two of the protective measures related to the XC course ie frangible devices and sloping front shoulders on spread fences.
A lot of work has been focussed on XC construction and Organising Committees at events around Australia have put amazing effort into introducing frangible devices in accordance with the rules and shaping the front shoulders of spread fences to make it easier, in the event that a combination makes a mistake, for the horse to free its legs rather than fall.
These initiatives have been supported by an Australia wide education program for Officials and Organising Committees and would not have been possible without the generous support of the Equestrian Australia Making Eventing Safer Fund.
These efforts represent only a part of the picture, they are designed to minimise the consequences of an error but (like airbags or seat belts in cars) are not guaranteed to save you from serious injury or death in all circumstances.
Horse and rider are a critical element of the risk management equation and the existing MER system and the (under trial) EquiRatings' System are designed to make riders aware of their risk rating when entering their horse at various levels of competition and, eventually, to prevent those combinations being entered at an imprudent level.
We have a system of warnings (Recorded verbal warning and yellow card) and sanctions (25 penalties and elimination)  to help make competitors aware when their conduct is increasing risk but undoubtedly  the most important element in managing the risk of a combination  is you the rider (or parent or guardian in the case of a junior).
Amongst the actions you can take to reduce risk are:
Recognising that eventing is about progressive education of horse and rider not going up the levels as fast as you can on minimum qualifications
Taking the time to school the XC phase as much as you would show jumping or dressage
Making sure your horse (and yourself) are fit enough to compete
Seeking the help of an EA accredited coach to develop the capability and confidence of yourself and your horse
Ultimately the most important contribution to reducing the risk inherent in competing comes from you the rider-please take this responsibility seriously.
If you have any questions about risk management and the measures being implemented please contact Roger Kane at [email protected]
Wishing you safe and enjoyable eventing!