eSafety and Cyberbullying
As Equestrian Australia continues to promote the safety and welfare of both rider and horse, in and out of competition, we would like to draw your attention to some eSafety rules and the Cyberbullying reporting scheme.
View our Member Protection Policy and our Social Media Policy HERE.

Office of the eSafety Commissioner's

 citizen services

Established in July 2015, the Office of the eSafety Commissioner (the Office) is committed to helping all Australians have safe, positive experiences online. The Office promotes online safety education for Australian young people through our classroom resources and Outreach programs. The Office also provides a complaints service for young Australians who experience serious cyberbullying and for reporting illegal online content.
Cyberbullying reporting scheme
One of the major functions of the Office involves operating a world-first reporting scheme to deal with serious cyberbullying affecting Australian children. We serve as a safety net for young people who have not been able to find a resolution through a social network's reporting tools. By working closely with social media services, we help remove harmful material, achieving relief for young Australians and their families.
CyberReport tool for illegal content
The CyberReport team is Australia's first line of defence against illegal online content. Taking reports from members of the Australian public and law enforcement, the team seeks out, analyses and prioritises take-down of child sexual abuse material (CSAM). CyberReport supports the work of Federal, State and Territory police, while also assisting the global effort to remove CSAM through the International Association of Internet Hotlines (INHOPE). Key to the team's success is close collaboration with internet, technology and payment industries and law enforcement.
Image-based abuse portal and reporting tool
The Office is taking a lead on tackling image-based abuse in Australia. From October 2017, we will be piloting an image-based abuse online portal to provide tangible support for Australians who have had their intimate images or videos shared without their consent. The image-based abuse portal delivers practical advice and resources to help victims manage the impacts of image-based abuse including information on how to report images and request takedowns, a reporting tool and quick links to support services.
How to reach them?
Visit: esafety.gov.au
General online safety enquiries: [email protected]

Member Protection Information Officers 

(MPIOs)
Did you know there's a network of Member Protection Information Officers (MPIOs) across the country who play an important and distinct role in sport and recreation to provide advice regarding the options available for managing a complaint? 
They do not handle the complaint.The MPIO is responsible for providing information about a person's rights, responsibilities and options to an individual making a complaint or raising a concern, as well as support during the process. 
You will find below the Equestrian Australia list of contact details of MPIOs.
More info on MPIOs on the Play by the Rules website.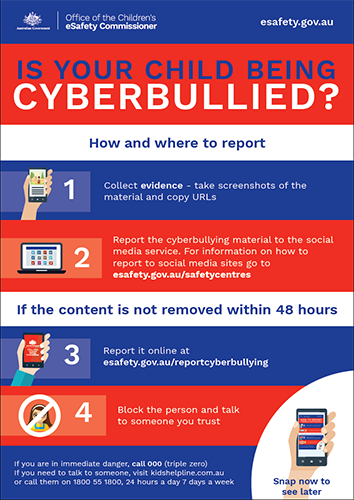 Similar topics that might interest you :