Photo Courtesy of Saskia Smith
2018 Remi Stud Scholarship Recipient Saskia Smith's Filly is a Dream Come True
In 2018, Saskia Smith, from Orange, NSW, was the lucky recipient of the Remi Stud Scholarship.
Saskia received the dark chestnut filly 'Remi Lauries Dream' by Lauries As (imp) / Remi Dreamcatcher by Desperados. 
It's been a busy time for this young dressage enthusiast. Saskia tells us about what she's been up to since winning the Remi Stud Scholarship and how Dream is coming along so far...
"In January I flew to Germany and began to work for Helen Langehanenberg as a groom, before I moved to work as a rider at Klosterhof Medingen.
The horses I ride here all have very similar bloodlines to Dream, the main one being De Niro who stood at stud here. I find it very exciting to hope that my gorgeous filly will grow up to be as amazing as all her 'relatives' over here in Germany one day.
Since I have been in Europe, the things I can update you with are small things about Dreamy while she is growing up in the paddock. I have compiled all the updates I have written, which will hopefully fill you in on the progress of this beautiful filly.
My family are looking after Dream very well back in Australia and she is loving life in the paddock growing up. My mum is spending every second she can to desensitise Dream to lots of different things, including bikes, music and umbrellas! She got her first winter rug this year and has slowly become used to us putting it on and off. She has adopted the nickname 'Princess', as she always comes first these days.
Dream always manages to impress me, she absorbs new information like a sponge and is so accepting of new situations. Her temperament is proving to be really quiet and she gets on well with the rest of the herd at home. I am so excited for the future with this clever filly, she really is a Remi Stud masterpiece!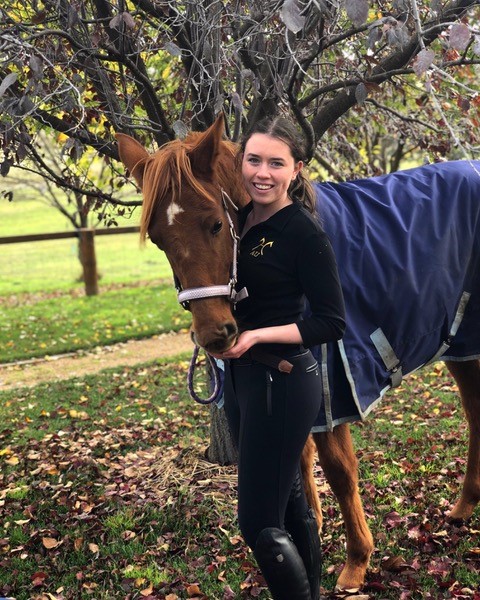 Saskia Smith and Remi Lauries Dream
Dream has adapted very well to life in NSW, she has her baby sitter 'Tia' with her at all times, as we learnt early on that she can in fact jump our fences at home to be with the other horses. She somehow cleared one our fences late one night coming away with only a few scratches and quite pleased with her efforts.
We had a bit of a hoof abscess scare a month ago, but our wonderful vet Dr Andrew Litchfield was here that afternoon and has helped us get her back on track. She is now back to her normal self.
With the extremely cold weather back home this weekend, Dream actually got to see her first snow. I can't imagine it was too nice, considering she's grown up in warm QLD.
I will be back in Australia in the coming months and I am so excited to start working on some basics with her. I will finally be able to send some more regular updates to all the sponsors.
I am hoping to take her out for her first off-property outing with us by the end of the year, knowing her personality though, I am sure she will be a dream… as her name suggests!
Dream has matured so much over the last six months. You can really see her growing up to a be an exceptional dressage prospect and a really lovely horse to have around the farm.
Since being in a paddock with my retired pony, who nickers every time you come down the paddock, Dream has also adopted this very cute habit of greeting you with a neigh at the gate when she sees you.
Again I can't thank [the sponsors] enough for the sponsorship of this phenomenal filly and I really can't wait to be home with her again and start working towards riding her eventually!
Many thanks, Saskia Smith"