All images by Kirsty Pasto
Aussies Out In Force at CHIO Aachen
This year's CHIO Aachen World Equestrian Festival, which ran from 24th June to 3rd July, saw Australia represented in all five disciplines - dressage, driving, eventing, jumping, and vaulting. 
There was also no shortage of Australian supporters cheering on our athletes, and we are proud of the team spirit and camaraderie displayed by all. 
Vaulting
The vaulting competition kicked off CHIO Aachen in style, and following tradition, the vaulters performed in the circle in the Albert-Vahle Arena. 
Stephanie Dore was the sole Australian vaulter at this year's event, competing on the beautiful grey horse Corazon Gran, who was lunged by Maurits de Vries. 
In the Compulsory Test Stephanie scored 6.945 to finish in 22nd place, and in the Technical Test she scored 7.194 to finish in 12th place. The following day Stephanie and Corazon Gran again took to the arena for the exciting Free Test to Music, scoring 7.314 and finishing in 20th place. However, at the end of the overall competition, Stephanie finished in 19th place. 
Stephanie's accomplishment is all the more impressive given that she intended to compete on a different horse at CHIO Aachen. However, when that horse became lame at the last minute, Corazon Gran's owners, Christina Hubert and Benita Julia Golze, generously allowed Stephanie to compete on him instead.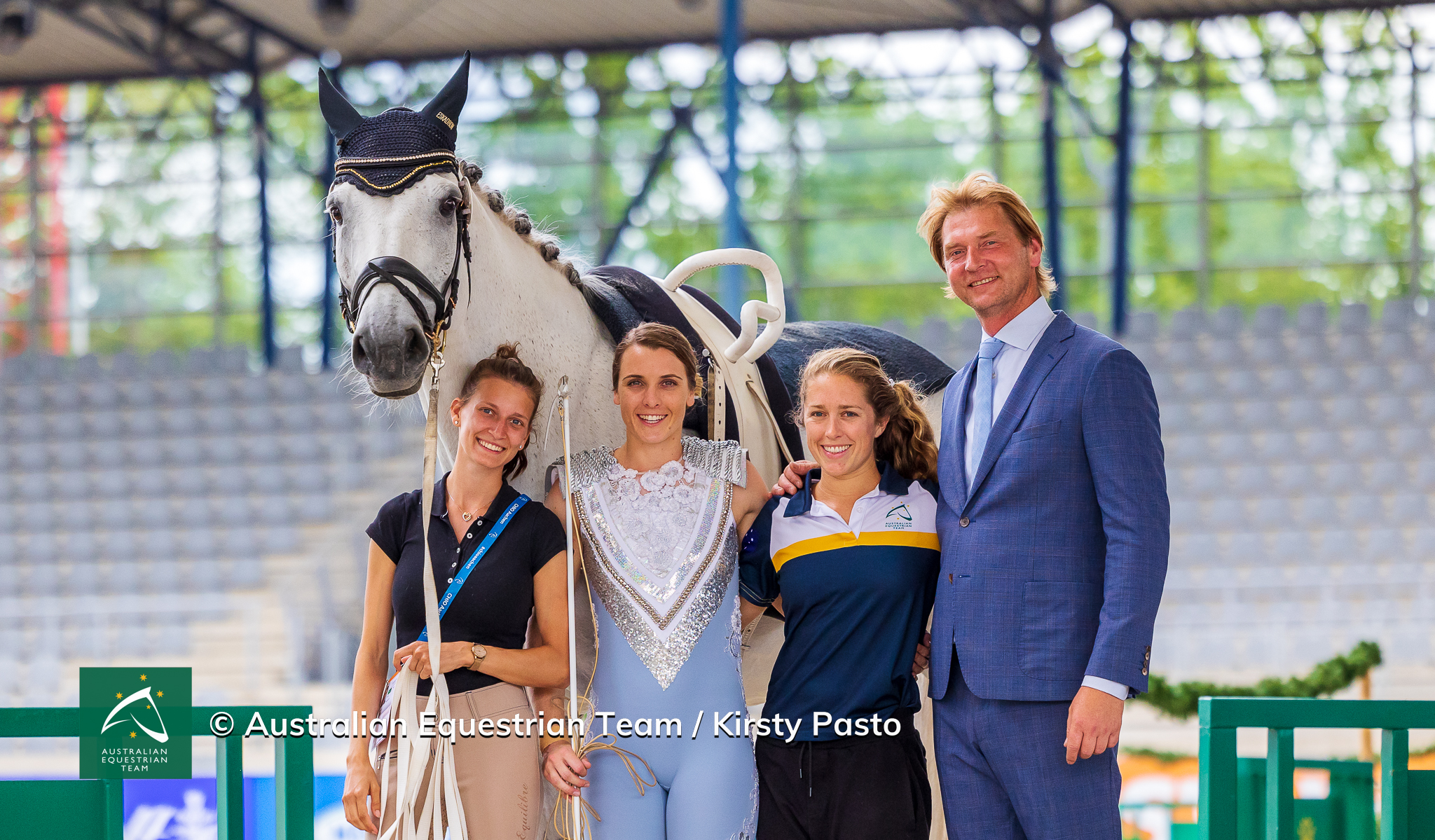 Stephanie Dore and her team at CHIO Aachen
"I was entered on another horse from Denmark, where I had been training for two weeks; and then that horse was lame when we went to load him on the float. Benita and her mum Christina very kindly let me go on him (Corazon Gran) so I've only been on him once before the competition. It has just been so amazing," explained Stephanie. 
Not only was team spirit shown in the vaulting arena, but it was also shown out of it, when a sudden downpour threatened to flood the venue. Without a second thought, the vaulters changed out of their glamorous costumes and into gumboots to energetically help the CHIO Aachen team clean up and remove piles of sand, so that the show could go on after a brief interruption. What a team!
FEI Youth Equestrian Games
The FEI Youth Equestrian Games were held for the very first time at CHIO Aachen in 2022.  The historic Games were created to replace the Dakar 2022 Youth Olympic Games, which were postponed to 2026. 
Thirty athletes from 6 continents, all aged between 15 and 18 years, competed in Individual and Team Jumping competitions, all on borrowed horses. 
Australia's Maleah Lang-McMahon was allocated the 10-year-old chestnut gelding, Calypso Du Buguet, with whom she quickly formed a strong partnership which was evident in the competition arena.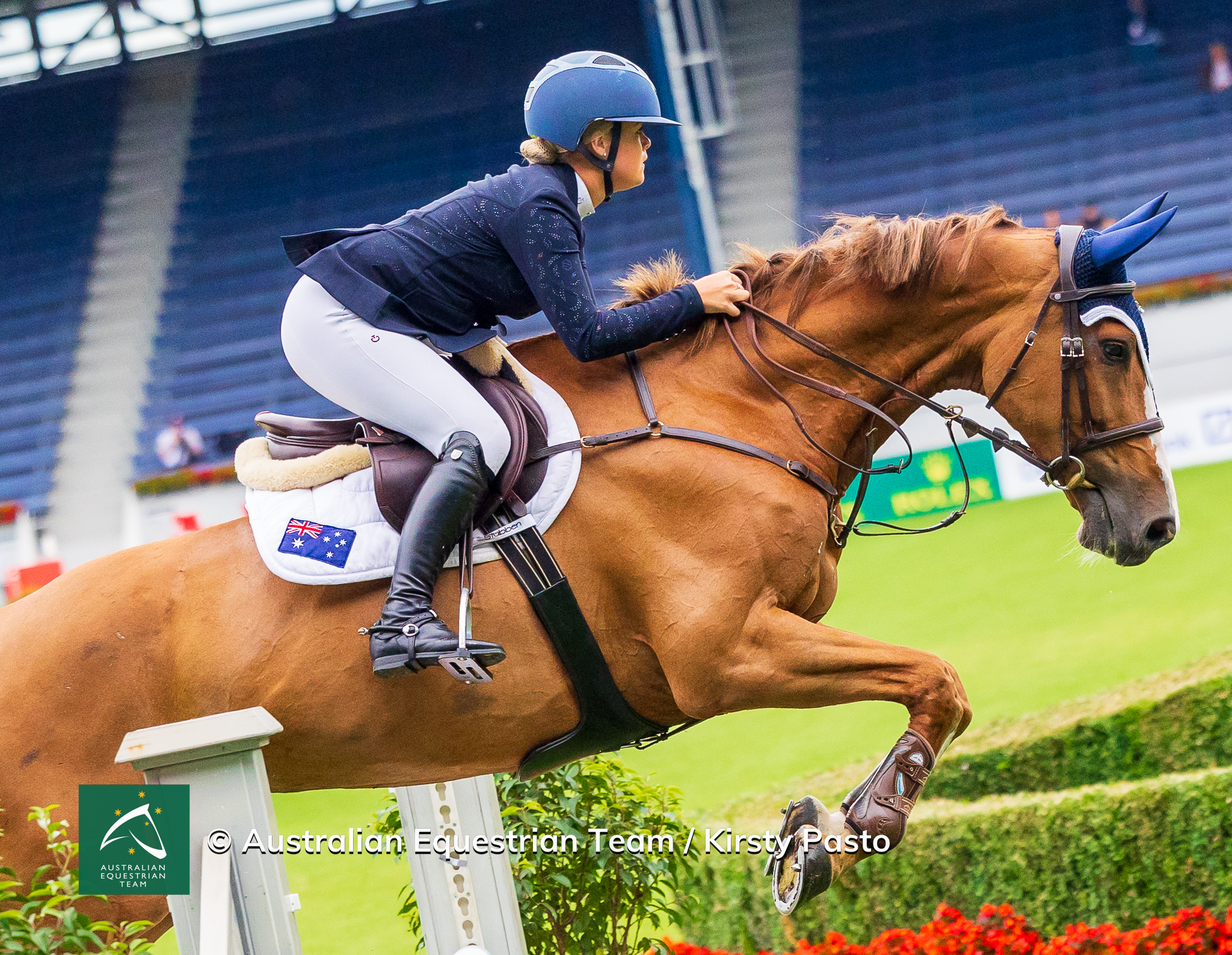 Maleah Lang-McMahon and Calypso Du Buguet
Over the course of the competition, Maleah and Calypso Du Buguet performed impressively, only knocking down three rails for the entire duration. The pair also jumped a perfect clear round in the individual final over fences 1.30m in height, making it through to the jump-off, where they finished in 13th place.
"The individual final was something like no other. For me to get into the jump-off was a bonus. The class, the atmosphere, the people were incredible, and I've made life long friends here. It's been an event I will never forget and I'm eternally grateful to everyone who helped get me here," said Maleah of her experience at the Games. 
Dressage
Australia was represented by three combinations in the CDIO5* Nations Cup competition - Simone Pearce and Fiderdance, Lyndal Oatley and Eros and Mary Hanna and Syriana. 
Mary Hanna and Syriana.
Warwick McLean was also named on the team with Hendrix 11; however the combination did not start in the competition following the horse inspection. Despite not competing, Warwick showed his true team spirit and ensured that he watched and supported all his teammates in the dressage arena.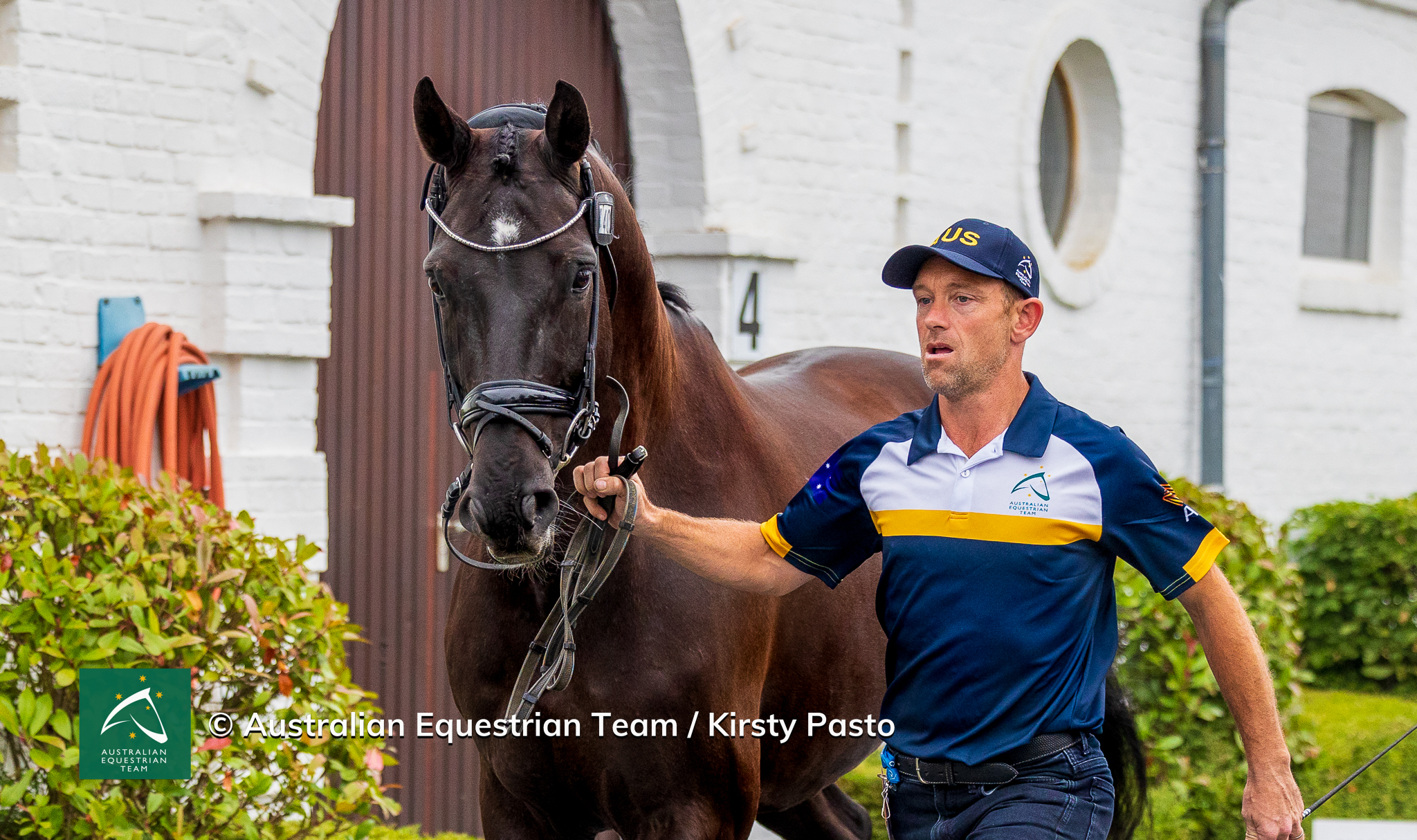 Warwick McLean and Hendrix 11.
The Australian Team finished in in eighth place overall in the Nations Cup competition.
"I love this team. It has been a really supportive team. Everybody is there no matter what discipline, and I think that is a really fun and refreshing feeling, especially when you are used to competing over here on your own," said Lyndal Oatley. 
Lyndal Oatley and Eros.
Simone Pearce and Fiderdance also qualified for the CDIO5* Freestyle test, scoring 74.920%, in front of a crowded stadium.
Simone Pearce and Fiderdance.
In the CDI4* competition Simone rode Royal and Proud in the Prix St. Georges competition, finishing in 7th place on a score of 70.530%, and in the Intermediate I the pair delivered a second lovely performance to score 69.735% and finish in 8th place.
"I am super happy, she's only seven years old. This is her fifth show in her whole life, so I think she smashed it," said Simone.
Simone Pearce and Royal and Proud.
Fellow Australian, Elliot Patterson, also competed in the CDI4*. Elliot rode Santiago in the CDI4* Grand Prix, scoring 65.196% and finishing 20th. Impressively, Elliot's only been riding 'Santiago' for four months before deciding to tackle CHIO Aachen.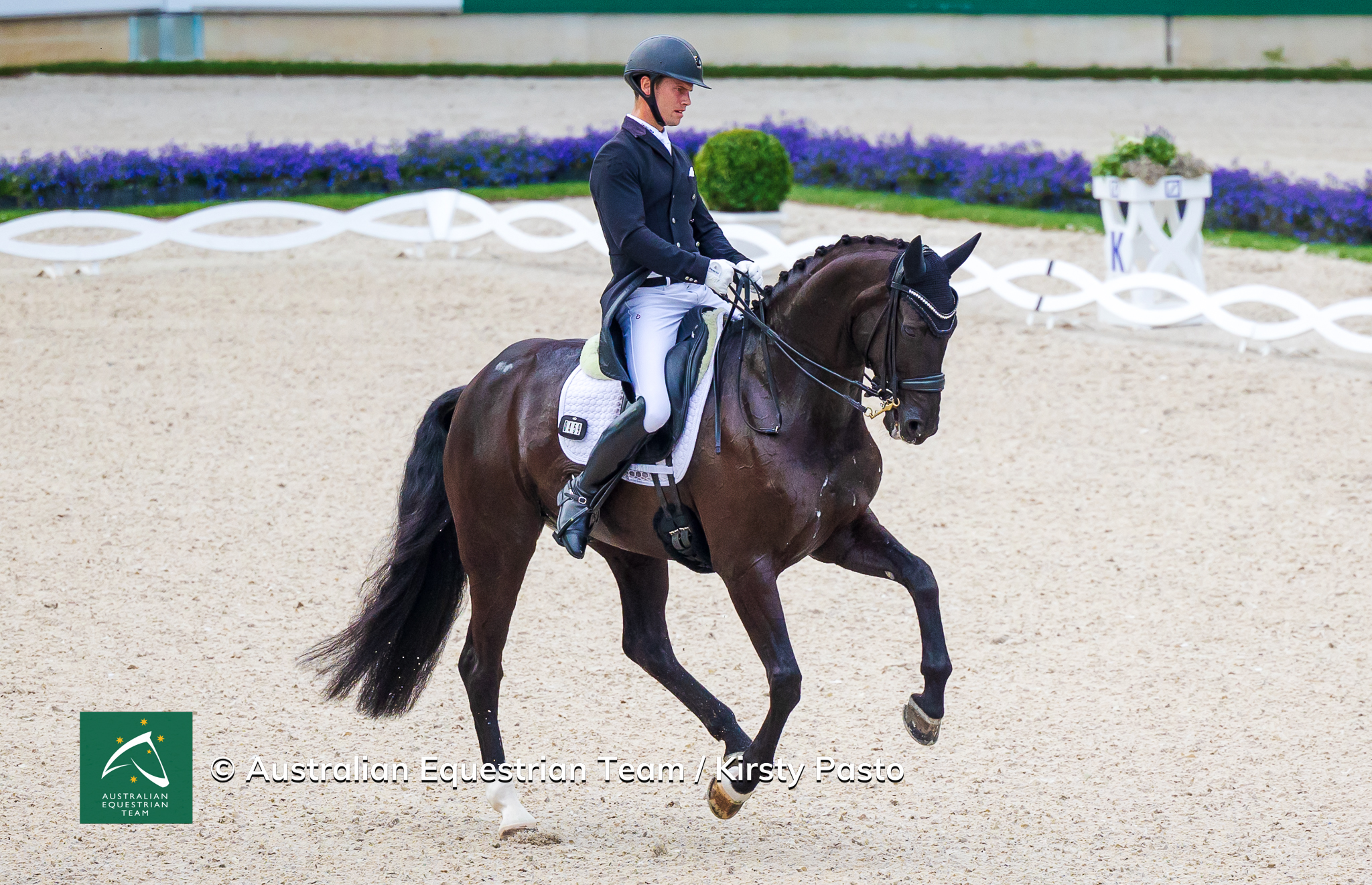 Elliot Patterson and Santiago.
Eventing
In the CCIO4* competition Andrew Hoy and Vassily de Lassos, owned by Paula and David Evans, showed why they are undoubtedly one of the greatest combinations in the sport, finishing in second place in the prestigious SAP-Cup.
Following the dressage phase of the competition Andrew and Vassily were in 16th place, but jumped up the standings in the showjumping phase, delivering the first clear round for the competition, which sat them in 9th position heading into the cross-country phase.
After an influential cross-country test, the pair secured their place on the podium with a magnificent cross-country round. They galloped around the Rüdiger Schwarz designed course to finish with no jumping faults and only one time penalty. 
Despite the single penalty, they were the fastest combination on course for the day.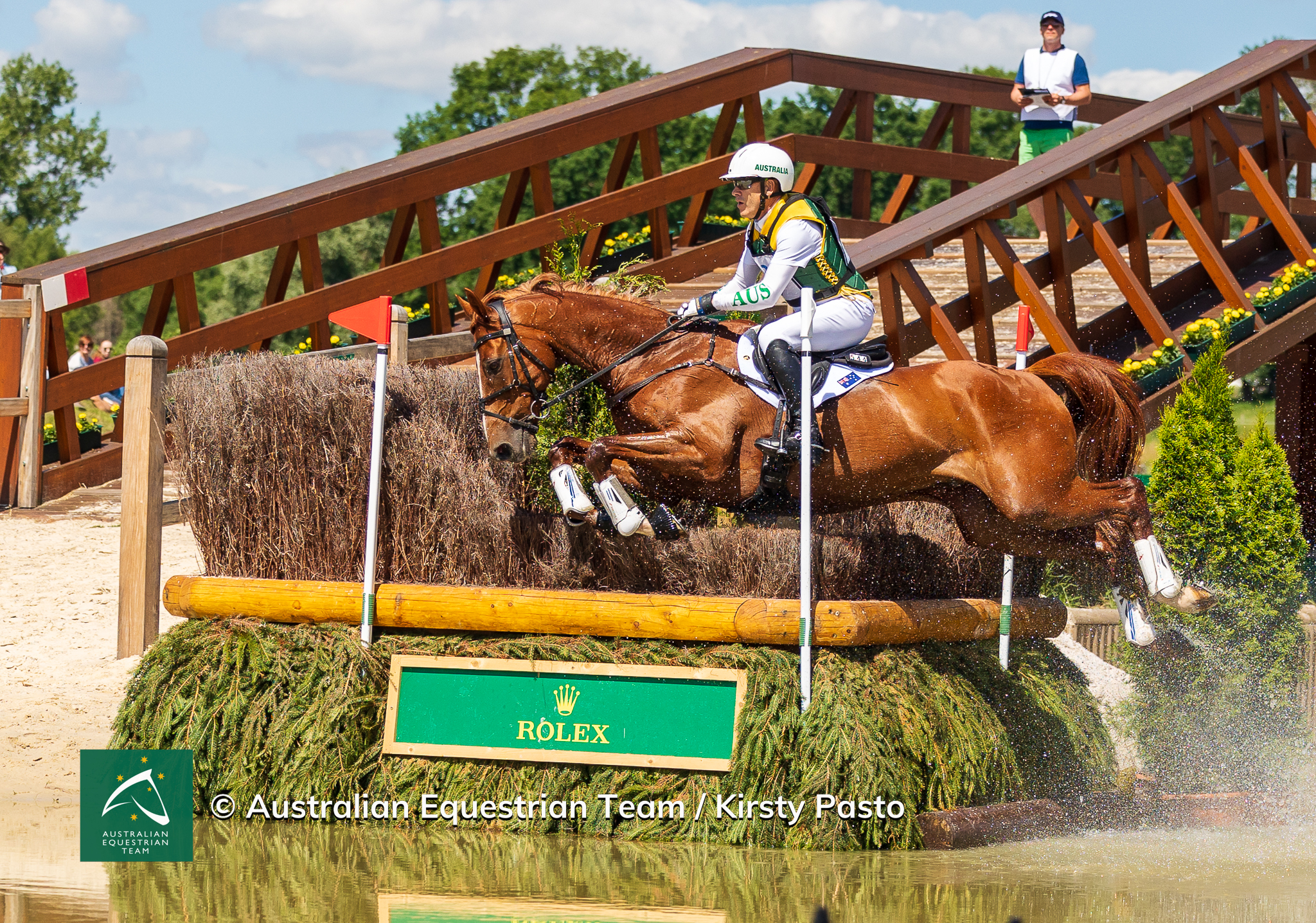 Andrew Hoy and Vassily de Lassos.
Andrew credits the outstanding performance to his special bond with Vassily.  
"He is just the most extraordinary horse. We have got the most wonderful partnership," shared Andrew.
"Out of his entire career, he has only had a total of ten seconds outside of the time since he started his international career in 2015. He came to me in 2017 and ever since then I have been the only person ever to sit on him. I have just always wanted to keep this partnership very special. He is a very special horse; he gives his absolute heart, but he gives it with passion. He doesn't give it because he has to give it. It comes from him because he just loves what he does."
Driving
This year Australia had two combinations entered in the four-in-hand combined driving competition at CHIO Aachen. The competition was made up of three phases – dressage, marathon and cones. 
Driving legend, Boyd Exell, took top honours, claiming victory with a score of 158.32, more than eight points ahead of second place.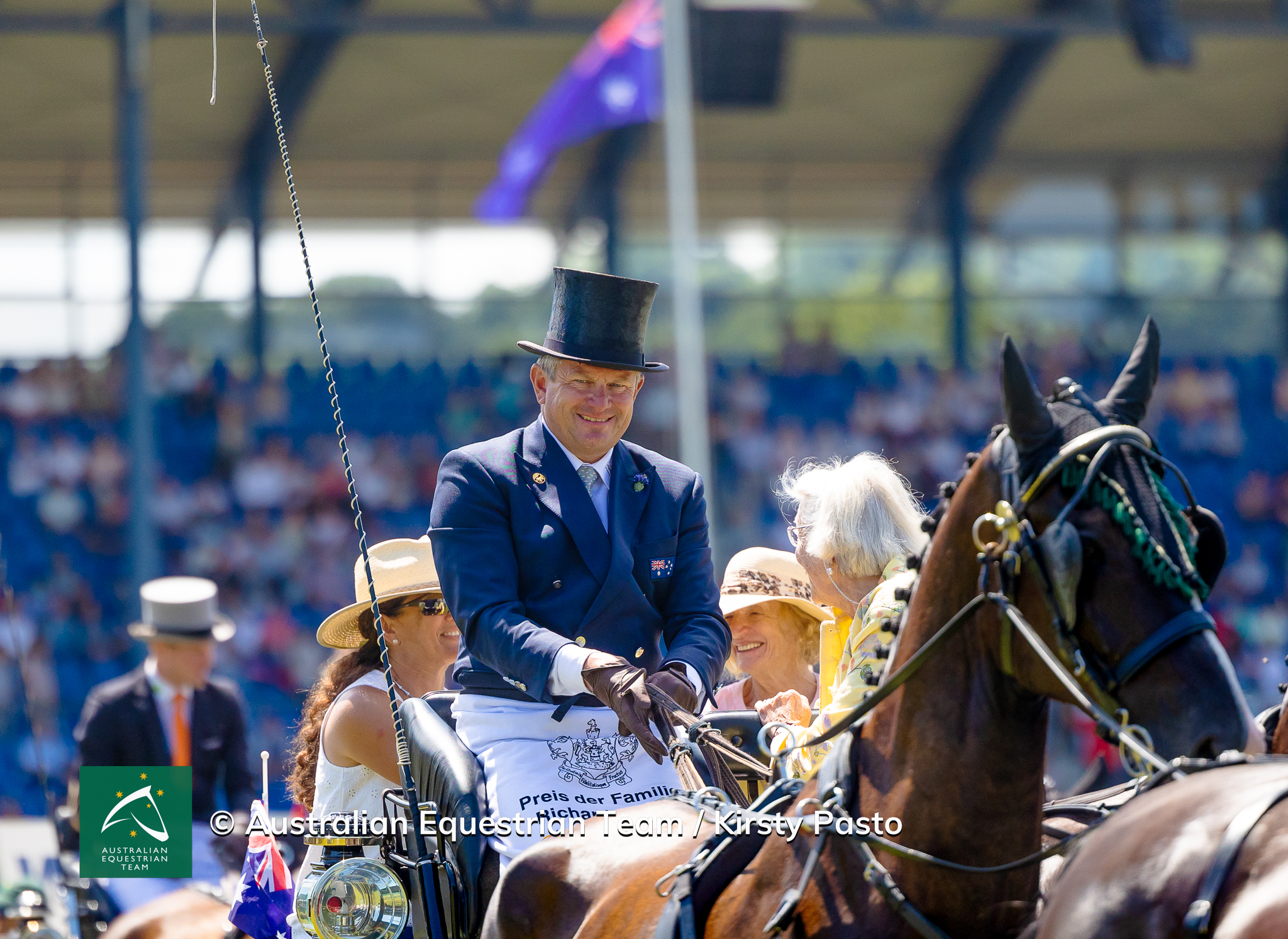 Boyd Exell and his team in the prizegiving.
Boyd proved a force to be reckoned with from early on, taking the lead in the dressage phase challenging the other competitors to close the gap during the other two phases. Despite the other competitor's best efforts, Boyd and his team secured the overall win.
"We couldn't have asked for any more from the horses," said Boyd of his team. 
Tor van den Berge, also competed in the combined driving competition and finished in 20th position on a score of 293.01.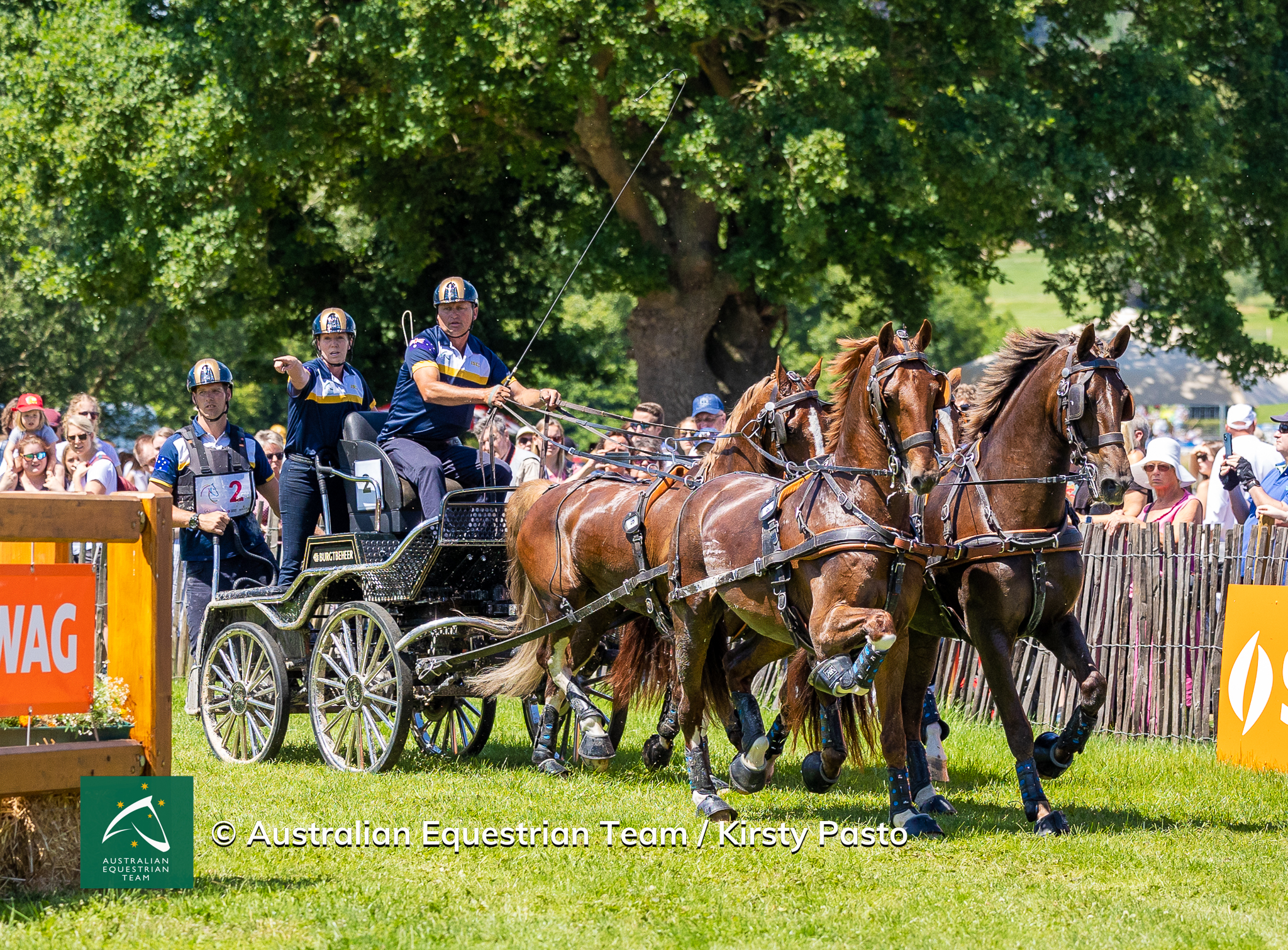 Tor van den Berge and his team during the marathon.
Together, Boyd and Tor represented Australia in the Nations Cup competition, finishing in 6th place overall.
Jumping
Hilary Scott and Oaks Milky Way competed in the CSIO5* competition, holding their own against some of the world's leading combinations.
The pair stepped into the Soers Arena for the first time to contest the CSIO5* Turkish Airlines Prize of Europe and were first on course, dropping two rails to finish in 51st position. 
Hilary Scott and Oaks Milky Way.
However, they bounced back in spectacular style, tackling the imposing 1.60m Prize of North Rhine-Westphalia. Hilary and Oaks Milky Way jumped an outstanding clear round, with just 3 time penalties, to finish in 20th position from a field of 54 starters!
Jump & Drive
One of the favourite evening events at CHIO Aachen is the spectacular CHIO Cup, the combined eventing, jumping and driving competition - which calls for fast horses and good teamwork.
The Australian/Brazilian team comprising of the eventing icon Andrew Hoy and Creevagh Cooley for the solid obstacles, Rodrigo Pessoa (BRA) with Venice Beach for the show jumping and Boyd Exell with his team Bajnok, Barny, Conversano Poker and Mad Max had the fastest horses and the best coordination this evening in the CHIO Cup.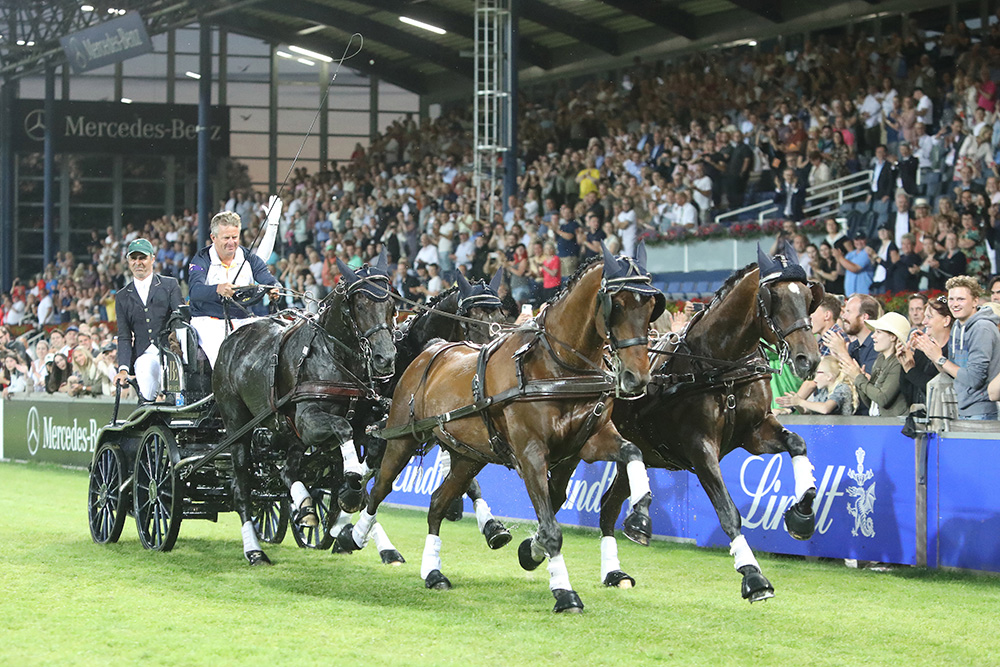 Jump & Drive winning team.
They asserted themselves against their fellow colleagues with a clear round in 150.33 seconds to win the competition. 
This is the second year in a row that Boyd and Andrew have teamed up to claim victory. Last year they were joined by showjumper Lillie Keenan (USA).
RESULTS
All results from the event can be found HERE.