Lizz Gregg & Libby Law
Australian Driving Team – FEI World Championships, Pratoni
A star-studded roll call of the world's best four-in-hand drivers made up the startlist at the FEI World Driving Championships in Pratoni, Italy last week.
The atmosphere was electric even before the competitipn started with all eyes on Australian driving legend, Boyd Exell, who was aiming to secure a record sixth World Championship title.
Sixteen countries were represented at the Championships, which saw 37 athletes taking part with an impressive 185 horses. Six Nations also contested the Team competition, including Australia - represented by Boyd Exell and Tor Van Den Berge.
The all important dressage phase took place over two days and it was Boyd Exell who dominated the competition from the beginning, setting an eye-opening score of 34.13, ensuring his campaign for a sixth title started in style.
From the second they hit the centre line, Boyd's horses showed power and panache, and proceeded to flow through the movements in a class of their own.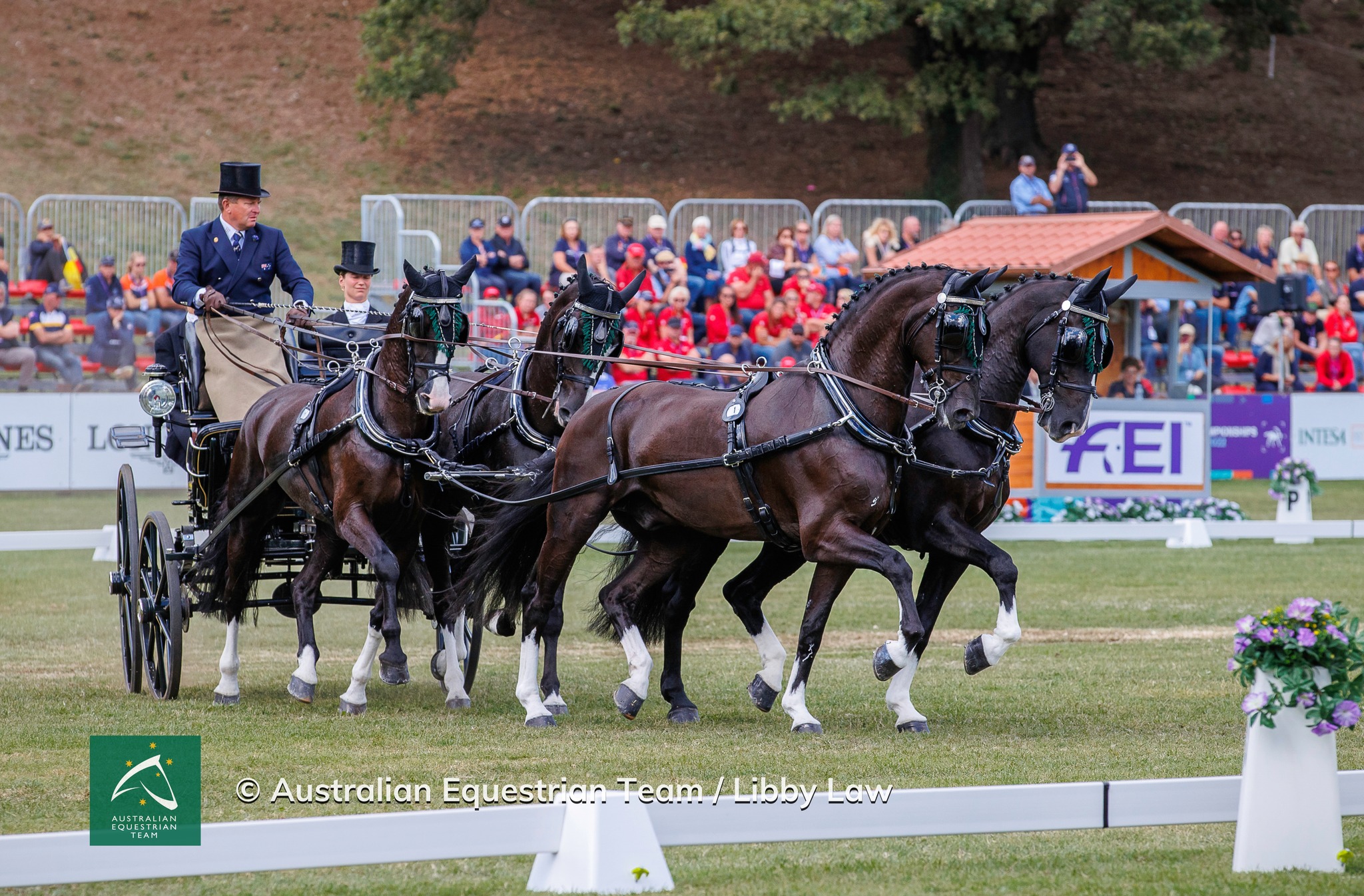 Boyd Exell and his team in the dressage phase.
"I love Driving, the score is only the icing on the cake. My right leader is Checkmate and today he was the showpiece. He was a wheeler in Normandy and Tryon and now he's a leader. He's always been a really special horse. Celviro is my left leader, he's the solid one and every time he delivers. I have a new wheeler called Hero and he did well - he's a marathon specialist. 
I have a nice lead but it's a three-day competition and a lot can go wrong. We had problems in Aachen in the cross-country and a five-point lead is not enough so it's not over until Sunday afternoon," Boyd explained.
Teammate, Tor Van Den Berge, made his FEI World Championship four-in-hand debut at Pratoni and scored 57.37 in the dressage phase; which saw them in 18th place after the first test. Tor was thrilled with his team's performance and said it was the best test his team had delivered all year.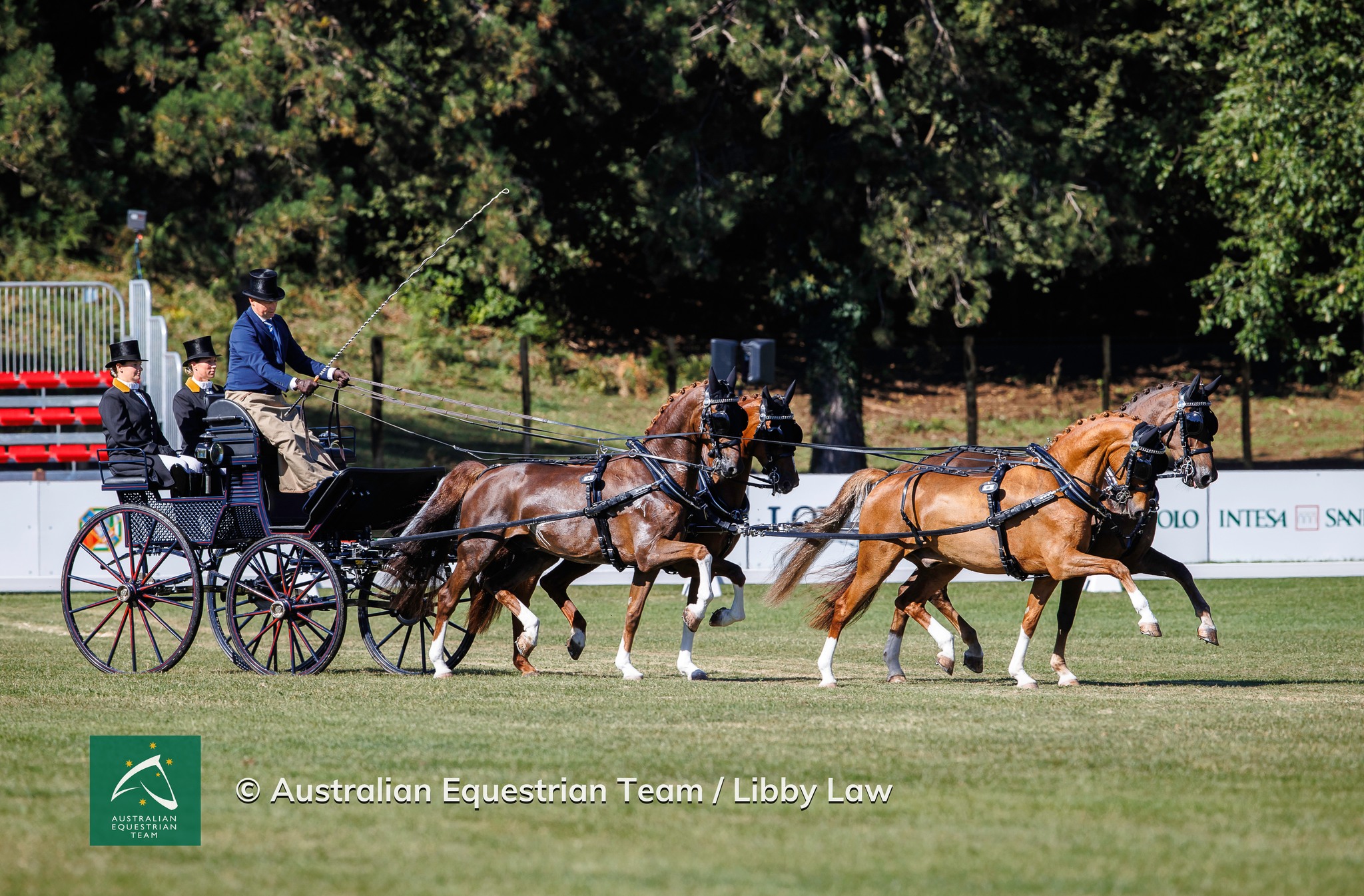 Tor Van Den Berge and his team in the dressage phase.
"There was plenty of atmosphere. I have two young horses in and this is their first season. My right leader, this is his second show. He went to the World Championships on his second show, so I can't complain. I am really happy, that is the best test we have done all year. I couldn't ask for more."
Tor, who is also a Grand Prix dressage rider, said that his driving success is due to the hard work of his entire team.
"We still have dressage horses. The carriage driving has taken over a fair bit, especially with the World Championships. Our kids are also involved. It takes a lot of people. The amount of people who make sacrifices for those ten minutes is amazing. It is quite humbling to have people do that."
Marathon morning dawned warm and hazy and there was a buzz in the air as the drivers prepared to tackle Josef Middendorf's (GER) course. The challenging and technical course consisted of eight obstacles with a total of 103 balls perched on their elements, raising enough questions for each of the competitors.
Boyd Exell was the first Australian out on course, halfway through the starting order. Boyd navigated his team of horses expertly through the difficult obstacles, attracting large crowds at every obstacle he entered.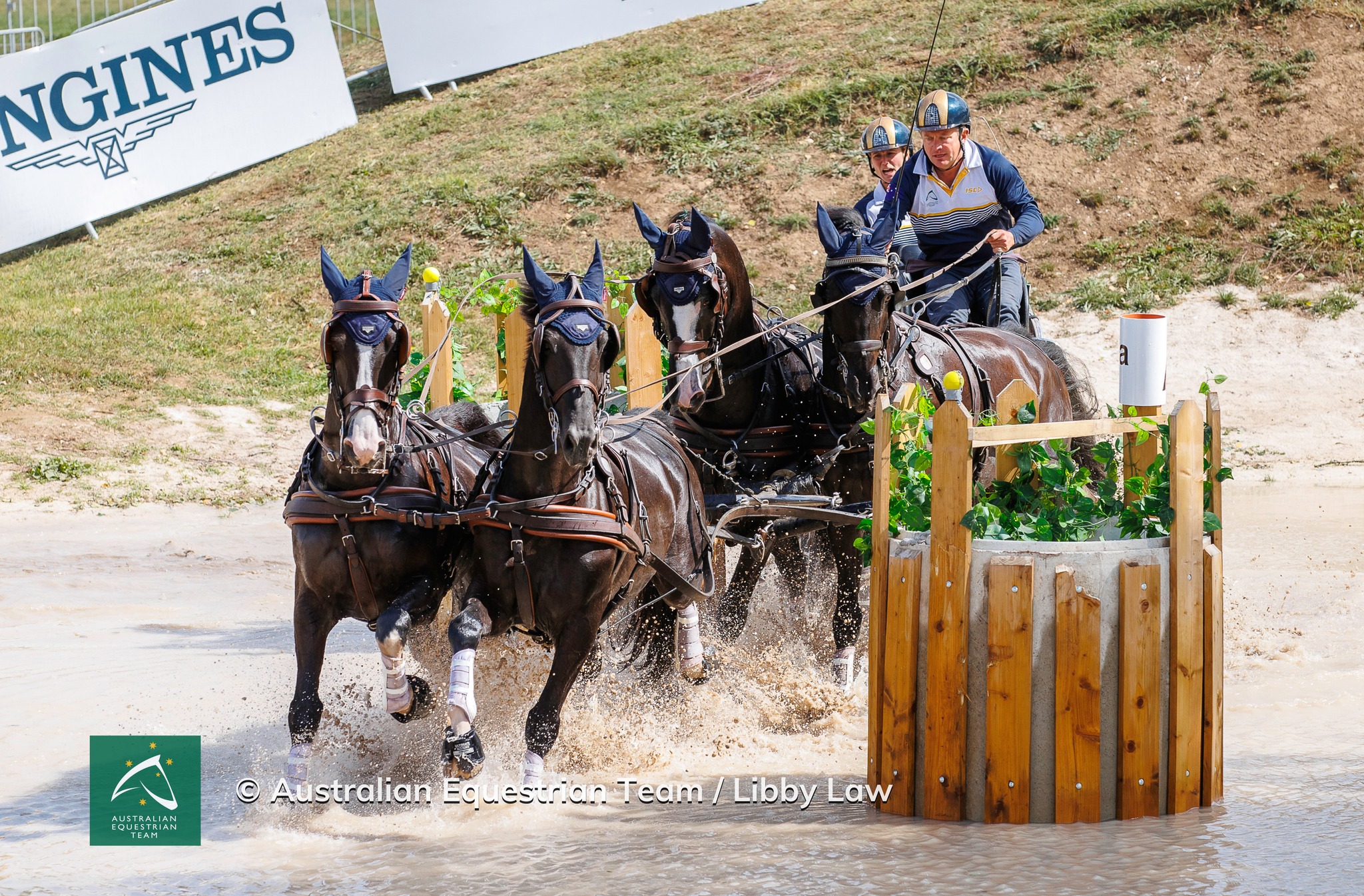 Boyd Exell and his team in the marathon phase.
Boyd and his team finished the marathon phase in 6th place with a score of 116.01; which saw him extend his overall lead by two points on a combined totall score of 150.14.
Tor Van Den Berge directly followed Boyd in the starting order, and you couldn't wipe the smile off Tor's face following the marathon phase. The feeling was certainly infectious.
Tor's flashy team of four chestnut horses won fans across the venue for their bold personalities and wonderful expressions as they clearly relished every mintute of the marathon.
"We are super happy. Our plan was to go as quick as we could go without ruining the horses and without making too many mistakes. We did that; it is the fastest marathon we have done," said Tor of his team.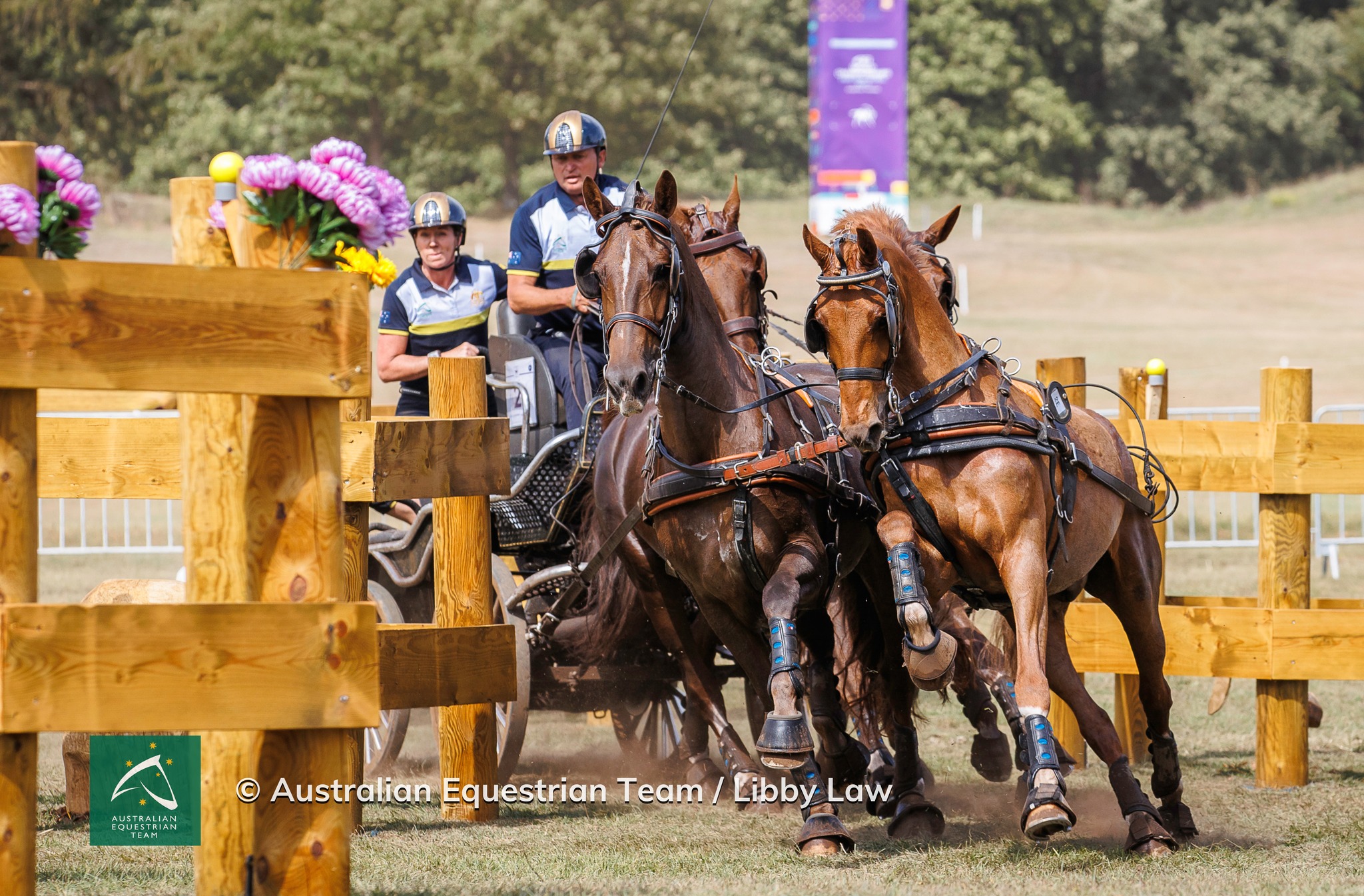 Tor Van Den Berge and his team in the marathon phase.
"A few little mistakes. We had two balls in obstacle three and we had to regroup a little bit afterwards; but off they went. The little horse in the lead, he was incredible. He was really good. It was a bit of an eye-opener for him. I think when he gets back and does a national show it will be nothing to him. All four horses were super. They looked after me and pulled up super; they could go again."
Pratoni was extra special for Tor as he had his family with him, including wife Melissa, who was his Navigator out on the marathon course.
"She really helped me, proper!" said Tor of Melissa's role on board the carriage. "She was brilliant. When I had a little mistake at two she found an escape route and we were off."
Tor finished in 34th position after the marathon phase on a score of 151.94; which saw him in 30th position overall on a combined score of 57.37. 
The Australian Team were in 6th place following the marathon phase.
The Italian weather gods were not kind leading into the final cones phase on Sunday with severe storms overnight, resulting in a change to the start times. When competition commenced the sky opened up and delivered a consistent stream of rain, which later turned into fog so thick you could barely make out the horses in the arena.
Despite the chilly weather the competition was as hot as ever in the arena, as the drivers contested the cones course in reverse order of standings.
Tor Van Den Berge and his team were the seventh team into the arena for their round. Unfortunately things didn't go to plan for Tor when he was eliminated after he restarted an obstacle without waiting for the official bell.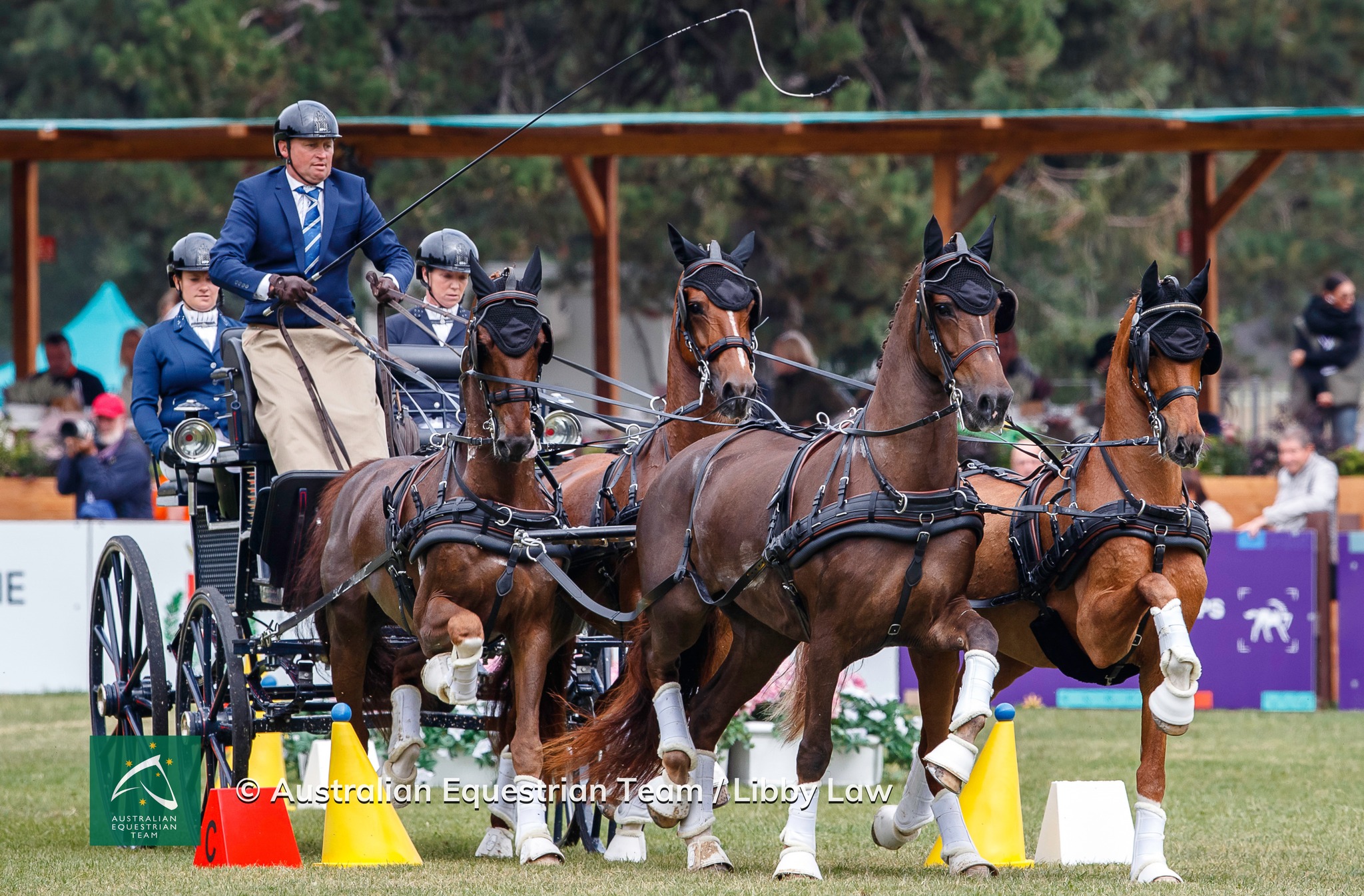 Tor Van Den Berge and his team in the cones phase.
"The young one I have been raving about for the whole show, he was really strong in the left. I was struggling to get the left loops on him, and he is green. We did marathon yesterday, so he was a bit too charged today. I struggled and struggled; and it wasn't a great cones round. I got to obstacle nineteen, which was a wave, and missed the left loop.
I pulled them (the horses) in and it destroyed the element with one horse outside. What happens is they ring the bell and rebuild. Then, stupid me, I was just watching the stewards, and they walked away from it, and I didn't wait for the bell to restart. I went and did the obstacle and was eliminated. But that is how it is. It was really tough; it was hard work. With more experience though it will get better. I am still happy. I just don't like the idea of letting people, down that's all," said Tor.
Following his round Tor joined the rest of Team Australia to support Boyd Exell as he and his team entered the arena, the last competitor for the day, in an attempt to make history.
Despite the best attempts of his closest rivals, Boyd kept a cool head during a soaking final round to claim a decisive 6th individual FEI Driving World Championship four-in-hand, his unbroken reign intact after his first gold 12 years ago in Lexington (USA).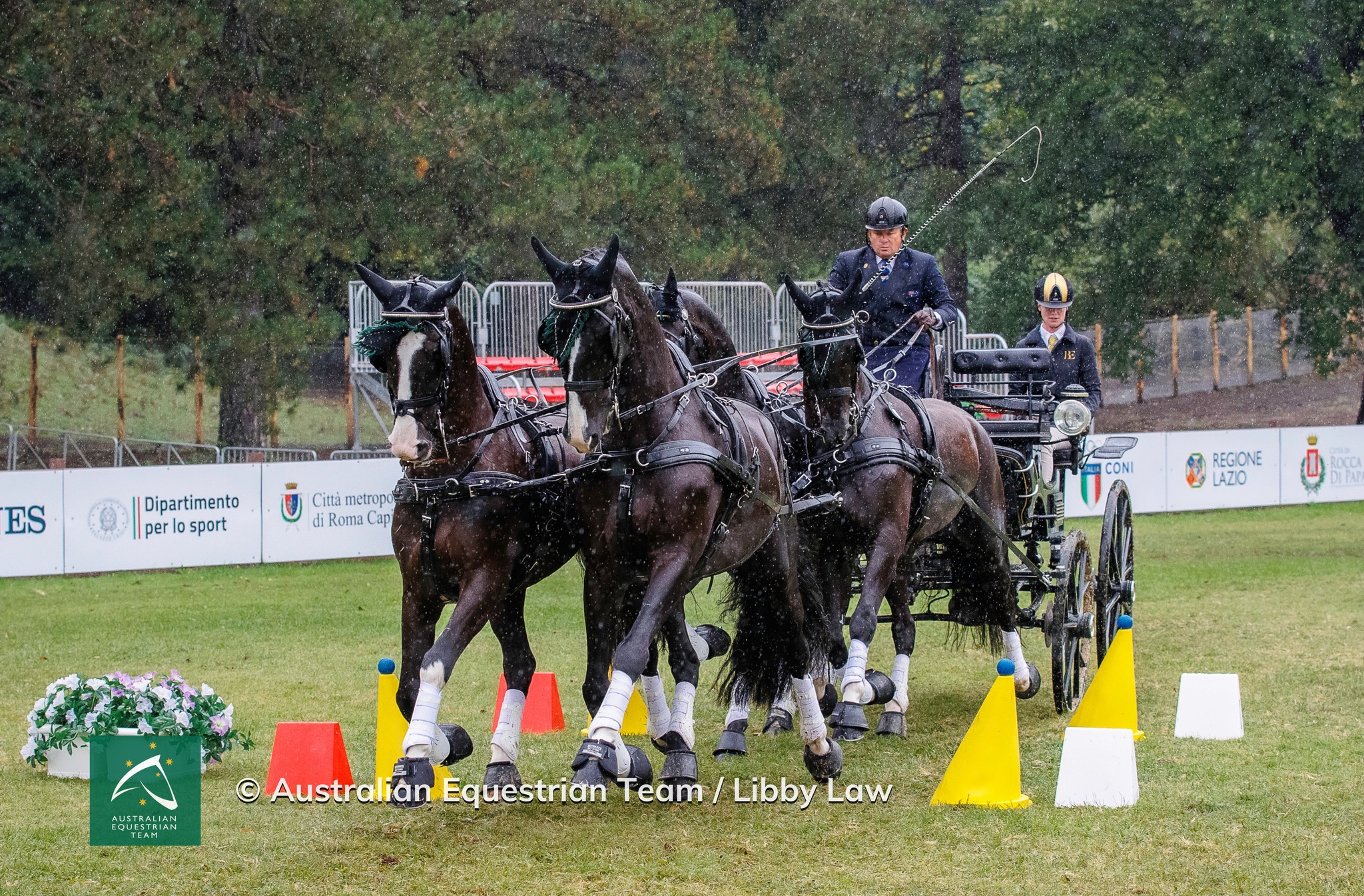 Boyd Exell and his team in the cones phase.
Boyd wasn't going to let his grip on the crown slip at the last hurdle as he drove a measured final round which saw him finish on a final score of 156.09, more than 3 points ahead of second place.
"This is my sixth win. It's only just sinking in now what we have actually achieved. For my team of people and my team of horses, a huge thank you to them," said Boyd of the history making moment.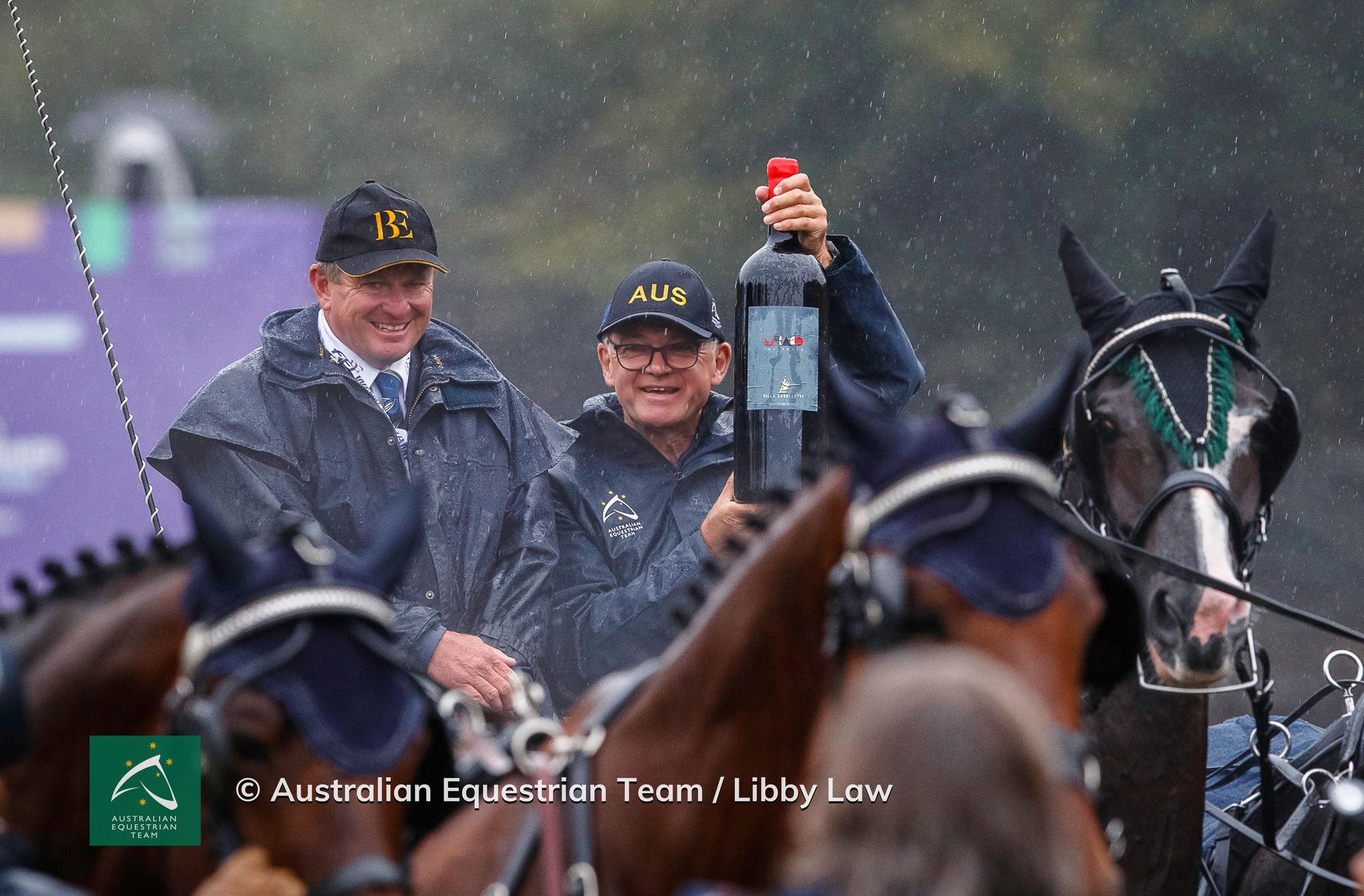 Boyd Exell and Hugh Scott-Barrett (backstep) during the prize giving.
"I have the pressure of having fantastic horses and you mustn't let them down. That's one of the hardest things – they are 15 years old now and so experienced. The team of people around me, all the helpers, it's about not letting them down too.
Boyd has been crowned FEI Driving World Champion at:
Lexington, USA (2010)
Riesenbeck, GER (2012)
Caen, FRA (2014)
Breda, NED (2016)
Tryon, USA (2018)
Pratoni, ITA (2022)
Full results from the competition can be found HERE.
The Australian Team did not recieve a final plaing in the team competition due to the elimination of Tor in the cones phase. 
The Australian Team consisted of: