Australian Equestrian Team Make History at Tokyo 2020 Paralympic Games
On the 25th anniversary of the introduction of Para-dressage to the Paralympic Games, the Australian Team made history, proving they are a force to be reckoned with on the world stage.
A field of 77 athletes including some of the world's most experienced and decorated combinations, representing 25 countries, took to the stunning Baji Koen Equestrian Park for five days of fierce competition.  
At Tokyo 2020, the Australian Para-equestrian Team became the first ever Australian Team to see all four riders place in the top ten of their respective Grades in the Individual Championship competition.
The tension ran high, as did the temperatures in Tokyo, but the Australian riders kept their cool throughout the Individual competition to secure the historic placing. 
Victoria Davies riding her Lusitano stallion Celere finished in 9th place in the Grade II division on a score of 65.618%, while Sharon Jarvis riding Romanos, owned by Donnella Merrett, finished 10th in the Grade IV division on a score of 68.366%. Amelia White riding Genius finished in 8th place in the Grade V division on a score 69.238% and Emma Booth riding Zidane also finished 8th in the Grade III division on a score of 70.059%.
Amelia White and Emma Booth not only placed in the top ten, but they also qualified for the coveted Individual Final, Freestyle to Music, which saw the top eight placegetters from the Individual competition perform self-choreographed Freestyle tests to music of their choosing.
Amelia White, who made her Paralympic debut at Tokyo 2020 riding her horse Genius, burst onto the world stage of her first Championship event to finish 6th in the Freestyle competition. 
The newcomer stated that the experience has fuelled her desire to compete in equestrian sport at the highest level.
"I think it has been a great experience, it is just the beginning for us. I would really like to see myself be able to be closer to the top, and definitely I would love to come again. Paris is three years away and I feel like the time will go so quickly and the World Equestrian Games are next year so I think now I have been to one, why stop at one."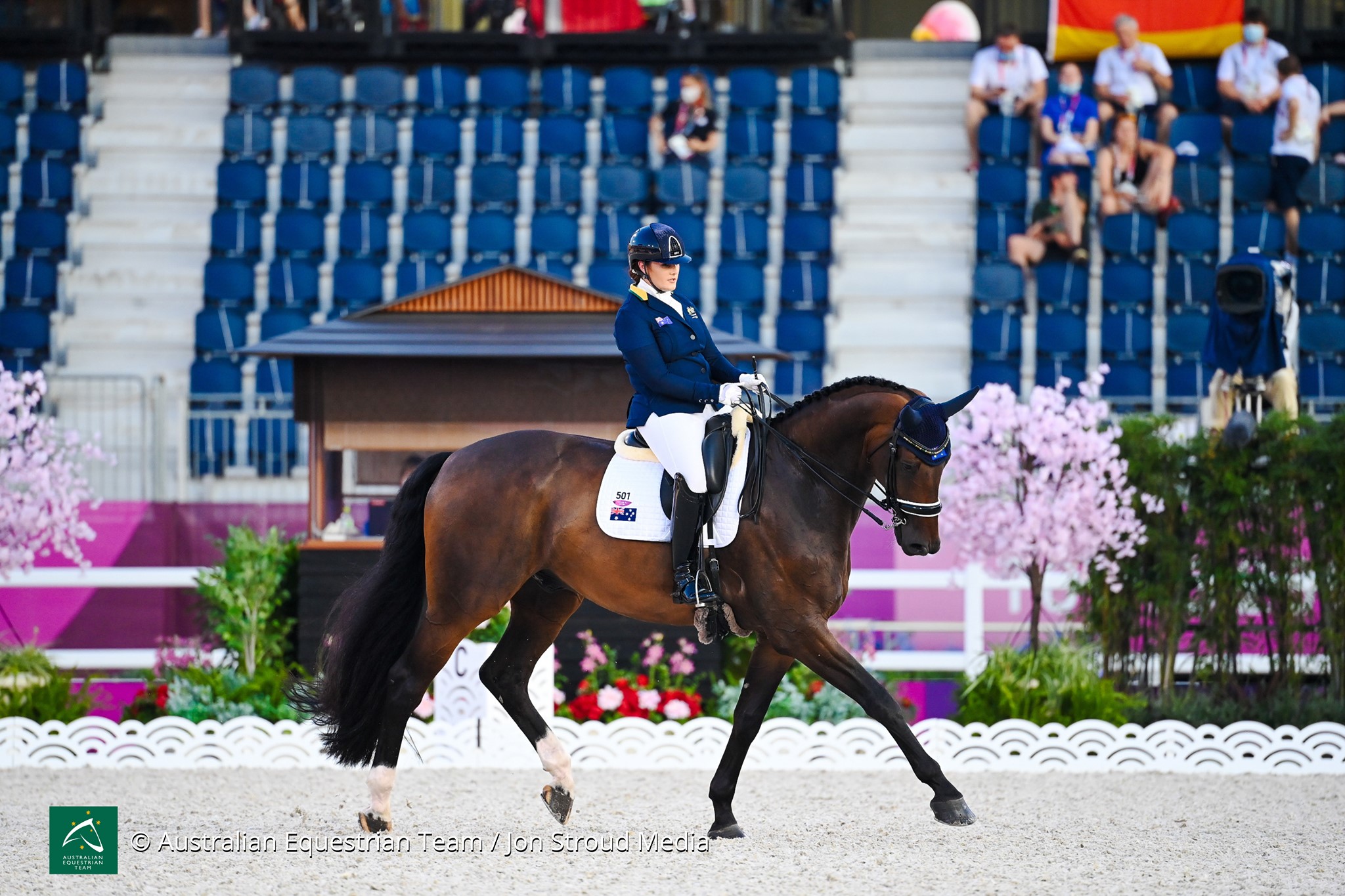 Amelia White & Genius. Photo credit: Jon Stroud Media
Fellow team member Victoria Davies also made her Paralympic debut in Tokyo, although this was not her first Paralympic campaign having set her sights on Rio 2016 after purchasing her horse Celere in Portugal 
"He is a 14-year-old Lusitano stallion and I have had him for 7 years. I went over to Portugal and that is pretty much where it started. Then we were getting ready for Rio but I was diagnosed with a neurological and spinal condition and that put an end to that, so we brought him back to Australia, he is very special," said Victoria.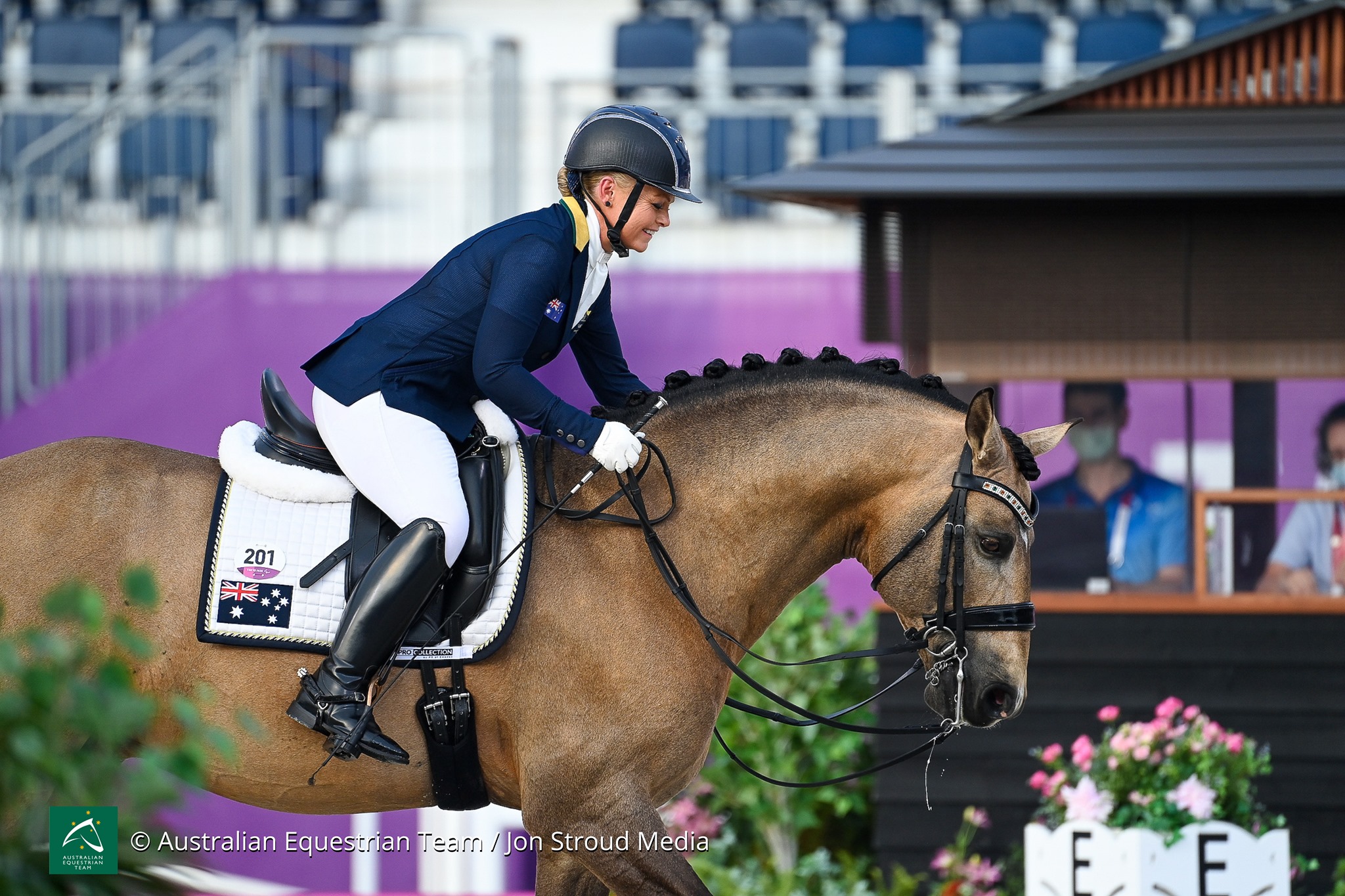 Victoria Davies & Celere. Photo credit: Jon Stroud Media
Two competitors from Australia's outstanding Para-equestrian Team for Tokyo 2020 also made history before the competition had even started.
Sharon Jarvis became the nation's first ever equestrian athlete to compete at three Paralympic Games. Sharon, who rode at Beijing 2008 and Rio 2016, says that reaching a milestone third Games was an incredible, yet emotional feat. 
"I was really lucky to get to one Games and to make it to three is just, for me, unbelievable." 
However, Sharon will step down from competing at International level stating she had made the decision this would be her last Paralympic Games before embarking on her Tokyo campaign. 
"The part that makes it a lot harder is that I made a choice before Tokyo that this would be my last Games, so that was my last ride at a Paralympics. The Paralympics have given me so much, I was a bit lost during my teenage years and didn't know where I belonged," said Sharon.
"When I found the Paralympics I suddenly belonged to a family that was incredibly inclusive."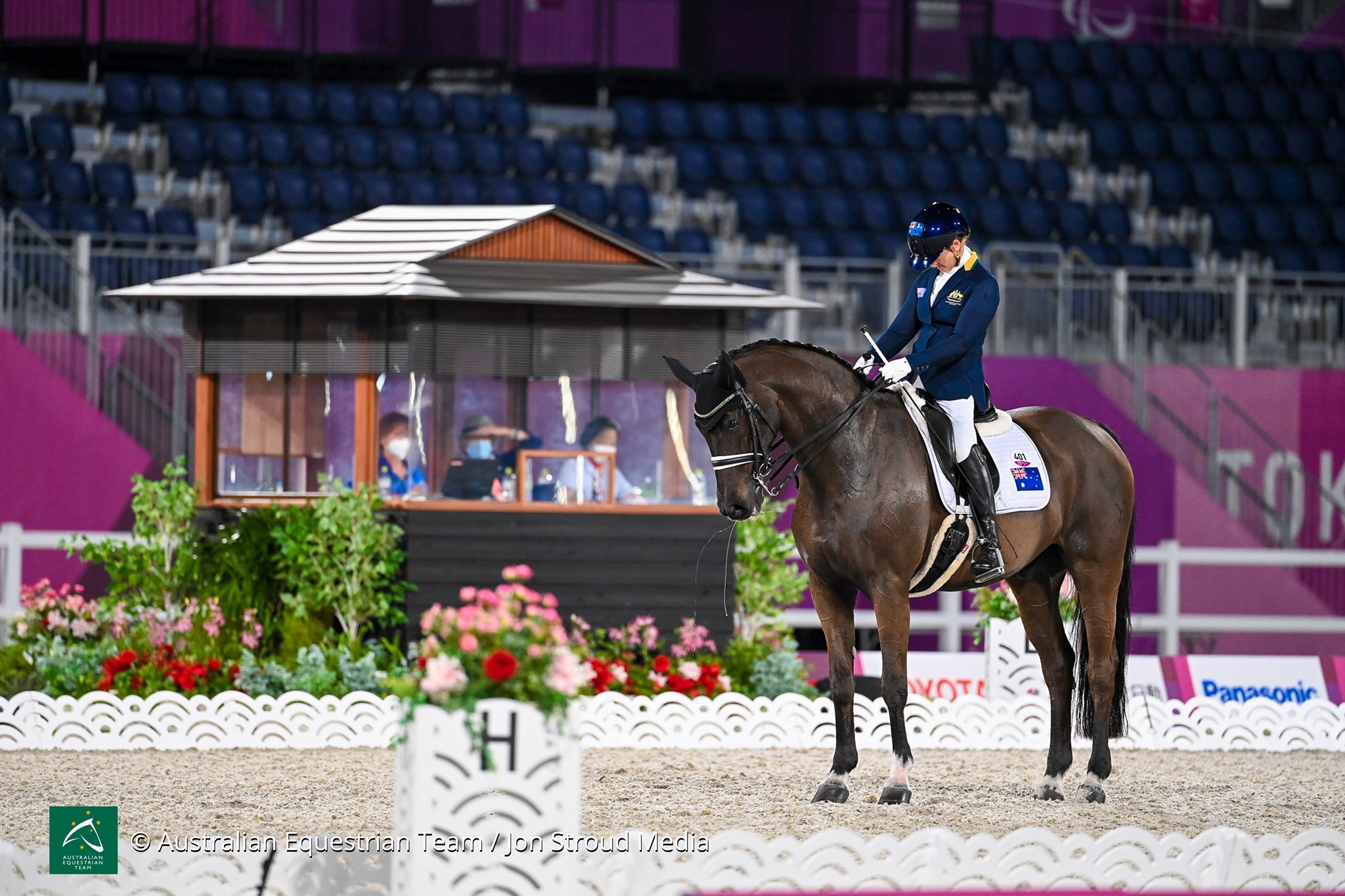 Sharon Jarvis & Romanos. Photo credit: Jon Stroud
Teammate Emma Booth and her horse Zidane also secured their place in the history books at Tokyo 2020, becoming the first ever horse and rider combination to represent Australia at two Paralympic Games. 
The two have a special connection that is visible to all who watch them perform in the arena. Emma said that whilst competing at a record second Games with Zidane was her goal, the global pandemic made her unsure they would be able to achieve it. She credits the host nation for making the Paralympics in 2021 possible. 
"It is difficult to put into words. The experience has been unbelievable. The Japanese have just done a phenomenal job of putting this event together given the state of the world at the moment and I think the extra lengths they have had to go to for this happen, you can't really appreciate unless you are here. Hats off to them they have done an absolutely awesome job."
It was a bittersweet milestone for Emma and Zidane as Emma announced at the Games she has made the decision to retire Zidane, who is 19-years-old upon, their return to Australia. However, their final dance together on the world stage will be long remembered with the pair finishing the Freestyle competition in 5th place.
"My favourite thing at this particular Games though is it is Zidane's last Games and he will retire after this so for me this has just been the most special thing about this whole experience. Just being here with him and having one last opportunity to represent my country on the world stage with my favourite horse."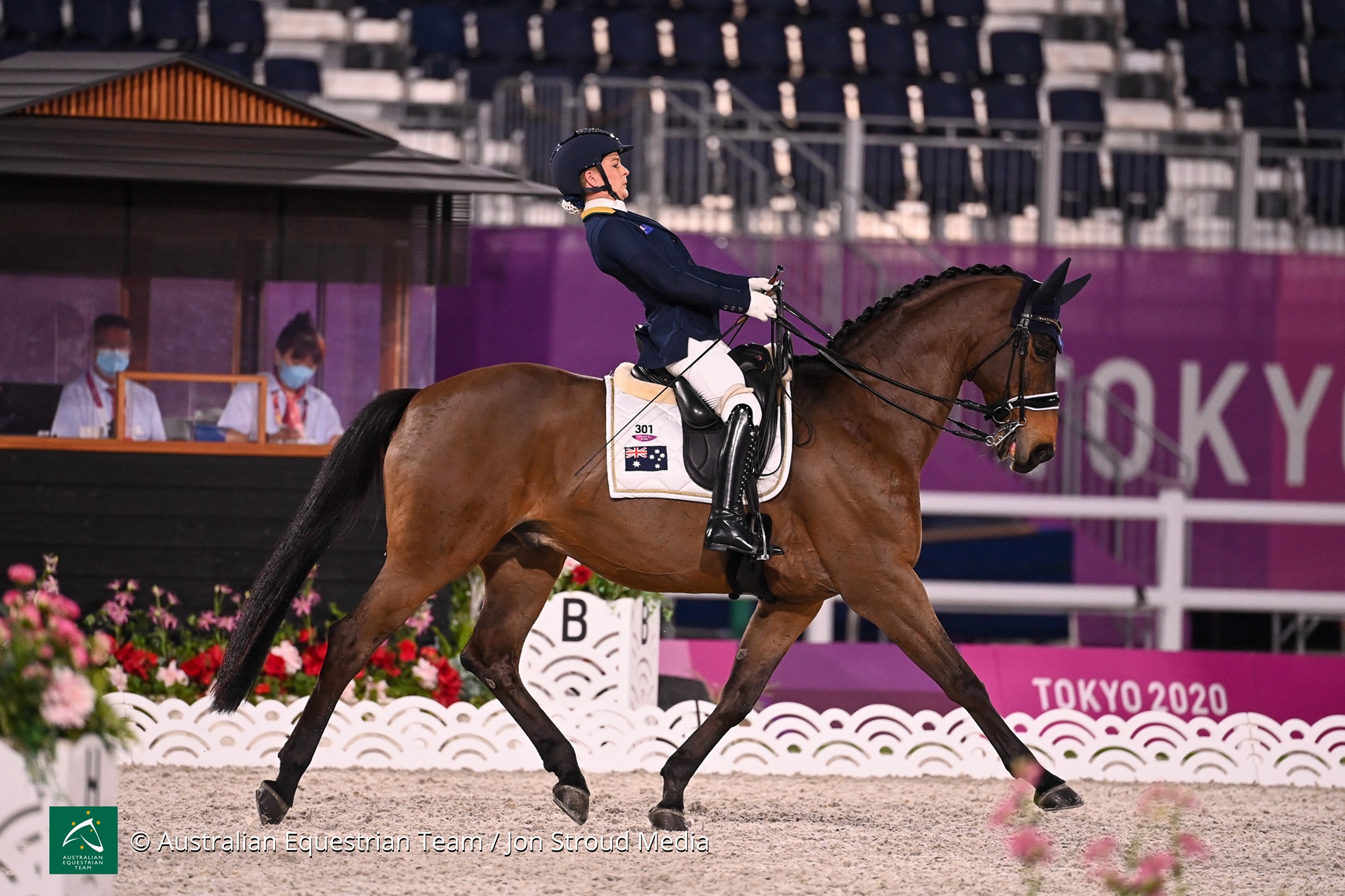 Emma Booth & Zidane. Photo credit: Jon Stroud
In the Team competition, Australia placed 13th overall with a score of 206.458%. Australia was represented in Grades III, IV, and V in the Team competition, which took place over two days.
Stefanie Maraun, EA High Performance Para-Equestrian Manager, said each of the four Australian riders competing at Tokyo 2020 put forth a fantastic effort against some of the best combinations in the world. She praised not only the four team riders, but also Sharon Jarvis, Emma Booth, and Zidane for their individual historic achievements. 
"All combinations competing at the Games were well and truly spectacular and the Australian combinations certainly held their own, delivering some outstanding results. To sit 5th (Emma Booth), and 6th (Amelia White) in the world at the conclusion of the Individual final (Freestyle) is an incredible accomplishment.  
"A huge congratulations must also go to Sharon Jarvis and Victoria Davies for their competition results. These efforts would not be achievable without an amazing team dynamic, not just between the riders and their horses, but the wider equestrian support team. With the World Equestrian Games 2022 only 12-months away, it's time to get home and start planning for the next Championship appearance."
Grade II 
Victoria Davies & Celere
Horse Owner: Victoria Davies
Groom: Shae Herwig
Results: Individual Championship, 9th place on 65.618%
Grade III
Emma Booth & Zidane
Horse Owner: Emma Booth
Groom: Shahira Ameen
Results: Individual Championship, 8th place on 70.059%. Team Test 68.000%. Freestyle, 5th place on 73.807%.
Grade IV
Sharon Jarvis & Romanos
Horse Owner: Donnella Merrett
Groom: Ashleigh Campton
Results: Individual Championship, 10th place on 68.366%. Team Test 67.900%. 
Grade V
Amelia White & Genius
Horse Owner: Amelia, Antje & Ian White
Groom: Anke Wilming
Results: Individual Championship, 8th place on 69.238%. Team Test 70.558%. Freestyle, 6th place on 72.660%.