Photo credit: Kirsty Pasto
Australian Eventing Team – FEI World Championships, Pratoni
Five Australian combinations took on the world's best in Italy last week at the FEI World Eventing Championships. The historic location, which also hosted the Eventing Championships as part of the FEI World Equestrian Games in 1998, saw 89 horse-and-rider combinations compete in the competition from 26 different nations.
The Australian Team featured eight-time Olympian Andrew Hoy riding Vassily de Lassos alongside fellow Tokyo 2020 teammates, and silver medallists, Shane Rose riding Virgil and Kevin McNab riding Scuderia 1918 Don Quidam. Also on the Team, and making her FEI World Championship debut, was three-time CCI5*-L Adelaide winner Hazel Shannon riding WillingaPark Clifford.
Twenty–six year old Shenae Lowings and Bold Venture also competed at the FEI World Championships in Pratoni as individuals.
The statisticians at Equiratings ranked Pratoni as the most competitive FEI Eventing World Championships ever held, and there's no denying that spectators were treated to two days of impressive dressage competition to kick off the event; including a star-studded lineup and some outstanding tests.  
The dressage phase gave the Australian Team a great start to the competition, placing them fifth on the Leaderboard.
Kevin McNab and Scuderia 1918 Don Quidam produced the highest scoring Australian dressage test with a personal best CCI5*-L score of 25.7, which also sat them in 9th place individually.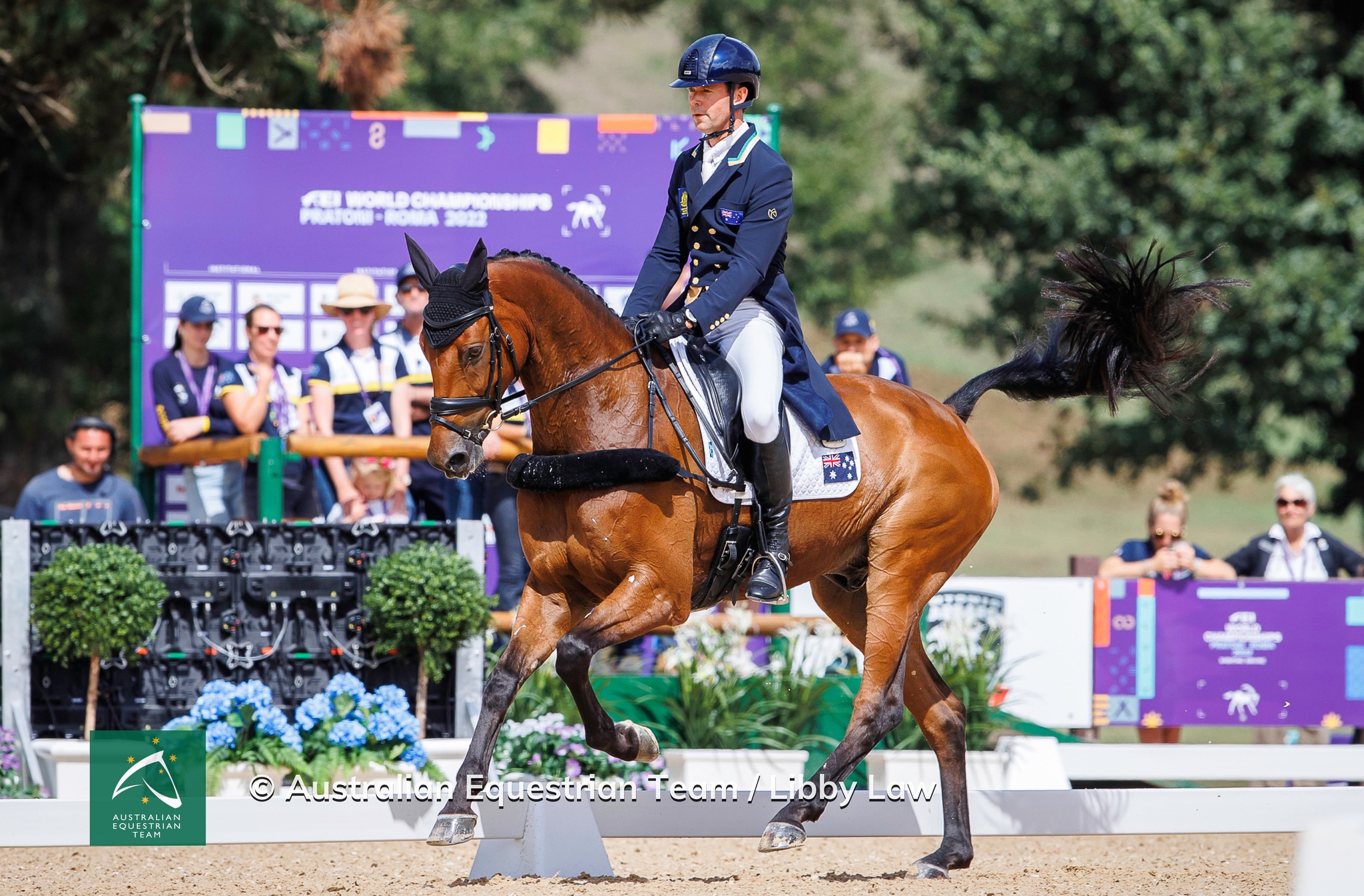 Kevin McNab and Scuderia 1918 Don Quidam. 
Teammates Shane Rose and Virgil scored 31.5 (40th after dressage), Hazel Shannon and WillingaPark Clifford scored 30.3 (34th after dressage) and Andrew Hoy scored 28.1 (26th after dressage).
For Shenae Lowings, the youngest rider representing Australia, the FEI World Championships also marked her first experience travelling overseas with a horse; and she certainly made an impression in the dressage arena. Shenae and Bold Venture were awarded a score of 26.3 which saw the combination ranked 17th heading into the cross-country phase. 
"I couldn't have asked for much more, he gave it his all. I am so grateful for him. He tries his hardest and that is what he did out there today. I had a few little blips in the first movement but we got ourselves back together and he executed the test really well. I am very happy with him", said Shenae of her test.
Cross-country day proved to be influential with many of the starting combinations finishing the course with costly penalties. The course was designed by Giuseppe Della Chiesa and set against the beautiful backdrop of the Castelli Romani National Park. The course was made up of 30 fences or combinations over a distance of 5,600m with an optimum time of 9 minutes 50 seconds (570m/min). 
There was also plenty of tradition including the notorious KEP Slide at fence 7. This obstacle, a log perched on top of a steep slope, has featured at Pratoni since the Olympic Games in 1960. 
The Australian Team started strong with Shane Rose and Virgil the pathfinders for the team. The seasoned combination set the pace finishing the round with no jumping faults and only 2.8 time penalties. 
The next rider on course was Hazel Shannon and her special chestnut Thoroughbred WillingaPark Clifford. Clifford, who is 17-years-old, has been produced through the grades by Hazel. Hazel and Clifford looked spectacular out on course finishing with no jumping faults and 11.2 time penalties.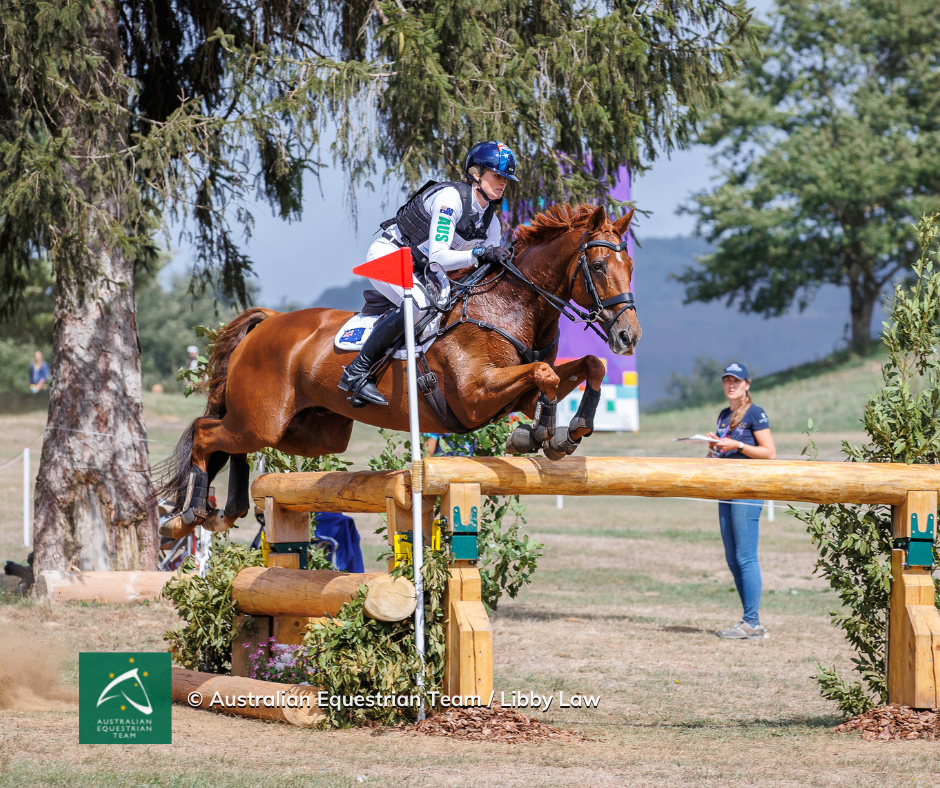 Hazel Shannon and WillingaPark Clifford. 
"He felt like he could go around again. He is always like that, there is no limit to his tank; but I don't know if I could go around again. I think I used up all my energy and nerve," said Hazel after the round.
Shenae Lowings and Bold Venture were the next pair to tackle cross-country, and they blazed through the course to jump clear and finish with only 8.4 time faults.
Kevin McNab and Scuderia 1918 Don Quidam faced the unimaginable when their rein broke midway through a combination out on the challenging course.
"The horse was fantastic; he started really well. I wasn't pressing him and he was just taking me to all the fences. He was on fire and going by my watch I was a couple of seconds under time, and then between an A and B my rein broke," explained Kevin.
"I had to pull right and slow him down. Then grab the left cheek piece to stop him; and reach down to work out a way to tie the rein to the bit so that I could carry on and finish my round. That took me about a minute. When I got down to my next minute marker I was a minute over time; and then he finished a minute and two seconds over. So, as far as the horse is concerned he was clear and under time." 
Kevin showed amazing horsemanship and skill to keep his cool and fix the situation under pressure. The unfortunate rein break resulted in 20 jumping penalties for crossing his tracks while fixing his rein, and 24.8 time.
The final Australian Team combination out on course was stalwart Andrew Hoy on his famed "ginger unicorn" Vassily de Lassos. The pair finished the course with an uncharacteristic 40 jumping penalties and 14.8 time.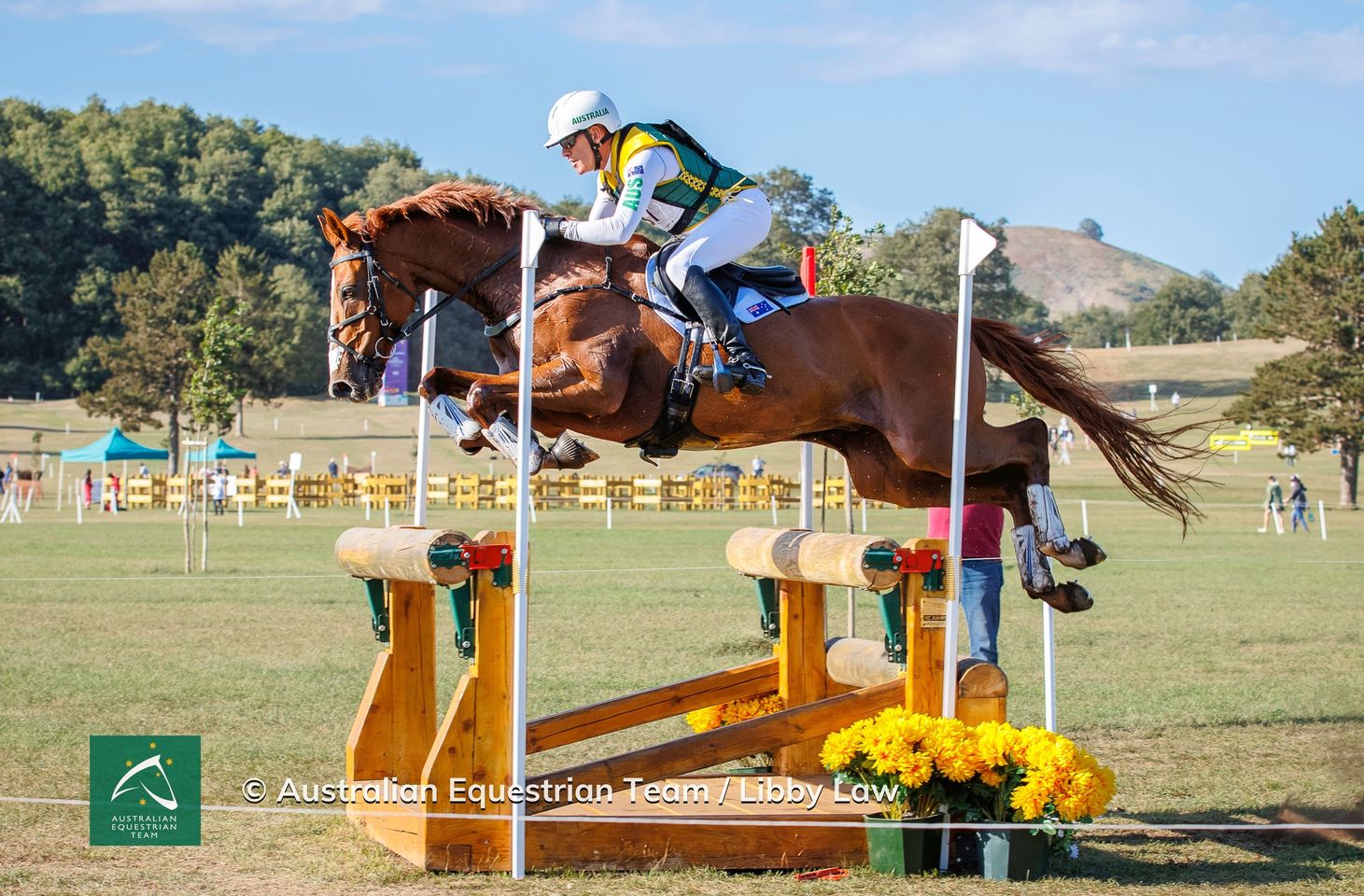 Andrew Hoy and Vassily de Lassos.
The ever-gracious Andrew, who was competing at his eighth FEI World Championships, was quick to point out that Vassily is still very much his special partner. 
"It just proves that horses are not machines. Vassily is an absolutely fantastic horse. He doesn't lose any credibility in my opinion for what happened today. The rest of the round was absolutely fantastic. There were just two fences that weren't, and they were very costly. We can all have bad days as human athletes, and also as an equine athlete. Tomorrow is another day," said Andrew.
Following the influential cross-country test the Australian Team slipped down the standings to 10thplace moving into the final showjumping phase. 
All of the combinations jumped in reverse order of standing for the final phase, which saw Andrew Hoy and Vassily de Lassos enter the arena first for Team Australia. The pair jumped well finishing the round with one unlucky rail.
"I have to say I was very happy with the way he jumped. It was a big course; it was a wide course. I rode him well and he jumped well. I was a long way from fence five when the pole actually hit the ground. I heard it hit one end first, so it must have just slightly rolled off one end. It is only the second rail I have had with him in his international career, so very, very happy," said Andrew of the round. 
"The great thing about this weekend is that Vassily is feeling really well. He has come out of it well. It is a good experience for him albeit I had the two errors yesterday. He doesn't know where he finished on the leaderboard, it is only all the spectators and the human athletes. To me he will always be my best friend, my soul mate, and one of the most exceptional horses I have ever ridden." 
Kevin McNab and Scuderia 1918 Don Quidam were the next to jump. The pair looked impressive as they tackled the Uliano Vezzani (ITA) designed course, but unfortunately they too finished with one rail down. 
Kevin said that even though things didn't go his way this week he will take away a lot from the experience 
"I think you learn something every time you go out. It was no different this time around. I think having my time over again I probably couldn't have prevented yesterday, but I will be a little bit more prepared next time. I think it was a great event and I was really happy with my horse." 
Hazel Shannon and WillingaPark Clifford had five rails in the showjumping phase, but despite the initial disappointment Hazel said she preferred to focus on the fact that she had finished her first FEI World Championships with a happy, healthy horse.
Clifford took notice of the electric atmosphere in the arena, which Hazel said had a significant impact on their round.
"He started off quite well but then he got his adrenaline up more and more and got a little less rideable. That is where we had the rails. I think if he just stayed a little quieter he would have had a good shot at going clean."
Despite the rails Hazel is thrilled to have represented Australia on the world stage in Italy.
"It has been great. It is a goal I have been trying to reach for quite a long time. To come here and do it, and to have gotten through cross-country, and to go home with a fit and healthy horse is always a good thing. Now I have done it I want to do it again, and I know that I am capable of doing it. I want to come back and do better next time."
Fellow FEI World Championships first-timers, Shenae Lowings and Bold Venture, were the penultimate combination representing Australia and finished with three rails down.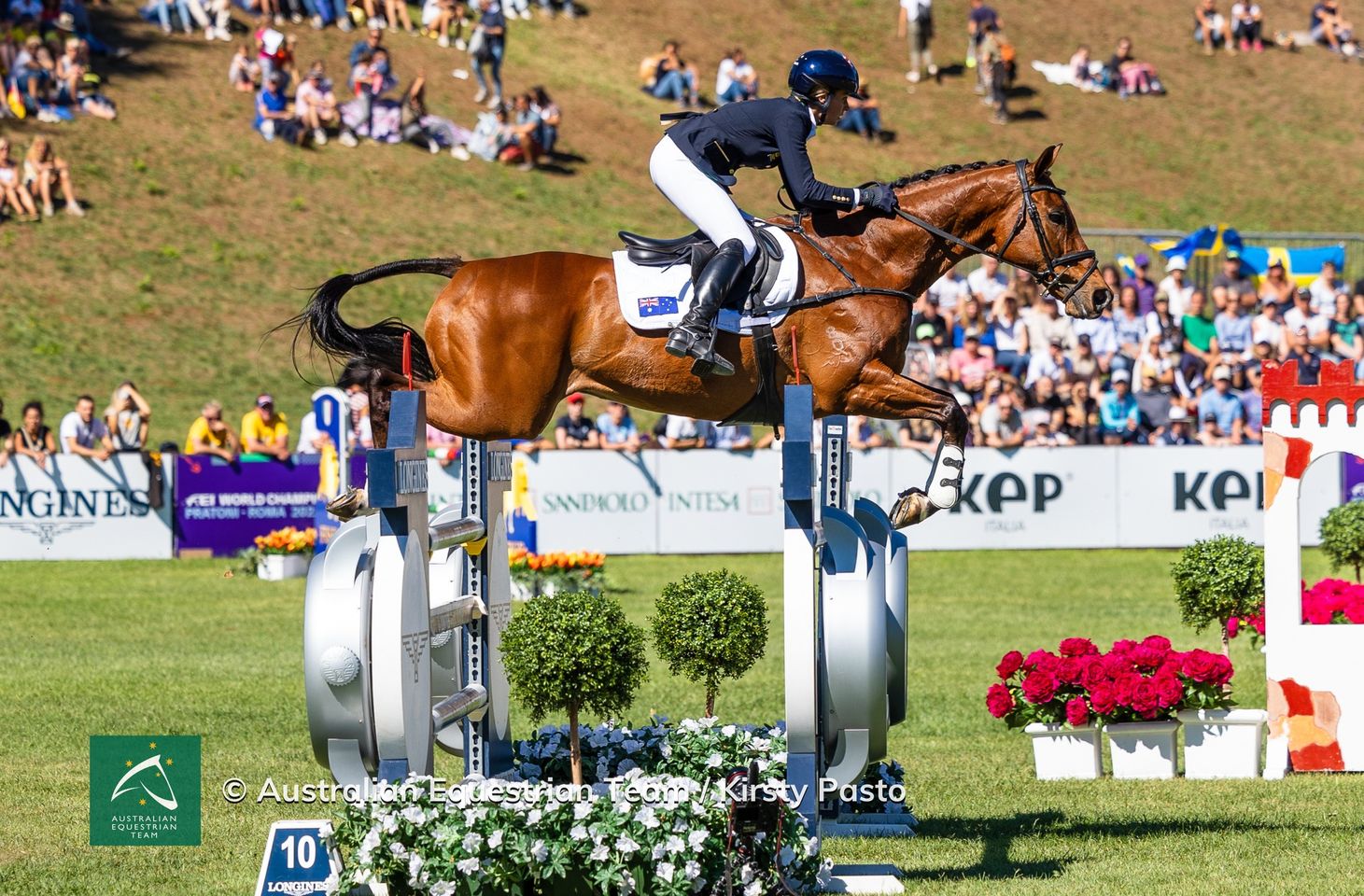 Shenae Lowings and Bold Venture.
"When I got in this morning to walk the course I thought 'wow' it feels like we are at a Longines World Cup. It was a bit of a shame that I had three down, but overall he jumped really well and handled the atmosphere. I was super proud of him. It is by far the biggest competition we have been to. To have him so relaxed and in his own rhythm is really good. I am really pleased with him," said Shenae.
Australia's highest-placed combination, and therefore the last to jump, was Shane Rose and Virgil. The pair, who are known for their showjumping form, looked fantastic as they took on the impressive course. Unfortunately, they had one rail that resulted in four penalties, which dropped them to 13th on the leaderboard.
"He was amazing today. He felt really strong, rideable and polite. He was amazing and I am really pleased. He is an old boy but he is still feeling as good as he did when he was a young horse.  
"Really frustrated about that pole. A lot of people had been doing seven and I thought I would get down there in six and wait. We just got there too early and unfortunately rolled it behind."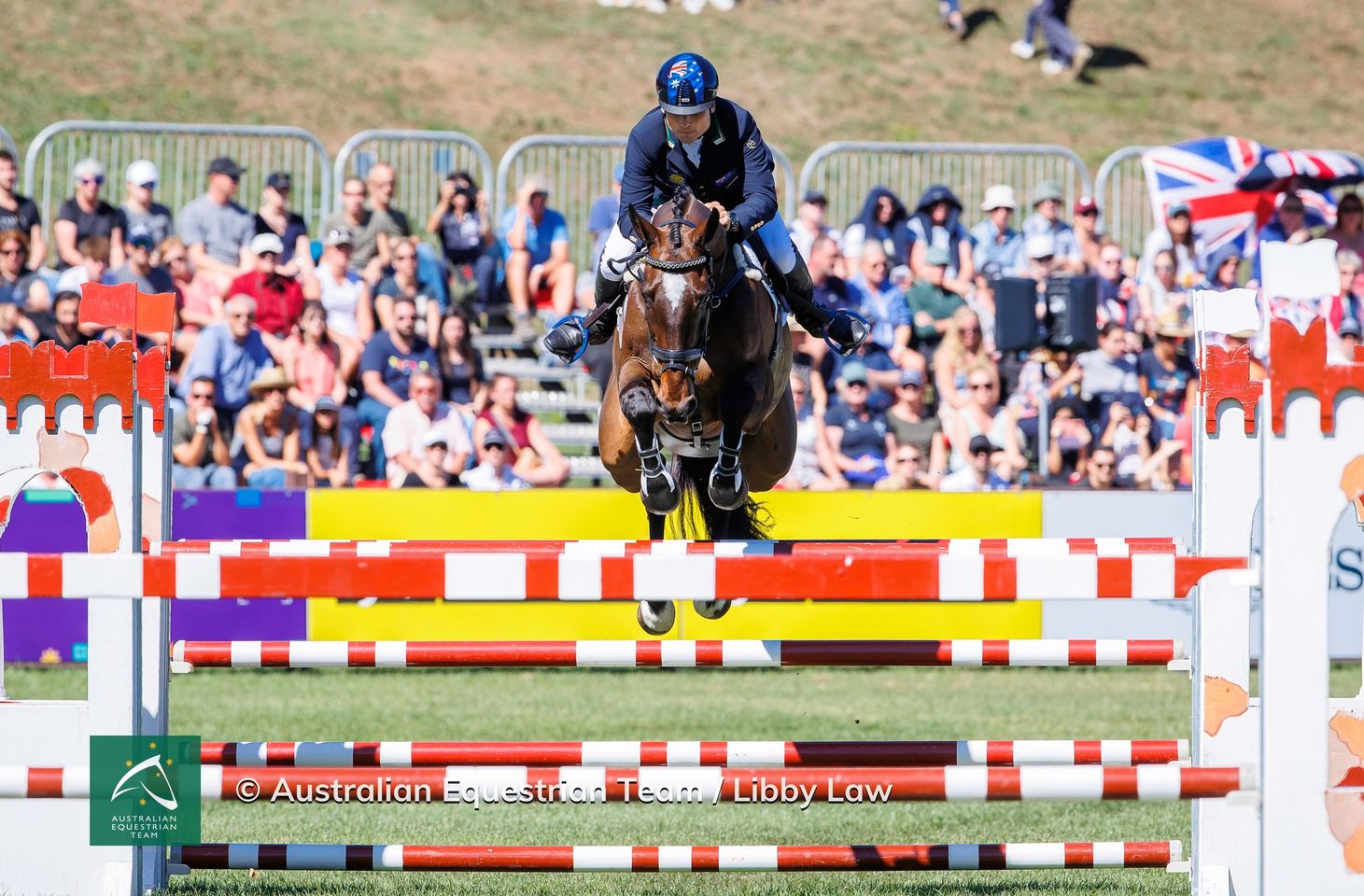 Shane Rose and Virgil.
This is not Shane's first time competing at an FEI World Championship in Pratoni. He competed at Pratoni in 1998 riding It's A Knockout. Shane said that the experience never gets old and keeps him looking forward to the next opportunity to represent Australia.
"I am really pleased to be here representing Australia again. Whenever you come to these big events it makes you want to come back again; and I am as hungry as I ever have been."
At the FEI World Championships, the Australian Team placed 10th overall.
Will Enzinger, Chef d'équipe for the Australian Eventing Team, noted that regardless of the final standings all of the Australian Team members conducted themselves admirably. 
"Despite the outcome not being what we had hoped for; we are proud of all of our athletes and the way they handled the challenges faced at Pratoni. We will only be stronger for the lessons learned this week.
"It was wonderful to see two athletes, Hazel Shannon and Shenae Lowings, representing Australia at World Championship level for the very first time. The professionalism they demonstrated, along with that of all the Australian athletes, should be commended.
"All of the Australian horses are going home happy and healthy in large part thanks to their grooms' diligent work over the course of the past few weeks. We are also appreciative for the support of our horses' owners who enable our athletes to represent Australia at these Championships; and who play an integral role in our team."
Full results from the individual competition can be found HERE and full results from the team competition can be found HERE.
Final Australian Results
Australian Team (Andrew Hoy, Kevin McNab, Shane Rose and Hazel Shannon)
10th – 174.3
Shane Rose and Virgil – 13th, 38.3
Shenae Lowings and Bold Venture – 29th, 47.1 
Hazel Shannon and WillingaPark Clifford – 39th, 61.5 
Kevin McNab and Scuderia 1918 Don Quidam –  47th , 74.5
Andrew Hoy and Vassily de Lassos – 54th, 86.9