Australian Para-Dressage Team – FEI World Championships Wrap
Three Para-dressage combinations represented Australia at the FEI World Championships, Herning, with two horses making the journey from Australia for the event.
Riders represented the Australian Team across three Para-Equestrian Grades. Emma Booth rode Furst Deluxe in the Grade III competition, Dianne Barnes rode Cil Dara Cosmic in the Grade IV competition and Lisa Martin rode Juicy Wiggle in the Grade V competition.
Dianne Barnes was the first Para-Dressage competitor for Australia to take to the BB Horse Arena. Di and Stella, as Cil Dara Cosmic is affectionately known, scored 67.375% (11th place) for the Team Test and 68.439% for their Individual Test (10th place). Unfortunately, Di and Stella did not move forward to the Freestyle competition with only the top 8 going through.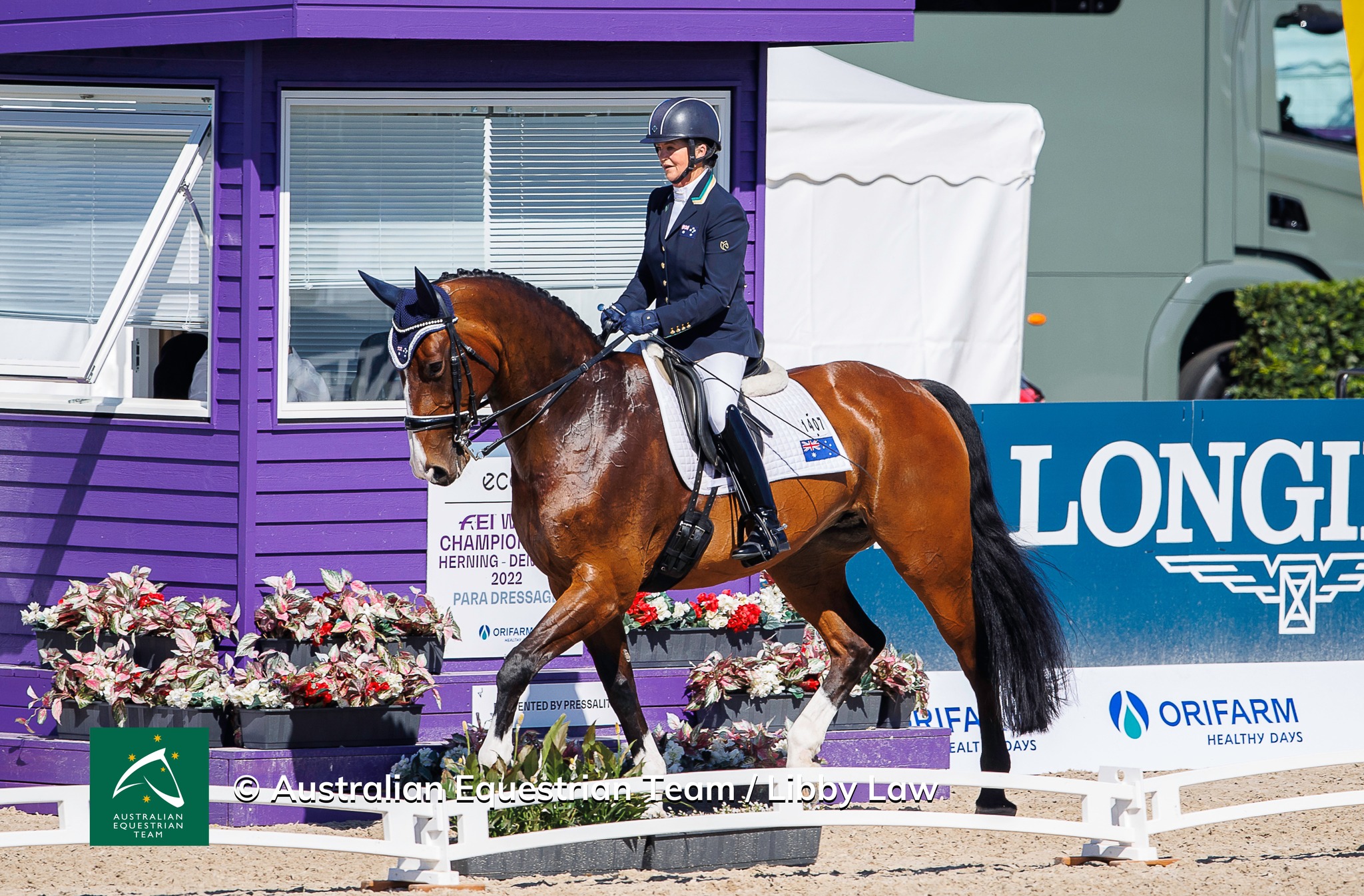 Di Barnes and Cil Dara Cosmic. Photo credit: Libby Law
However, this campaign has been particularly special for Di as she has been able to share the journey with her daughter Jodie, who owns Stella and is also her groom at the Championships. 
"To share that experience is like a dream, it has been wonderful. Jodie bought the mare as a three-year-old and she is the one who has trained her up. Jodie trained her to Grand Prix. She is a super mare but she was never going to be in the race in the Grand Prix, so when I got diagnosed with Parkinson's and Dystonia Jodie said she wanted me to have my last twelve months of riding having fun, and wow am I having fun," beamed Di.
Lisa Martin and her mare Juicy Wiggle made a solid start to their campaign, scoring 67.558 % (10th place) in the Team Test, despite Juicy Wiggle only being seven-years-old. The pair scored 65.952% (14th place) in the Individual test, which unfortunately was not enough to secure them a place in the Freestyle Test.
Lisa Martin and Juicy Wiggle. Photo credit: Libby Law.
"I was really, really happy with that. She is still only young and green and she has only done the test a couple of times. She is a little inexperienced, but for a seven-year old she is amazing," said Lisa.
Making the moment even more special is the fact that Lisa bred Juicy Wiggle herself, which has not always been smooth sailing. 
"She was a very difficult foal. She ended up going and doing a bit of stock horse work because she was really quite difficult. I am sure because of the really good breaking in she had, from a cutting horse trainer actually, that she handles these things (international competition) well now."
Teammate Emma Booth, riding Furst Deluxe, made an immediate impression on the judges during the Team Test, scoring 70.765% (6th place). The pair then managed to better their score in the Individual Test, being awarded 71.000% (6th position), guaranteeing them a place in the Freestyle competition.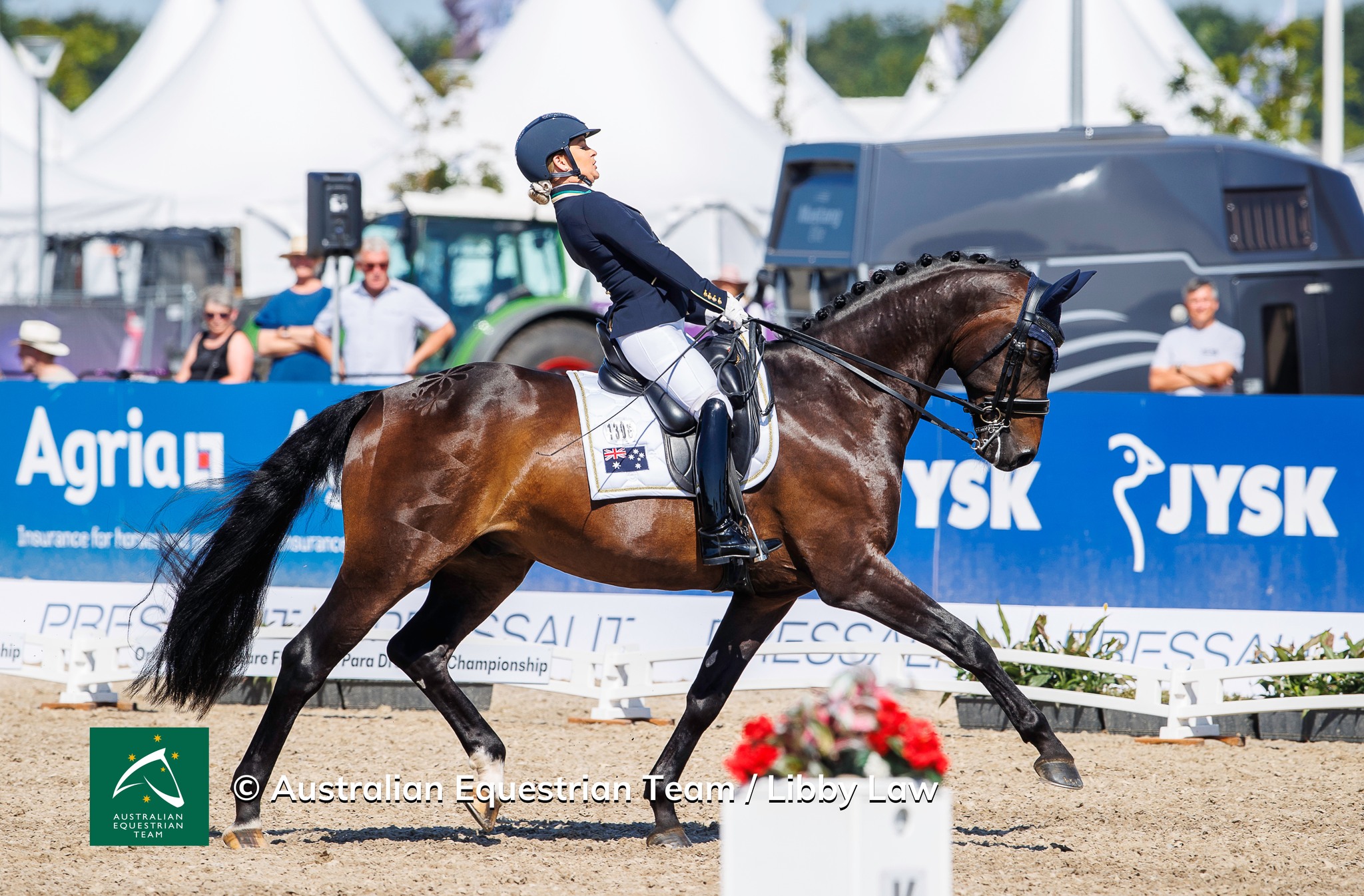 Emma Booth and Furst Deluxe. Photo credit: Libby Law
Impressively, Emma has only recently taken up the ride on 'Fursty', as he is known at home, following a move to Germany to base with Australian Dressage rider, Maree Tomkinson.
Emma displayed her horsemanship and professionalism skills on the final day of competition, rising above a sticky start to her Freestyle Test. 
Emma and Furst Deluxe scored 72.033%, finishing the Freestyle in 8th place. The beginning of the test saw Furst Deluxe reluctant to enter the arena after spooking at the arena attendant. Emma remained calm and recovered beautifully to settle into the test, producing some lovely work. 
Despite the hiccup, the ever-gracious Emma was quick to remind everyone that with horses things don't always go to plan, and that she is still very proud of 'Fursty'. 
"That's horses, you can never have the perfect ride and unfortunately today wasn't the perfect ride. I am really happy with him. You just put so much into it, and everybody, the whole team. Maree, she has been amazing and you put so much in to just making the Freestyle, and doing the Freestyle, and it is a lot. I think there is still so much left in the tank if everything was able to come together on the day. I am still really hopeful for the future and really proud of the team."
In the Team competition Australia finished in 13th place.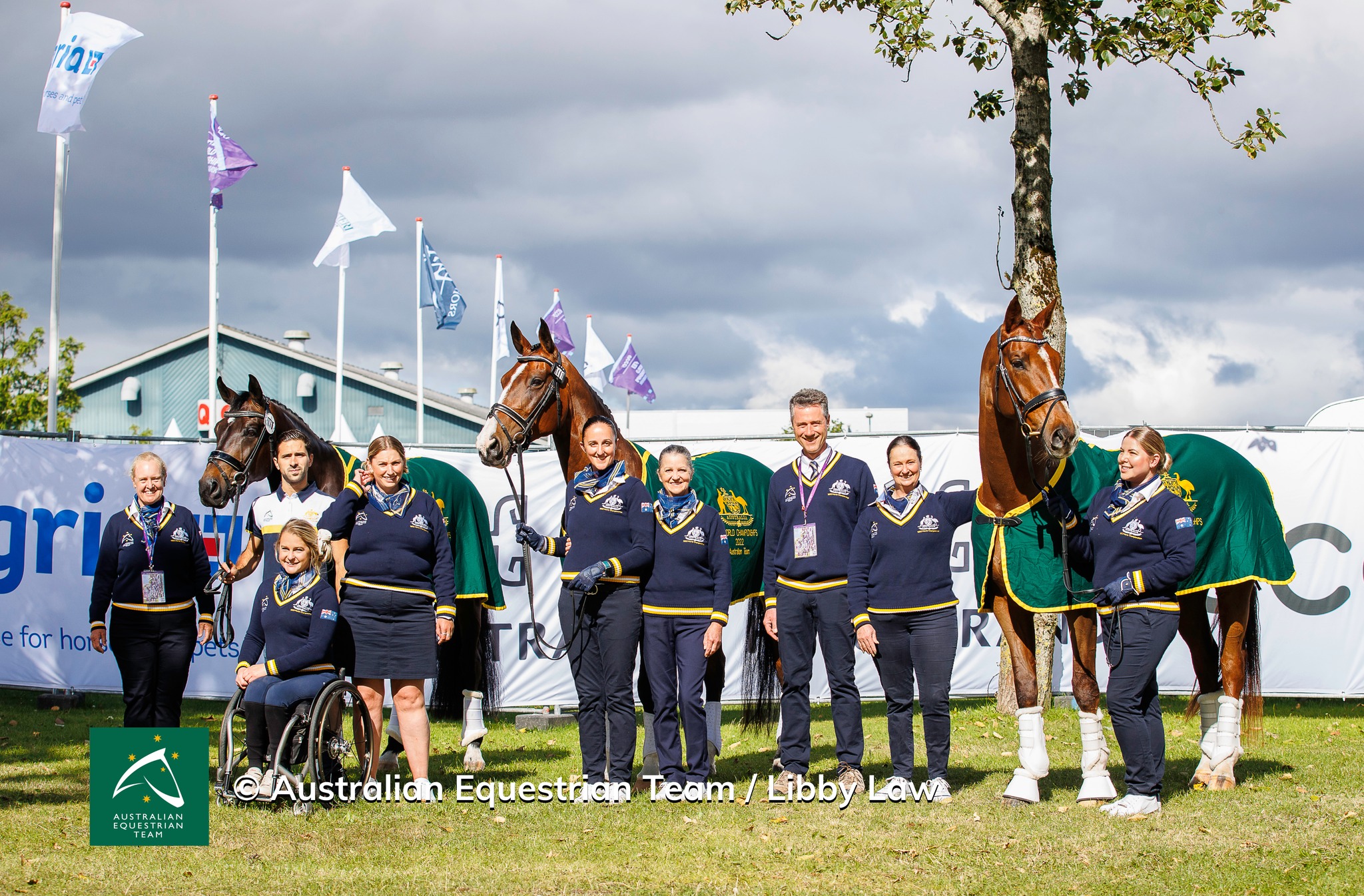 Australian Para-Dressage Team. Photo credit: Libby Law.
Australian Para-Dressage Team Chef d'Equipe, Stefanie Maraun, said that all of the Para-Dressage athletes should be proud of their campaigns. 
"Each of the three Australian Riders competing at the 2022 FEI World Championships put in a fantastic effort against some of the best combinations in the world. Huge congratulations must be given to all three riders for their competition results. These efforts would not be achievable without an amazing team dynamic, not just between the riders and their horses, but the equestrian support team including EA Staff, horse owners and the wider equestrian community,"  
Full results can be found HERE.