Photo credit: Kirsty Pasto
Australian Riders Take on Badminton 2022 – Event Report
Last week a total of 83 horses from 12 nations started at Badminton Horse Trials, presented by Mars Equestrian. The historic event was held within the grounds of Badminton House, the seat of the Duke of Beaufort, in South Gloucestershire, England. 
The competition's starting lineup included five Australian combinations. Hazel Shannon and Dom Schramm made their Badminton debuts on Willingapark Clifford and Bolytair B, respectively. United Kingdom based Australians Sammi Birch, riding Finduss PFB, and Bill Levett, riding Lassban Diamond Lift and Lates Quin, were also entered.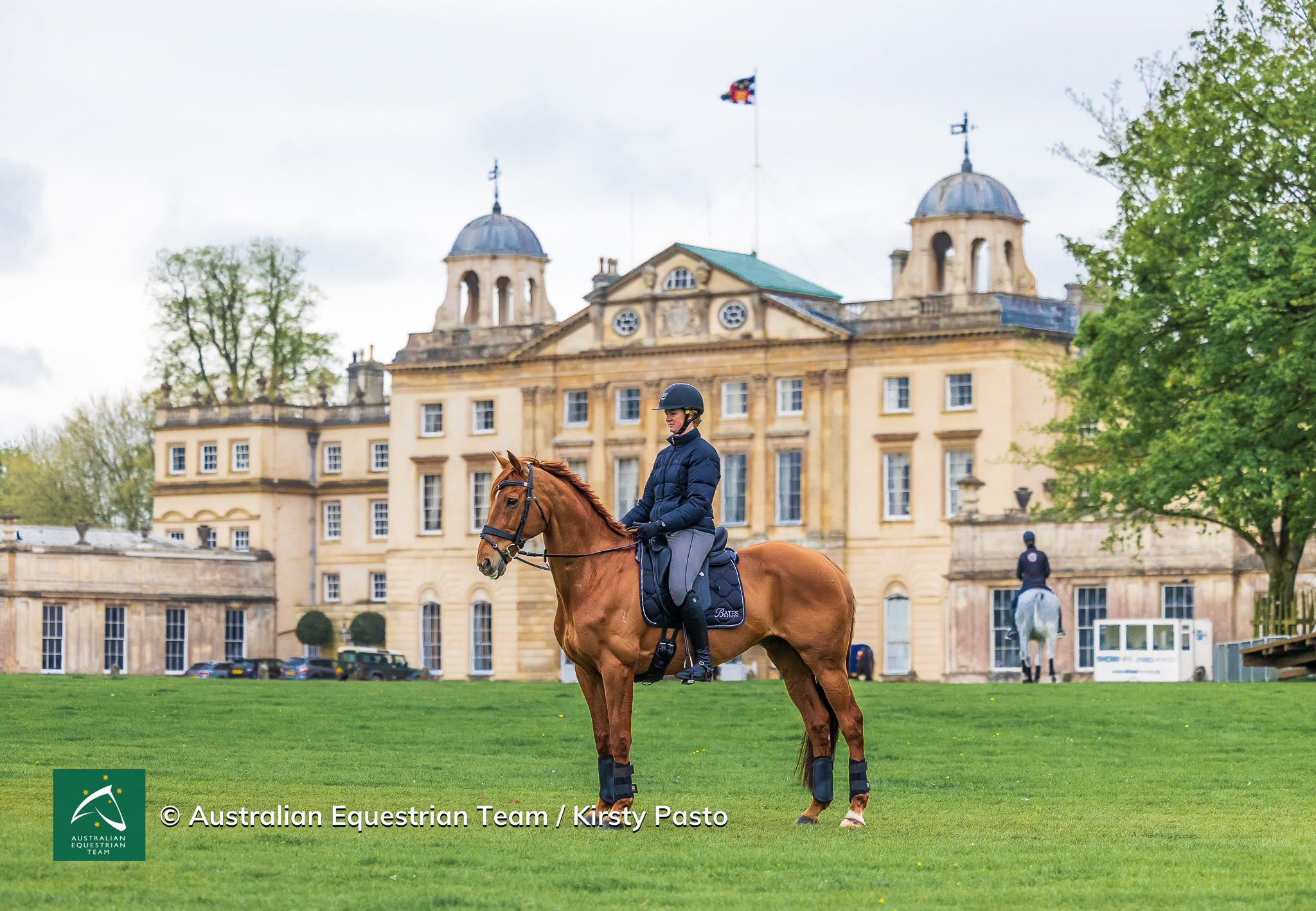 Hazel Shannon & Willingapark Clifford in front of Badminton House. Photo credit: Australian Equestrian Team / Kirsty Pasto
Riders, owners, fans, and officials returned to the renowned venue for the first time since 2019 to open the event and witness the first horse inspection in front of Badminton House.
All Australian horses passed the trot-up and appeared fit, healthy and immaculately presented by their grooms. 
Willingapark Clifford was groomed by Bronte Buttel
Bolytair B was groomed by Emily Lehman
Finduss PFB was groomed by Helen Tagg
Lassband Diamond Lift and Lates Quin were groomed by Debbie Carpenter.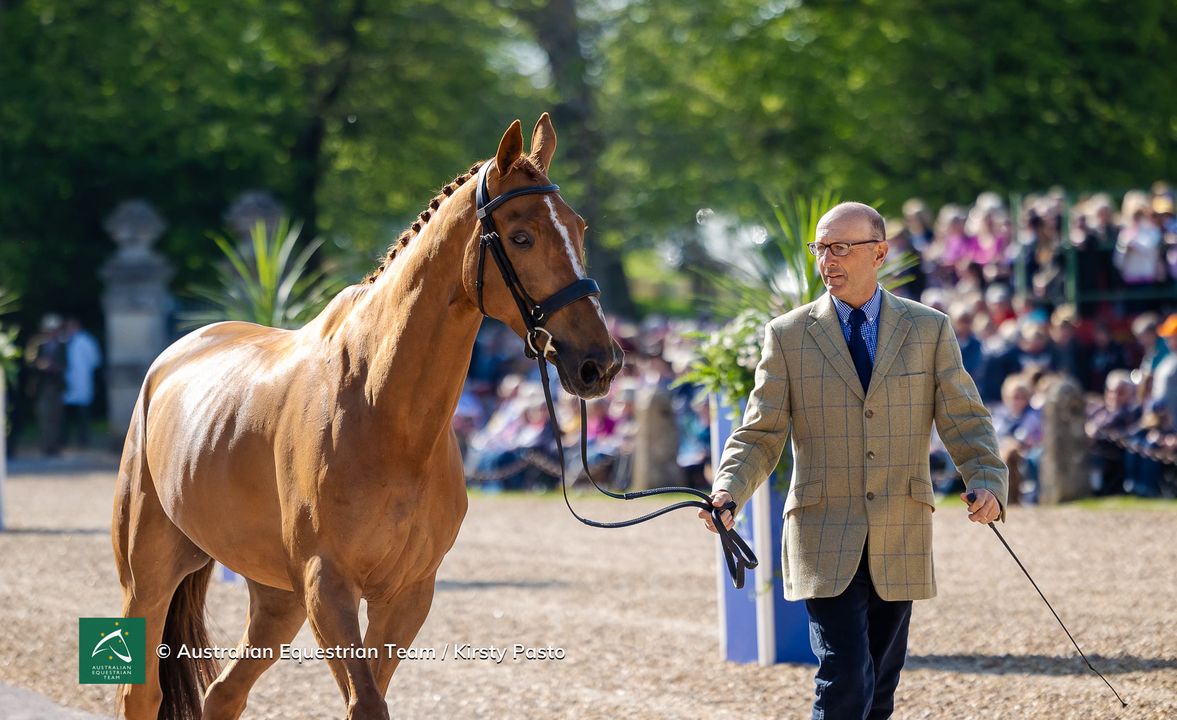 Bill Levett & Lates Quin at the first horse inspection. Photo credit: Australian Equestrian Team / Kirsty Pasto
DRESSAGE 
The first test of the competition was the dressage phase, which is designed to demonstrate a horse's obedience and harmony with the rider. Christian Landolt (SUI) at C; Seppo Laine (FIN) at H and Anne-Marie Taylor (GBR) at B judged the dressage tests, which consisted of 25 movements marked out of 10. 
Due to the large number of competitors, the dressage phase was held over two days in the main stadium. 
Hazel Shannon and Willingapark Clifford, who is owned by Terry Snow, performed an outstanding dressage test to achieve a personal best CCI5*-L score of 29.9. The sub 30 score saw the pair in 22nd position, the highest placed of the Australian contingent after the dressage phase.  
"It is always my goal to be under 30. The extra atmosphere of a place like this is a battle. It is the first time I have scored under 30 at a five-star and I am stoked! He felt good, he felt like he wanted to go cross-country, but he held it together for the dressage," said Hazel following her test.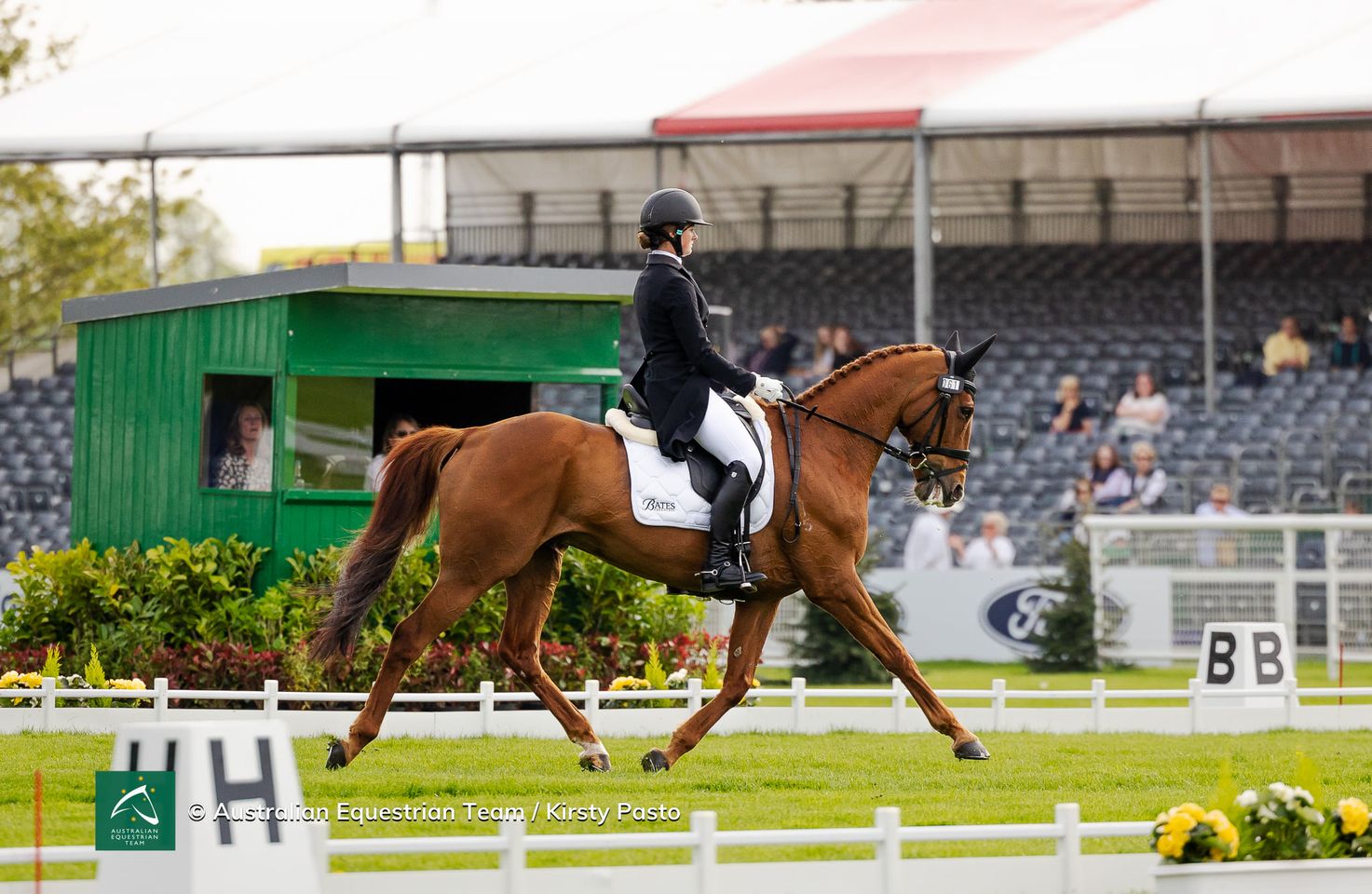 Hazel Shannon & Willingapark Clifford in the dressage phase. Photo credit: Australian Equestrian Team / Kirsty Pasto
Seasoned Badminton competitor Bill Levett had two horses competing at Badminton this year. British-based Bill first competed at Badminton Horse Trials 22 years ago and has seven previous completions to his name. The first of his two rides into the arena was his FEI World Equestrian Games 2018 mount Lassban Diamond Lift, owned by Elisabeth Murdoch and Bill. 
Bill and 'Sparkles', as Lassban Diamond Lift is known at home, scored 33.5 putting them in  =43rd place. Bill's second ride, Late's Quin, also owned by Elisabeth Murdoch, scored 38.3 and was placed 72nd after dressage.
Dom Schramm, who is based in the United States and travelled to England to compete at Badminton, rode the imposing Bolytair B in front of a large audience on the second day of the dressage phase. Bolytair B grew in stature as he faced the electric atmosphere in the stadium, and it required all of Dom's skill to contain the 17.2hh gelding.
"He is such a big powerful horse. I am actually thrilled with him because I thought we were about to go and smoke it, as soon as I went around the short side he started to get a hand taller," laughed Dom, recalling his test.
Sammi Birch, who competed for the first time at Badminton in 1999 at the age of 21, rode the magnificent chestnut gelding Finduss PFB for a score of 38.7, putting them in 73rd position after the dressage phase. 
"He is not a dressage horse by any means and he has been struggling with the atmosphere since we got here so we're pretty happy to just get round. He started to trust me a bit more in there and actually got better I think, so I'm really happy with him because it could have gone another way," explained Sammi. 
CROSS-COUNTRY
The cross-country test was held in front of a sell-out audience of 130,000 spectators on Saturday. With just 50 clear rounds from 80 starters, it was an eventful day with substantial movement on the Leaderboard.
The course, designed by Eric Winter, was created with the upcoming FEI World Championships in mind and to deliver a great thrill for riders and spectators alike. The course was created utilising a more undulating track than has been seen at Badminton in recent years, and consisted of 46 jumping efforts. The time allowed for riders to complete the course was 11min 44seconds.
When asked how he expected the course to ride prior to the start of the competition Eric, stated: "It's an attacking course and will suit bold horses with scope and agility, as there are a lot of big fences which befits a 5-star competition. Badminton has always traditionally been the best preparation for the international championships and this year will be no exception."
Bill Levett and Lassban Diamond Lift were the first Australian combination out on course, finishing with no jumping penalties and just 5.6 time. The result was an emotional one for Bill, who was overjoyed with 'Sparkles'. The impressive performance saw them move up the standings from =43rd after dressage to 19th place.
"Brilliant ride, he was super. I was so happy to show off his skills because he is an unbelievable galloper. You don't get many days like this. He is my wife Jenny's favourite horse. We have had him since a 5 year-old and it is just one of the joys of the sport seeing him show himself off," said Bill. 
Bill Levett withdrew his second ride, Lates Quin, prior to the start of the cross-country phase.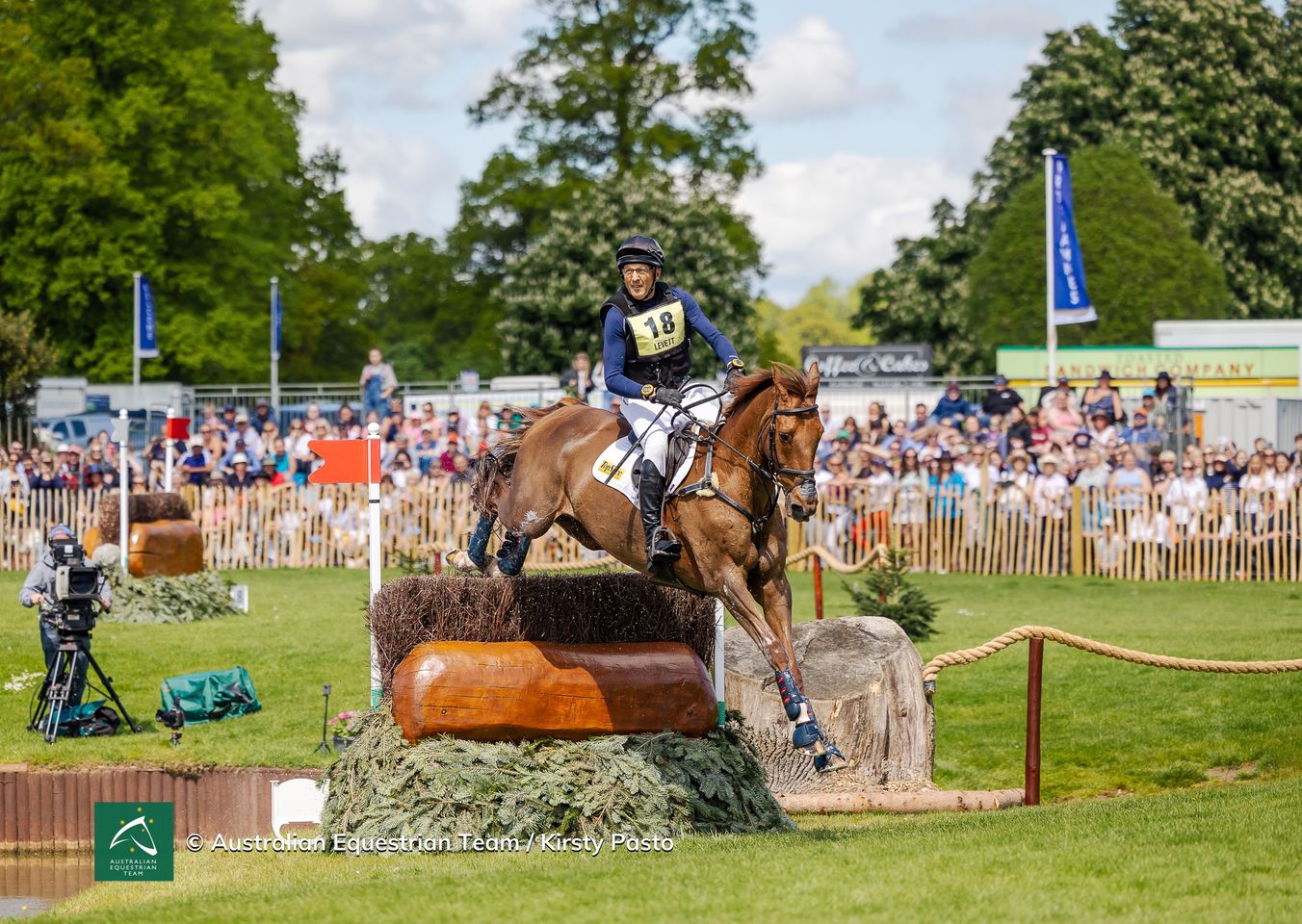 Bill Levett & 'Sparkles' on cross-country. Photo credit: Australian Equestrian Team / Kirsty Pasto
Unfortunately, Hazel Shannon and Willingapark Clifford fell on course at Fence 13, the Ford Broken Bridge. Both Hazel and 'Clifford' walked away from the fall uninjured. 
"Badminton ended early for us with a fall at Fence 13. We are both okay and Clifford is back at home with his friend Bonni. I am terribly disappointed and wish I could have returned with a better result for the Willinga Park team," shared Hazel following the competition.  
Dom Schramm said that the night before cross-country was a restless one, followed by nervous anticipation and "a sprinkle of excitement." However, the Badminton rookie stuck to his game plan and jumped clear on Bolytair B.
Despite accumulating 44.4 time penalties the combination moved up from 75th to 54th position, showing how influential the cross-country phase proved to be.
"It was quite surreal to finally be out on the Badminton cross-country. He is an incredible jumper. I just need a bit more control so we can go a bit quicker. I made the conscious decision to slow down after Fence 7 because I felt like if I tried to go as fast as I could, that I would not have what I needed to be able to get to the finish. Because of his massive stride and boldness, it doesn't take much for us to get in a hairy predicament once I start taking chances on him," explained Dom after his cross-country run.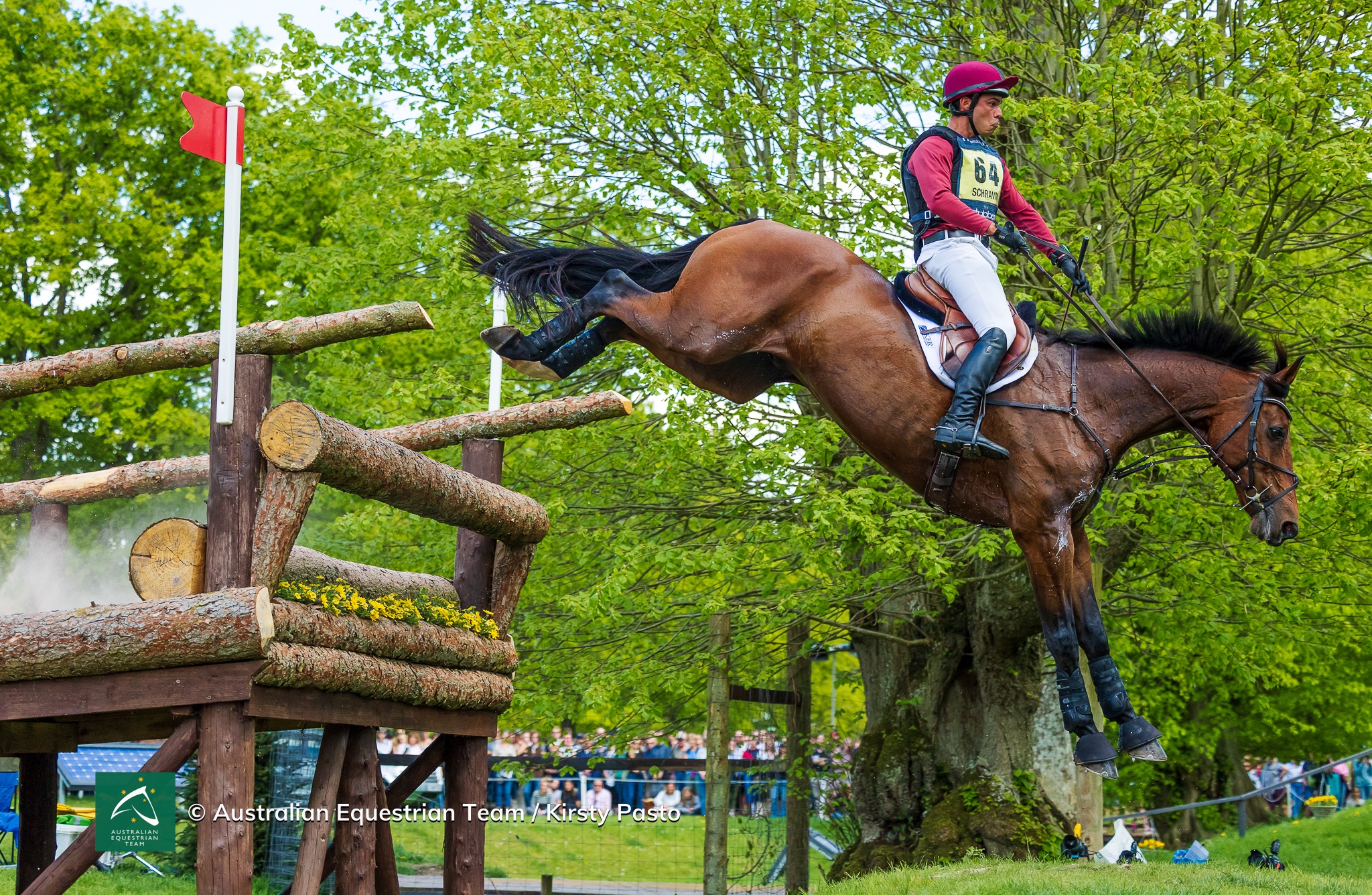 Dom Schramm & Bolytair B fly off the Broken Bridge. Photo credit: Australian Equestrian Team / Kirsty Pasto
Sammi Birch, the final Australian on course for the day, claimed she and Finduss PFB were having "the ride of my life" until they experienced a lengthy hold on course as they approached Fence 15, the Footbridge. Unfortunately, the horse on course before Sammi damaged the jump leaving the fence requiring immediate repair. 
"I am just thrilled with him this weekend and just thrilled for his owners, Holly and Sharon Bishop. Before we got held everything was amazing and I was having the ride of my life, but then he switched off a little and I had to work a bit harder. He is only going to grow from this," said Sammi of the round. 
Despite the disruption to their round, the pair still managed to finish with no jump penalties and only 5.6 time, catapulting them up the standings to 26th position.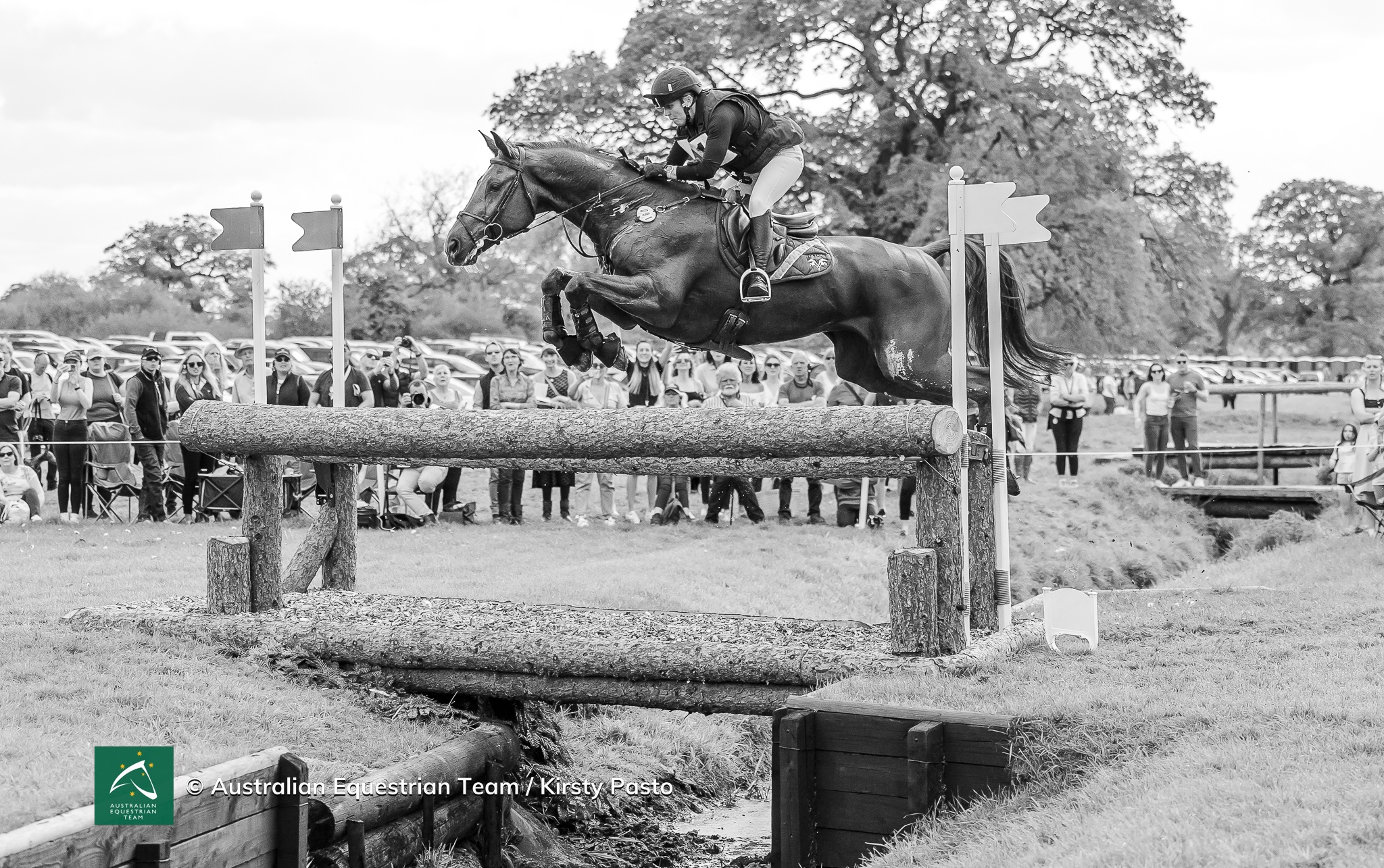 Sammi Birch & Finduss PFB over the Footbridge. Photo credit: Australian Equestrian Team / Kirsty Pasto
SHOWJUMPING
Following a second horse inspection on Sunday morning to check that the horses were fit to compete, the showjumping phase was the last test to determine the winner. The course, designed by International Jumping Course designer Kevin Bywater, consisted of 16 jumping efforts over a 495m track with a time allowed of 80 seconds. 
Bill Levett made the decision to withdraw Lassban Diamond Lift prior to the second horse inspection, with Bill saying the horse was "a little sore, and it is in the best interest of Sparkles that we have not presented him."
Sammi Birch and Finduss PFB jumped a lovely round until they tickled the final fence, knocking the rail. They also added 1.2 time, which resulted in a final score of 49.5 and an overall finishing position of 25th. 
"I'm thrilled with him," Sammi said afterwards, "I'm always told that the first and last fences are rider error and in hindsight I probably went to my hand a bit."
Sammi Birch & Finduss PFB in the showjumping phase. Photo credit: Australian Equestrian Team / Kirsty Pasto
Dom Schramm's Bolytair B looked wonderfully fresh and powerful as he entered the showjumping arena for the final phase. The pair had two fences down and 0.4 time with Bolytair B showing exuberance over each of the fences. 
"I am very lucky to be sat on such a good horse for my first one (Badminton), and now I'm just motivated to improve before my next go here. They say every truly great event horse should have a Badminton on its resume. I learned so much and had a blast. Thanks to everyone who supported us and made this trip and this dream possible," said Dom.
Dom Schramm & Bolytair B in the showjumping phase. Photo credit: Australian Equestrian Team
Congratulations to all of our Australian competitors, their team, grooms, owners and connections.
Full results from Badminton Horse Triasl 2022 can be found HERE