Australian Vaulting Team – FEI World Championships Wrap
The Australian Vaulting Team took centre stage over three events at the FEI World Championships in Herning. 
Australia was represented by two Individual Female Vaulters and a Squad which consisted of six athletes. All of the Australian Vaulting athletes sourced horses from Europe in order to compete at the FEI Word Championships.
Australian Team Chef d'Equipe, Tristyn Lowe, said the sport of Vaulting is unique in that the athletes do not bring their horses with them from Australia; they instead source foreign horses for competition. 
"Vaulting is an interesting sport because not only do you have a team of a lunger, vaulter and horse, but to also be travelling internationally and competing internationally we have the added challenge and potential benefit of international counterparts to that team as well. This year Stephanie, Ginger and the Squad have all used horses from various locations." 
Stephanie Dore, who was representing Australia at Senior Championship level for a second time; Vaulted on a Danish horse named Qiun af Oesterholm, affectionately known as Hopsy, and was lunged by Nanna Klinge.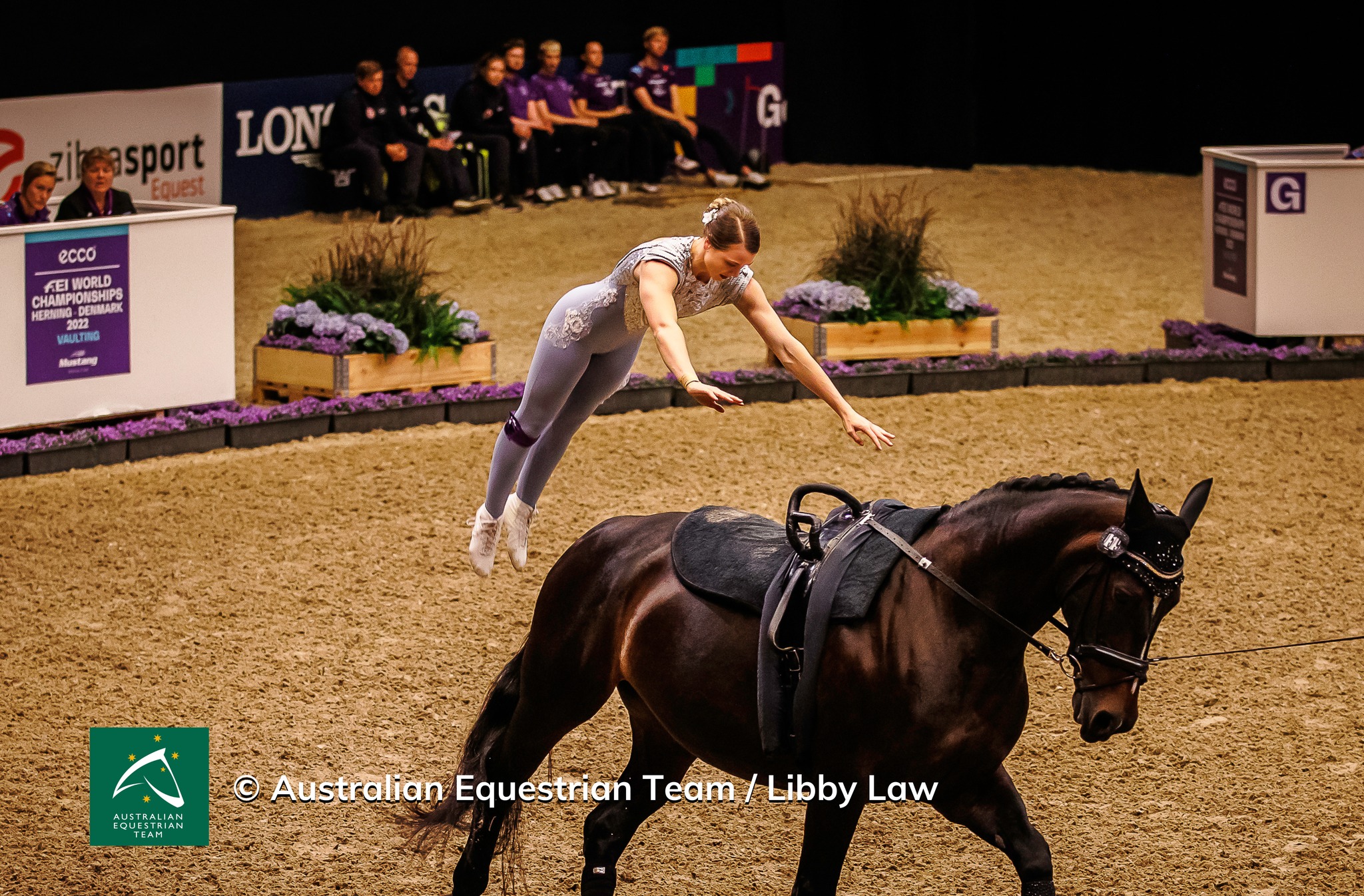 Stephanie Dore. Photo credit: Libby Law
Overall Stephanie finished in 24th position in the Individual Female competition with a combined score of 7.455. Stephanie was thrilled with the performance of the team and credits their close bond to her success in the Vaulting arena. 
"It is just as important to have a good relationship with your horse and your lunger, because at the end of the day it is your horse and your lunger making the circles and I have to make sure I am in sync with them. Nanna just does an incredible job with Hopsy. We are so happy. Nanna, I, and probably Hopsy, were all in tears after. I think we all worked so well together. Hopsy was so good, she just felt super underneath me," said Stephanie.
Fellow Individual Female Vaulter, Ginger Kennett, competed on a horse from Germany named Corazon Gran, lunged by Maurits De Vries from the Netherlands. The truly international team made a striking impression in the arena with Corazon Gran standing an incredible 19hh.
Ginger Kennett. Photo credit: Libby Law
Ginger made her FEI World Championships debut at Herning, finishing in 27th place on a combined score of 6.781. The multi-talented young athlete is not only a World Championship Vaulter; she is also a CCN2* Eventer.
"I also do two star Eventing. The vaulting definitely helps in my Eventing. Especially on cross-country, it really helps with the balance," shared Ginger.
"The connection with the horse is different in Vaulting and Eventing. In Eventing, you have the reins in your hands and you guide the horse using your leg and seat aids to go wherever you want it to. In Vaulting, it's the lunger's job to keep the horse going at a consistent pace, and you have to feel the horse underneath you."
The Australian Vaulting Squad hail from the Hunter Valley in NSW, with the Squad made up of six athletes varying in age from 12 to 24-years-old. The Squad Vaulted on a German horse named Gozer, lunged by Christine Enders. 
The Squad were all competing at Championship level for the first time and were very excited to represent Australia on the world stage.
Team member Sabine Osmotherly said, "It was incredible. So amazing to be in the arena and hear all the Aussie support here and from home. I just couldn't stop smiling." 
The Australan Squad members were Eloise Tate, Lydia George, Poppy Loveland, Sabine Osmotherly, Willow Vitu and Zoe Caddis.  
The Squad fell deeply in love with their horse Gozer, who they had only been training on for a month prior to the Championships.
"He has the best personality. He is very forgiving and he loves competitions."
The Squad finished in 14th place, with a score of 5.91. Overall Australia narrowly missed out on a place in the team competition by 0.021.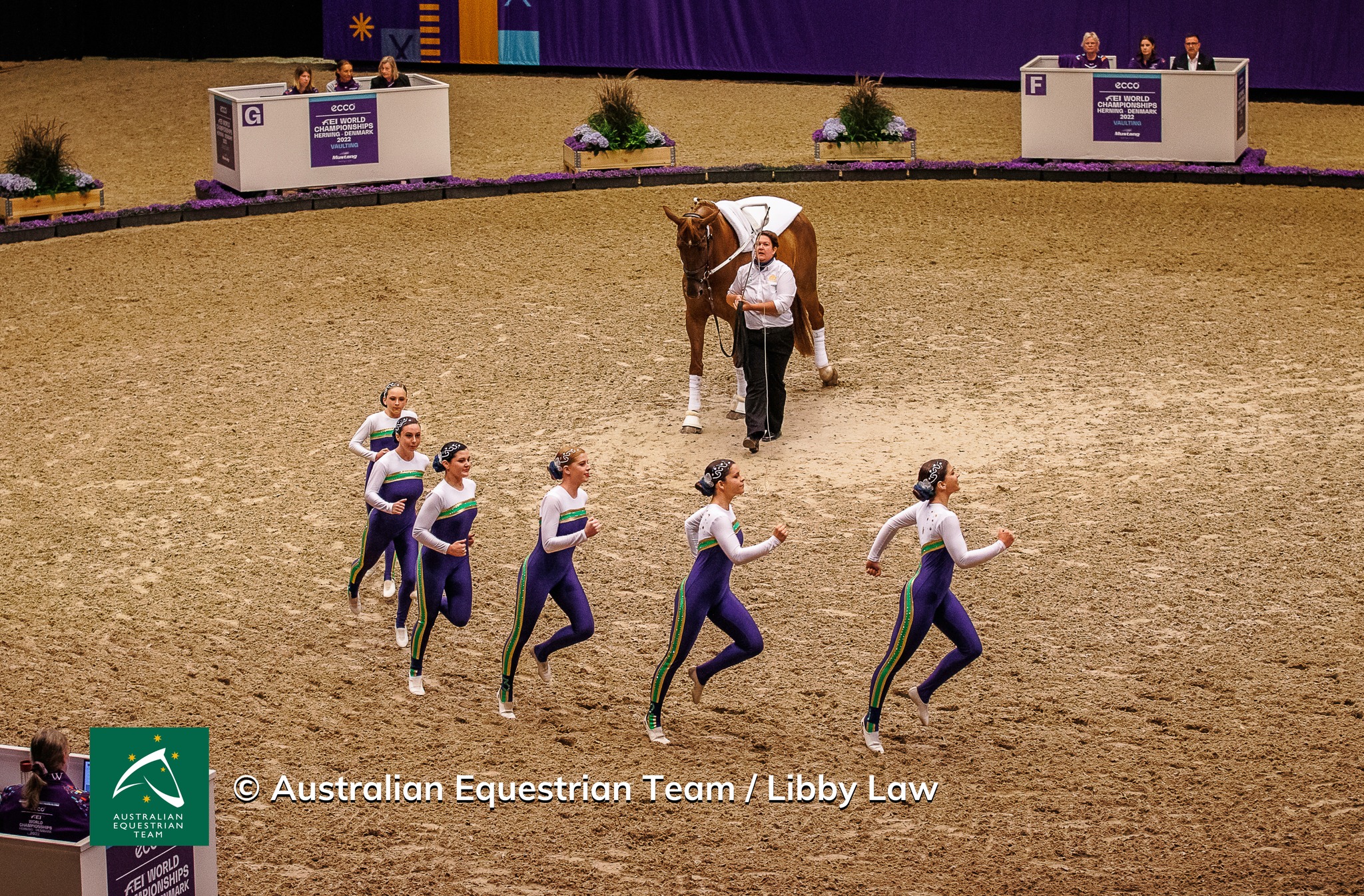 Australian Squad. Photo credit: Libby Law
"All the competitors here I think were satisfied with how they performed. It is a massive learning curve to come from Australia and compete in such a huge event. Especially, with two years of difficulties for training and competition with Covid. It has made getting qualifications difficult and a huge amount of effort went into that from the Vaulting support people in Australia. To make sure we could get qualified," said Tristyn Lowe.
"All of the horses have now left the site, which can be a really sad moment. Seeing the Squad say goodbye to their horse and lunger, they are such a close-knit group, and that trust you have to develop with each other. I think that was the real moment that it was over, when the horses left.
"The support that Vaulting has with the support of all the families of the Vaulting athletes is huge. The difficulty of coming and acclimatising to a new horse, a new training facility and a new approach can have both financial and emotional difficulties and it takes a huge amount of support from those in each athlete's crew to get through. I think we were lucky to have such a lovely group of people at the Championships this year and I know everybody will have had an amazing experience and will take on so much they have learnt through this process."
Full Vaulting results can be found HERE.