Main image by Taylah Somerville Photography
COACH OF THE MONTH Anne-Marie Cruickshank
COACH OF THE MONTH is a regular Education series on our website. It is a way of highlighting the EA coaches and educators who work with dedication and passion all over Australia.
Anne-Marie Cruickshank is an EA Level 1 Dressage Coach and Introductory Level General Coach, who lives in Virginia, Northern Territory. 
"I started out riding when I was about 10 years old, at riding school down the road from my Grandmother's house in Scotland, after I begged my mother to let me go and have lessons.
I bounced around so much at the trot that I had to hold onto the saddle. My fingers were raw with blisters (no gloves), but I still wanted to go back the next day for more lessons.
I carried on learning to ride in England at riding schools, in beautiful countryside where you could go for long hacks on big horses, often in very cold weather. 
None of my family was horsey, so my friends and I used to catch the bus from the town out to the riding school in the countryside and spend all day mucking out stables and cleaning tack. At that stage, I just wanted to ride and didn't have a preference for any discipline.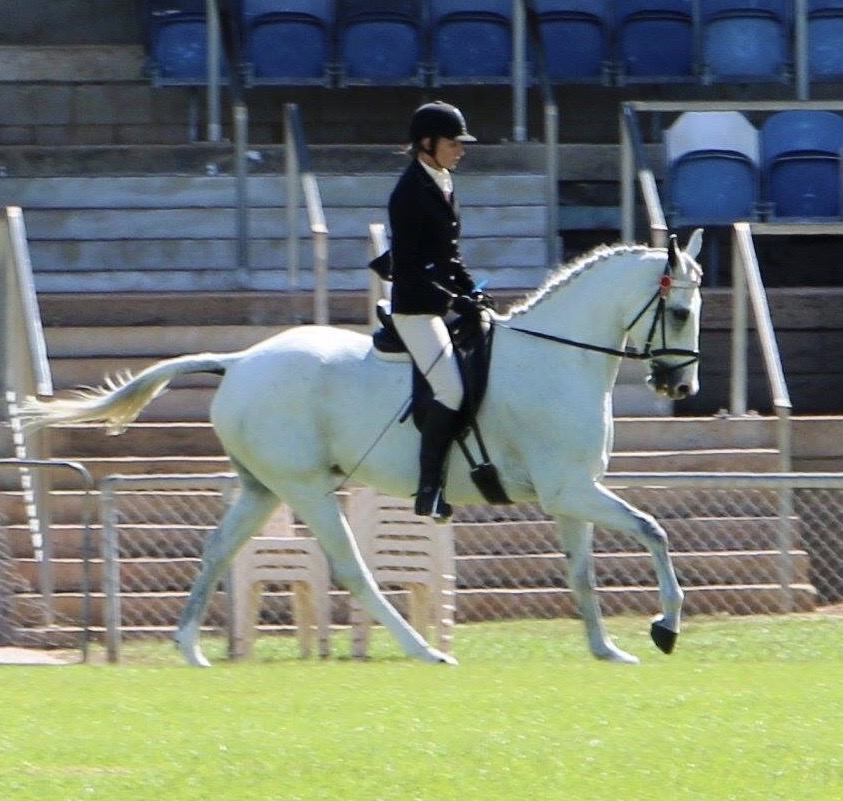 Anne-Marie on Wynola Clayton's Rumour - working out at Katherine Show
I was able to 'hire' a horse for the day to compete at some of the country shows, where I mainly did clear round jumping and some showing, but I hadn't really heard of dressage.
I came to Australia in 1991 and worked with a lovely lady who was running a three-day event in New Norcia. Through her I had more chance to ride and meet some of the top eventers at the time.
When I had children, my daughter became very interested in horses. It was through her and her lessons that I met other equestrians and became interested in dressage, I'd had about a 10-year break from any 'disciplined riding' at that stage. My coach at the time was Pam Crellin, who was a very well known coach in the NT.
I really got serious about my riding after my daughter went to university and left me with all the horses.
I had a great School Master, Kiana Blue Murder – who took me to Advanced level dressage. He is now retired and I have two horses coming up. Wynola Clayton's Rumour (Clay), who is just starting medium and Remi Led Zeppelin (Zepe), who is commencing Elementary.
Clay won the Australia medal for Medium at our recent Australia Day competition and Zepe won the medal for Elementary. At the end of last year, Clay won Reserve Champion Elementary at out championships and Zepe won Reserve Champion Novice. Clay and I are also working with David Finch on our jumping. He did very well in the combined training event we ran as part of our 'Pink My Ride' cancer fundraiser.
Anne-Marie with Wynola Clayton's Rumour - Reserve Champion Elementary Horse 2019 and Remi Led Zeppelin - Reserve Champion Novice Horse 2019
It was my time working with the NT Interschool team that made me realise I wanted to coach. I was lucky to get a coaching scholarship from Equestrian NT to help me gain the accreditation. I have to thank David Finch whose regular coaching trips made it easier for me to access a Coach Educator – of which there are none in the NT. Fiona Heysen and Sue Chandler were also my Coach Educators.
Nowadays, I work full-time as a contract manager and do coaching in my spare time, with a  view to take this up fulltime once I retire. I am divorced, my daughter is in Canada and my son is about to head off to Flinders University, but I still manage to keep very busy. 
I am President of the Darwin Dressage Club and coach at their practice days. I love helping riders who are new to dressage understand the basics. It is rewarding to see your pupils improve and share your knowledge with others. I can see sometimes that it is hard for the riders and it is good for me that I can empathise, as I have had to overcome the same issues.
I have also run clinics in Alice Springs, where there is such a mix of riders, at all levels. It is interesting to be able to work on different things with different people.  The really good bit is seeing an improvement or a sudden understanding of how to do something.
It is also about the welfare of the horse and helping riders understand they are not machines and need to be looked after and treated well. This is especially important for us in the NT, where our weather is very unforgiving and it is easy to overwork a  horse in the heat.
Anne-Marie and Wynola Clayton's Rumour - preparing for the led class at Freds Pass Rural Show
I am the current Chair of Equestrian NT and work closely with the other States and branches on all aspects of equestrian management. I was lucky to be able to sit in with the coaches forum in Sydney in 2018 and met some passionate coaches who care greatly about making sure coaches are properly trained and qualified. I am heartened about the work they have put in to reform the coaching committee.
What I would like to see is an SSTA or Coach Educator in the NT, who can support local coaches, so that we are educating riders correctly.
My own coaches, who have helped me get my riding and knowledge to where it is now so that I can coach, include Di Jenkyn, a good friend and my coach for over 10 years, Clemens and Daniella Dierks, who are our NT Dressage squad coaches, and Jodi Dunstan, who has been coming to the NT for a number of years. A big thank you goes out to all these wonderful coaches.
My ambition competition-wise is to get Clay to Prix St George. Zepe has the potential to go all the way and I want to see how far I can take him.
 Job-wise, I want to be able to take up coaching full time and to be able to visit the regional parts of NT to provide coaching, where they aren't any local coaches available."
Anne-Marie Cruickshank
VIEW ALL THE PREVIOUS STORIES ...