Photos courtesy of Anne Smith
COACH OF THE MONTH Anne Smith
COACH OF THE MONTH is a regular Education series on our website. It is a way of highlighting the EA coaches and educators who work with dedication and passion all over Australia.
Anne Smith is an EA Level 1 General Coach and an EA Level 2 Dressage Coach, based in Penfield Gardens, SA. 
"My family was not at all 'horsey'. I grew up on a grazing property with my parents and my two younger sisters. We lived in the South East of South Australia, between Kingston SE and Millicent, in a small district which our property was named after - "Biscuit Flat".
When I was nine I became good friends with a girl at school who had horses, her Mum happened to be the chief instructor at the Pony Club in Kingston. I visited her place often and became obsessed with horses, I just loved everything about them.
Photo credit Emma Woolman
As most young girls seem to go through this phase, my parents certainly weren't in a hurry to buy me a pony. I was, however, allowed to free lease a pony. After a time, I had convinced my parents that I was totally dedicated and that this certainly wasn't a phase.
My first pony was a 13.3hh, Buckskin, solid stock horse x quarter horse called Fluer. One of those really hardy types. She was quiet, but not overly well educated.
She took a lot of convincing to load onto a float and was not so responsive to the bit. I remember one day she bolted across the rather large paddock back to where her yard was and I had absolutely no control and hung on for dear life.
I threatened to send her to the "glue factory" after that, but it actually made me more determined to educate her. Fluer and I did everything: Pony Club, eventing, games, showing, showjumping, endurance. She certainly taught me to ride.
When I was 14 we purchased my first "big" horse. A 6yo beautiful TB mare called Holly. She had done a couple of barrier trials, but was far too slow and had then been prepared for eventing.
She was brilliant around cross country, I really just had to steer her. Her showjumping was pretty good too, but she needed so much work to improve her dressage. I worked tirelessly on this and from here my passion grew into an obsession.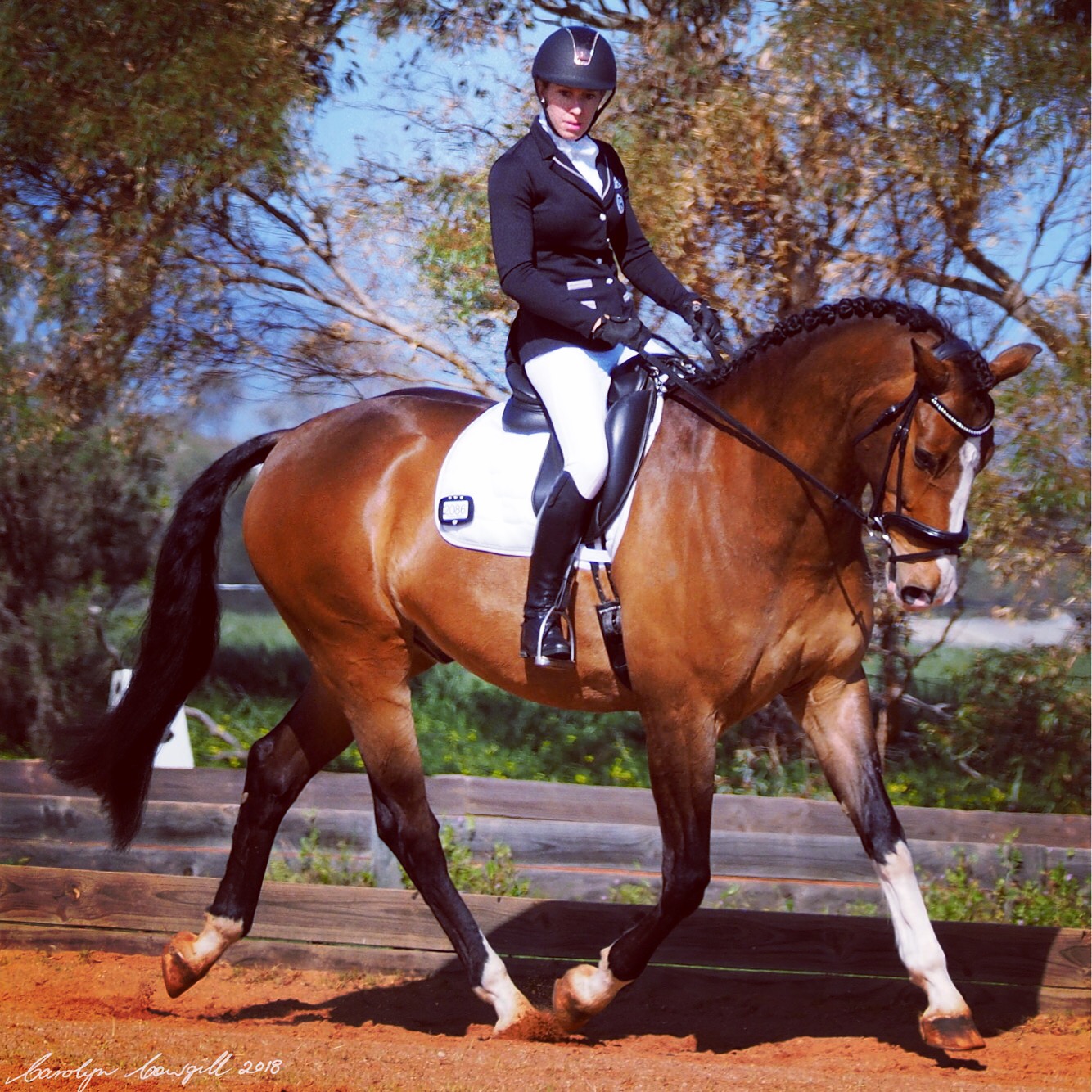 Photo credit Carolyn Cowgill
I wanted to make my horses beautiful in the dressage arena. Holly sustained an injury, so we decided to put her in foal to a Warmblood stallion and she produced a lovely foal.
By now I was focusing more on pure dressage and we purchased two more TBs. Cindy was amazingly smart and athletic. I trained her from Novice to PSG Dressage, we were also successful at Showing and Showjumping.
I was still involved with Pony Club and was selected on the State Team for PC National Championships (1997), and competed at the Zone HOTY several times and completed our "K" certificate.
During this time, I also won the ESA Young Rider Dressage Scholarship in 1997 and 1998 and was also awarded ESA Dressage Young Rider of the year in 1998.
I was selected on the Australian team to compete in NZ in January 1998 in the YR Championships.
By this time the foal that Holly had, Jay, was broken in and going well. I had also purchased my first real "big warmblood" Ecki (Northern Agrippa).
Between 1997 and 2002 I represented SA on the Dressage Team at Pony Club National Championships in Adelaide and Werribee. Throughout this time, I had been actively involved in volunteering at Pony Club, instructing, and as a committee member, as well as a zone representative. I was very honoured to receive the Australian Sports Medal in 2000 for my contributions to Pony Club.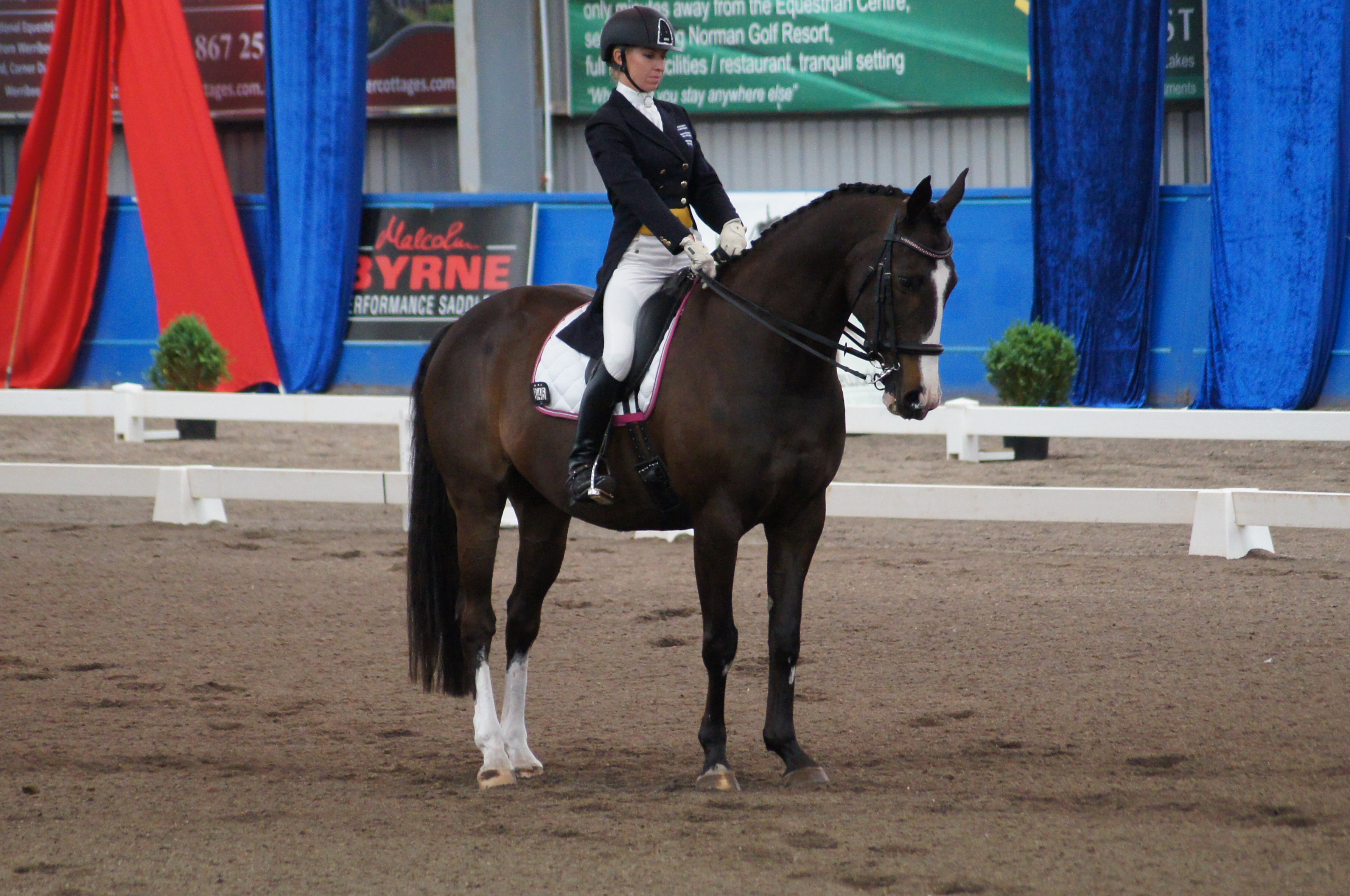 I had met Adam (my now husband) by now and as he was based in Adelaide, the big city lured me. I applied for a job, leased out Jay, packed up my horse Ecki and headed to the "big smoke". I found a job coaching and coordinating at a gymnastics club, which I totally loved, while I still continued to ride and occasionally compete.
I then became a qualified Personal Trainer and loved this as well, as it all was basically coaching, training and helping people achieve their goals.
Where I was agisting Ecki, word got around that I was a qualified coach. Over the years it became sustainable for me to do this full time. I leased Ecki out to a valuting home, sold Jay to the most brilliant home in the NT and it was now time to work hard, buy a house and have children.
In this time I saw the advert for Lyric and I just had to have this horse. He had terrible conformation of his front legs and 5 minutes after the vet check, the vet called and told me not to touch him "with a 20-foot barge pole". But he was beautiful and I was in love, so I purchased him cheap, with the mindset that if he turned into a trail riding horse that would be ok.
I started Lyric and he was so easy to teach, he never even thought to buck or resist at all throughout his initial training and went to his first show on his 20th ride ever.
The rest, as they say, is almost history, Lyric got me back out there again, and with his trainability and good management of him physically, we won championships at almost every level. He had his first Grand Prix start when he was 11 years old.
He was the ESA FEI Horse of the Year in 2014. Another highlight was competing at the FEI Dressage Challenge at the Adelaide International Horse Trials in 2016, where we placed 6th overall.
Nowadays, my husband Adam and I have been together for nearly twenty years and he is still so supportive of me. He knows my competition routine down pat and even last weekend stood out in the pouring rain and freezing cold grooming for me at the SA State Dressage Championships.
He didn't know much about horses when we met, but he is the ultimate horse husband!
We have two beautiful children, Chilli who is nine and Lockie who is nearly eight. I was determined to do it all - have children, as well as ride, compete and coach and they have been totally portable and very adaptable!
Chilli has just begun to ride and compete at dressage as well, it really is lovely to have that common interest together. Lockie would probably rather be "gaming" but is a number one supporter from the sidelines.
Five years ago, we purchased a small property of ten acres at Angle Vale in South Australia. There was a house, but no equine infrastructure at all, so for the past five years a lot of time (and money!) has been spent creating a boutique agistment property and training facility. We are getting closer to our final vision of the property.
I coach full time but balance this with our children. Adam has just begun racing historic cars and I am very passionate about his sport also, it is very similar to competing with horses believe it or not! Our family also enjoys the football (AFL – avid Crows supporters), plenty of socializing with friends and going for drives in XW Falcon.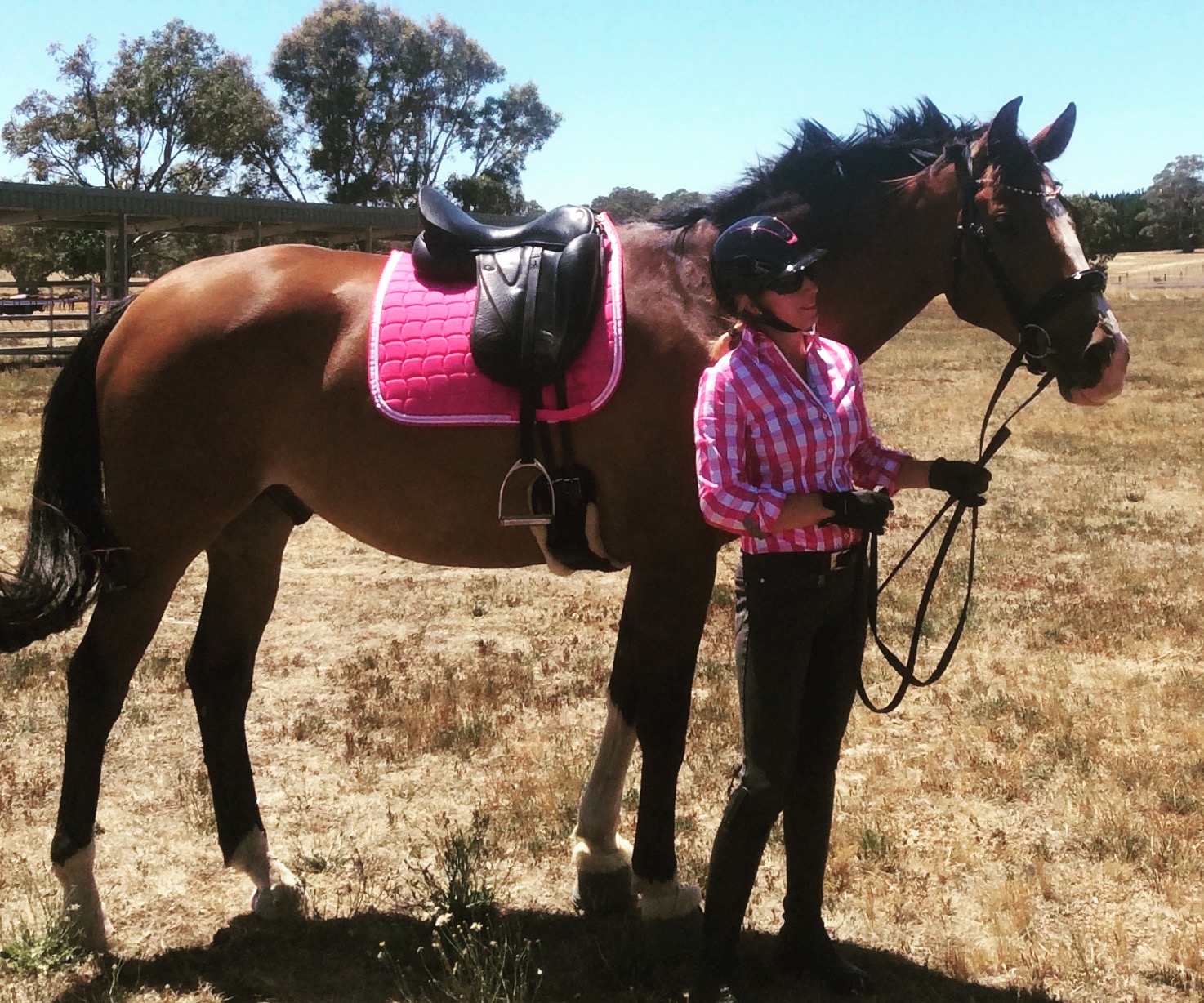 Horses
My Grand Prix horse, Lyrical, is happily retired out in the paddock and gets plenty of treats and love. He is the King of the property and most of the time wanders around wherever he pleases.
He is currently babysitting my latest addition, a 6-month-old Warmblood buckskin foal. It has been on my bucket list to complete on a coloured horse and the right one happened to come along. They are more popular now so am really excited about his future.
I have my 7-year-old homebred Donnerblitz Gelding , Favco. He is huge, in height, as well as bone, and I look quite small on him. We have had our challenges along the way because of this, but there is nothing like breeding and riding your own horse and we have a special bond.
He is very intelligent and we have been competing at Advanced. He just did a PSG at a local club day. He is my 'Mr Reliable' to take out and I really feel he will excel at the FEI levels, while also being versatile enough to play school horse for the occasional lessons.
Lastly, I have a 6-year-old, Shadows Tollinski, by Tuschinski out of a Pritzen mare - so more modern Dutch bloodlines. I have owned him for just over a year now.
He is beautiful (and opinionated at times), moves well and I feel like we were made for each other. He consistently places and achieves good scores.
Recently at the SA State Championships, he placed in all of his classes at Preliminary / Novice level and was the Reserve Novice State Champion. I am extremely excited about his future.
I am so fortunate that all of these horses are my "heart" horses. I know you are only meant to have one of these in a lifetime so I consider myself extremely lucky.
My Job
As soon as I became one of the more Senior riders at our local Pony Club I began to assist and coach the younger riders. There is nothing like helping others to learn about something you are so passionate about.
Since I was 14, I had been competing, so EA and the EA Coaching Pathways was the obvious choice. By the time I was 21 had achieved my Level 1 General Coaching, which I then followed on with my Level 1 Dressage Coaching. I studied for my Level 2 Dressage Coaching while I was having my children.
Aside from that, I have previously been a member of ESA Dressage Committee and have been a member of the (most recently) SA Dressage Squad since 2012.
It is a huge responsibility being a coach. You want to pass on as much correct information as you can, support riders, not only during the lesson, but at competitions and at any other time they may need you. It is a highly rewarding and satisfying job. Like anything in life the more you put in the more you get out.
One of the important qualities of being a coach is that you need to read and adapt to many different personality types and different learning types. I feel like this has been one of my stronger points and I coach children right through to clients in their sixties.
My clients range from complete beginners to riders of all levels, and I have clients who have trained with me from Preliminary through to the Grand Prix movements. My goal is always to instil confidence in all of my riders.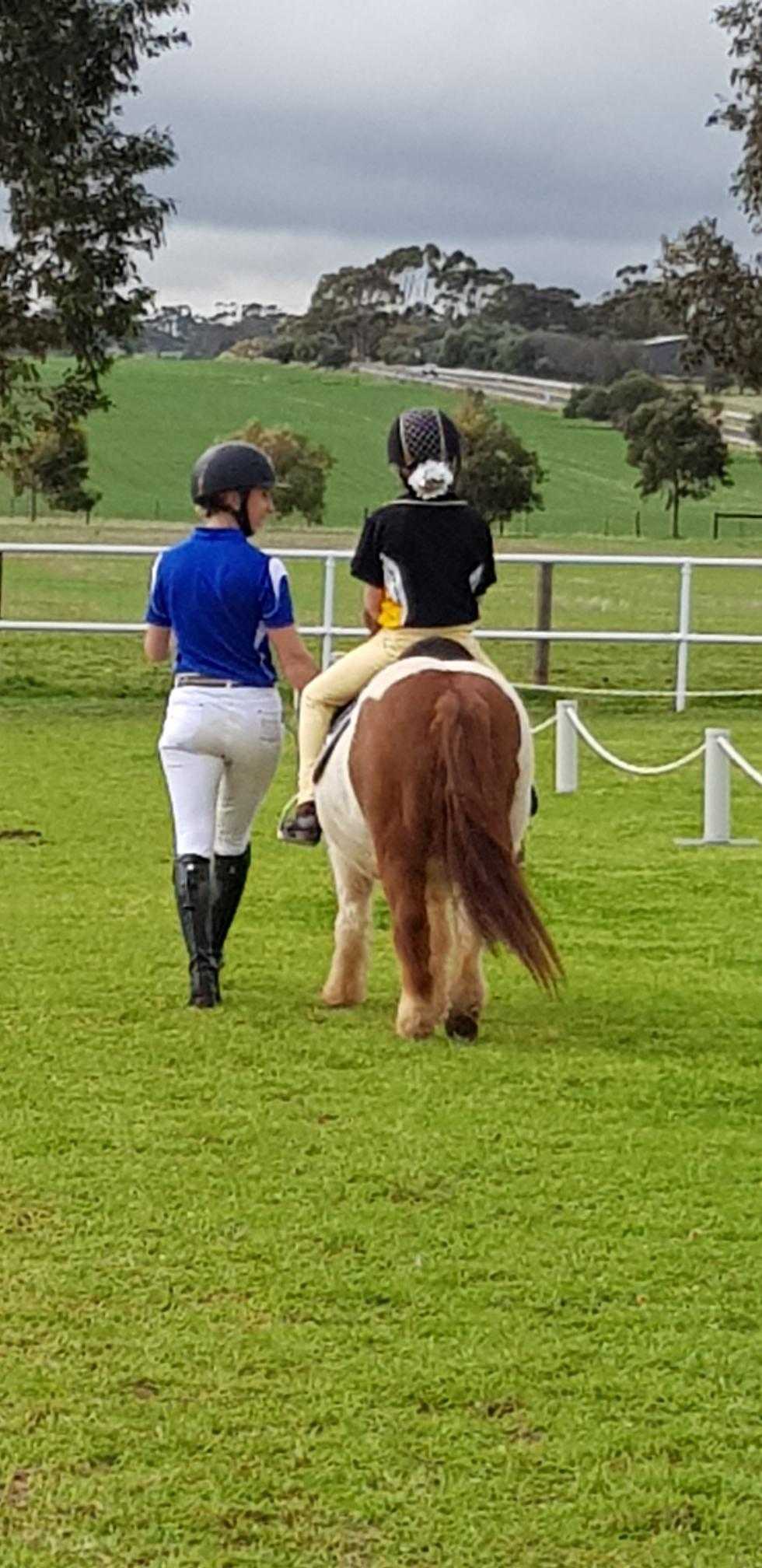 In the future
My next goals are to work towards my Dressage Judging accreditation, become a coach educator and in the future look toward my Level 3 Coaching Qualification.
I am very fortunate to have two lovely horses that I own and compete. The goal has always been to train them to Grand Prix and I feel they are both on the correct pathway to that goal, which is always exciting.
At the moment I am very content balancing life with my wonderful family and our other interests, working on completing our property, riding beautiful horses and coaching amazing clients and friends."
Anne Smith
VIEW ALL THE PREVIOUS STORIES ...