Photos courtesy of Charlotte Price
COACH OF THE MONTH Charlotte Price
COACH OF THE MONTH is a regular Education series on our website. It is a way of highlighting the EA coaches and educators who work with dedication and passion all over Australia.
Charlotte Price is an EA Level 1 General Coach and an EA Level 2 Eventing Course Designer, based in Tamborine, QLD. 
"I started riding at a really young age, with my mum and her sisters, on the front of the saddle, cantering through the English countryside. Coming from a family who has always had animals around, I think riding horses was destined to be at least a hobby, but I have been lucky enough to combine my passion as my job.
After not being allowed my own pony until I was about 11 years old, and copious amounts of nagging and constant winging, my parents finally gave in and this is where Ebony joined the family.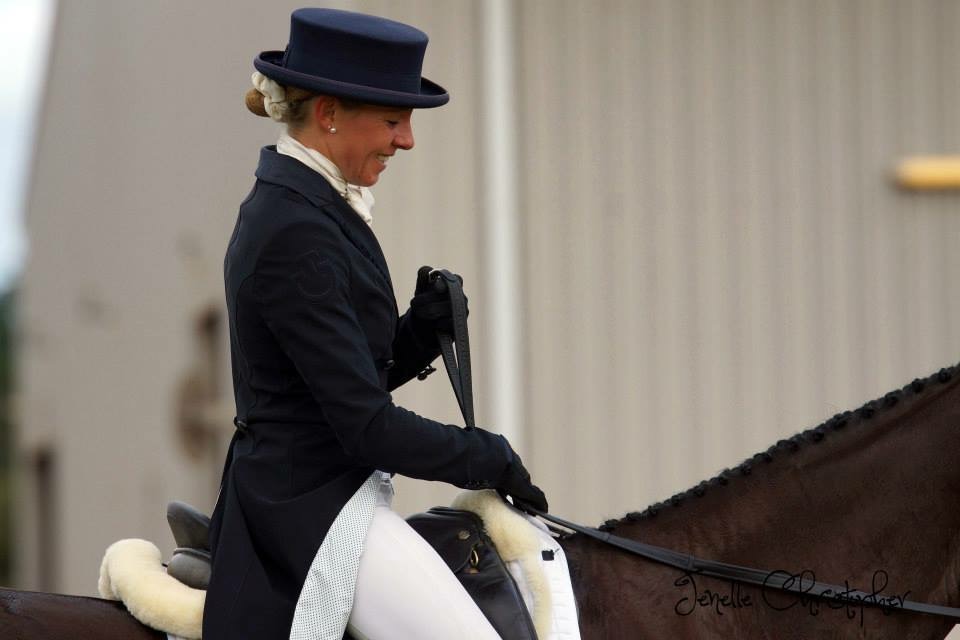 Charlotte & Kinnordy Gambia at Melbourne International 3 Day Event
Before this, I attended the local riding school every Saturday morning - in rain, hail or shine, much to my mother's surprise. Even if the weather was too dreadful to ride, I would turn up to help look after the horses and during the holidays I would help lead around the younger riders that were just starting out.
Ebony was given to us as she had rather a large personality, this has seemed to continue through in most of the horses that I have had… Next was Jazz, a highly strung Arab x Connemara, whose only buttons were sideways jig-jog and fast canter. Due to injury of Jazz, along came Oliver, the Hackney Pony. All of the horses had to do a little bit of everything, from hacking, showing, pony club, jumping and hunting.
The next horse I rode was called The Megan. She belonged to my friend, Sarah, who taught at the local riding club and who was pregnant. Sarah asked if I would like to ride her eventer and compete on her. This is where my love of eventing began. I had a crash-course in eventing, with my first event being a Pre-Novice, then the second event a Novice, then an Intermediate Novice. The following season I well and truly had the bug and went all over the UK with Meg.
I was lucky enough to be asked to represent the Midlands and North East Junior team at Weston Park. Since everything was going along well with our partnership, Sarah let me keep the ride on Meg resulting on us being longlisted for the Junior European Championships in 2003. During this time I was also a fulltime working pupil at Stephanie Thompsons Yard in the UK.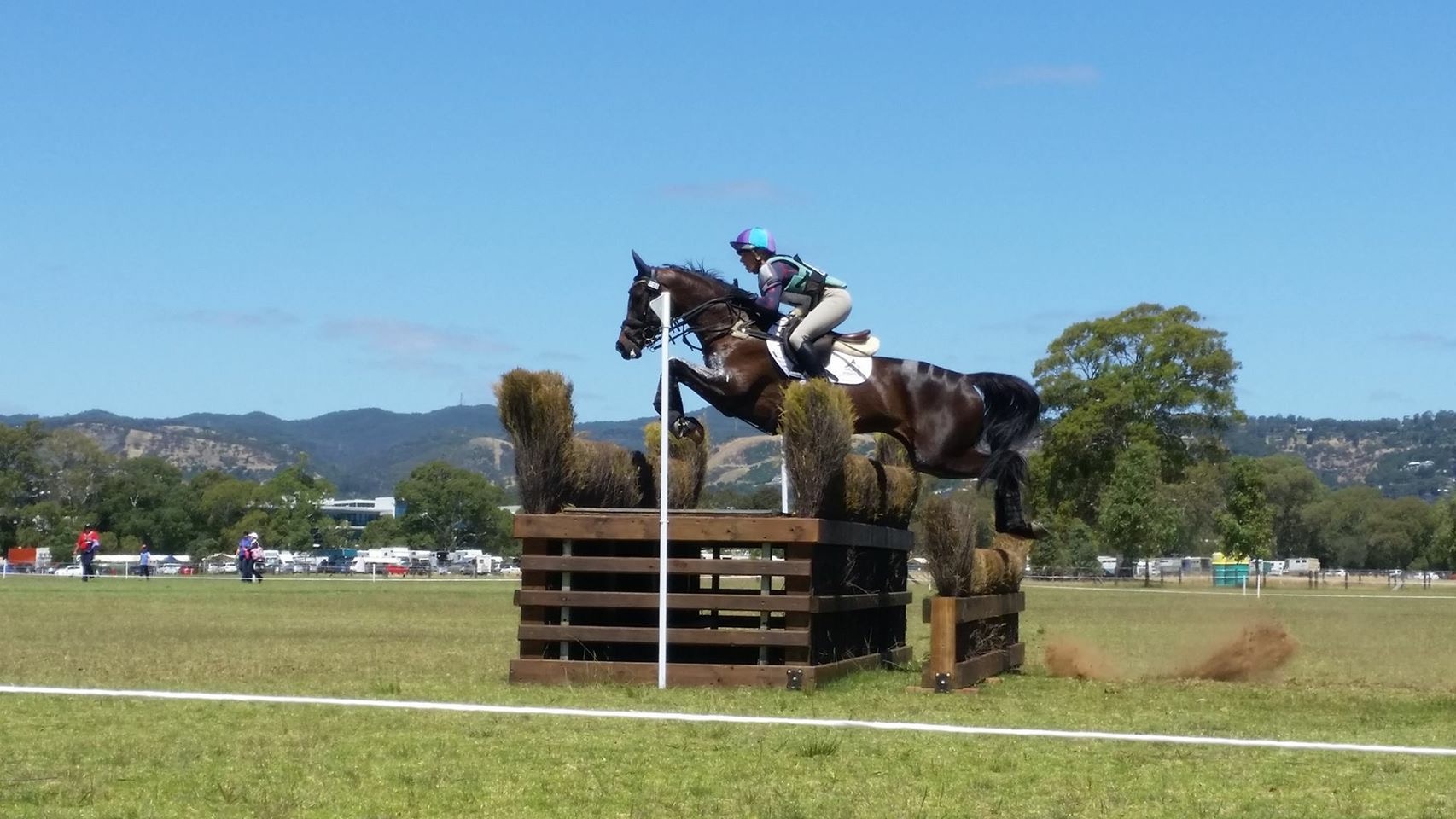 Charlotte & Kinnordy Gambia clearing a big brush fence at Adelaide International 3 Day Event
After gaining some extremely important lifelong lessons and experiences, I eventually ended up working in Australia for Kevin McNab. This 12-month experience started in 2007 and has now progressed to me running my own business CPM Equestrian out of Kelecyn, in Tamborine Queensland.
I am 33 years old. At the end of March I had my first baby, George, with my long-time partner and now fiancé Dale McNab. Dale has gradually had his arm twisted into the horse world, helping out hugely at the Tamborine Equestrian Group Events. He builds XC fences among many many other things.
At CPM Equestrian we have a range of horses. We have event competition horses, breakers, mares, young horses, spellers, agistment horses and horses in for training or sale across a range of disciplines. I do a fair bit of teaching as well, both at home and at clinics.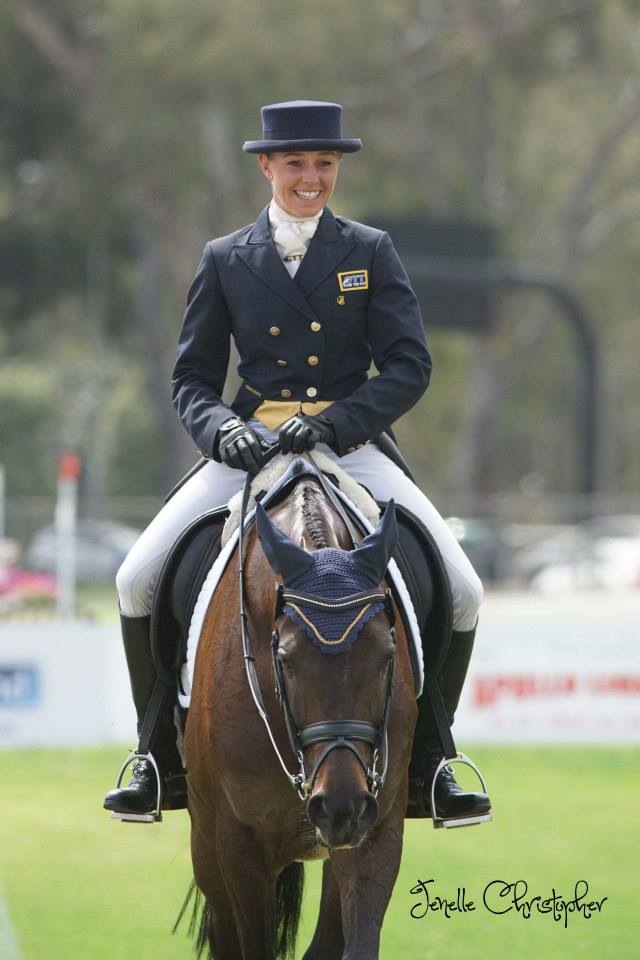 Charlotte & Kinnordy Gambia after dressage at Adelaide International 3 Day Event
I'm super lucky to have a strong support team of staff, family and friends, with long-standing owners and clients that have supported me having a bit of downtime while I have been pregnant. So we haven't done any competitions for the last few months, but one of my highlights from 2018 was riding Amira and finishing in 2nd place at the Southern Steel Group International 3 Day Event in the CCI1*.
Before this, my most special horse in Australia has been Kinnordy Gambia. We started out together in EvA80 and progressed through the grades and completed 3 CCI4**** as a team. She retired back at the end of 2015 and has since bred two quality young horses, who will be super exciting to start in the next few years when they grow up a little bit.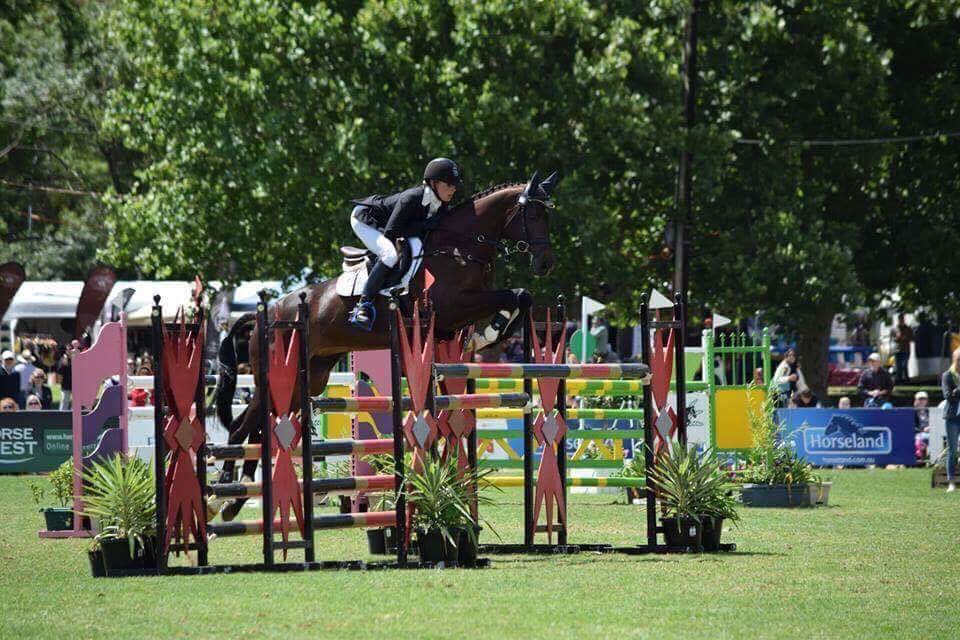 Charlotte & Kinnordy Gambia in the show jumping phase at Adelaide International 3 Day Event
Having my career as my passion and also on my doorstep is extremely handy. Coaching students is very rewarding. All of the people that I teach are highly driven to achieve their goals. Which makes my job a pleasure.
Sharing my experiences and knowledge with others is essential for the evolution of up and coming riders and it is so nice to watch progress and others strive to achieve their own goals. I have great pleasure in helping a variety of riders, which is always challenging, but also rewarding.
I wear many hats in the equestrian world; from event organising at Tamborine Equestrian Group, course Designing XC courses at the low levels, being a member of the Eventing Queensland Committee and running my own business - it doesn't leave much time for a lot of anything else, but I wouldn't have it any other way!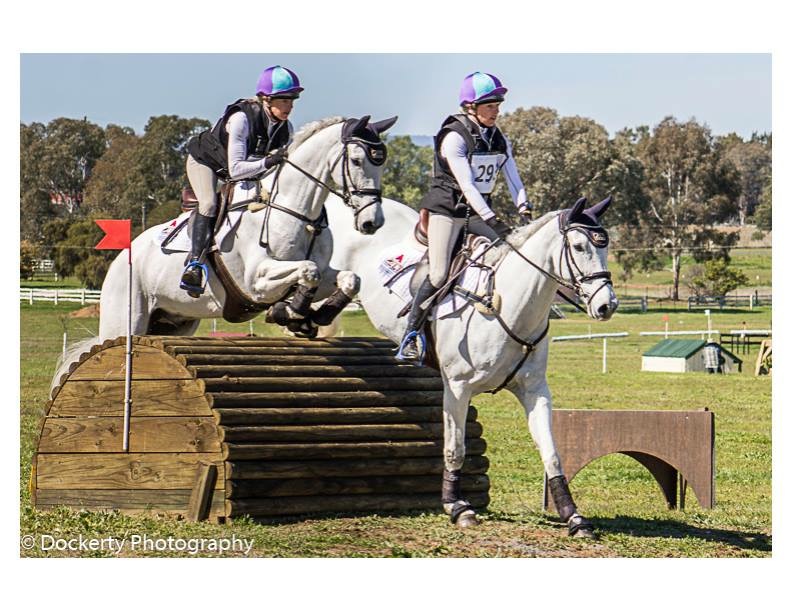 Charlotte competing at her local event in Tamborine, QLD
I'm really looking forward to getting back on board for the remainder of the competition season and continuing on with all the competition horses programmes. Even though it may be a little different now, it will still be just as rewarding and as busy as ever."
Charlotte Price
VIEW ALL THE PREVIOUS STORIES ...