Main Photo by Sarah Worsley Photography
COACH OF THE MONTH Claire Walker
COACH OF THE MONTH is a regular Education series on our website. It is a way of highlighting the EA coaches and educators who work with dedication and passion all over Australia.
Claire Walker is an EA Level 1 General Coach, based in Longford, Tasmania.
"Horses have always been part of my life. Apparently, the day mum, Isie, was discharged from having me we went to a horse show. 
My grandfather (Isie's Dad) was a horseman/farmer back in the horse and cart days. He competed with his horse at the local Westbury Show in the trots and high jump. He passed away when Isie was very young. Horses were not an option in the life that followed, so mum and my aunt and uncle rode the dairy cows out of the milking shed instead.
On my father's side, there was again another grandfather horseman, he served in the army as a blacksmith.  Clarrie, a bushman, was renowned for his shoeing, breaking and gelding skills. He passed these skills onto my father.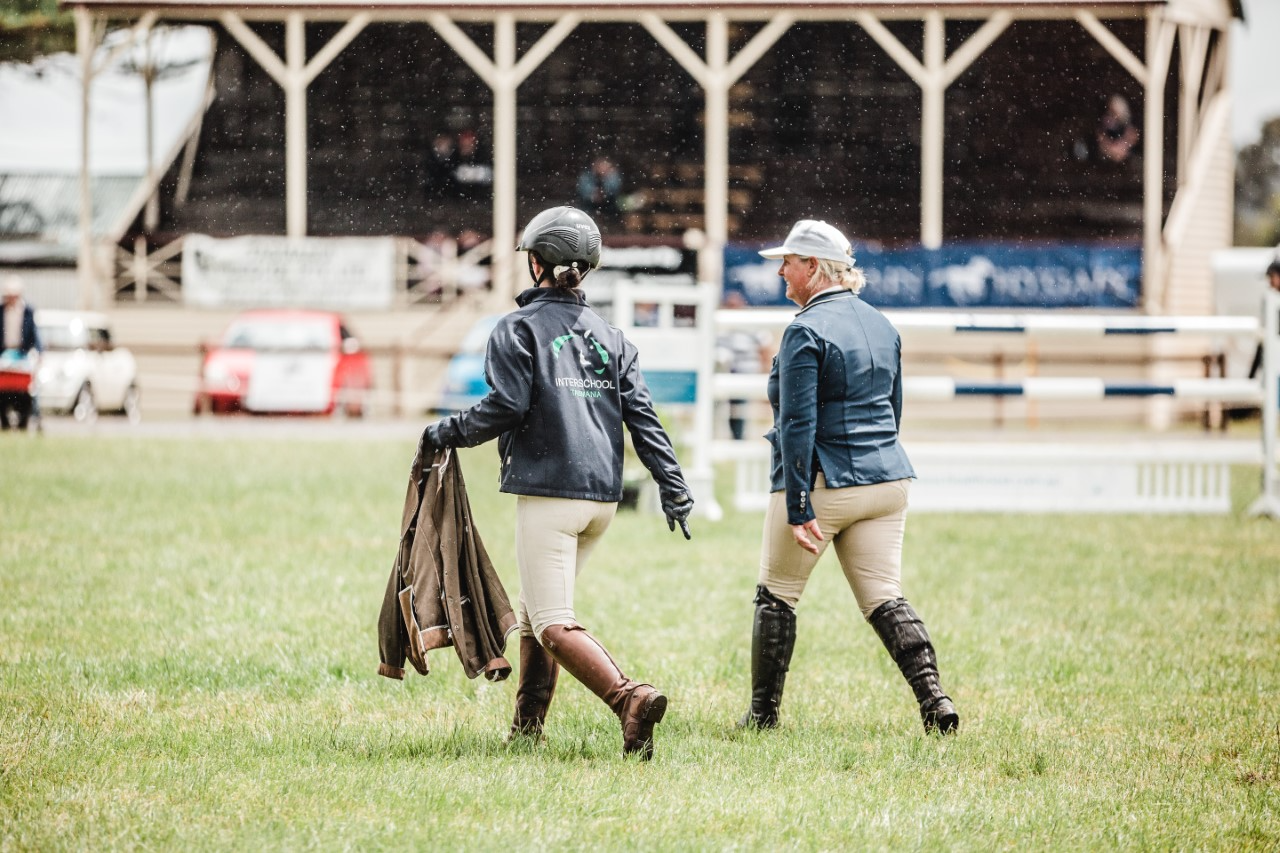 The all-important course walk - photo by Jessica Honan Photography
So I don't recall a day without horses. My early childhood memories are of my father showing young stock; he had a handful of riders competing his horses for him. Mum, (the non-horsey owner), was very supportive and they started a small breeding stud with "Rotherwood Digby" (by Keston Royal Occasion). 
My brother, Robert, is seven years older than me, so he had already started his time in the show ring and I followed. My grandfather, Clarrie, spent a lot of time preparing a few horrid breaker ponies for us to learn on, one called "Mister" was our starting point.
I was then gifted a Rotherwood Digby pony from Peter Barry that did not hit the standard for the mainland. Little Digs spent a few years in the paddock, as dad refused to break him in. My grandfather took him to Cressy and I would go there every day after school. During the day the pony was ridden to and from shearing sheds and, in the evening, I was allowed to sit on him.
Little Digs become my star, who I named "Mirinda Wentworth" and my start into everything that made sense in riding. Hence my property and coaching business is named after him, Wentworth.
From then on, Dad brought home every style of Off the Track Thoroughbred (OTTB), random breed and homebred ponies; we were chucked on everything that moved. We attended shows across every part of Tasmania, including Trowutta Show. We often had to compete in every class to win money so we could buy diesel to get home.
Showing, Jumping, Eventing, Dressage; we did it all on average, run-of-the-mill misfits. On a good day competing, we could afford fish and chips and a battered sausage for our dog Scruffy. We still laugh looking back on it.
Claire out hitting the jumping circuit - photo by Sarah Worsley Photography
Rob and I had great individual successes right through EA State level, nationally and me at Pony Club level internationally, on a Pony Club exchange. 
Showjumping seemed to fit our lifestyle. The horses we had when we started working full-time seemed to be show jumpers, so that's been the focus now for many years.
After trying out the jumping scene for a future husband, I decided non-horsey was the way to go, and a non-farmer. Somehow, I meet the greatest beach-going mechanic about in the form of my now-husband, Michael. We meet when I was 20ish.
Now I am 43 years old and we have two children. Ava is 14 and Tom is 10; we chose short names, so they never have to repeat the spelling of their name in their lives. 
Ava shares the horse riding bug, Tom did for a while but it's not really his thing. However, I won't be at all surprised if, one day in the future, he just jumps on and whips us all. Michael supports us in everything we do, handles the horses well and is happy to feed, rug, brush, stud and paint poles - yes, I am very lucky.
I completed my coaching accreditation when I was about 17 or 18-years old. In all honesty, my mum and Judy Kilby hassled me so much I just gave in and did it. I appreciate this now, later in life, because at that age I had time.
From then on, I had to work. Multiple jobs in hospitality, working at night and riding during the day. Then I moved into the tourism sector and did marketing full-time with a fantastic employer that allowed me to be flexible with time. 
Happy life means happy employees, so I gave my work life 100% in return for the flexibility. During this time I would coach most Sundays at local Pony Clubs.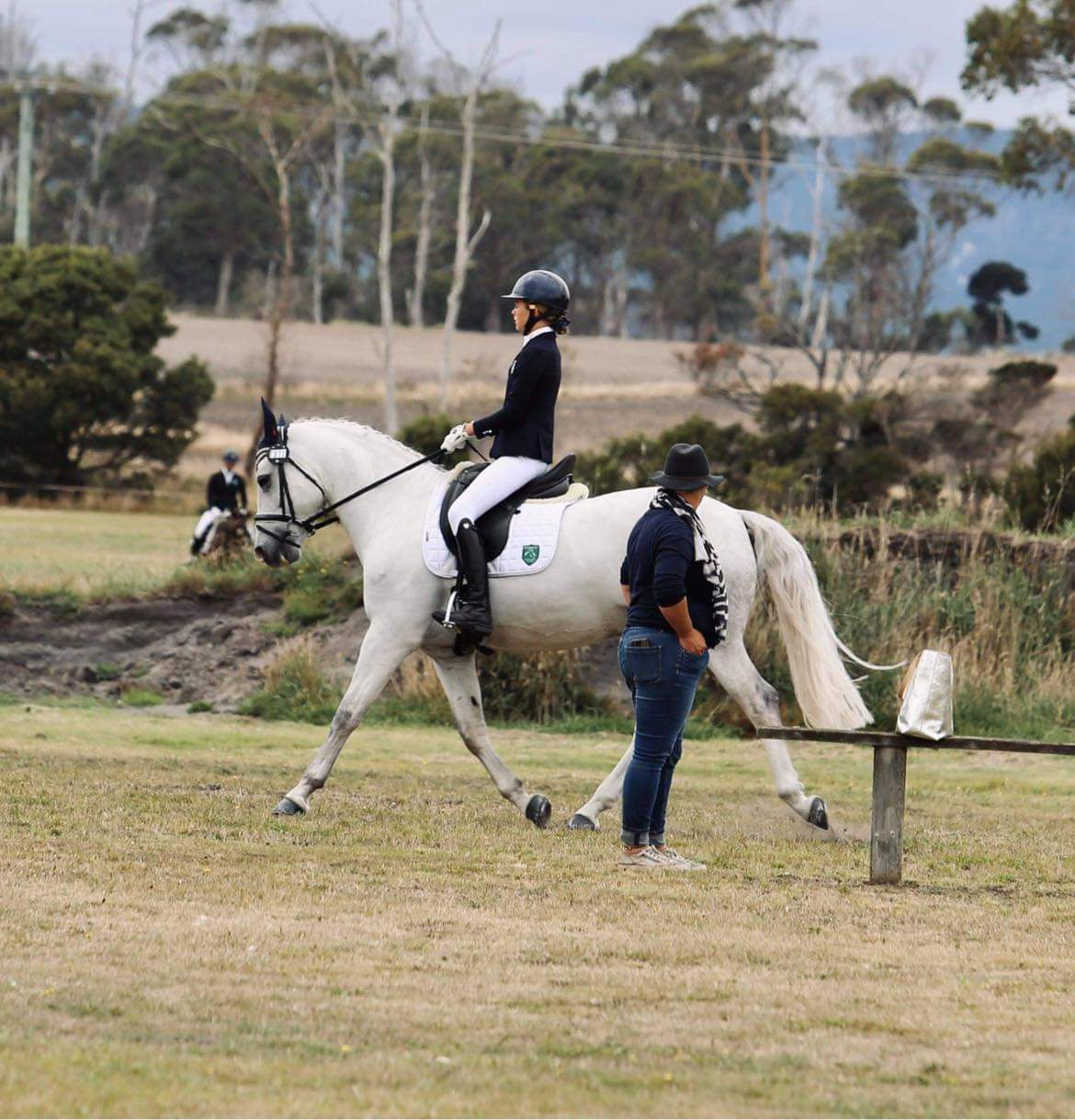 Claire and her keen coaching eye in action - photo by TDE Performance Team Select Photography
I then ended up taking maternity leave and long service and left the very solid government job to coach! 'Have child, will travel' ...I would hate to say how many lessons Ava has sat through. Let's just say I have never coached her on how to ride a course or line!!
I work under Wentworth Equestrian and consider myself a part-time coach that coaches full-time.
I have a healthy rider group. We train from my own property, which is a sanded grass surface and, during winter, I have access to a 90 x 35 indoor to train from. This has been really beneficial for my clients, as we start a lot of young horses in winter ready for our spring/summer season. For others, it is a great opportunity to refine skills. Horse management is a huge deal with a sport that now runs year-round. With my really regular clients, we focus a lot on horse development, soundness and longevity.
My husband and I also own a diesel fuel injection and mechanical business, called Albert's Diesel Service. We employ five staff and I am self-trained in all things business, with the help of a wonderfully patient accountant.
With my horses, I am pretty small-time these days. I like to try and do things well and meet the horse management levels required. Slowly over the years, it's decreased with the more my children have become involved in riding and the other sporting commitments and opportunities we get involved in. 
I have been campaigning one horse, "Wentworth Isabella", the last two years. She was bred by a student, who I happened to be coaching right at the time the mare laid down in the paddock next to our lesson and delivered. I had agreed to take it if it arrived with four legs and a head and, well, that was that. Isabella is very talented, a little too brave and sensitive ...maybe a slight reflection on me.
Ava campaigns a super cute Connemara, called Glenormiston Flashy Comet. We have a lot of fun on show road-trips together. I am currently looking for some more horse partners in life, I just need to be patient. 
Coaching came very naturally to me. As a child, I always hanging out in the practice arena at shows, helping warm up Rob's horses or leading other peoples' horses. I would spend hours with the show ponies when they were being weaned; I just enjoy a horse's company.  Even now, when I coach, it's a little like I prefer focusing on getting to know the horse a bit, then work at encouraging the rider to understand and work with that horse.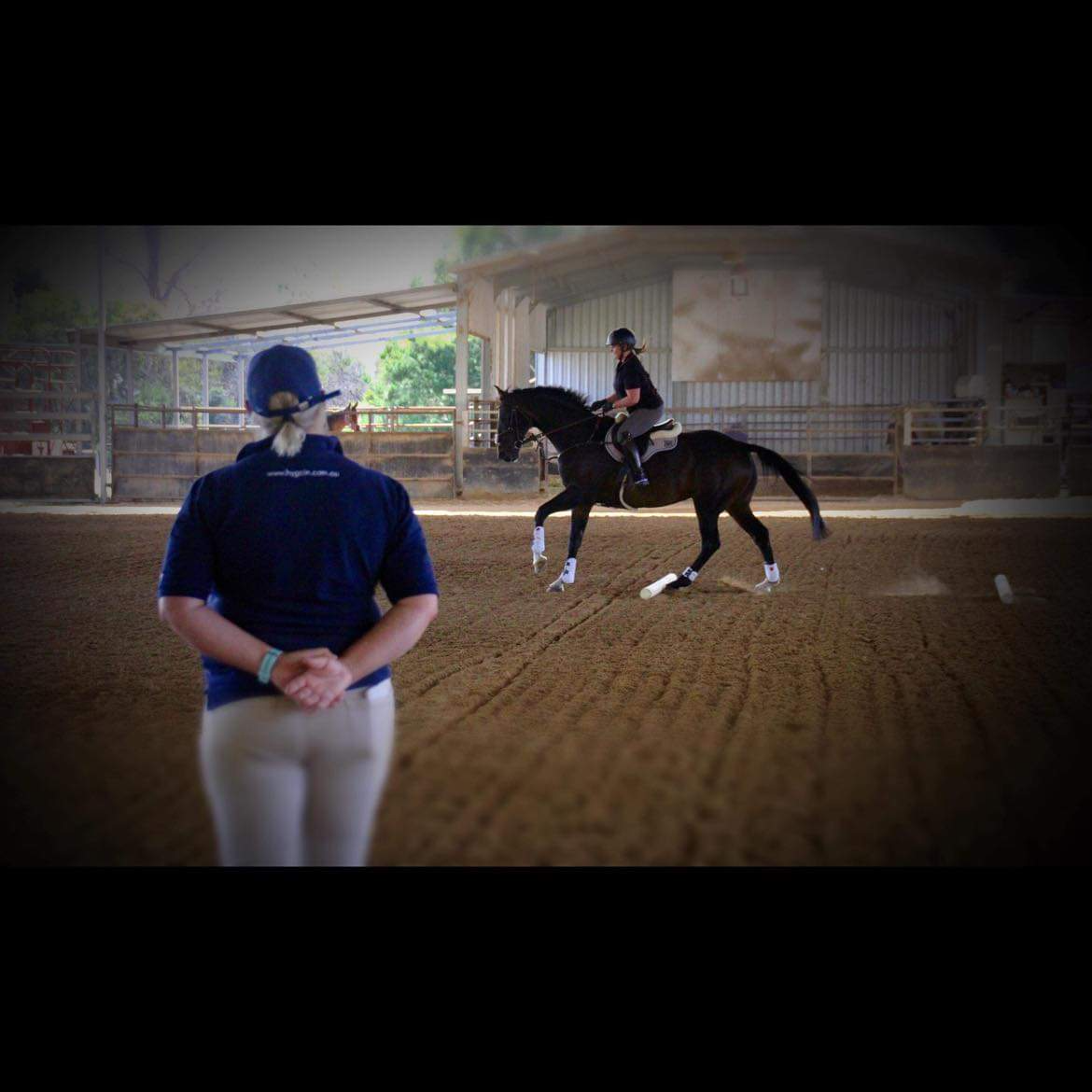 Claire coaching a rider over poles in the indoor - photo by TDE Performance Team Select Photography
My grandfather, on the rare occasions he chose to give me a positive compliment, would say, "your horses see you as larger than life and respect you for it." It would be so good to know how our horses think about us riders.
When coaching, I treat every rider as an individual, I have no set theories or coaching style. I like to understand the rider and what they are thinking and, for the most part, my clients have huge goals, but ride for their own personal reasons (not for professional/employment gain), so they are blending those huge goals into work and family life. Some are on super horses and others on less exciting styles, but it's ok.  We work on improving what we can, harnessing the positives and being understanding of the negatives. 
I don't do rollercoaster riders, because competing or simply riding a horse at any level is already going to come with highs and lows. I aim to develop thinking riders, that will see out the theme park right till the end. Sunburnt, full of fairy floss and ready to buy a ticket for the next day. Resilient to the pressures they place on themselves and their horses as well.
I coach a really diverse range which keeps me honest. Whilst I specialise in showjumping, not everyone I take jumps, but I have had some long partnerships with some riders from teenagers through to their adulthood in the competition arena. 
During winter I have a group of dressage riders. These guys are in the fancy levels, Advanced and above, with all the buttons. They love to do some jump and pole training out of dressage season...they provide a lot of entertainment. 
Cross country training at Pony Club I love, it gives me a break from moving poles. The club I am involved in has the most wonderful facilities, so it's fun to get out with the riders. I too am always learning and I pride myself in being very happy to work with other coaches to help riders receive a very balanced approach to their training.
By means of committee and community roles, I have somehow followed in my mum's footsteps, whose contribution to the sport at State and National level is a credit to her. A non-horse rider but what she has achieved for our State is amazing and I truly respect her every day.
I've held positions on local Jump Club committees since I was 18 years of age, in secretarial and general roles; I've been Equestrian Tasmania Delegate and National Show Jumping Delegate; I was the High Performance Manager for Tasmania for a while during the talent ID days, committed to establishing the National YR series to Tasmania; and in 2014 I was awarded EA National Volunteer of the Year.
Currently, I am the president of a local Pony Club, State Jumping Squad Co-Coordinator, on the National Grading Panel for imported horses, involved in our local Longford Show Equestrian, where we run both jumping and show horse events and media liaison for our State Jumping Committee. Oh and we house the jump club foliage ...you all may laugh, but keeping potted plants alive year-round is no easy task (my husband probably deserves that accolade).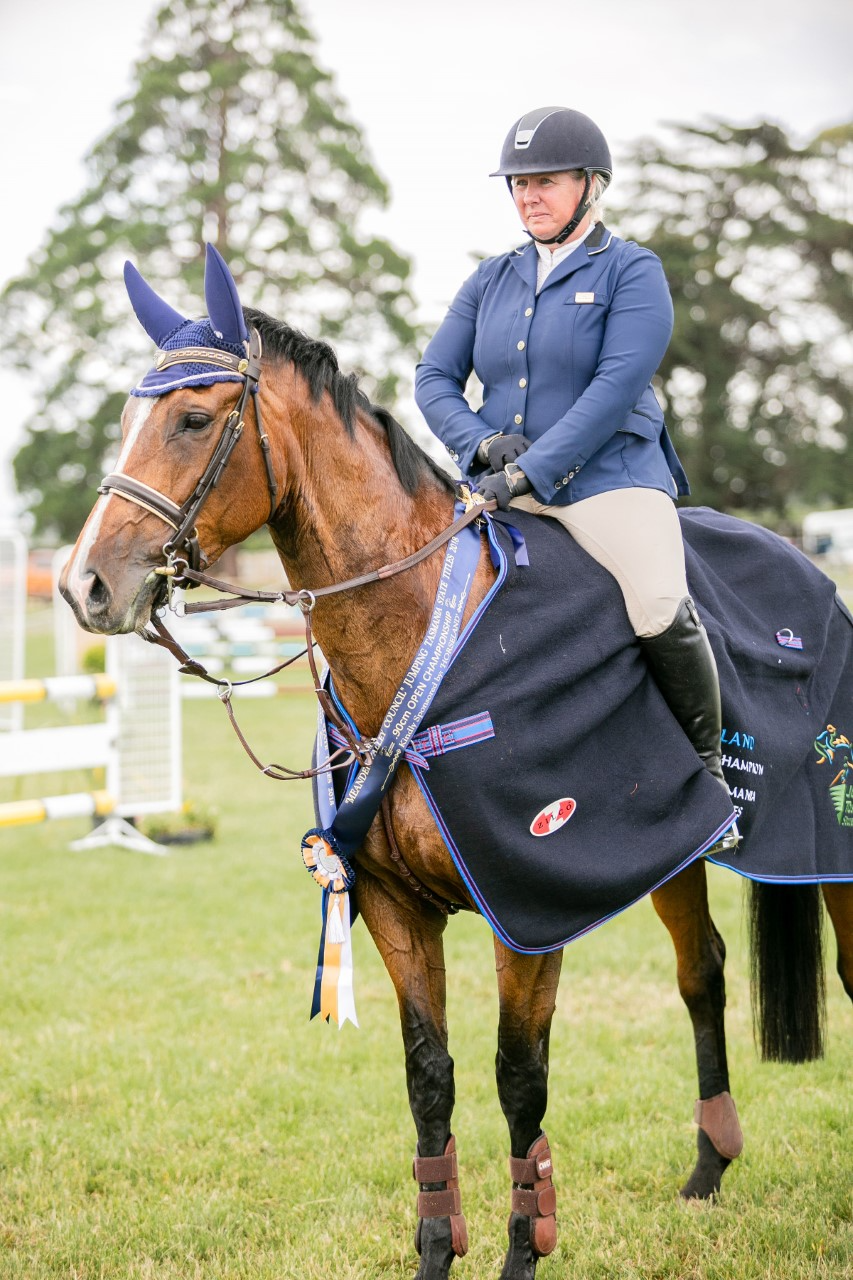 2018 Championship Winners in the 90cm Jumping Tasmania State Champs - photo by Sarah Worsley Photography
In the future, my plans are to complete my Level 2 EA Coaching accreditation. It is ridiculous that I have not done it already, but I have been so busy creating opportunity and trying to progress a sport I forgot to progress myself. 
I plan to develop another couple of horses and aim for a campaign to the mainland to both train and compete.  I have always wanted to spend some time in a full-time jumping yard and my daughter is of age and ability to benefit from the experience.
I'll probably move away a little from the competition arena and focus on some training of horses.  It is the side I really love - turning nothing into something.
For now, I'll be back commentating at shows, course walking, coaching and helping Ava.  
I love my coaching life ...it's not a job for me, it's a lifestyle that I am lucky to lead.  I have met and worked with some of the best people in the sport."
Claire Walker 
VIEW ALL THE PREVIOUS STORIES ...