Photo Courtesy of Colleen Brook
COACH OF THE MONTH Colleen Brook
COACH OF THE MONTH is a regular Education series on our website. It is a way of highlighting the EA coaches and educators who work with dedication and passion all over Australia.
Colleen Brook is an EA Level 3 General, Level 3 Eventing and Level 3 Jumping Coach, and Coach Educator (CE), who lives in Wilberforce, New South Wales. 
"I grew up in the Bellinger River Valley inland from Coffs Harbour northern NSW. The riding bug bit very early, when I was 2-3 years old ...luckily, my mother, Joyce, was a rider.
In fact, she won her riding class at our local show when she was 6 months pregnant with me.
My mother was President of the local Pony Pony club and was in the first group of accredited Pony Club Instructors.
We moved to Sydney and I was horseless for a couple of years, which wasn't a happy time. Once we were back into it, I was off - pony club gymkhanas, shows, I rode in anything and everything I could.
In my late teenage years, I started to ride more show jumping, although I kept eventing as a part-timer.
The Thoroughbred was the king of performance horses then. We bred some warmbloods which became handy horses in jumping and eventing.
I won State Pony Club Eventing Champs, Senior NSW Jumping Champs, VIC Showjumping Champs and Australian Jumping Champs. I didn't ever have many horses at a time and I was proud of them winning Champion Jumping Horse titles at the respective royals.
I went on to represented Australia at one World Games, three World Cups and was reserve twice for the Seoul and Barcelona Olympic Games.
I had two 3* eventers and one of the best jumpers in the land at one time, but it was hard to juggle the timetable.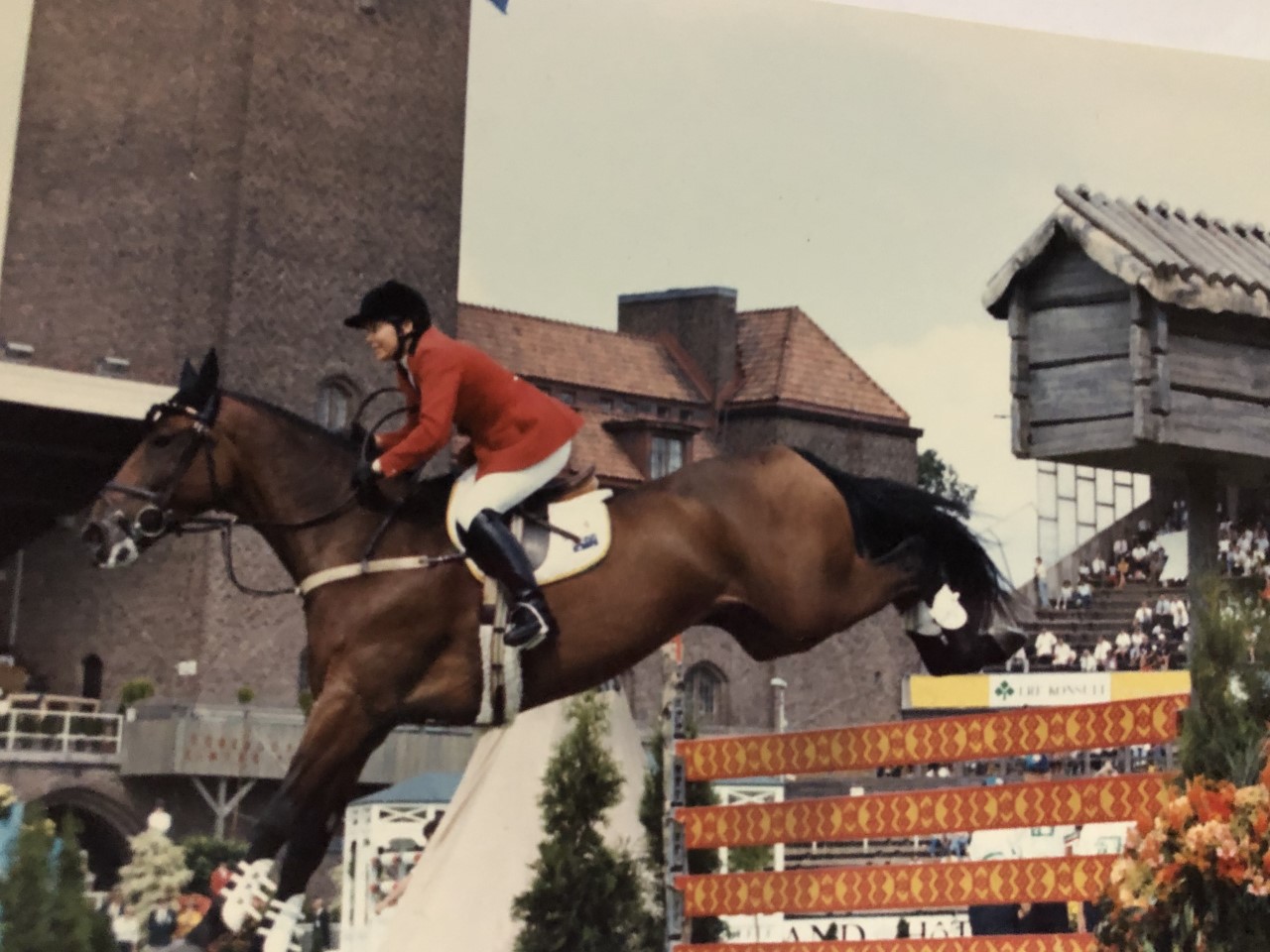 Colleen aboard Talkind in Stockholm, 1990
Now, I have a daughter, Liz, who is 27-years-old. Sadly her father, Steve Koob, died in 2013 from cancer.
Lizzy is a keen jump rider who also was successful in her pony club years, She currently has a 1.25-1.30m jumping horse.
My current horses, out of my warmblood mare, have just turned 6-years-old and are jumping 1.10m. They have been ridden for a year and are ready to take their next step up.
We have some homebred younger ones, they are Lizzy's future mounts, which I keep riding in the meantime.
I won the Jump Off class in Melbourne last November (for Thoroughbreds) which was a great thrill. I was on a student's horse and we had a good group there watching.
Coaching:
I loved having lessons and I was a junior coach in pony club. When I started to be successful as a senior (over 18), the teaching became more a part of the routine.
I travelled all over Australia, NZ, Japan, the Philippines and Indonesia. One year I taught 10 weekends in a row, it was then I decided a loudhailer was necessary.
Everyone has a different business model for their teaching, for a long time my teaching was clinics. Those were the days when riders at competitions didn't have coaches on hand.
I was in the first group of coaches to be accredited in the EFA new system, along with my peers.
I enjoyed the learning required to be a CE and the updating requirements are all great for you to keep current.
I was Assistant National Coach to Rod Brown and NSW co-Coach along with Vicki Roycroft and George Sanna. Even though it wasn't so long ago, it was still a little before most people had their own coaches at shows.
I have taught a  Korean team for the SEA Games and Kuwait'is for Middle East Games, they were great experiences. I was also one of the coaches at the AOC Youth Olympics SIEC in 2009.
I have done so many coach assessments and exams I've lost count. I'm still doing coach assessments every other week.
I have always believed if you want your sport to prosper, you better put in somehow.
My parents were both National Showjumping Judges and my father an International Course Designer, plus a National Selector.
He was also President of the NSW Jumping Council and my mother was the Secretary for a short time.
Personally, I have been on the National Coaches Panel, the State Jumping Committee and the State Coaching Committee. I've also been the Rider Representative on the National Jumping Committee and the World Cup riders' representative.
I am on the local Jump Club Committee and I was the President there for a short time. I am also the rep for Jumping NSW.
Currently, I am on the EA curriculum review panel, working our way through updating the Coaching syllabus. I enjoy meetings and I nearly put up my hand for another position recently, but I thought the younger ones need to step up and have a go.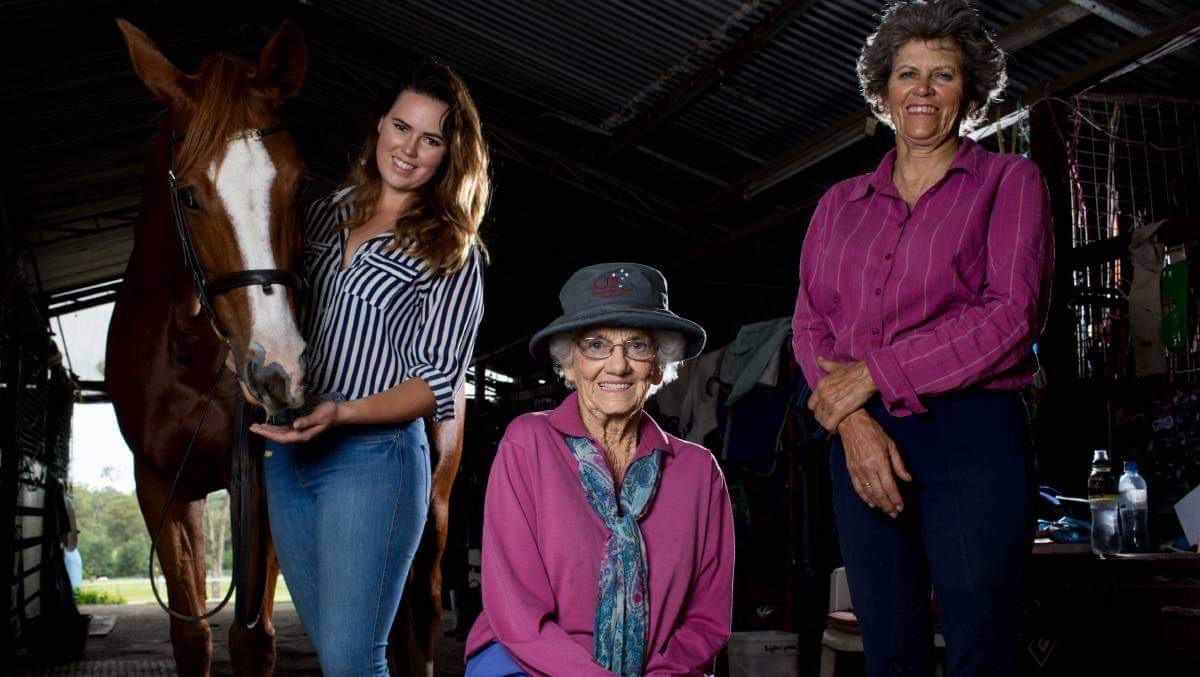 Colleen (right) with her horsey family - daughter Liz (left) and mother Joyce (centre)
Looking ahead, I probably don't have a long jumping future as I am 67-years-old, I still love riding and jumping of course.
I will keep riding the young horses to see where they will go. I can't wait to jump some bigger tracks with them.
With coaching, everyone must travel at their pace learning-wise to produce their best.
Each generation has different circumstances, we think we know so much more, and we do, but still, the horses need time to learn and develop just like their riders.
I am patient for a student's success. It is better making mistakes before the jumps get too big and confidence falters. Jumping anything requires total commitment, no wishy-washy decisions.
The sport of show jumping is going well, we have some lovely shows and huge entries whenever we run.
The ground (footing) and the courses are all important and I think generally, our show organisers are doing a great job.
It is expensive to compete now for every discipline and the market will decide how they want things to go.  Other countries have managed to make changes, I wonder what post-2020 will be like."
Colleen Brook
VIEW ALL THE PREVIOUS STORIES ...