Photo courtesy of Danae O'Keeffe
COACH OF THE MONTH Danae O'Keeffe
COACH OF THE MONTH is a regular Education series on our website. It is a way of highlighting the EA coaches and educators who work with dedication and passion all over Australia.
Danae O'Keeffe, is an EA NCAS Level 1 General Coach and EA Jumping Judge from East Greenmount in Queensland. She is a nomad, currently splitting her time between Queensland and Canberra, and in the past 18 months has coached as far North as Mackay, right down to Albury, as well as China. She balances her coaching and riding enterprise, PH Performance, with full-time work. She is also a Pony Club Coach and Jumping Judge.
"I've always had horses in my life.  Mum rides and competes, and when I was younger we raced Standardbreds we had bred, as well as breeding a few Warmbloods. It's probably no surprise that I caught "the horse bug". I remember pestering my parents incessantly to go to Pony Club. They finally gave in and uttered their famous last words "we'll just do rallies once a month". I don't think that lasted 6 months before the competitions started!  I've always loved riding, and anything involving speed or jumping was definitely one my favourite activities, making Eventing the natural choice for me, but I've ridden most disciplines. I did the sorts of crazy things kids think of and was fortunate enough to have the run of a few of the neighbours' properties. Holidays were often spent going fast, with or without a saddle, over who knows what sort of terrain and jumping anything I could find. I even jumped the roadworks signs that were put out by the council. I'm not sure what the workers thought! I think I corrupted the whole family, Mum changed from Dressage to Eventing and my brother, Chris, followed suit, Dad became a Showjumping course designer and judge, as well as a committee member and organiser for a number of CICs and CCIs. Eventing is still my focus, and I love the adrenaline associated with it, but as I've got a little older I've discovered that I really enjoy the art and finesse of Dressage too.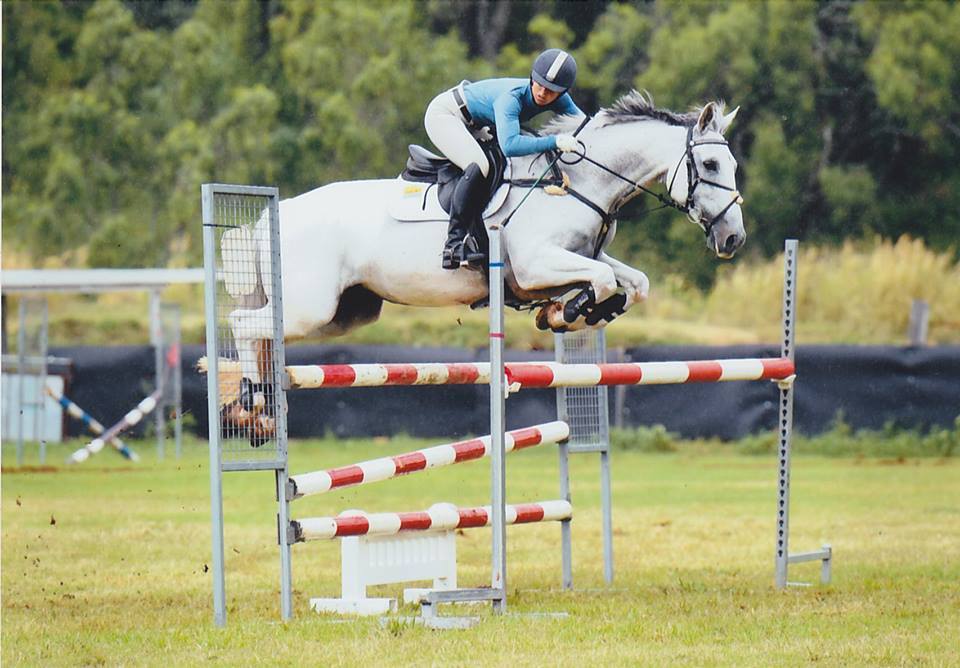 'Prospect Hill Guidance at Toowoomba' - photo credit OzShots
I was really lucky growing up, even though I didn't have a lot of lessons. I had some great people around me who were very generous with their time at Pony Club and gave me a really good grounding. I went through the entire system and completed my A certificate. As I've grown older, Heinz Kruell has been big guiding influence and always happy to give me some advice over the phone. Similarly, David Finch has always been prepared to give me a kick in the pants when it's been needed. I've also had the privilege of working with coaches like Lucinda Green, David Green, Chris Bartle, George Morris and Lone Joergensen, who are not only very good in their discipline area but are superb horsemen. 
I have a small selection of quality mares I have enjoyed riding and who have shown talent under saddle and foals that I have. As for relationships and children, I haven't met anyone who has sufficient sense of humour to deal with my nomadic lifestyle with a penchant for chaos! 
Last year was a little light on with the competitions as I spent so much time travelling. Having a few young horses coming through the ranks also meant a lot of time schooling and establishing a solid foundation. It's starting to pay off, with my young OTT, Silence PH, being a remarkably consistent quiet achiever this year with placing and top ten finishes at some quality events including Albury and Camden. My lovely FEI mare, Gilbachtal Paluma, is feeling really good after a back and leg injury, so fingers crossed she will get out and compete later on in the year. To round out the team is a young third generation homebred mare, Prospect Hill Global Extra by Check In, who is green, but is looking very cute. I'm fortunate enough to have the support of some fabulous companies such as Kelato Animal Health, Southern Stars Saddlery and Brightride, who have supported me with some great products and timely advice, and it makes a big difference having them as part of the team.
Outside horses, I have what most people would describe as a "real job" working in knowledge transfer, commercialisation and partnership development for research at the University of Canberra. It sounds like an odd mix with my riding and coaching, but it works very well. UC has a big sports research program and a strong partnership with the AIS, so I regularly get to chat to some of the country's foremost sports researchers across a number of disciplines including performance psychology, physiotherapy and biomechanics. It's a great desk job for an athlete and coach to have! 
I sort of fell into coaching. It was something I'd been thinking about, and I was often helping other riders from my club and zone and at Pony Club (PC) competitions. I hadn't put any effort into pursuing it until I received a call from one of the Pony Club Queensland CIP members asking me if I could do a series of Jumping Equitation clinics for riders in her zone. It really went from there. I'm a fairly quiet introvert and used to be quite shy (I once did a fundraising quest to raise money for Riding for the Disabled Association and I stood on stage shaking), so standing out in the middle of a paddock giving lessons was a bit of stretch. Gradually I got more confident and found I really enjoyed it.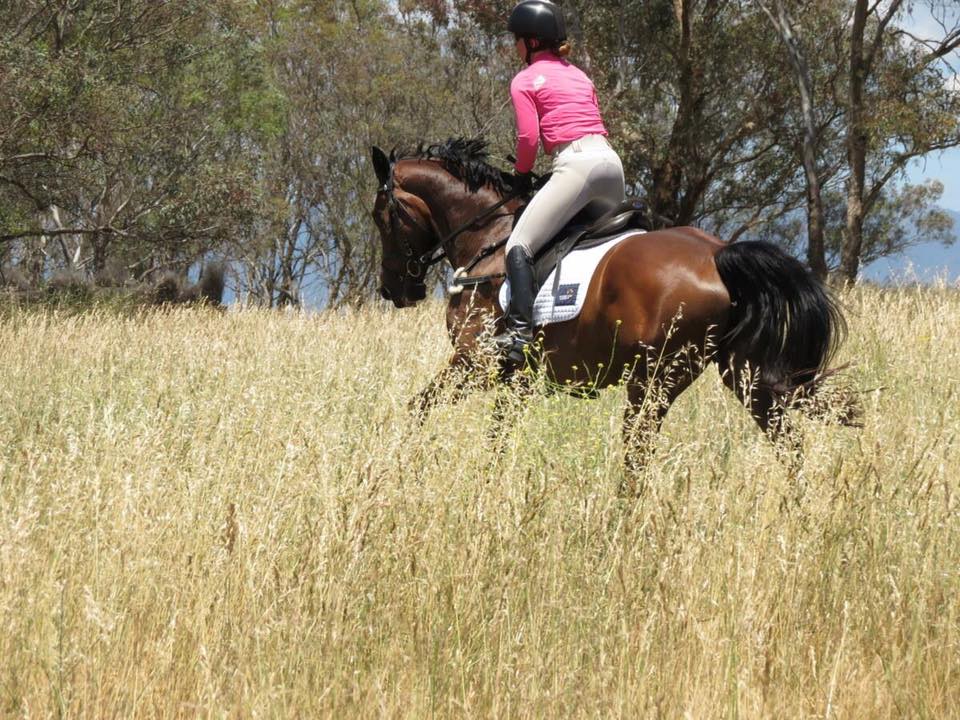 'Gilbachtal Paluma in Canberra' - Photo credit Lisa Stuart
I love learning and knowledge, so in that respect, coaching is a natural fit. As a coach, I try very hard to give each rider the information they need in the way they can best use it. It doesn't matter what level or what age. I'm thrilled to see riders master a skill in a lesson, especially when they start developing "feel".  I get a lot of satisfaction helping my riders do well at a competition, but when they ring or message me and tell me that they did x, y and z, and this is why and this is what happened, that's fantastic. It tells me that I'm empowering the rider and giving them the skills they need to develop their feel. That's my real aim, to help riders learn horsemanship and feel.
Other than coaching, I'm a qualified EA Jumping judge, as well as a Jumping and Jumping Equitation judge in Pony Club. I've been able to see the sport from a number of sides, having been an organising secretary for the Pony Club Queensland Championships (it was huge - we ran 11 dressage arenas at one time!) and a TD and judge at state championships for both Pony Club and Inter-schools, and a judge at the 2012 Interschool National Championships. Outside EA, I'm still very active in Pony Club, being a member of the State Chief Instructors Panel in Queensland and one of the PCA approved coaches travelling to China to help the launch of Pony Club there as a platform to help teach both riding and horsemanship.
Like many eventers out there, 4* is the long term riding goal, both here in Australia and overseas. Being able to do it well on horses that I've either bred or have had their entire careers with me is the key thing. I enjoy the whole process and the horsemanship behind it (most days!). As a coach, if I can help riders reach their own personal version of this, the level of the goal doesn't matter, then I'm happy. I want to be able to coach riders so that they are independent horsemen who are confident, happy and able to climb their own Everest. If I can find ways to give back the sport while doing all of this, then that's the trifecta!"
VIEW ALL THE PREVIOUS STORIES ....