Photos courtesy of Denise Rofe
COACH OF THE MONTH Denise Rofe
COACH OF THE MONTH is a regular Education series on our website. It is a way of highlighting the EA coaches and educators who work with dedication and passion all over Australia.
Denise Rofe is an EA level 1 General & level 2 Dressage coach based at Woodside in the Adelaide Hills, South Australia. She has competed in Eventing and Dressage and has trained and ridden horses to Grand Prix level, as well as training and coaching numerous other horses and riders through the levels in eventing and dressage. She has a Masters degree in Science as well a Diploma in music teaching and has made significant contributions to equestrian education in SA either directly or via ESA coaching committee membership. In 2012 She received the Lindy Wright Memorial award in recognition of her contribution to dressage. Denise was recently elected as rider/practitioner representative on the committee for the International Society for Equitation Science. As well as being a full- time coach Denise also competes at FEI level dressage. Special interests include animal behavior, horse and rider biomechanics and freestyle dressage.
Denise was born in Wangaratta in 1952 and grew up on a farm and rode from an early age. Her days were spent exploring the Ovens River flats on horseback and mustering sheep.   After study and a career in science, she returned to equestrian pursuits in her late 20s via eventing with the occasional camp draft.  Then followed marriage to a scientist (now skilled in horse fencing!), working in medical research in the UK,  2 sons and establishing a property from scratch at Woodside. Music has also been an integral part of Denise's life, playing in a chamber music trio for some years, singing in choirs and conducting.
Coaching evolved during this time, supplemented by a second career as a music teacher and dressage became the primary competition focus.  Horses have ranged from stock horses to part bred Friesians. Her first dressage horse, a slow eventer was out of a bakery mare (Clyde/TB) by an Anglo-Arab. He (Jota) competed till 21 and lived to 32 and was the first of many to have a dancing musical name. Training always started with young horses (1-4 yr old), most of which went to FEI level. The interest in science and horse training led to Andrew McLean and the Australian Equine Behavior Centre and a keen interest in evidence-based training.
Denise has been a full-time dressage coach since 2007, applying evidence based training. In particular, learning theory and horse/rider biomechanics, a field which has increased enormously in the last 10 years.  New technology such as rein pressure gauges, saddle pressure analysis and GPS on horse's legs have produced useful data to confirm or negate what trainers thought they were observing.
Future competition plans include taking her current FEI horse to Grand Prix (in a snaffle) and training her broodmare and offspring up through the levels.
The welfare of horses in sport is increasingly being scrutinized and Denise sees a longer-term role as a coach in educating the equestrian community in best practices in horse handling and training. Her view is that the best information a coach can arm themselves with, is found in evidence-based training. She emphasizes that this is not a "method" of training but an overview of all techniques, based on the knowledge of how the horse processes information about the world (cognition), how the horse/rider move (biomechanics) and equine behaviour needs and preferences, learning, value systems and motivation (ethology). 
Combining science, equestrian and music has been a dream career. Significant influences have been Andrew and Manuela McLean,  Richard Weis and Ricky MacMillan. Her many students are an inspiration and motivation to continue learning, coaching and competing and her mission is to give her students the "toolbox" to be independent riders and trainers.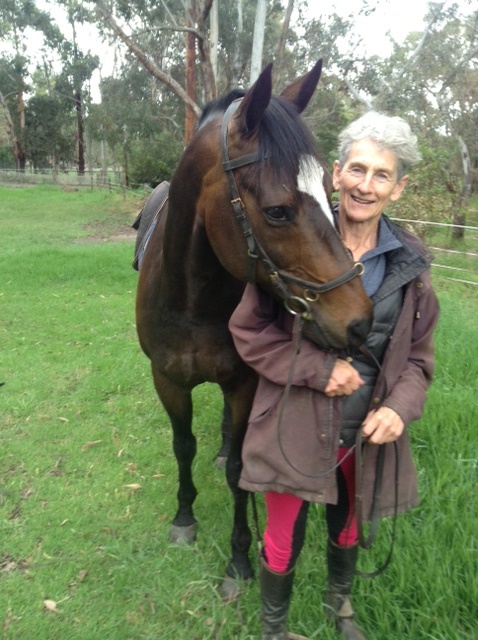 VIEW ALL THE PREVIOUS STORIES ...