Photos courtesy of Liz Tollarzo
COACH OF THE MONTH Elizabeth Tollarzo
COACH OF THE MONTH is a regular Education series on our website. It is a way of highlighting the EA coaches and educators who work with dedication and passion all over Australia.
Elizabeth (Liz) Tollarzo is an EA Level 1 General Coach, EA Level 2 Dressage Coach and Coach Educator, based in Wandi, WA.
"I started riding when I was 6 years old. For as long as I can remember I loved the appearance of horses - wanting to pat horses, get my mum and dad (who were not horsey) to stop near any horse I saw, so I could try and touch it. I would draw endless horses and any figurine horses were all I wished for as presents! 
My parents started me riding at Wyandra Riding School in Riverton, WA. Once a week, my best friend and I would go and have group lessons.
As soon as I could, I would work in the stables for free - hoping for an extra ride! I did this every weekend and school holidays for years.
My parents finally bought me a horse for $300 - a just-broken in three year old thoroughbred (as they knew no better). I started to learn pretty much straight away that, after being bucked off, I had to get back on as soon as possible - something that happened every day - if not twice a day sometimes! As I had only been to a riding school up until here, I had to learn how to saddle and bridle my own horse. Again trial and error was my main learning style.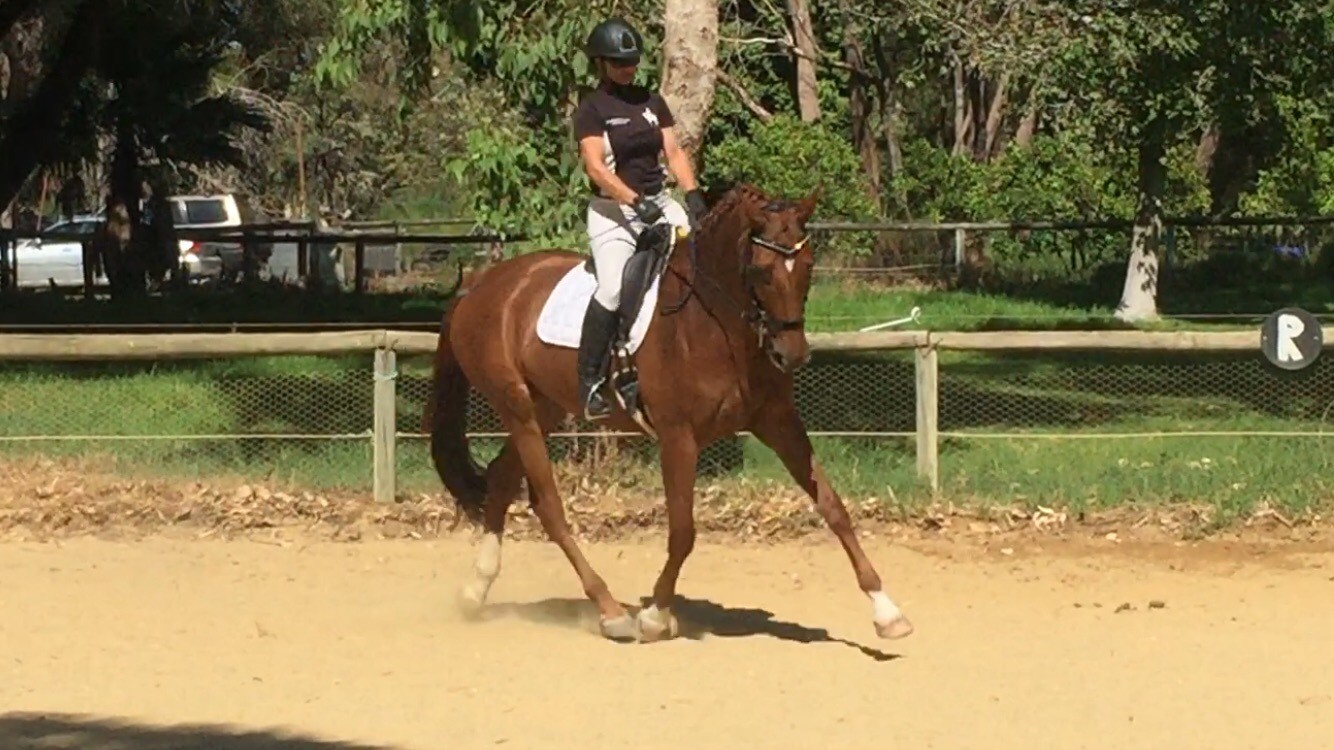 The agistment was just a barbed wire paddock, right next to Adventure World in Jandakot. I also learned how to feed, treat injuries and rode many horses, as the owner of the paddocks used to buy horses from the markets and then I would ride them. If they were rideable, he would then on-sell them for a profit - so I became very used to many types of horses; well-behaved and naughty, ponies, stock horses, Arabs, Thoroughbreds and Standardbreds. I was at this time in year ten.
When I started year twelve, my parents said I had to study. I had to sell my horse and spend a year riding other people's horses until I graduated. I became quite good at sticking on, but my style was certainly not for competition. I was mostly interested in jumping and bush riding, although I loved schooling the different types of horses to just be better at stop, turn and go. I saved many horses from going to the slaughterhouse, which was where these horses had been heading before they had been purchased from the markets.
This start with horses helped me so much in learning how to deal with so many different temperaments and behavioural issues which I treasure to this day. I also treasure that I survived this period of time, as I was just left to my own devices and had no one oversee what I actually did or advise me what to do. I suspect this is why I wanted to teach riding, having done things the hard way. I was and still am, keen to assist people and horses find a better way, as well as for competition! 
Although now I really love dressage, when I did finally compete, I originally only wanted to jump and event.
While my first horse was a cheeky and flighty thoroughbred, I bought and sold a few horses of different kinds. Firstly, I purchased an Andalusian (he was too beautiful to jump), then an Anglo-Arab (who was a bolter and was going to be put down). Next was a pinto (who had been dumped at an agistment centre), then a Fresian (who was going to be put down because he wouldn't float), until finally buying a first-cross quarter horse to be my eventer.
He was scared of other horses, so I ended up giving up trying to jump in the warm-up area and decided to do dressage (which I felt was boring). I trained him to elementary level and then sold him to buy my first warmblood, which was a Holsteiner mare from the Barabadeen Stud.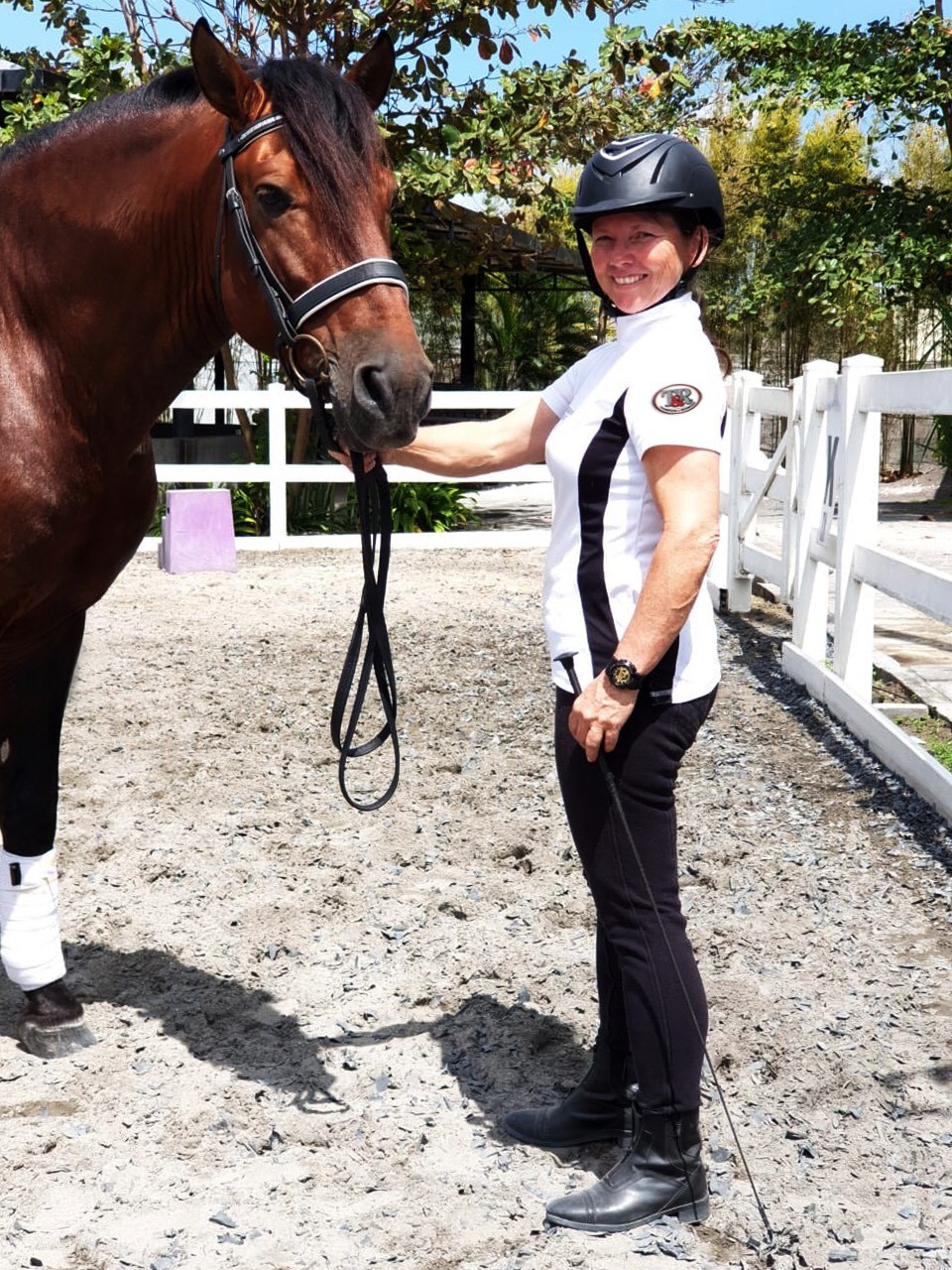 'Majana' was owned by Roz Tippett and had been just served by a Trakehner stallion and the resulting offspring was Wandiera Bay, who I trained and competed successfully at FEI level - being a state champion in every dressage level, up to Small Tour.
I also became half-owner with Fiona McCloud in a warmblood gelding 'Altissimo'. These two horses I took to the Australian Dressage Nationals in 2003. It was an amazing experience, my best at this show was a 6th place in the Inter 1 Freestyle with Altissimo. Driving across the Nullarbor was an amazing experience. The experience has certainly kept me wanting to improve my skills and gives me a goal for the future to once again represent WA at this competition. 
I have bred a small number of warmbloods, trying to breed horses that I could not afford to have myself - using Wandiera Bay as my main broodmare. All these horses have proved/ are proving to be very successful competition horses. I have one more foal due this year and then I aim to stop breeding.
My dream one day is to purchase an Andalusian or Lusitano to train and compete in dressage.
Meanwhile, I compete with a mare I have bred by Royal Hit and I am very lucky to have the ride on a beautiful grey warmblood gelding 'Everton Park Jet Blauw D', owned by Pam and Mark Page. 'Jetson' has just started Grand Prix and has also won many championships including Medium Tour. Recently he was awarded the WA State medium tour champion. Jetson, being the second horse I have taken to this level (Altissmo also competed successfully at Grand Prix), is showing much promise for the future - maybe next year we may be ready for the Nationals!
I love coaching full time. I enjoy dealing with the interactions between horse and rider and assisting in them learning to work together as a team.
My interest is dressage. Though jumping still excites me, I never seem to have a chance to jump, unless I manage to steal a ride on my daughter's pony! I am an EA level 1 general coach and an EA level 2 dressage specialist, as well as a coach educator and I do just thoroughly enjoy my profession.
I have also competed in Western dressage, working equitation competitions and training days with my other FEI trained horse, Wandiera Rembrant. I enjoy seeing and trying other disciplines and furthering my knowledge. 
My husband Dino, has been very supportive of my sport, having driven across to the Nationals with me in 2003. He has learned to ride over the years, although presently avoids the saddle. He has fitted out an ex-army Unimog which we are in at this moment. We've driven over to Sydney for my daughter Mia with her pony, Stanley, to compete at the Australian National Interschools at the end of September. So we are presently reliving the drive and preparation. Hopefully, my daughter has some fun and enjoys this amazing experience of partaking in a national competition as part of the WA team.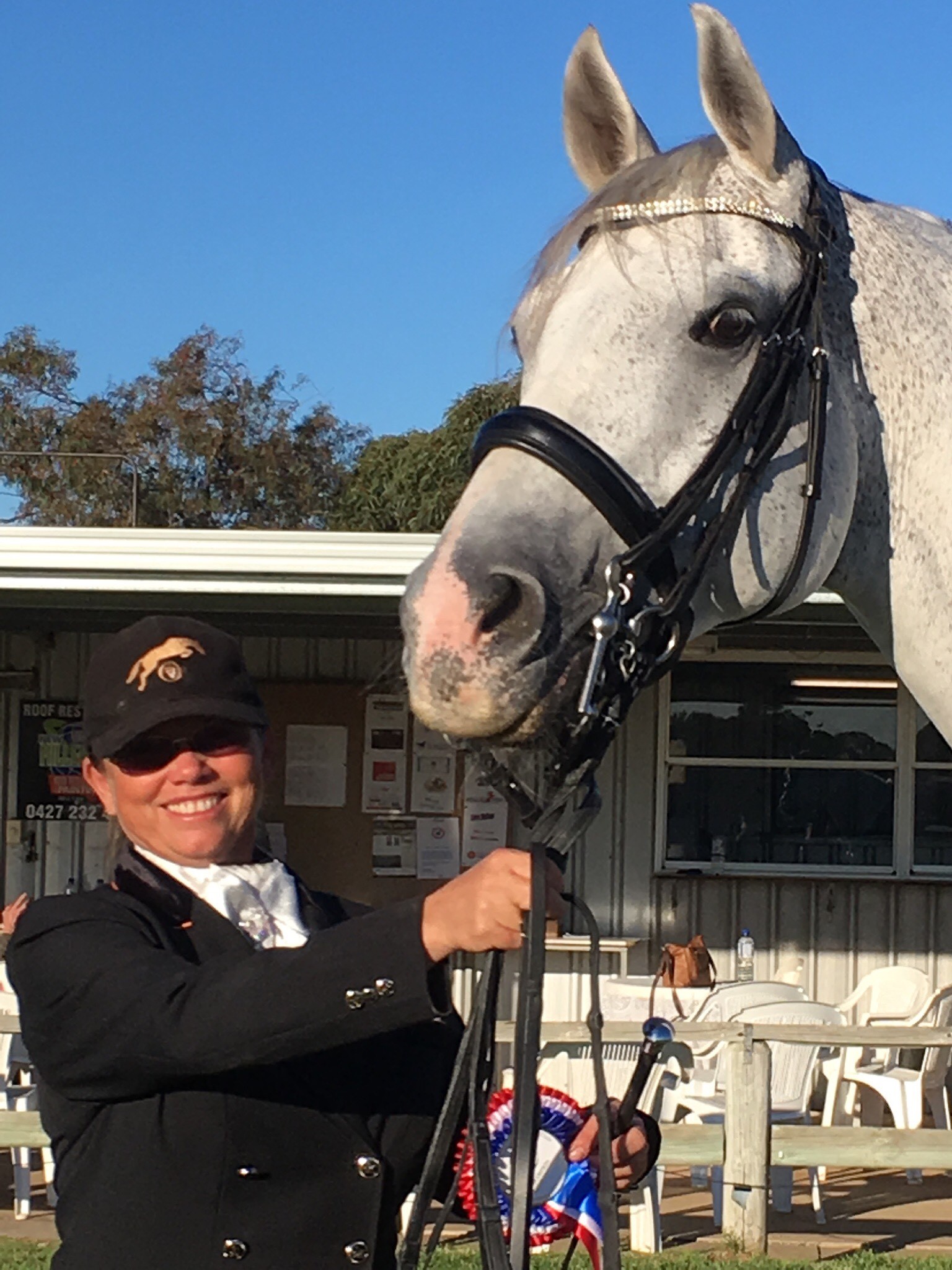 I thank my mentor, Zoe Harrison for all her help in the very beginning of my quest for knowledge at TAFE, where I first started being interested in learning to teach riding. Zoe has been the main reason I started my qualifications and improved my riding to the point where I started to compete in dressage.
I have always loved horses and I am always happy to talk about horses, talk to other people about horses, help people with horses or help horses with people - this is what I hope to be able to keep doing a long time into my future!"
Liz Tollarzo
VIEW ALL THE PREVIOUS STORIES ...