Photos courtesy of Fiona Hughes
COACH OF THE MONTH Fiona Hughes
COACH OF THE MONTH is a regular Education series on our website. It is a way of highlighting the EA coaches and educators who work with dedication and passion all over Australia.
Fiona Hughes is an EA level 2 Eventing Coach & Coach Educator based in Castlereagh, New South Wales. She is very passionate about Eventing, as a competitor, a coach and more recently as an EA Level 1 Course Designer.
She is also the creator of Sit Tight Radio and travels the length and breadth of the Australian and international Eventing circuits, bringing to her listeners live streamed audio commentary via the radio app. 

"I've ridden horses forever! My Dad Bill was from the country and rode horses all his life. I have pics of dad proudly holding me on some horse, possibly when I was only a few months old, in the backyard of our house in Bankstown.
I went to Rossmore Pony Club from the age of 7. On a small black pony called Princey. Princey didn't like jumping so dad purchased a 4-year-old 14HH mare, only recently broken in for me at age 9, 'Surprise'. I'm not sure why it was important to start Jumping but that was where and when I began Jumping.
'Surprise' lived out at Rossmore so Dad could ride her to pony club, (it did look kinda funny as Dad was 6ft tall). This only lasted a short while as Surprise shied and threw Dad and fractured his elbow. A fabulous single open horse float was purchased. We went everywhere. Liverpool, Bankstown, Fairfield, Luddenham Agricultural Shows and pony club Zone competitions and the once-a-year pony club camp. I remember winning my riding class at many shows, under-12 girl rider but never really liked hacking. Possibly as dad plaited my hair and Surprise's mane both with pain and fairly bad results involved. Jumping was the go! I won most of those too.
One year at Luddenham Show, I was in the under 12 class and Mrs Joyce Brook was the judge. She told me that my ponie's name, "Glenville Little Surprise", was far too long and shortened it to 'GLS'. It was 'Surprise' from then on. Surprise, Dad and I went every weekend to something, in the bloody single open horse float. Pony Club championships, all over NSW and lots of Agricultural shows too, North Star bushman's Carnival, trying to catch the greasy pig in all my riding clothes. Wild days!
As I started to outgrow Surprise, (I was about 11!) Dad decided to buy a young thoroughbred from the Tried Stock Sale at Scone, we purchased a 2 or 3-year-old for my next horse. Well, he was a buckjumper! "Billy" the kids where he was being broken in called him, Billy the Bucker and possibly cause my Dad's name was Bill too. He bucked everyone off, my Dad, the guys breaking him in and other likely cracks that gathered to the fray. Great teenage girls second horse! This was my first eventer that I took to Advanced eventing his name was "Thumbs Up".
When I left school I tried a few part-time jobs whilst riding and selling horses, soon I was riding full-time and teaching many students. I achieved my Level 1 in the early 90's. The NCAS coaching system was quite new, I trained with Robert Stewart, Debbie Stewart and Colleen Brook. After a few years, I decided to train for my Level 2 Eventing coaching. I was very lucky in these years to be part of the Elite Squad training programme and received lessons from the best of the best, Wayne & Vicki Roycroft, Jamie Coman, Rod Brown, Heath & Rozzie Ryan and other overseas trainers, so my riding skills to achieve my Level 2 was an easy task and I believe this training also helped me learn my craft as a coach.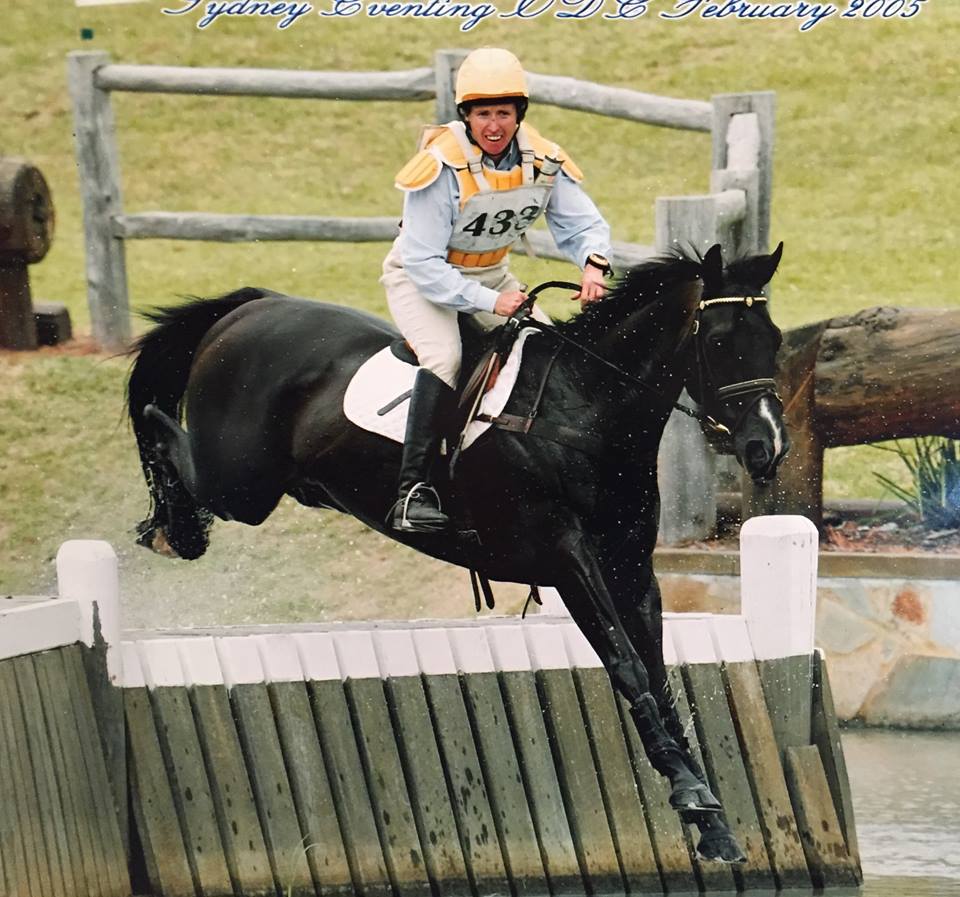 Now days I am based in Castlereagh, I ride for pleasure and still coach full-time. My clients range from 6-year-old kids having weekly lessons on my fabulous lesson horse 'Jaffa', to riders riding in 1,2 and 3-star Eventing.  Jaffa is a retired eventer, about 15.3HH he's 24yrs and he loves trotting and cantering around the arena on a loose rein and jumps an occasional course of 60cm show jumps. It is an enormous asset to have a lesson horse like Jaffa, I've been lucky enough to have had a few.
I've taken on a new role as being a part-time riding coach for Richmond TAFE, I teach students training for their certificates to qualify for track riding & stable hands in the Racing industry. I'm also very excited to be involved in the Performance horse classes where I hope to train students to go into the workforce. Which is something that I struggled with as a full-time rider: finding well-trained staff.
I am also thoroughly enjoying being a mentor to Katie Taliana who began her riding career with both myself and Sharmayne Spencer many years ago. Katie has ridden at two Adelaide 4 stars' and now has a super team of horses to campaign.
I have also taken on Cross Country course designing, I am an EA Level 1 course designer. Both Sandy Lucas and myself were involved in the Sydney Eventing course for the National grades a couple of years ago. Now I am solely responsible for the new courses for the Ev 60, 80 and 95cm grades at Berrima, I'm hoping to become a Level 2 soon and start getting into the higher classes.
I am very lucky to be involved in coaching at many eventing clinics around NSW, I also enjoy being part of the Equestrian NSW clinics for Intro and Level 1 Coaching.
Coaching has been a huge part of my career and my passion for producing riders and horses is still burning bright.
Another string in my bow of interest in our sport is an app called Sit Tight Radio.  I travel to many CCI and CIC events and with a fabulous team commentate all the action live to the app.
Certainly, my life revolves around Eventing, coaching riders and horses and now with course building and Sit Tight Radio there's not much time for other things, other than my crazy Jack Russell dogs!"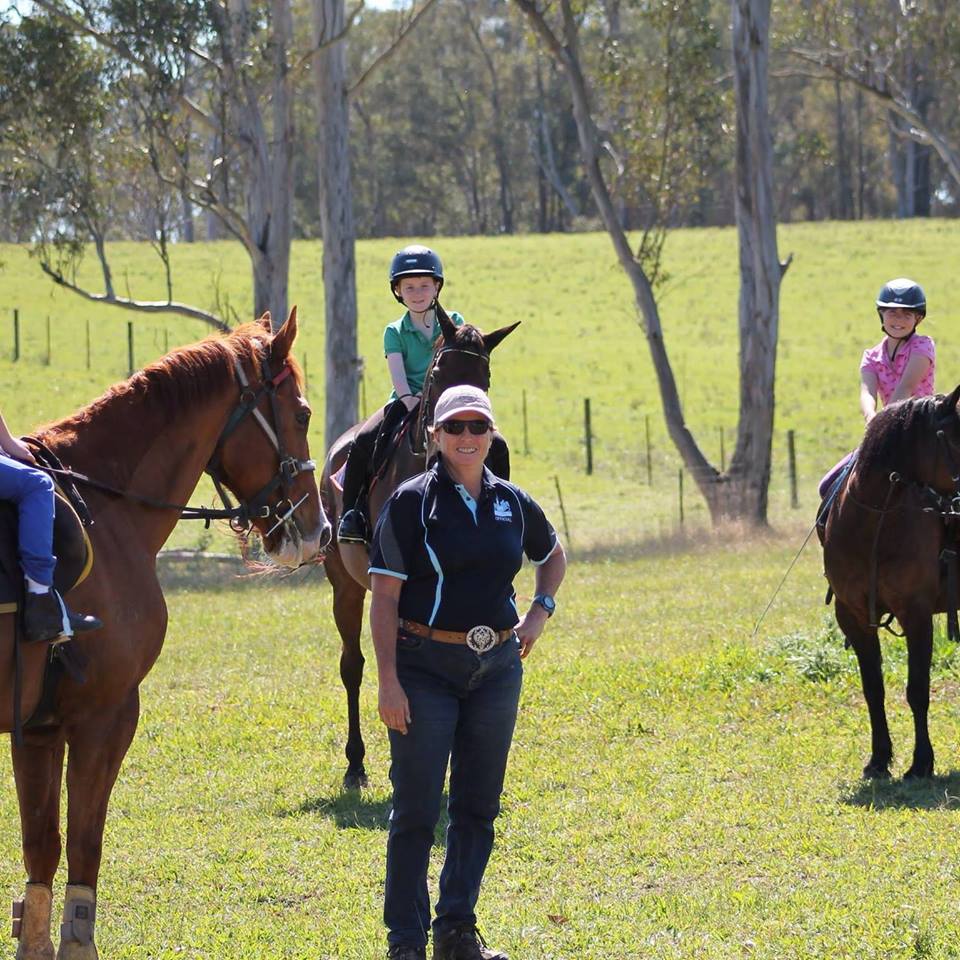 VIEW ALL THE PREVIOUS STORIES ...