Photos courtesy of Jamie Coman
COACH OF THE MONTH Jamie Coman
COACH OF THE MONTH is a regular Education series on our website. It is a way of highlighting the EA coaches and educators who work with dedication and passion all over Australia.
Jamie Coman is an EA Level 1 General Coach and EA Level 3 Jumping Coach, based in Whiteheads Creek, Victoria. 
"I am from a small town at the bottom of the Brown Mountain called Bemboka (Near Bega).  
I started riding when I was around three, out of necessity. Being from a family of seven children, my father used to take me with him when working on the farm and it was much easier putting me on a horse and leading me rather than worrying where I was. 
As I grew up, I went to Bega Pony club and it was during my pony club days that I became interested in show jumping and from then on, it became an obsession.
When I was at school I rode trackwork at Bega, as well as continuing with my show jumping at all the local shows.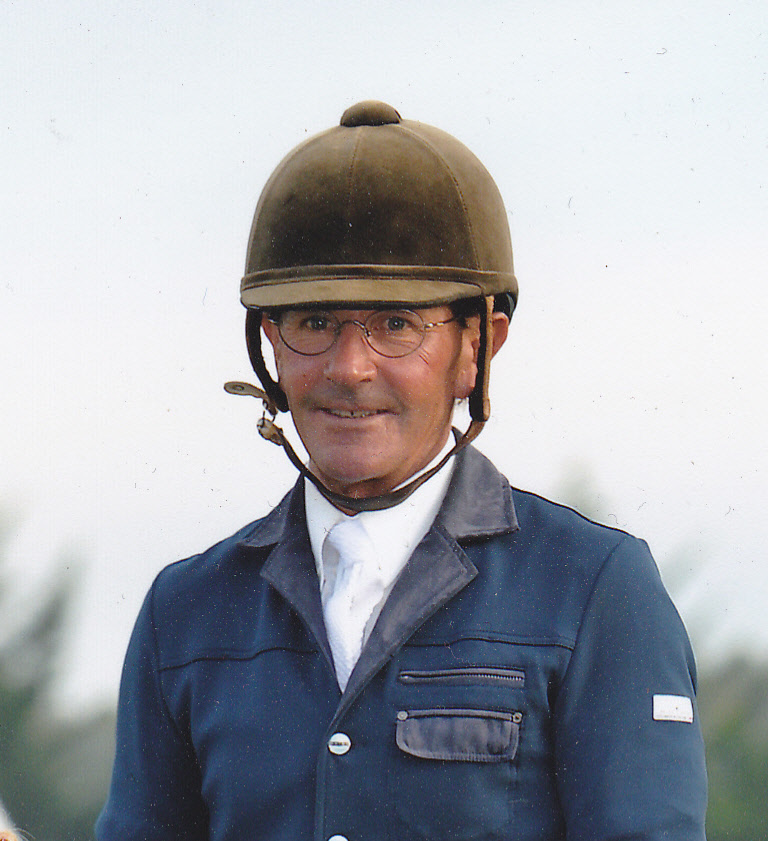 Jamie Coman - a show jumping enthusiast 
After leaving school, I did my trade as a cabinet maker to finance my riding. My goal was to make show jumping my living, but had the cabinet making as a back-up.
During that period I had several very good horses, one of which was called Shariza, which I sold to Kevin Bacon. Another one was called Mr Midnight, which I produced but didn't own. He was sold to Greg Eurell and finished up with Chris Chadwick, who rode him to a 3rd place in the Hickstead Derby, which was an amazing result.
My next Grand Prix horse was called Bouncer. I had a lot of success with him and it was when I was competing in QLD for the first time, at Brisbane Royal, that I met my wife Sue.
When we married, we moved to The Oaks in NSW, which was in between my home in Bemboka and Sue's on the Gold Coast. Our daughter Hayley was born and we set up a small property where we started producing horses for a living; we've been doing that ever since.  
While at The Oaks we produced many horses that we took through to Grand Prix. One of these horses was called Modra, owned by Cheryl Hunter. He was a small, fine Thoroughbred, that was a little unorthodox, but had a huge jump and was very careful.
It was with him that I had my first trip to Europe, getting ready for the World Championships at Jerez in Spain.
Jamie competing with Modra before heading to Europe
I was based at Albert Voorn's stables and my goal when I went over there, was to learn as much as possible watching all the top riders, so as to be able to come home and put that knowledge into producing better horses but also to improve my coaching.
My time in Europe was fantastic and Modra seemed to excel in the bigger classes over there. We had some good results which subsequently led to him being sold to the US.
Over the years, I have been lucky to train with some of our top coaches. Initially, as a young rider, I trained with Sue Cawston (Neaves), who was a talented New Zealand rider based in Sydney at the time. Later on, together with my wife Sue and daughter Hayley, we all trained with Rod Brown.
During this period we both developed a passion for coaching, as well as riding and started taking our coaching much more seriously.
After coming back from Europe in 1998, I had another young horse that I had big hopes for, again another Thoroughbred that was extremely well-bred but just didn't want to gallop.  His name was Zazu.
Jamie riding Zazu at the Sydney 2000 Olympic Games
My goal was to see how far we could take him, as I had never ridden anything that had so much natural scope and carefulness.
Zazu went on to win numerous World Cups and Championships giving me the opportunity of representing Australia at the Sydney 2000 Olympics. This was the most amazing experience and something that I will never forget. After the Olympics, I went back to Europe with Zazu and was based at Henk Nooren's stables in Belgium.
After returning to Australia I decided to take a break from riding, as I had only very young green horses.
I took on the National Coaching Position and really enjoyed my time as National Coach. I have, over the years, become more and more passionate about being able to help riders of all levels and there is nothing that gives me more satisfaction than seeing riders that you have helped go onto being successful irrespective of what level they ride at.

Coaching at an eventing clinic in SA
Nowadays, as well as my coaching commitments, I am still very keen to compete and always looking for that "special" horse.
I currently have two young horses that I think are special: Loose Kannan (Kannan), who we own in partnership with our vet Mike & Lara Tweedie and Camacho (Balou du Rouet) who we own in partnership with Tim & Ingrid Clarke.  I am looking forward to producing these two horses and seeing just how far they can go.
I will continue combining my coaching with my riding and am looking forward to a successful year with my horses and my riders. I am also extremely lucky to have wonderful sponsors in 4Cyte Horse, Saddleworld Pty Ltd and Alberto Fasciani Australia, I appreciate their continued support in all aspects of my riding and coaching."
Jamie Coman
VIEW ALL THE PREVIOUS STORIES ...