Photos Courtesy of Judy Peel
COACH OF THE MONTH Judy Peel
COACH OF THE MONTH is a regular Education series on our website. It is a way of highlighting the EA coaches and educators who work with dedication and passion all over Australia.
Judy Peel is an EA Level 3 Dressage Coach and Coach Educator, as well as a Dressage Judge and Judge Educator, who lives in Swan Bay, Tasmania. 
"What chance did I stand ...Buckley's and none really. Born to a vet and his horse-crazy wife, I had my first saddle and pony at three months old.
Strapped onto my 12hh pony and "seat belted" in, I was "led" on a daily walk for fresh air. Cocky, the skewbald pony, became my pram.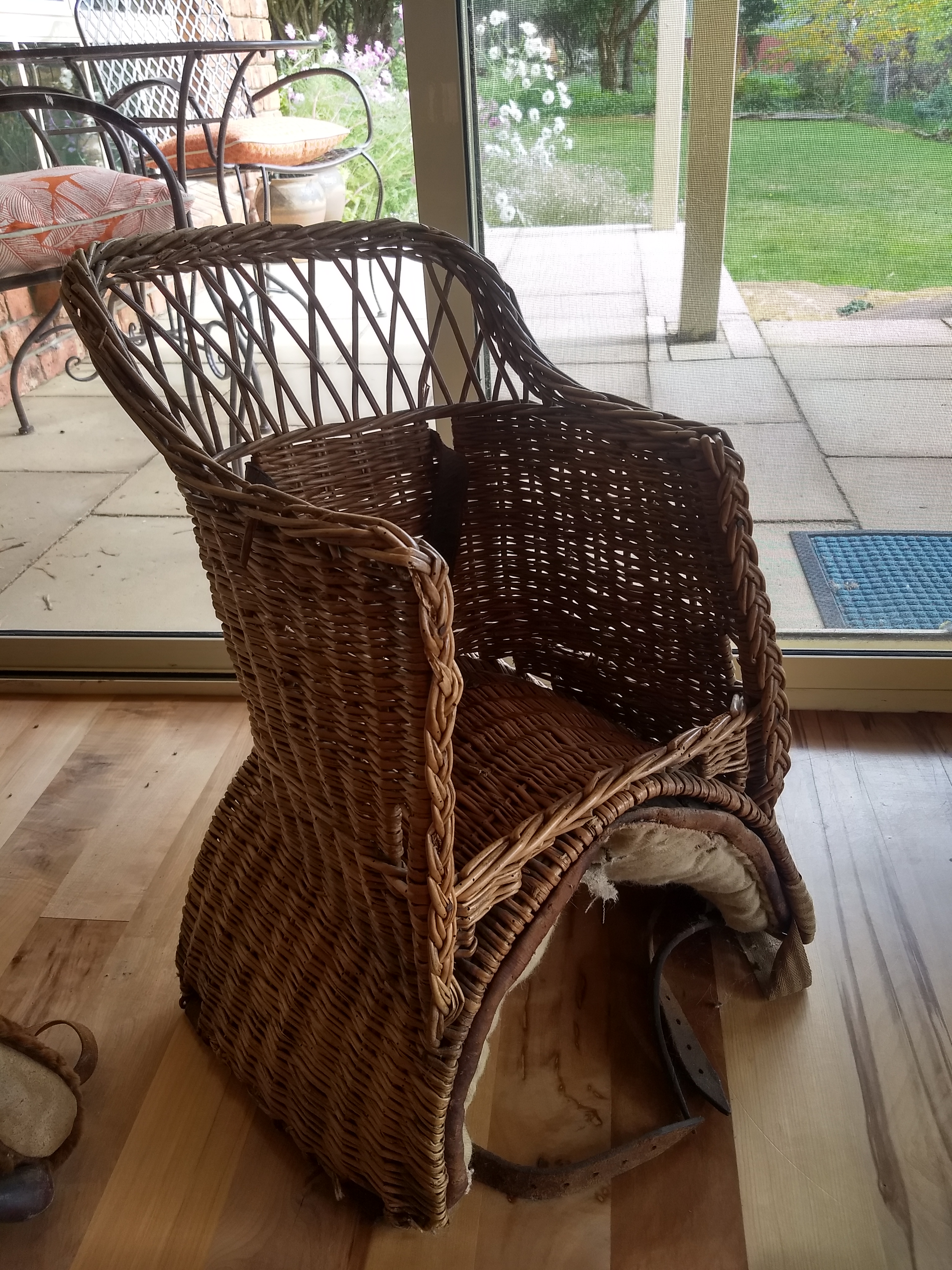 The 'basket saddle' Judy was strapped into as a baby on Cocky's back
By the time I was twelve, I had lived, (having been born in England), in Tasmania, Saskatchewan, Canada and returned to Tasmania. I was never without a pony and learnt to ride English and Western, competing in gymkhanas and rodeos during a wandering childhood.
My parents, having decided Tasmania was the place to be, launched me into Pony Club life. My mother became very involved and was DC of the Tasmanian Pony and Riding Club for a number of years and then became Visiting DC for Tasmania. Pony Club was my foundation and I attained my certificates from D to A.
I trained as a radiographer, but remained passionate about horses and riding.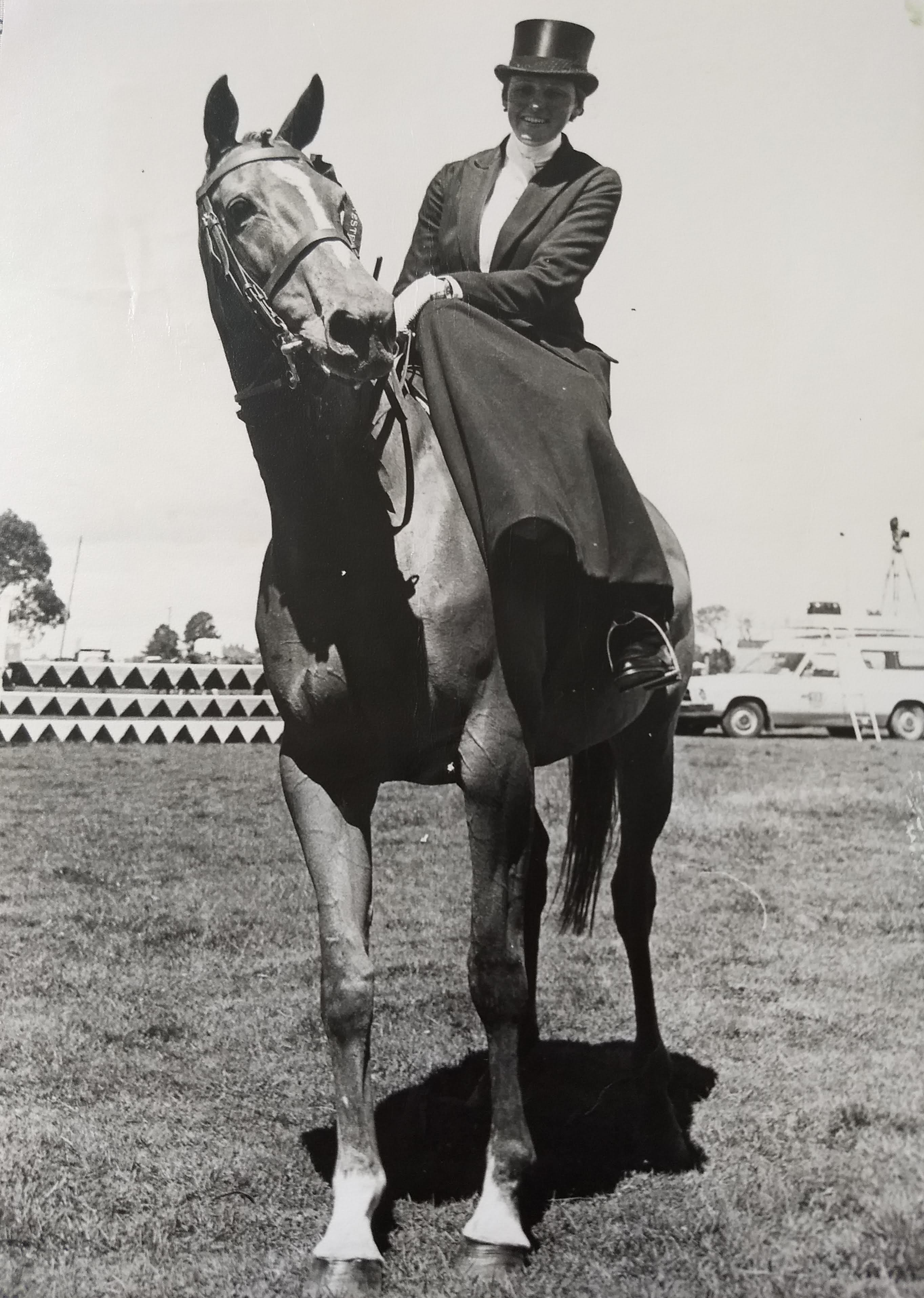 Judy in her youth riding side saddle
During this time I trained and competed my dear Hickory, from the point of breaking-in, to Grand Prix dressage ...not easy from Tassie in the 80s. It meant regular trips to the "mainland" for competition and then, once selected for the National A Squad, even more trips for competition and training with Dr. Wolfgang Holzel the national coach - but what an experience.
Pushed in at the deep end, I learned a lot quickly. Travelling and caring for horses, training and competing at the highest level, humility and tenacity, and politics in sport!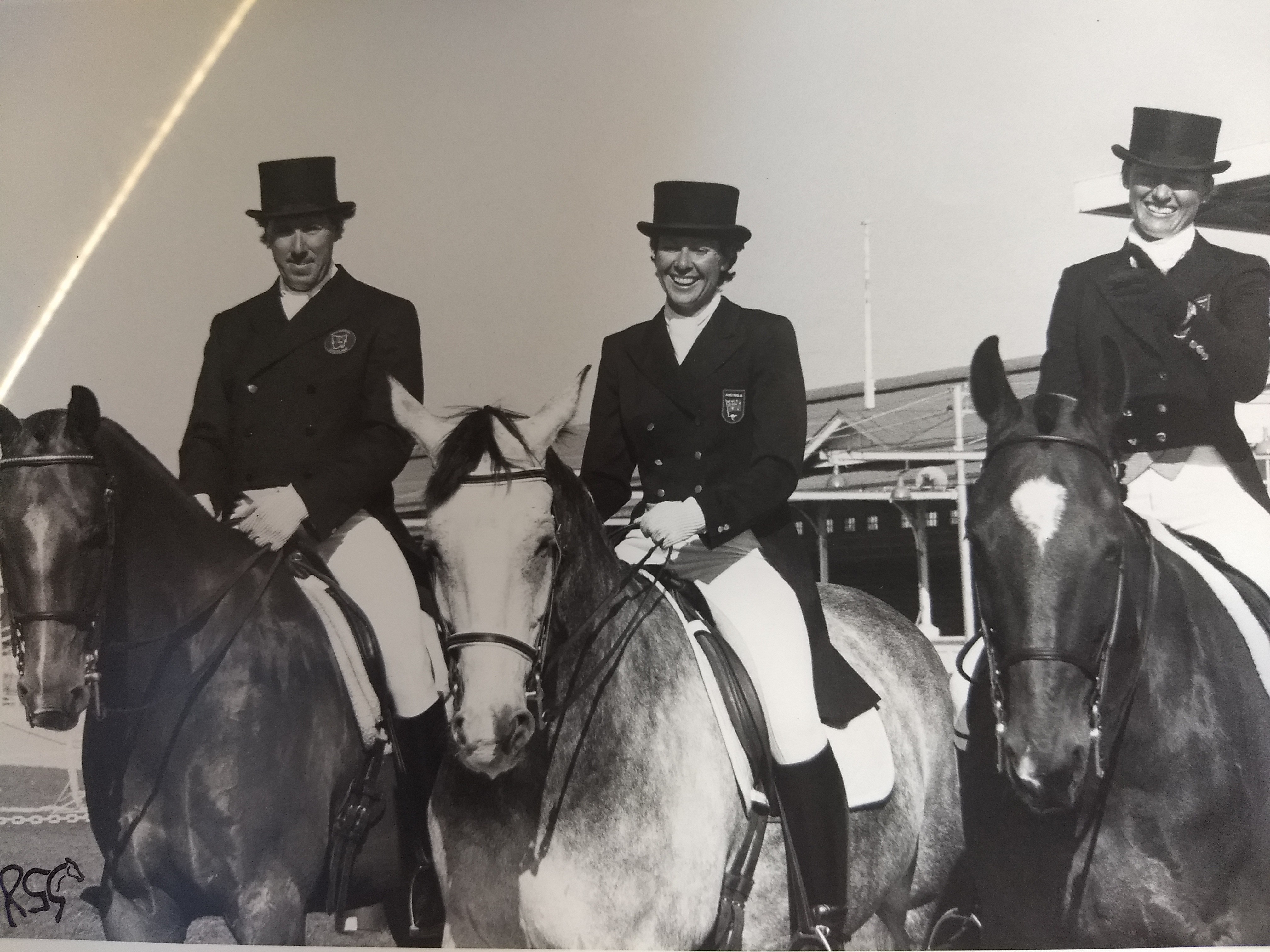 The first team in which Judy represented Tasmania at the National Dressage Championships - Brian Cheffers, Susie Hoevenaars and Judy on Hickory
Being selected for the 1986 Dressage Championships in Cedar Valley, Ontario, Canada was the highlight for me on my "Tasmanian" warmblood of unknown parentage. Along the way, Hickory and I had competed in the Samsung Cup, in which we finished in the top 10 in the Asia/Pacific region, along with a good share of State titles.
In later years, another of my two horses were selected this event, Birribi Sprout and Sunbury Lodge Playwright. Due to money constraints, I did not go to Canada. This was before government and EFA funding were available. I was not going to sell my horse overseas, as was the default at the time. We were long listed for the Olympics Games in Seoul in 1988.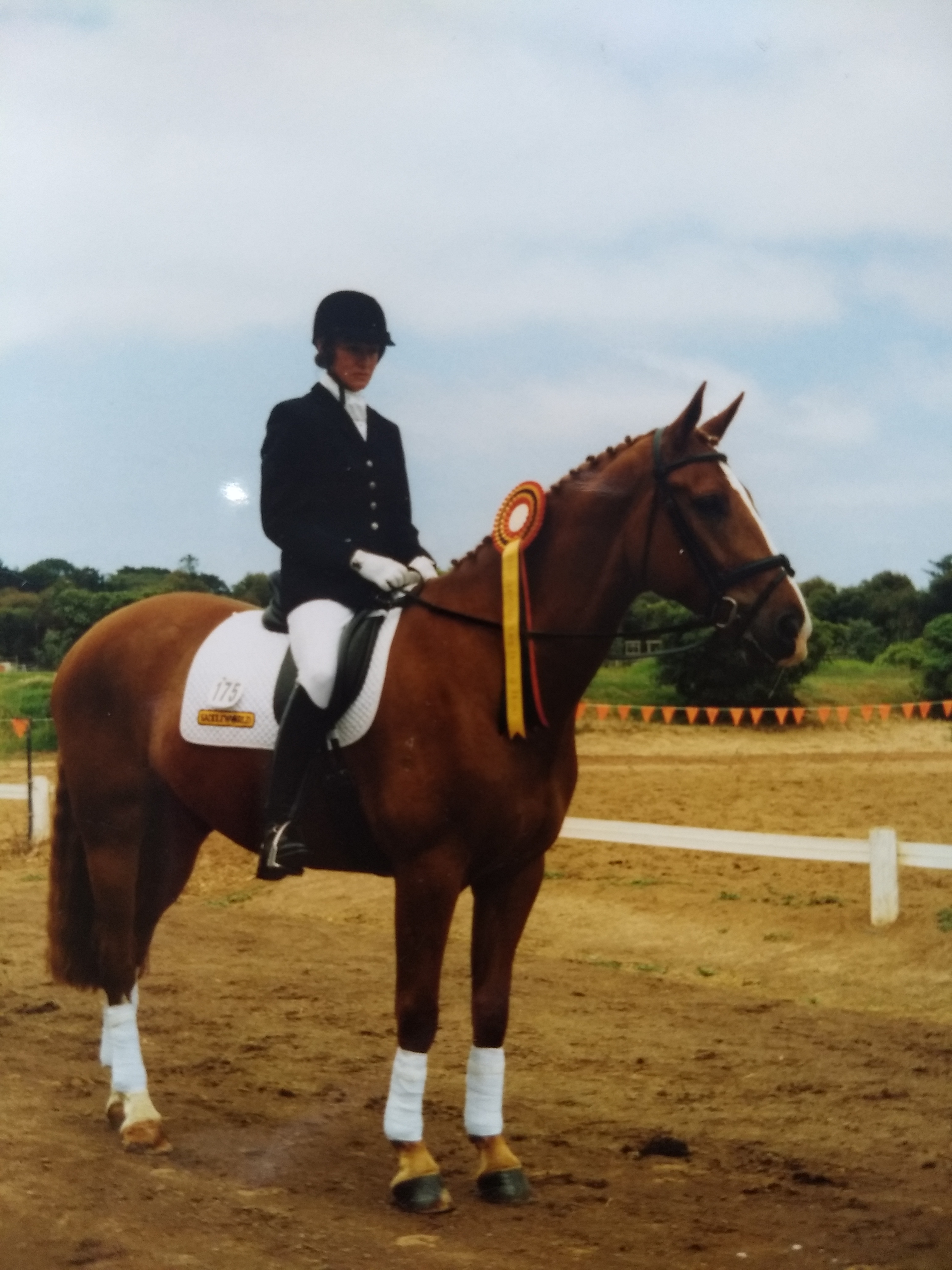 Sunbury Lodge Playwright placing in the 6yo at DWTS
All the while I was competing, I worked towards and gained my coaching and judging qualifications. EA Level 2 General and EA Level 3 Dressage Coach and National A Judge. Feeling deeply that coaching is the future of our sport, I also became a Coach Educator.
I have educated a number of FEI horses and they have trained me; to listen, be patient, treat them with respect and as individuals, and to search for the missing piece of the jigsaw puzzle. They have allowed me to have lessons with some very distinguished people, Mary Wanless, Anky Van Gruensven, Michael Klimke, Emile Faurie and Helen Langehanenberg .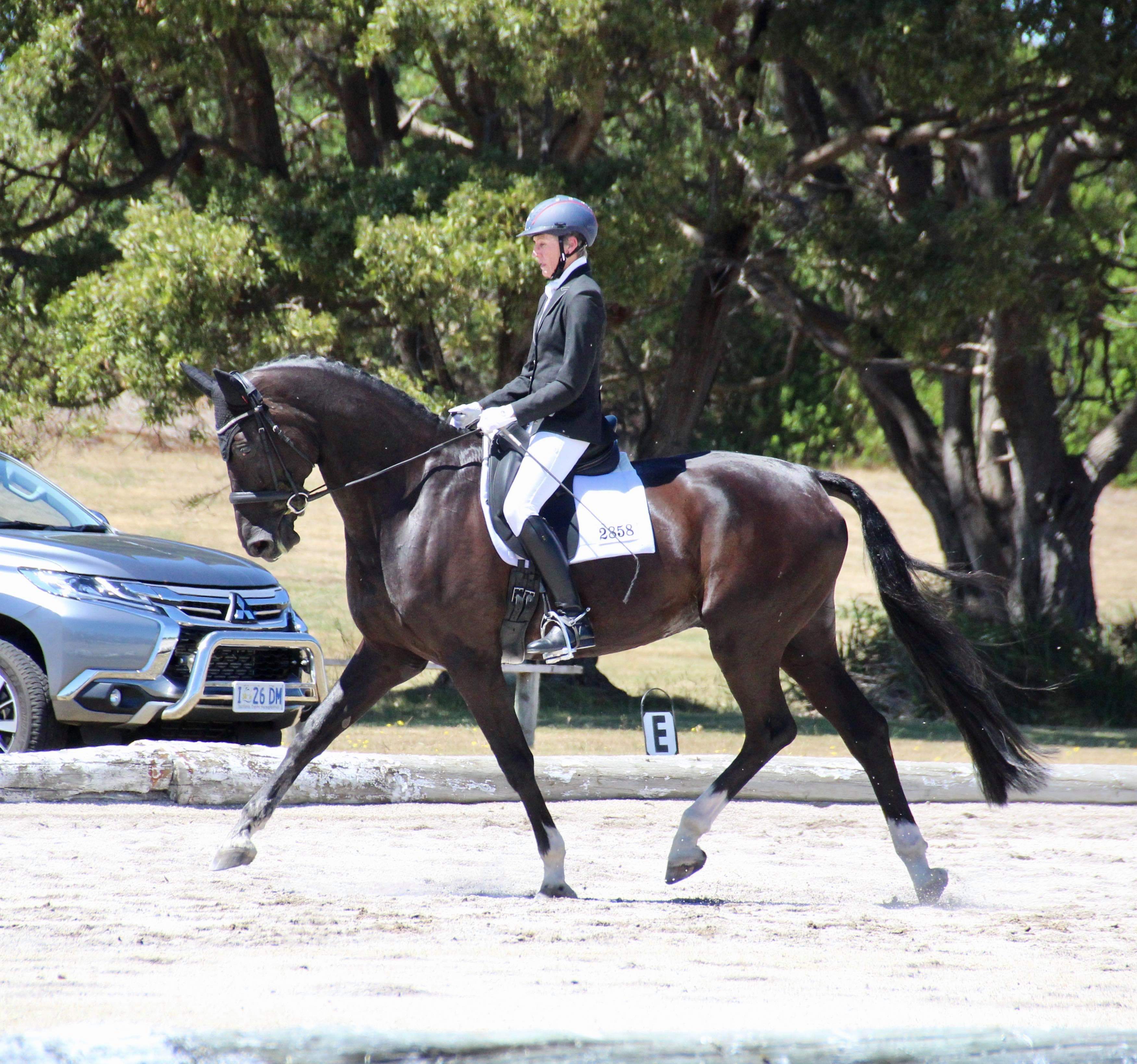 Judy and Regensturm winning the Tasmania Dressage Championships 2020
My husband Graham and I moved from Tasmania to Victoria in 2004. There we built an indoor arena and I competed and coached full time. I was a member of the DJEP and the Victorian Coaching Committee. Previously, I had been the Tasmanian representative to the National Coaching Committee.
We returned to Tasmania in 2017 and I built another indoor.
From this beautiful spot on the East Tamar...Swan Bay, I work with my two German horses and do my coaching. How lucky am I!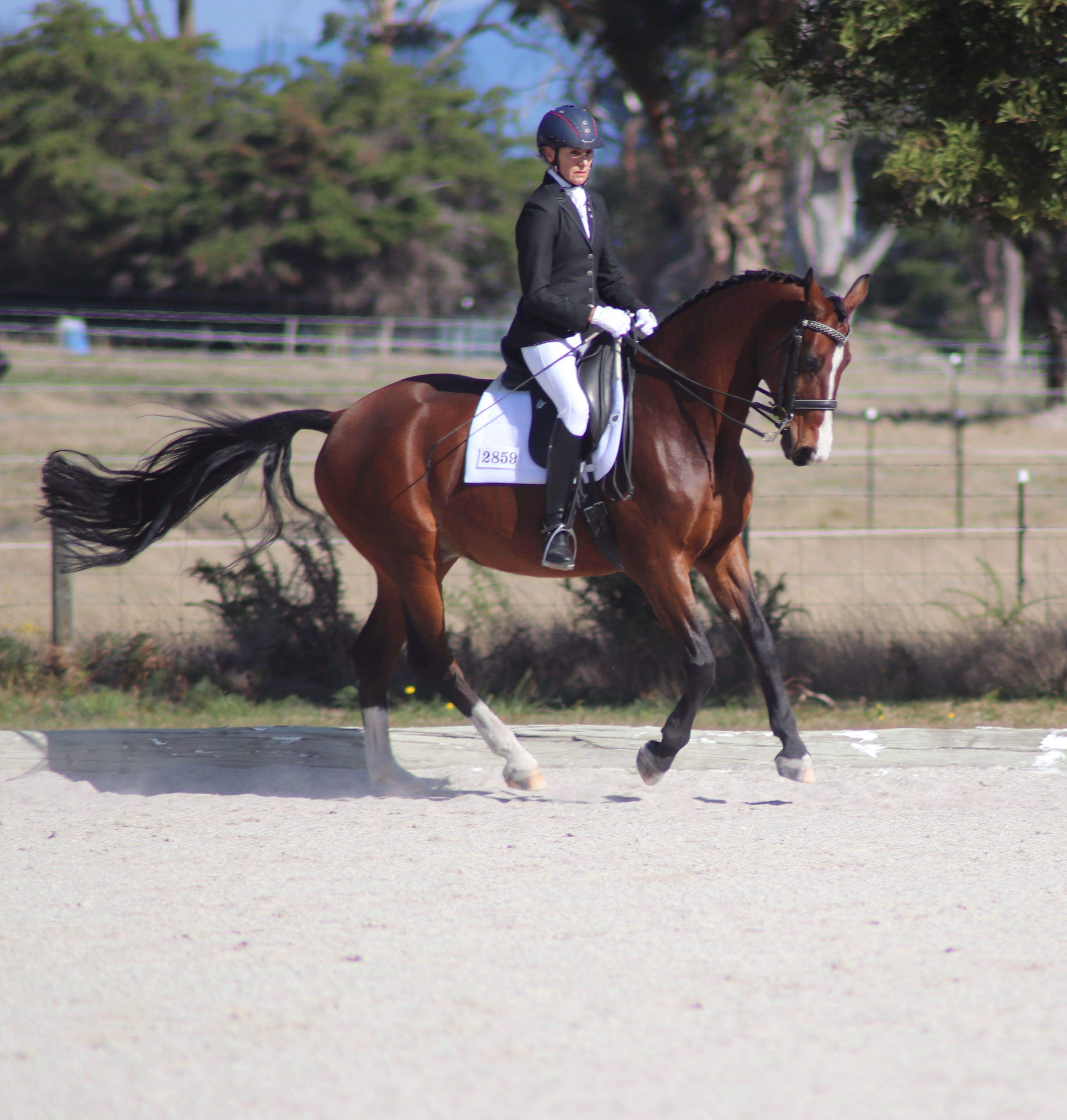 Reggie's cheeky compatriot Eichendorff competing and winning in 2020
At the time of my return to Tasmania, the State Coaching Committees were being reformed, along with the EA Coaching Committee (EACC). I am now chair of the Tasmanian Coaching Committee (TCC) and am their representative to EACC. I feel strongly that recognition of our EA trained coaches is vital; our education of coaches is well-respected overseas.
The things I learned from my "deep end" experiences many years ago have stood me in good stead all these years later as we reform EA Coaching."
Judy Peel
VIEW ALL THE PREVIOUS STORIES ...