Photos Courtesy of Kate Pither
COACH OF THE MONTH Kate Pither
COACH OF THE MONTH is a regular Education series on our website. It is a way of highlighting the EA coaches and educators who work with dedication and passion all over Australia.
Kate Pither is an EA Level 2 Jumping Coach, based in New Gisborne, Victoria.
"When I was very young, my parents moved from Moss Vale, NSW to the south of Western Australia, to develop an 8000-acre wheat and sheep farm.
My mother was an intelligent and passionate horsewoman and my brothers, sisters and I were encouraged to participate and compete in every equestrian sport on offer, from eventing and showjumping, through to riding and showing classes. We played polocrosse and I was very keen on riding in the Western classes too.  
15-year-old Kate being featured in the local paper
So my horses had to be pretty adaptable, as they could have been asked to do anything on any given day! 
What I always loved most though, was showjumping. Dad built us an amazing cross country course around the farm, which ultimately served as a great way of getting the young horses going in a nice way. We were largely self-taught due to our remoteness, but Pony Club still played a big part in our development as riders. I took every opportunity to watch and listen to the best around me. 
The breeding programme on the farm was extensive and there were ultimately around 100 horses on the property. Mum imported Connemara ponies from Ireland and crossed them with Thoroughbred mares. They could all jump and they all loved it!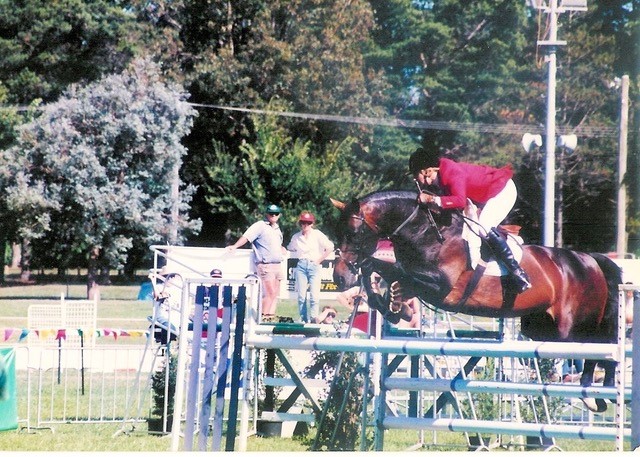 Kate Pither on stallion Jadalco, Canberra World Cup
In retrospect, this intensive exposure, from a very young age, to horses of different types and temperaments, was an unusual and privileged way to absorb what I now carry with me and still love to do and learn about – horsemanship as much as riding.
I have now been a full-time rider since I left school and started travelling to the east coast to compete in showjumping.  
I was competing in Grand Prix classes by the age of 18 and, in 1984, my best horse Walter Mitty was selected as reserve horse for the Los Angeles Olympics. In 1986, I was long-listed to represent Australia at the World Championships in Aachen. Then I did a stint in the US in Middleburg, Virginia, training and competing in equitation and showjumping.  
Being based with one of the best equitation trainers in the country, training clients and observing the judging alongside her at the big horse shows, such as Washington International etc, was a huge boost for my coaching.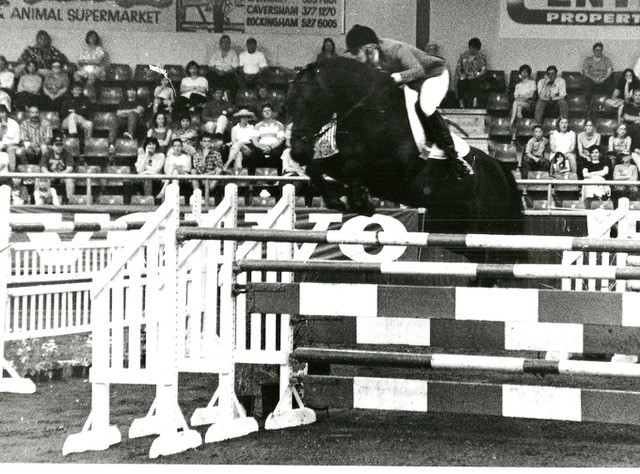 Kate Pither aboard Jadalco during an indoor World Cup
In 1993 I was competing at shows in the US and Canada, with a team of my Oakdale Farms horses. I spent 1999 and 2000 riding in Holland and Belgium. 
I've had a most fortunate and diverse experience as a rider but, right from the beginning, I've wanted to mentor and teach too. In 1984, I was one of the first coaches to attain a Level 2 coaching accreditation in Australia. 
It's a passion of mine and I'm now a full-time coach, based in beautiful Gisborne, Victoria, since 2014. There wasn't much here in the way of horse facilities when I bought this 20-acre property just out of town. Like all horse people, my first priority was the safety and happiness of the horses, so I undertook installing substantial Horserail fencing throughout, built some stables and a jumping arena.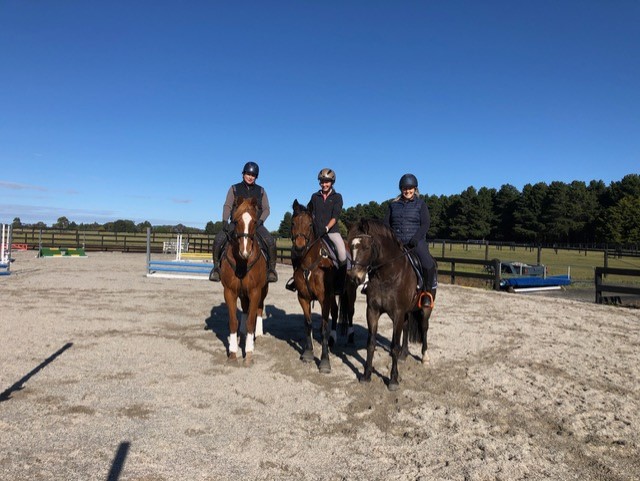 5-mile Equestrian Adult Riding Club riders Fritha, Rebecca, and Karen at Kate's property in New Gisborne
While high-level riders naturally gravitate towards mentoring and coaching, there's more to it than that. In my experience, good coaches put particular focus on the skills that are required to teach and communicate clearly.  
I have been privileged to work with the very best in the world. From that, I have developed my own methods and approaches. I can truly say I enjoy working with horses and riders of any level, who are keen to learn. I try to give every lesson and every student my utmost focus.
It's wonderful teaching upcoming talent through elite squads or at home. It's also very powerful helping an adult rider learn the skills to be capable, confident and safe over a jump.
I have had many roles over the years working with and for the equestrian community, from EA showjumping and coaching committees, to establishing equitation as a recognised sport in Western Australia. One achievement I look back on with great fondness was our family's commitment to the Hills Showjumping Club, still running very successfully today.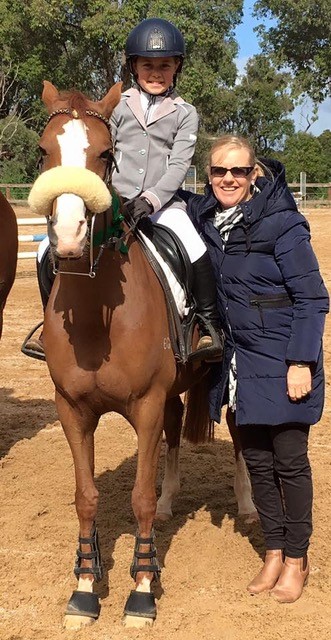 Kate Pither with Jane Gundry, during the presentation for the winners of the Hazel Pither memorial class at Hills Show Jumping in Western Australia.
I recently enjoyed judging Jumping with the Stars and seeing the quality of young showjumping horses in this country.  
Since arriving in Victoria and before devoting my time more fully on the development of the property, I thoroughly enjoyed teaching the Victorian state showjumping and eventing squads. I'm still teaching at a number of local clubs, as I believe in the importance of giving back. 
In the future, I look forward to continuing training and riding my young horses, coaching my great bunch of clients and anyone keen to learn about the art of showjumping."
Kate Pither
VIEW ALL THE PREVIOUS STORIES ...