Photos Courtesy of Kate Todd
COACH OF THE MONTH Kate Todd
COACH OF THE MONTH is a regular Education series on our website. It is a way of highlighting the EA coaches and educators who work with dedication and passion all over Australia.
Kate Todd is an EA Level 1 Dressage Coach, who lives in Tiwi, Northern Territory. 
"In Oulton, the small Yorkshire village, UK, where I grew up, we didn't have much/any knowledge of the equestrian world, yet I somehow managed to become the horse lover I am today.
When I was 5-years-old, a friend at school was having lessons at a riding school in the next town - I was fortunate to have parents who could take me along to have a lesson too.
From that first moment, to now in my life, at the age of 31, there has not been a time where horses have not been a part of me.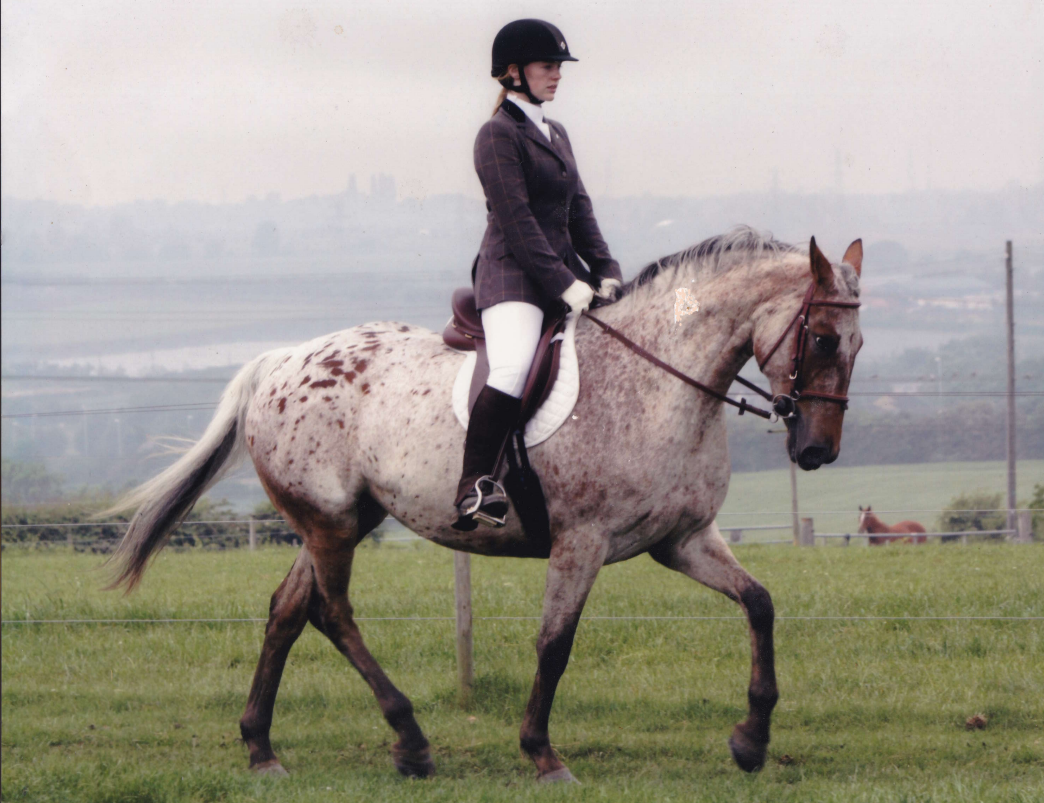 'The one that got away', Kate's special Knabstrupper mare that she had to leave behind in the UK when she moved to Australia
My dad built a stable in our back garden and I saved and worked so hard to buy my first pony at the age of 11-years-old. She was a Welsh section B and just six months old. She came from a breeder who I helped out at after school and on weekends. I named her Fantasia.
My mum was so nervous of horses at first, she wouldn't feed Fantasia a carrot without a big glove on! That little foal and I grew up together, she taught me so much.
Later in my school life, with my passion for all things horses, I attended an equestrian boarding school called Queen Ethelburga's College near York. Then I went on to Bishop Burton Agricultural College, where I completed a National Diploma in Equestrian Management and BHS Stage Levels.
During the holidays I worked at Bradford Industrial Museum, with three beautiful Clydesdales. The tallest was called Knight, standing at 19.1hh. I worked giving demonstrations to the public on harnessing and taking carriage rides. This must be where I developed a love for the heavier breeds!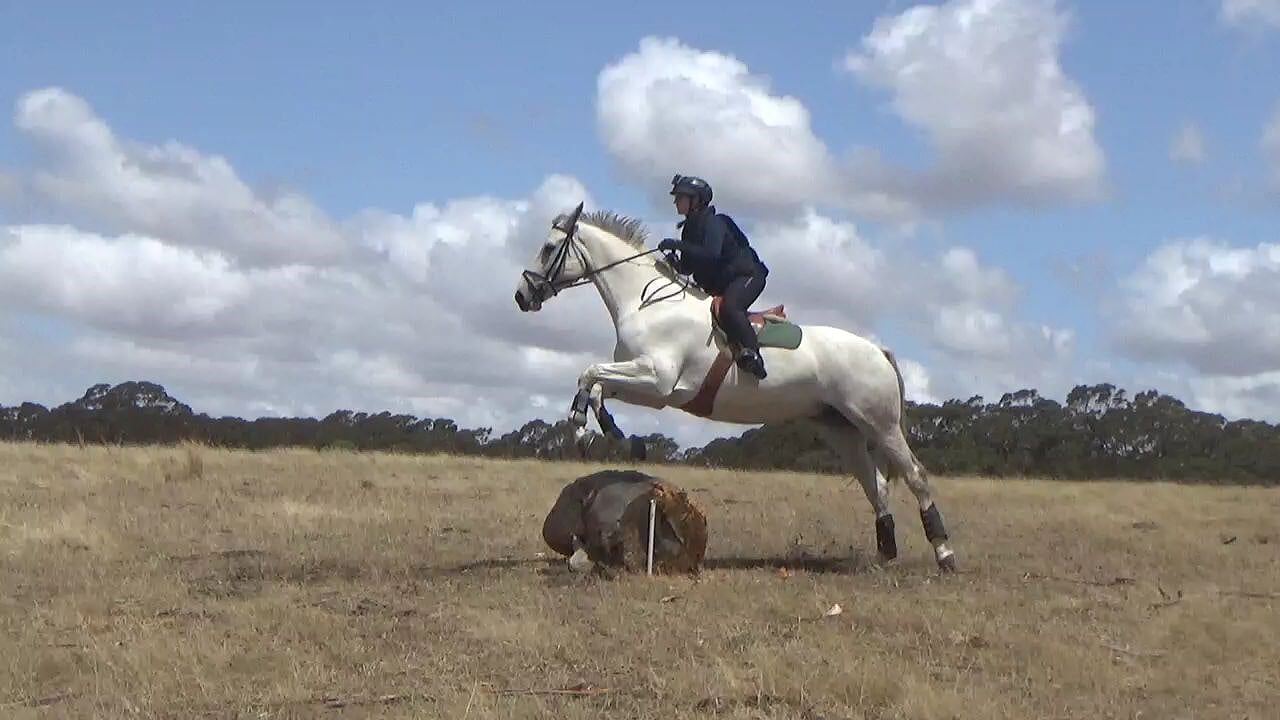 Kate riding XC at Wendy Schaefer's in January 2020 for her EA Level 1 Riding qualification
I was at Askham Brian College when I decided I wanted to coach. During studying for an Equestrian Management Degree, I started coaching at an RDA centre on weekends and in the holidays. 
There's so much satisfaction in seeing how much people benefit from horses; I taught mentally and physically disabled riders, as well as lots of able-bodied riders too.
One paralysed rider, who had never walked, wrote me a letter thanking me for our lessons. She said riding a horse would be the closest feeling she could relate to what walking would feel like and when we practised rein back, she could imagine going upstairs.
I travelled to Australia in 2012, with my now husband of 13 years (no kids just yet). I had to leave my horses behind, one very special Knabstrupper mare who I produced from a foal and went on to compete in a few local shows. We enjoyed show jumping and XC, but never really had a favourite discipline.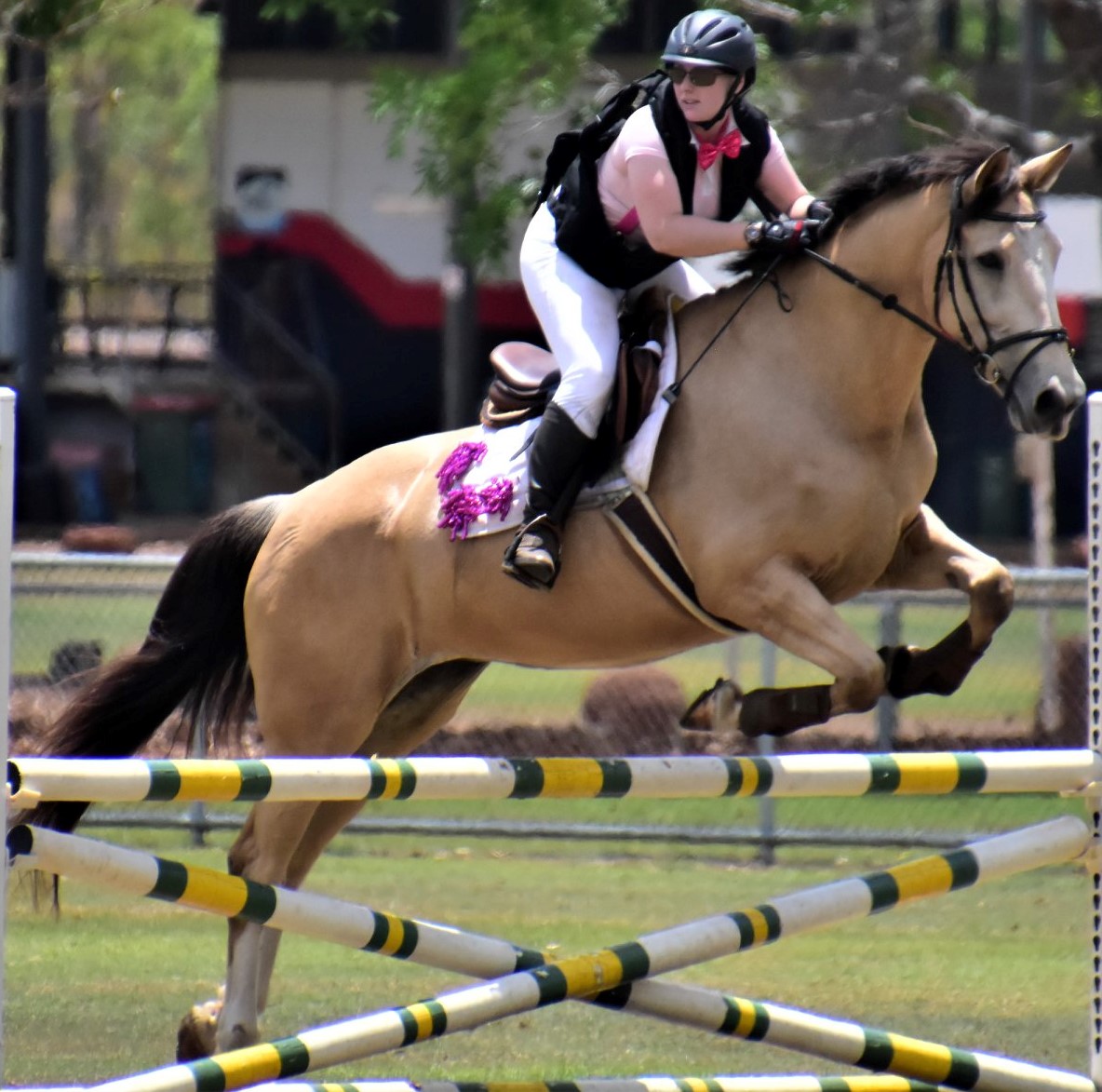 Kate competing on one of Jane Palmer's horses at her favourite fundraiser 'Pink' in 2019, where they went onto win the 90cm
We've been settled in Darwin now for the past several years. I was lucky to receive sponsorship from ENT to achieve my Intro level coaching.
I've made some wonderful horsey friends. One of my friends Jane Palmer, also an EA coach, has been the most supportive throughout my EA journey.
I would like to extend a thank you to Fiona Heysen and Sue Chandler, my Coach Educators and Geoff Pannell; thank you all for travelling up to Darwin and helping me progress and become a better rider and coach.
Jane and I run a coaching business called JK Equestrian here in Darwin, to provide quality Coaching and Equestrian services in the top end.
Together, we hold rallies, clinics and kids pony camps during the school holidays; some at the Darwin Pony Club (DHPC) and also some at the wonderful agistment Fannie Bay Equestrian Club, where I keep my horses.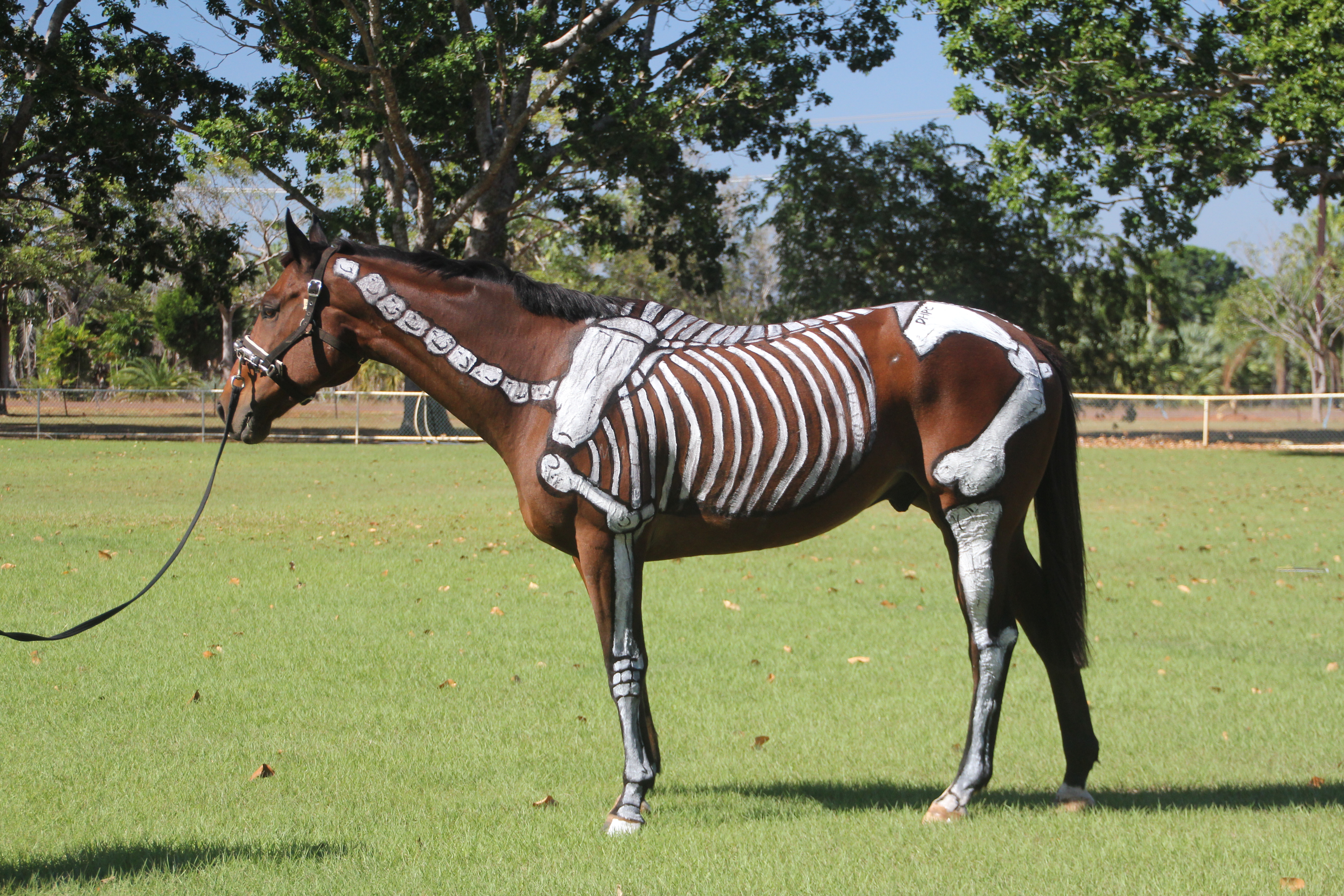 The horse skeleton Kate and crew painted onto the horse during one of the fun DHPC camps
For most of the years I've been in Darwin, I have been on committees and coached at Pony Club Rallies and I was Chief Instructor at DHPC for three years.
This year I was privileged to be asked to coach at the LHPC Pony Club Camp over three days. We had 83 riders, it was fantastic!
I'm lucky to have two beautiful horses in my life at the moment. Star is a 16.1hh OTTB. I competed him to Elementary last year before I semi-retired him as my lesson schoolmaster at 19-years-old.
My other new, green gelding is Tommi, a 6-year-old Morgan horse, who I have just started at Prep, and low-level jumping. I'm looking forward to exciting competition opportunities in the future with Tommi in dressage and jumping.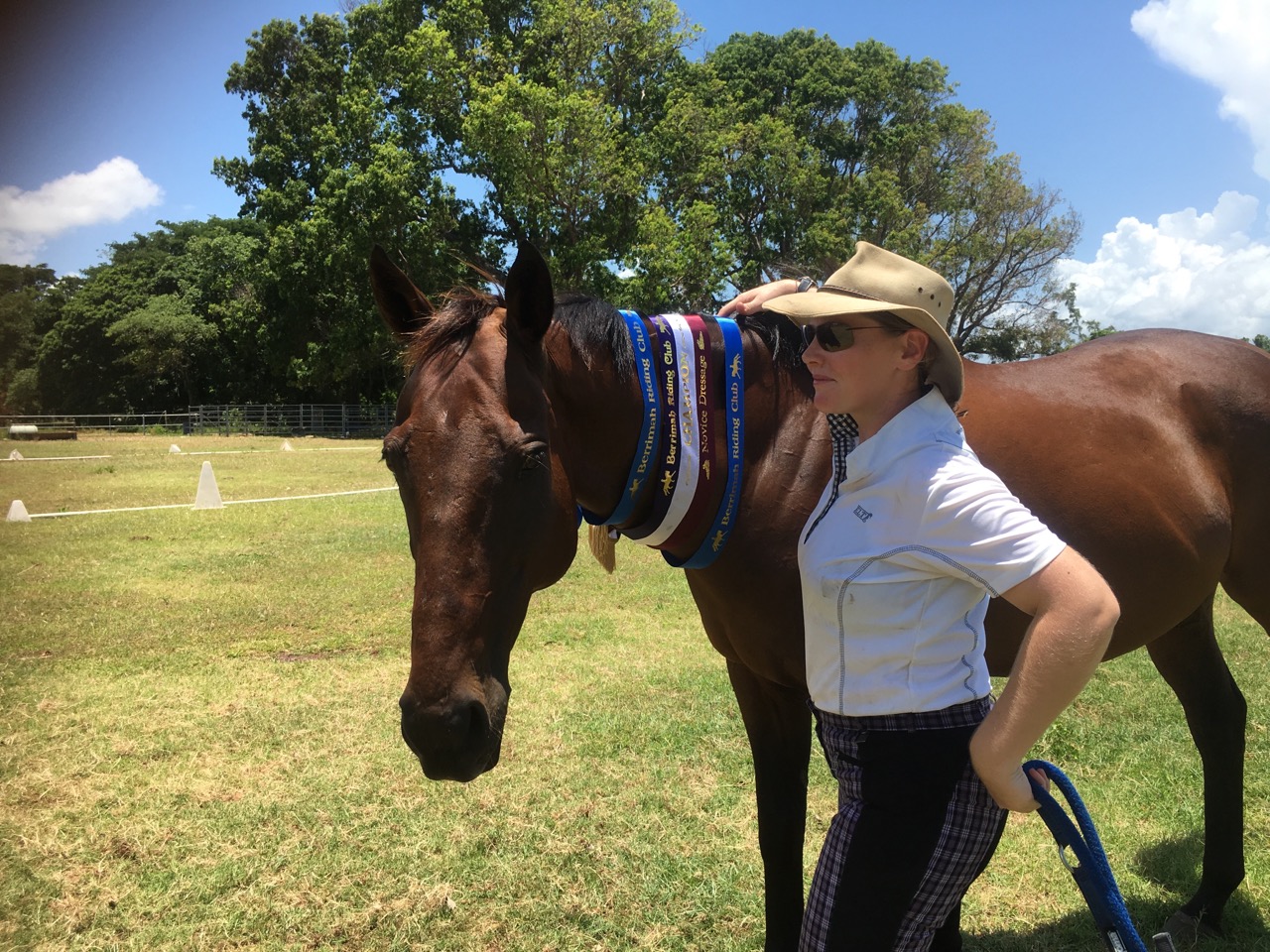 Kate and her 19-year-old semi-retired schoolmaster Star
Teaching is definitely what I love to do My day job as a full-time piano tutor within schools in the NT, means that every other spare moment I have I ride and coach; on evenings, weekends and during the school holidays. I'm currently working toward my EA Level One General Coaching qualification.
We never stop learning and with horses, there is still so much of a huge journey ahead. My favourite quote is, "No hour of life is wasted that is spent in the saddle" by Winston Churchill.
Looking into the future, it would be fantastic to own an agistment centre/riding school where I would be able to spend more time with horses and grow the JK Equestrian business."
Kate Todd
VIEW ALL THE PREVIOUS STORIES ...