Photos courtesy of Kristin Pitt
COACH OF THE MONTH Kristin Pitt
COACH OF THE MONTH is a regular Education series on our website. It is a way of highlighting the EA coaches and educators who work with dedication and passion all over Australia.
Kristin Pitt is an EA Level One General Coach, based in Winkleigh, TAS.
"Both my parents' parents had racehorses, Standardbreds, so I guess it was in my blood. My parents had had enough of horses in their growing up years, so did not encourage me to be horsey, but it was inevitable.
From about 8-years-old, I spent a lot of time at a local agistment/riding school, riding the horses there and often other people's horses.
When I was 10-years-old I got given one of my grandfather's retired racehorses who I named Rocky. I loved jumping and used to compete at the shows with him. Back then there were lots of gymkhanas, and I would attend those as well. I had so much fun with this horse.
Kristin and Basil, a 3-year-old Warmblood
It wasn't till I started working that I could save enough money to buy myself a horse that could be more competitive. I purchased an ASH and entered the Eventing world. Andrew and Manuela McLean were a big influence on me during my Eventing years and I missed their guidance when they left Tasmania.
I was successful and loved the thrill of Eventing, but once I married and had children, (two boys, Jackson and Raemon and later a girl, Alexandra who of course loved horses), I found dragging three kids from dawn to dusk to the competitions a little exhausting.
While they were all into horses to start with, the boys grow out of horses by about the age of 14. Probably a good thing, as three horsey kids would have been very costly!
Dressage then became my passion and I was successful with a lovely Holstein gelding that I purchased as a 3-year-old from Northern Warmbloods. He was called Northern Victor and took me to Advanced, he was a super horse.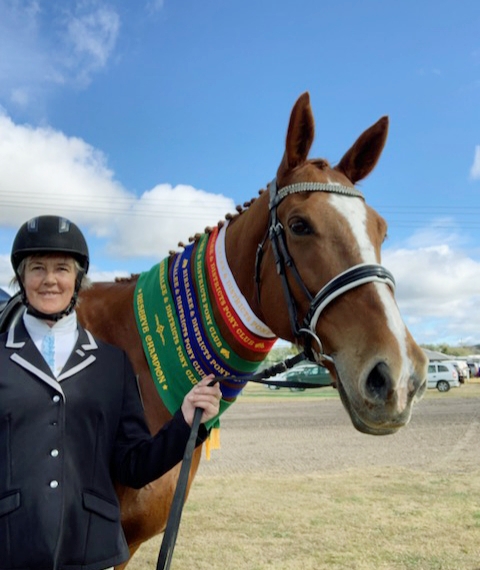 Rueben and Kristin after a successful outing at Exeter Show
There were of course other good horses along the way that I trained and competed on. The most recent, but now retired, was Valley View Rueben James, who I got to medium with and then, unfortunately, had to be retired due to arthritis, both him and me! 
My darling Rueben is the favourite and can still just manage a small ride out.
I now have a young Oldenburg warmblood who is three and he will probably be Alexandra's up and coming ride. I also have a 5-year-old Off the Track Thoroughbred (OTTB) who finished racing in May, which I am re-educating and who is showing great trainability.
I Became an EA coach about 18 years ago after being inspired by my own coach, Judy Peel. I enjoy teaching very much, both privately as well as at Pony Clubs and adult riding clubs. 
Now I am very involved with the Off The Track retraining program in the North of the state, through TAS Racing and I regularly coach as part of this great program.
I love to see these racehorses, both Thoroughbreds and Standardbreds, progress in their training along with their riders to become enjoyable, talented mounts.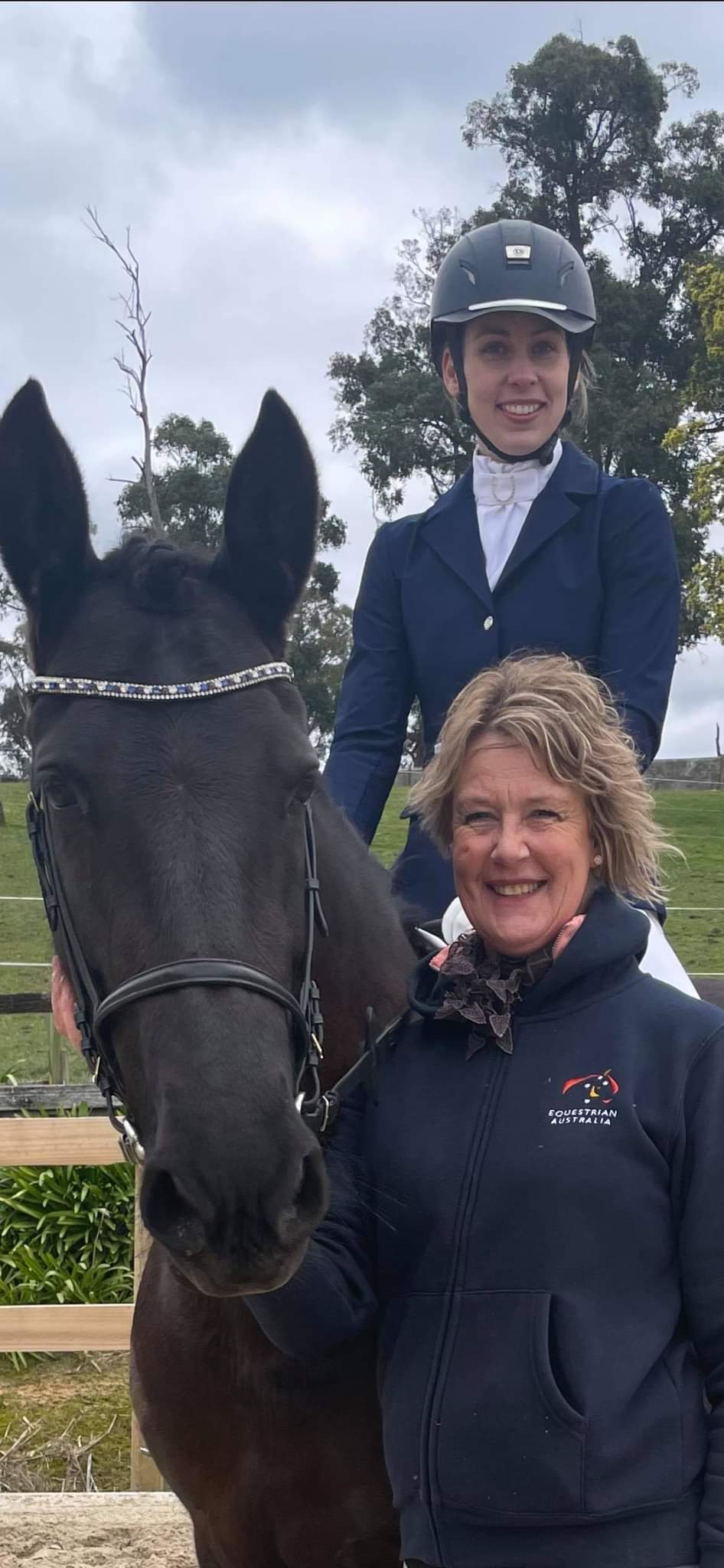 Kristin out coaching with her client, Jenna Sommerville 
There was a period where I also judged as an official judge in Dressage for quite a few years, but found it hard to coach, judge and compete, so I let judging slide. However, I will in the near future re-accreditate.
I get great pleasure from coaching and never think of it as work. To me, the reward is being part of the learning journey of the horse and rider partnership and seeing the improvement. I would like to further my coaching level in the near future too.
Horses and riding are a huge part of my life and bring me immense joy, as does coaching, and I hope it continues that way for as long as possible."
Kristin Pitt
VIEW ALL THE PREVIOUS STORIES ...