COACH OF THE MONTH Lara Baker
COACH OF THE MONTH is a regular Education series on our website. It is a way of highlighting the EA coaches and educators who work with dedication and passion all over Australia.
Lara Baker is an Introductory Coach based in Pipers River, Northern Tasmania and is in the spotlight as our April Coach of the Month!
Lara shares her story from what started her life-long love of horses, her first competitions and her transition over to coaching.
Up until the age of 5, I was non-verbal due to major anxiety. My speech therapist had recommended animal therapy as it had proven to be brilliant with helping children learn communication and social skills. So, when I was 6 my mum bought Fern, a little miniature horse! From then on, my non-horsey family (particularly my Mum) transformed gardens into paddocks, machinery sheds into stables and more and more ponies were added to our family. We were the typical, 'all the gear and no idea'!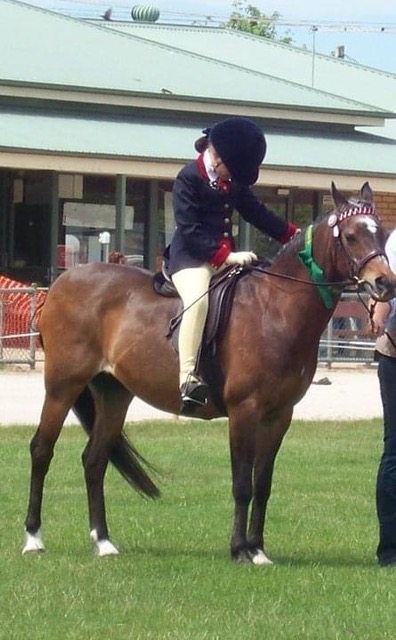 By the age of 9, I competed in my first EA dressage competition on a horse my Coach at the time had lent me, Gerri, a gorgeous old Warmblood. Just 3 years later when I was 12, I was on a Riding Pony x Thoroughbred, winning our first State Championship title and making the boat trip to the mainland for Interschool Nationals. 
During my childhood I had ridden countless lease horses of all different breeds, shapes, and attitudes. I really feel that being on so many different horses as a child made me the amicable, diverse rider that I am today that focused on training what I had, rather than riding the 'ready-made' horse.
Horses were my outlet that helped me express myself and regulate emotions, and with the support of my coaches… I had a tiny bit of talent in the discipline of dressage as well! It was a definite learning curve that my mum, stepdad, and sister were kind enough to experience, all in order to help me. With the help of many coaches, professionals, sponsors, state teams, mentors and of course my family, my love and passion for dressage grew.
I have only recently turned 20 and am a full-time university student, studying Justice. I am able to fit in my clients around tutorials, lectures, and assignments with adult riders during school hours and children in the afternoons. We currently have 6 school horses, Cleo, Nellie, Mr Brown, Emmy-Lou, Karot and Kanga, with our mascot Eccles the donkey! After my trip to the mainland in 2014, I had outgrown my Riding Pony x Thoroughbred so the hunt began for a mount that I could progress and grow with. Along came a Clydie x Thoroughbred, short legged, chunky mare called Cleo. Before living with us, she was a keen showjumper… much braver than I! So, at the age of 14, she began the shift into dressage. She was full of the typical mare stubbornness and attitude but loved learning. Due to her physique, she was quickly known as the bumblebee (aerodynamically impossible), she shouldn't have been able to do to the things she was able to pull off in the dressage arena. Because of this, one of our greatest achievements was the 2018 Interschool National Championship event held at Werribee. We were able to show our peers that you didn't need the expensive, flashy horse to succeed. But you did need a love for the sport, dedication for improvement and an unbreakable bond with your horse. Now, at the tender age of 21 she is a favourite among my young riders and is loving her new career teaching kids how to walk, halt, trot, and steer!
Unfortunately, I have had the past few seasons off competing due to health issues. Over a series of emergency department trips, appointments with Surgeons, Doctors, and Specialists as well as dozens of scans, I was diagnosed with May Thurner Syndrome and Primary Lymphedema. Although I am incredibly lucky to be mostly healthy, it has made it difficult to ride due to medications and loss of feeling in my left leg. But I couldn't imagine a life without horses and dressage, so with many thanks to my Coach Judy Peel and my mum, I gained my EA Introductory Coaching qualifications.
Since becoming a Coach, just less than a year ago, I have found a greater love for my sport and dedication for my Equestrian community. The best part of my job is being the type of coach to my kids, that I had when I was their age. It is such a great feeling to see my clients flourish because of their connection with the horses and seeing them take those improvements into other aspects of their lives.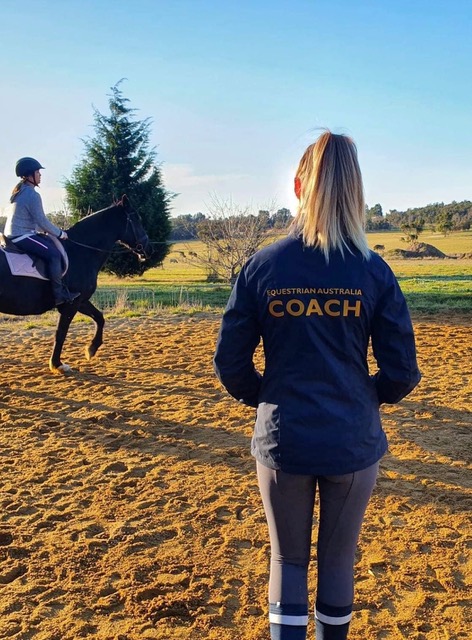 Alongside uni studies and coaching, I am also on the Tasmanian State Coaching Committee. It is quite an honour to be working alongside seasoned Equestrians that I have always seen as mentors. I am incredibly humbled to have been nominated by them for this achievement as well! It was quite a shock considering I have only recently gained my qualifications and am relatively new to this other side of Equestrian pursuits.
In the near future, I want to start my level 1 qualifications and am hoping to progress through the EA coaching scheme. I want to continue to provide a safe place for riders to progress with their basics, confidence, and knowledge. Outside of coaching, I am about to begin my journey into Para-Equestrian. Because my medical issues will be life long and continue to worsen, I am very grateful that EA has Para as a pathway.
"I cannot wait to get back into the competition arena! Long-term, my goal is to compete internationally one day. I have a long way to go until then, but with the help of my support team I am sure we can achieve it!"
VIEW ALL THE PREVIOUS STORIES ...