COACH OF THE MONTH Lydia Jackson
COACH OF THE MONTH is a new series in our Evolve News. It is a way of highlighting the EA coaches and educators who work with dedication and passion all over Australia.
Lydia Jackson (born Lawrence), is an accredited EA Level 2 General Coach and a Coach Educator. She is also a level 3 Dressage Specialist, a level D Dressage judge and was previously the Tasmania State Dressage Squad Coordinator.
She started riding as soon as she could walk as her mother and father were both riders. Her father, Gary Lawrence competed at that time to the highest level in Eventing and her mother Cheryl still rides and produces horses and has competed Grand Prix.
Lydia started her learning in Pony clubs then in the show rings and progressed to compete in both Jumping and Eventing. Her interest was initially Eventing and Lydia had dreams to ride at the Olympic Games so she moved to NSW as that is where she believed you needed to be to get at the best level.  She was coached by Craig Barrett and managed a few big wins and placings. She was selected as a member of two Young Rider Trans Tasman teams in 1994 and 1996, a member of the NSW institute of Sport and also in the National B squad. 
During this time her mum Cheryl had been breeding warmbloods and having success in the Dressage arena. After a year overseas, Lydia moved back to Tasmania and started a natural progression to Dressage : "mum was breeding these lovely warmbloods and Eventing at a top level in Tasmania was difficult."
Now 40 years old, Lydia currently has three Dressage horses. Splendido, bred by Cheryl, by Jaybee Alabaster, is not far away from a Grand Prix start. Malteaser R by Metalic that Lydia bought last year from Heath Ryan is only 4yo but Lydia believes "he is shaping up to be something a little bit special". The third one is a Grand Prix schoolmaster that she rides to stay at that level and also gives lessons on him. She is married to Jonathan Jackson and mum of Harry 7, Sabrina 5 and Charlie 2.5. Lydia owns and runs the family business with her mom Cheryl: Kingston Agistment and Dressage Training Centre in Kingston, Tasmania.

Lydia's recent best result is FEI Champion at this year's state Championships.
Her long term dream would be to create a Dressage Training Centre where riders can "dream big" and reach the highest level in Tasmania.
"I love my job as I enjoy the outdoors, horses and training keeps me half sane. I thrive on helping people and enjoy nurturing riders to train and ride and compete successfully."
Lydia was nominated as EA Coach of the Month by Equestrian Tasmania.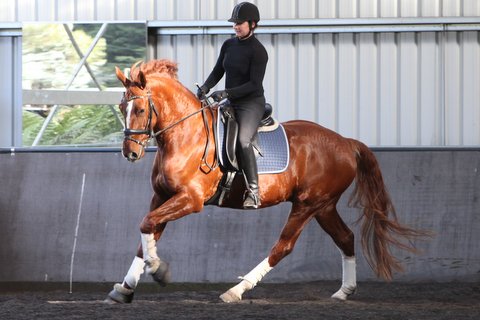 Related articles :