Photos Courtesy of Mandy Maiden
COACH OF THE MONTH Mandy Maiden
COACH OF THE MONTH is a regular Education series on our website. It is a way of highlighting the EA coaches and educators who work with dedication and passion all over Australia.
Mandy Maiden is an EA Level 2 Dressage Coach and Coach Educator, who lives in Willunga, South Australia. 
"As a horse-crazy little girl trapped in a non-horsey family, I could only dream of one day having my own pony!
Instead, I had to make do with a fortnightly riding lesson at a riding school; pretending to be a horse and cantering around the schoolyard; lunging my younger brothers; playing with my model horses; reading every horse book I could get my hands on; and making friends with anyone I met who had a pony.
My dream came true (almost) when I was 10 years old. I met a family with a daughter a little older and taller than me, who had a pony she had grown out of.
They generously allowed me to ride him whenever I wanted to, in exchange for helping out at their stables. I was there every day!
"Peter Pan" was my dream pony. He was a 12.2hh Welsh Mountain Pony, dappled grey of course. We did everything together – riding all around the neighbourhood, rides to the beach, riding club and then hack shows, jumping and junior hunts.
For the next six years, I was also very fortunate to ride numerous ponies and horses which came to the stables and it was a treasure trove of learning experiences! It was here that my particular love of starting young horses and re-educating older horses began.
Nowadays, I'm still living the dream! Together with my husband Steve, we have our own 20-acre horse property to accommodate our four horses, one dog and my coaching and horse training business.
I teach private lessons and clinics in horsemanship, classical dressage and jumping, have two school horses, take in horses for training, run clinics with interstate and international trainers, run a Young Horse Club (a programme for my students to start their own young horses) and Horse University (theory courses) and host barefoot trimming courses.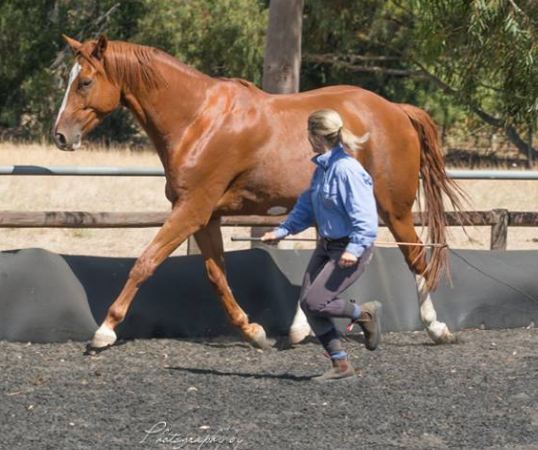 Mandy working with 'Ami' at liberty 
I am very fortunate to have an amazing cohort of students. Their passion for learning, for prioritising their horses' needs above their own, their love for their horses and their dedication to becoming the best horseperson and rider they can be for their horse makes me very proud of them all.
My horses mean everything to me. "Buddy" and "Amaretto" are my two daily rides.
"Buddy" is a 12yo OTTB rescue, who generously teaches me so much everyday, as we both unravel his past and learn to find relaxation, balance, straightness and collection so that he can carry a rider in a way that will no longer damage him physically or mentally (healthy biomechanics!).
"Amaretto" is a 9yo WB who is genetically blessed with good looks, talent and trainability. He is the Chris Hemsworth of the horse world, with kindness and gentleness to match, who is patiently teaching me how to drive a formula one car from my family station wagon roots.
"Ruby" is my youngster – a 4yo WB mare who is both calm and brave, sweet and very connected, making her an absolute pleasure to work with.
"Bailey" is the final member of our family – a 15yo Riding Pony rescue, whose happiness and power to forgive continues to humble me.
I love horses and I love learning and teaching (about horses!), therefore I am very blessed to coach riders as my full-time occupation. Horses are my life, and my goal has always been to improve the lives of every horse I come into contact with, and through rider education I can achieve my goal for their horse.
As a coach, I owe it to my students (human and equine) to stay committed to lifelong learning.
In the words of the Old Masters, it takes two lifetimes to learn everything about horses and riding, and this drives my passion to constantly learn more – to read, to study, to observe, to experiment through playing with my horses (releasing my inner scientist) and to learn from my students.
This thirst for knowledge and skills has led me to study classical dressage, and I am very honoured to be a Licenced Teacher in Philippe Karl's Ecole de Légèretè, in addition to my EA Level 2 Dressage and Coach Educator qualifications.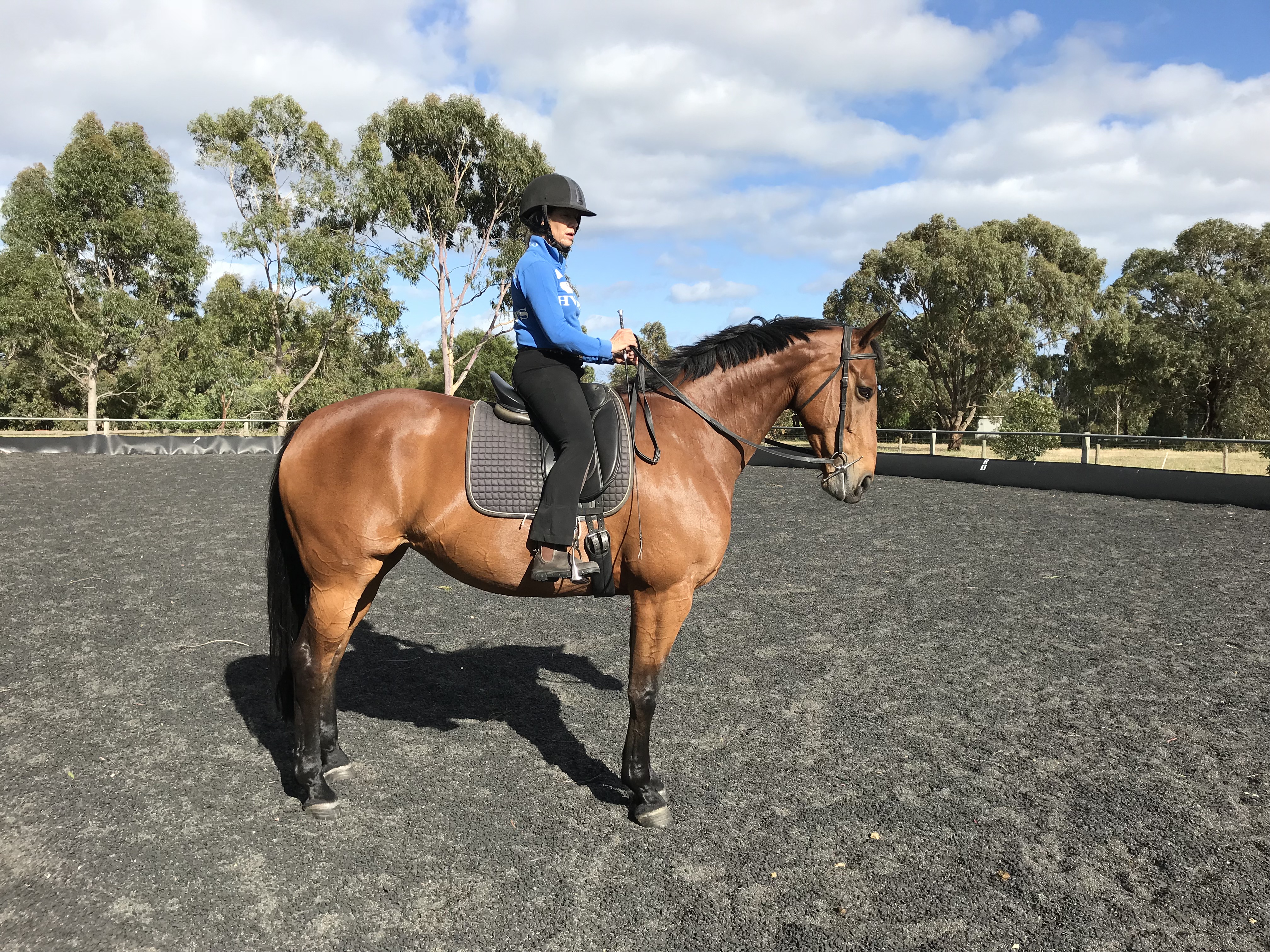 Mandy aboard "Polly"
I am also a long-standing member of ESA's Coaching Committee and I have a Bachelor of Education, having been a high school teacher for 15 years before becoming a full-time coach in 2003.
In the future, I plan to continue to learn, to study, to evolve as a horseperson, rider and coach, and continue to try to make the world a better place for the horses I come into contact with through education, empathy and ethics.
I will continue to instil in my students a passion for excellence in horsemanship and classical dressage, horse welfare, horse management, training and riding, so that true love and respect for the horse will always be their compass.
Remember, stay true to your horse. Keep constantly striving to be a better you, as a person and as a rider, for your horse's sake.
"In order to train horses, a rider must have a complete understanding of the subject. Make him a companion, and not a slave, then you will see what a true friend he is." Nuno Oliviera
Happy horse, happy riding."
Mandy Maiden
VIEW ALL THE PREVIOUS STORIES ...