Photo courtesy of Megan Joerg
COACH OF THE MONTH Megan Joerg
COACH OF THE MONTH is a regular Education series on our website. It is a way of highlighting the EA coaches and educators who work with dedication and passion all over Australia.
Megan Joerg, 62 years old, travelled and lived in the UK, Spain and Switzerland before settling back home, in Australia. She is a Level 2 Dressage Coach and Level 2 General Coach in Blayney, NSW. She is also a Coach Educator and the Chair of the ENSW Education Committee.
"One of my earliest memories is being hoisted onto the front of a stockman's saddle aboard Tammy to collect the mail. I was three years old and from that moment on I was hooked. My parents were particularly non-horsey but we were visiting relatives at their farm in Leeton, NSW. I thought Tammy was the most glorious creature I had ever seen. Years later when I was going through old photos to my dismay I realised that Tammy was in fact a rather mangy ewe necked stock horse. Never mind, I still love her.
We were not in a position to buy a horse let alone pay for lessons so I diligently saved my pocket money and at 13 years of age I had enough to pay for 6 lessons at Mr. Proudfoot's Riding Academy. My mother and I visited the "Academy" to book in for the first lesson. We were watching a group lesson when suddenly one of the ponies bolted with screaming child on board. She fell at our feet. Mr. Proudfoot picked her up and told her to go to see Mrs. Proudfoot to get a cup of tea and an Aspro. He then turned to me and said, "So do you still want to ride?" My mother's face was ashen while I nodded vigorously in the affirmative. So it began. After the compulsory first lesson on Black Beauty I was assigned to Pete, a small chestnut thoroughbred whose main aim in life was to sneakily deposit his rider with a buck at least once in the lesson. I did wonder why no-one else wanted to ride him as I thought it was my fault. Years later I was told that when Mr. Proudfoot retired he moved all the horses to the country and they retired as well. I asked about Pete. Did he retire as well? The friend chuckled and said, "Oh yes. Pete, the ex buckjumper? He had a lovely old age as well." Hmmm.... that explains a lot!
From there I was lucky enough to be given a pony called Blue Boy. I loved Pony Club and learned much from our rather stern Scottish Chief Instructor, Mrs. Stewart. At the John Charlton Horsemanship Awards competition a judge approached me as she knew my pony. She had owned him and had sold him as a six year old stallion six months before I had been gifted him. So that could be a reason  he bit me so much and liked to be near mares in the team of four riders!
After gaining my teaching qualification I went to England to the University of Kent. I was offered a job in Madrid and lived there for two years. Again I was very lucky and was given the ride on two lovely Andalusian stallions. Unfortunately all I wanted to do was jump. I didn't know then what a wonderful opportunity I had wasted. 
I married a Swiss and then lived in Switzerland, where again I was given horses to work. The horses were worked in the mornings and then ridden out in the forest. My favourite exercise was riding through the forest in the snow. Its so quiet as the snow muffles everything. The smell of the horse disguises the human scent to such an extent that the woodland animals were not frightened and I often encountered deer on the trail. 
We returned to Australia and I started teaching Primary School. We bought land at Freemans Reach, built a house and bought a few horses. Teaching at Glossodia School I met my wonderful friend, Judy Fasher. She introduced me to Eventing. The NCAS Coaching Scheme was in its infancy. I decided to do the coaching Course and, with the arrival of my first child, I left teaching and took up coaching full time.
I have two children, Sven and Roxanna. Both rode and competed on a series of wonderful ponies. Sven is building the most glamorous barn for me (not sure if I'll allow horses in!) and Roxanna owns and has developed a chocolate cafe in Orange, Chateau du Chocolat. The Swiss chocolate genes are strong.
I have competed in Eventing, Showjumping and now Dressage. I don't have a favourite discipline but now Dressage is my competition focus. I have been lucky to have had some excellent coaches. Judy Fasher for Eventing, George Sanna for Showjumping and for the past 16 years I have been studying with Miguel Tavora. He has been the greatest influence on my riding and coaching. There is still so much to learn. Being a level 2 Dressage and level 2 General Coach and Coach Educator I try to help my students to keep learning, to strive for more understanding so that the horse has the best life he can. 
I am passionate about coaching and coach education. I am the Chair of the ENSW Education Committee. I enjoy working with like-minded people in trying to improve the Coaching Courses. Since divorcing and moving from the Hawkesbury to Blayney in the Central Tablelands in NSW two and a half years ago, I have built up my business and have some wonderful students ranging from a 65-year-old talented horsewoman who trained with Franz Mairinger to up and coming kids who compete at Pre-Novice Eventing and FEI dressage. I live in a beautiful 1890's house, surrounded by rich alluvial pastures filled with big, fat black Angus cows. Unfortunately, they are not mine. In short, I am content.
I have had some lovely horses. Northern Dionysus, bought as a weanling, went from Eventing to Showjumping to FEI dressage. He became my school horse and taught many to sit trot with his wonderful piaffe. He was a gem. Falkland, again bought as a weanling from Edgar and Mariane Lichtwark, took me to C grade Showjumping. Neversfelde Jaffa went to Inter 1 Dressage and was sold to a para rider. Now I am competing Blue Fields Fiderglanz (Piccolo). He is doing his first Prix St George next weekend. Piccolo is a joy to own. I would love to be able to compete at Grand Prix one day. With that in mind, I am working towards being Level 3 Dressage Coach with Miguel as my coach and mentor.
I was very humbled to be awarded the ENSW Community Coach of the year award earlier this year. It is a privilege to work with people who love the wonderful horse. I have witnessed many times the powerful, positive effect the horse can have on people and their lives. I am lucky indeed."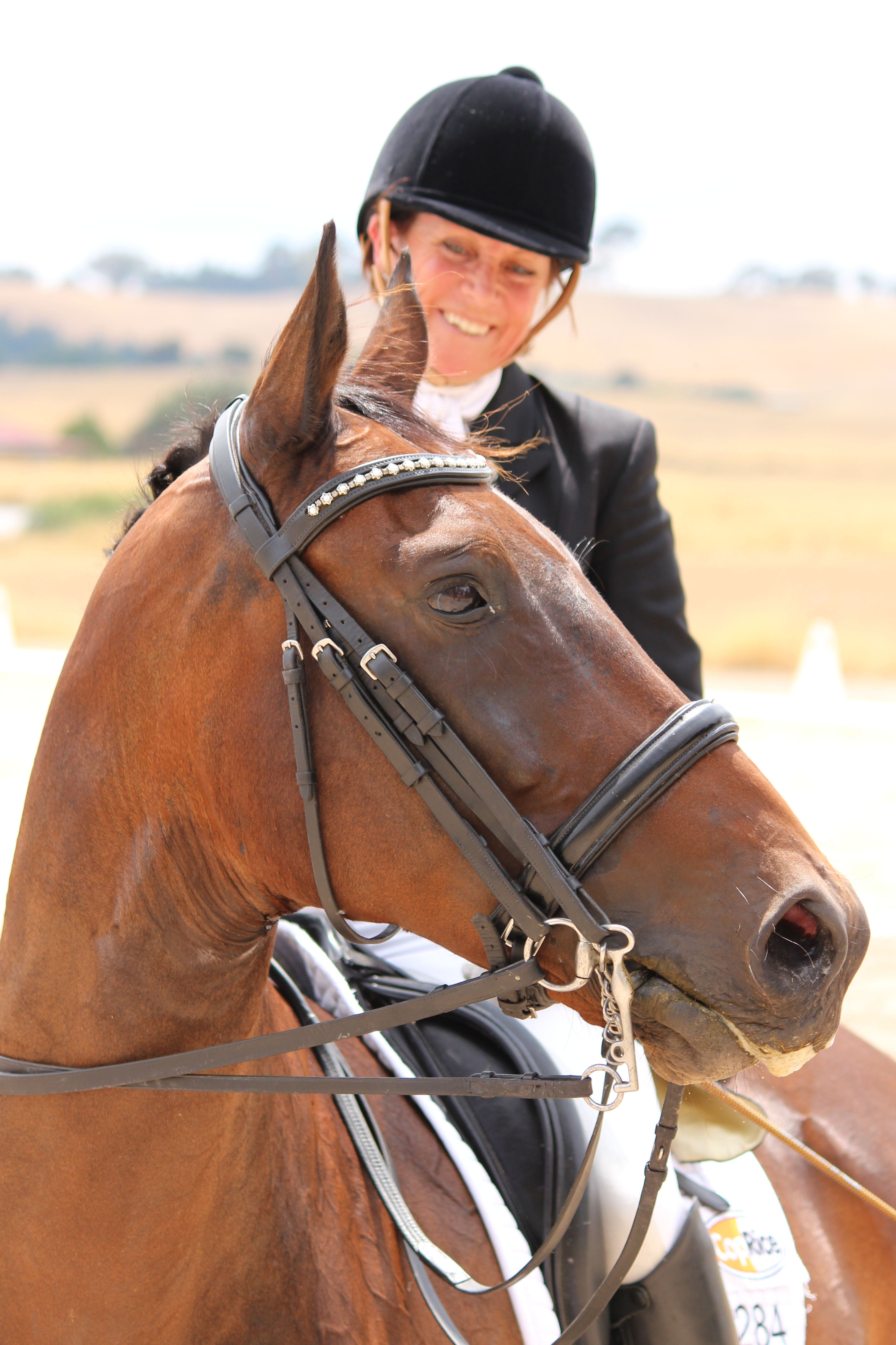 VIEW ALL THE PREVIOUS STORIES ....