Photos courtesy of Nicole Mutimer
COACH OF THE MONTH Nicole Mutimer
COACH OF THE MONTH is a regular Education series on our website. It is a way of highlighting the EA coaches and educators who work with dedication and passion all over Australia.
Nicole Mutimer is an EA Level 1 General Coach based in Darwin, Northern Territory. Nicole has been coaching for many years in various different roles. She previously developed and delivered Juvenile Diversion equestrian programs for the NT Police and in 2013, she began coaching full time, operating as Darwin Equestrian Academy. 
"I grew up in Larrimah, a remote township in central Northern Territory (population 11 people). I did schooling by way of school of the air. Larrimah is surrounded by large working cattle stations, so although my parents were not horse people, our location meant that horses were always part of the scenery. Our closest neighbours, 50km away, were serious Rodeo and campdraft competitors, so that was my first look at equestrian sports.
When I was about 6 years old, we acquired a couple of horses. A big stock horse and the other, a brumby foal that was rescued after a cull on a nearby station. I recall always riding bareback because as kids we couldn't lift the stock saddle. My parents had one rule, to always wear a helmet, everything else was free reign.
We moved to Darwin when my sister and I reached High School age. Being in a classroom environment and mixing with other kids for the first time was a big adjustment. Horses at this stage were the only familiar thing and were definitely a grounding influence.  
I joined the local Pony Club and for the first time, I learnt to refine my riding rather than just point and shoot. It was at Pony Club that I had the opportunity to ride under a couple of coaches that were to become some of my greatest riding influences. At the time, I didn't realise how important these experiences would be in shaping my future.
These days, I volunteer coach at many Pony Clubs. For a lot of riders, Pony Club will be their first introduction to formal training (as it was for me) and it's an opportunity to reach riders that may not be fortunate enough to have access to coaching otherwise.
Due to accessibility and circumstances, we grew up riding off the track Thoroughbreds. Since then, I have re-educated and successfully campaigned many Thoroughbreds over the years. I enjoy working with young/green horses and I do a lot of work training horses and delivering young horse and TB clinics.
At the age of 13, I got my first job at a local competition stable – shovelling poo, cleaning water troughs and feeding. Not very glamorous, but a useful stepping stone, as eventually, I got to ride and even compete on a few of their horses.
Further on, this developed into doing work for a local racehorse trainer in re-educating and putting some competition miles on horses that would be sold on as equestrian horses. I remember one Christmas school holiday, we had 12 horses at home to work. This certainly didn't leave any time for going out with friends and partying.
As a young rider, I competed in everything from mounted games, show jumping, dressage, cross country, polocrosse and show horse classes – and often all on the same horse. These days I compete in Show Jumping, Dressage and Show Horse events, but I still enjoy having a run on the barrels or team penning with my son. 
I am currently campaigning a Thoroughbred called 'Mon Amour' (pictured below) who came to me as a rescue horse. He has since gone on to be very successful in the show ring, winning numerous NT Horse of the Year titles, Supreme Champion Hack at the Royal Darwin Show and many other championships.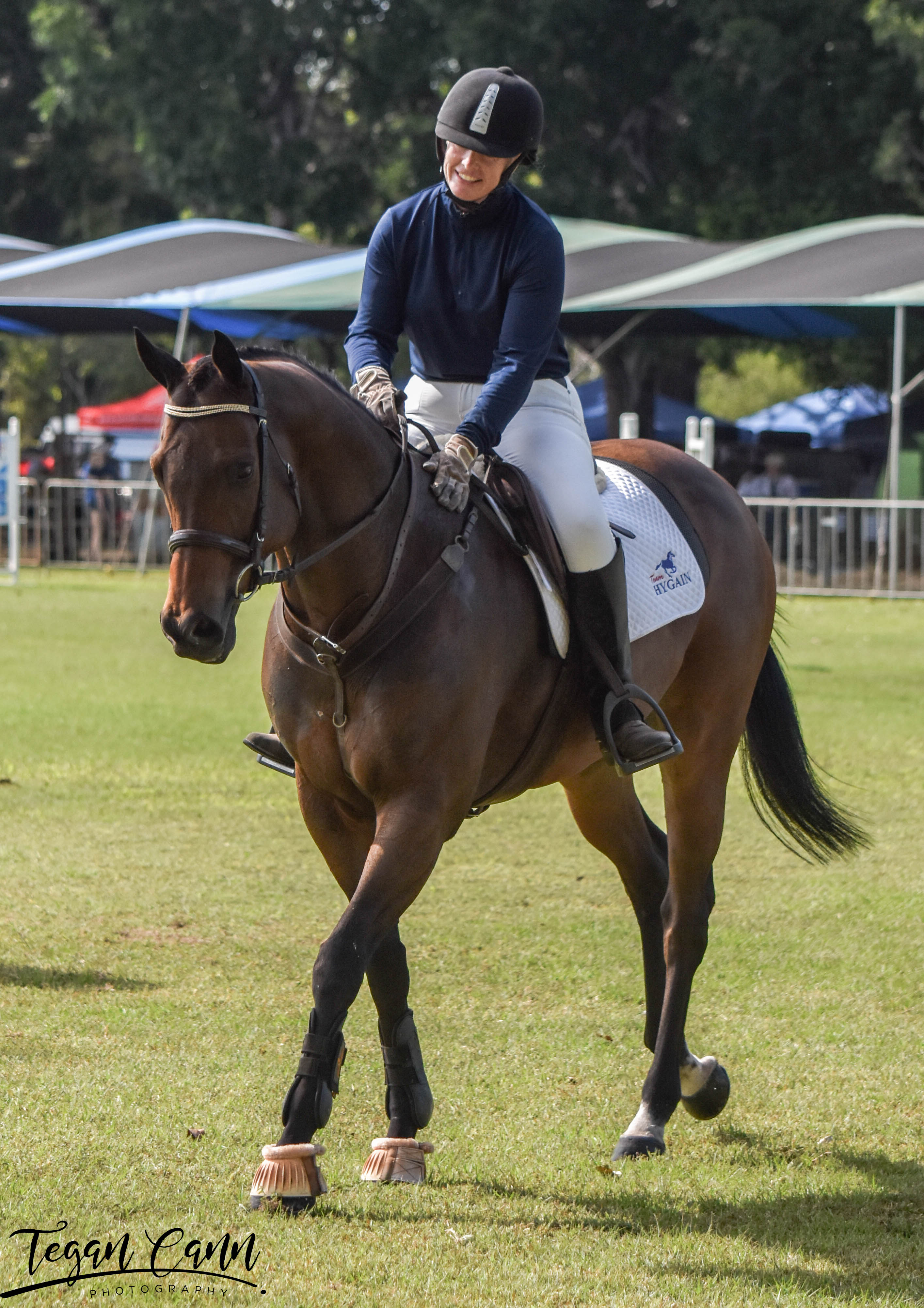 I am also Show Jumping a gorgeous Stallion called 'Clydenvale Jacque' (pictured in the header), who is showing plenty of ability and courage on the jump course. Up and coming – I have just started working with a 3yr old warmblood x Thoroughbred filly by Fiji R. She is a lovely athletic horse and I'm really enjoying getting to know her.  
In the horse game, it really is a lifestyle not a hobby, so it's a package deal (me and my horses). I am fortunate that my family are my biggest supporters. My partner Todd, who encourages me to follow my dreams and has put in many, many hours to establish a great training facility.
I have two young sons who enjoy riding recreationally and both of my sisters also share my passion for horse training and show jumping. Riding can be a really tough gig, so its great that as sisters we can train together, bounce ideas off each other, give constructive criticism (and probably sometimes – not so constructive) and generally ride the highs and lows of horses together. It definitely ties us together. 
Equestrian NT has been a huge supporter in developing qualified coaches and officials in the NT. Through their progressive planning, the future of equestrian sport in the NT is looking stronger than ever and they have certainly succeeded in raising the bar. 
I believe that being a coach is a really privileged position. It's a position of trust and confidence. You will see riders on their best days and their worst, through triumphs and frustrations, in success and failure, in grief and in joy. Through all of life's lessons and milestones, both in and out of the arena. As a coach, you have many roles and it's in that diversity that life-long friendships are forged.
In 2017, I travelled to Toowoomba as the NT Coach for the EA National Interschool competition. The NT sent a small but very competitive team of riders and it was great to be a part of such a successful National team and a great event.
Over the years, I have coached many riders to National level in Dressage, Show Jumping and Show Horse. 
At Darwin Equestrian Academy, I run a number of young horse clinics and Off The Track Thoroughbred clinics throughout the year. I think that it's important for riders to have support and learn how to recognise and deal with behaviours effectively so as not to escalate the horses fear/anxiety. I'm often saying to riders, that's not a naughty horse, he's just having a panic attack. Once we label the behaviour correctly, then we can go about helping the horse instead of adding to his worry.
I think that there is a lot of information available to riders nowadays and I do believe that we should always be learning and growing, however, the flip side is that we can get bogged down in theory based horsemanship and stop listening to the horse. The horse can be your greatest teacher. It's not just about getting good at giving the horse aids or commands but equally about learning to listen and read the horse – communication goes both ways.
I teach horsemanship training, from float loading and groundwork to young horses and refining show/dressage horses. I also do a lot of work with adult riders and building confidence. I get a real kick out of being able to help riders of all levels enjoy their horses and achieve their goals.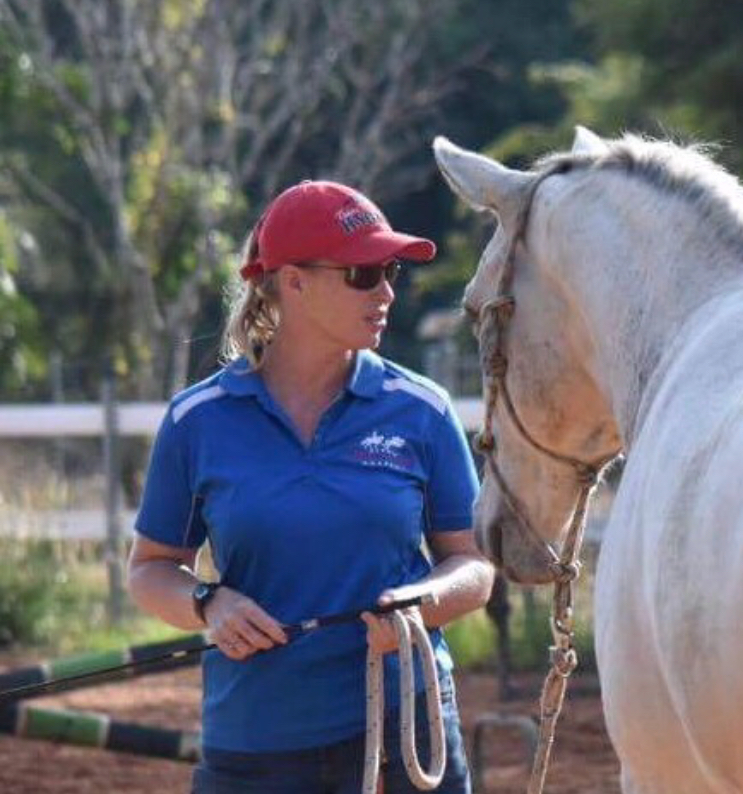 I love schooling horses. I love working out where the problems stem from and what the horses fear or anxiety is. I don't want to go out and deal with the end result of a behaviour – like bucking or bolting, because it started somewhere much more subtle. I love being able to take a worried horse and make his job a much safer place, to see them happy and relaxed and a rider that can enjoy their horse instead of battling. That is incredibly rewarding.
My goals are to continue to develop and grow as a horse trainer and coach. I think that it's so important to always strive to be better. For me that's not so much competition driven, but just to ride better today than I did yesterday, to listen to my horses better and to feel more. To be open to continual learning - the best old horseman will tell you that you'll never know it all."
VIEW ALL THE PREVIOUS STORIES ...