Photos courtesy of Rosemary Inglis
COACH OF THE MONTH Rosemary Inglis
COACH OF THE MONTH is a regular Education series on our website. It is a way of highlighting the EA coaches and educators who work with dedication and passion all over Australia.
Rosemary Inglis is an EA Level One General Coach, EA Level 1 Jumping judge and an EA Jumping Steward, based in West Swan, WA.
"I was born in the UK and, at seven years old, moved to a village in West Sussex, where we had access to a field to have a pony! Rosie was a perfect first pony, quite safe but with attitude and stubbornness. She had also been broken to harness, so we had fun driving her around the village in our "trap", often carrying parcels for our local postmistress, especially around Christmas time.
Time took me to a larger pony who was much more amenable, but I can still vividly remember watching Rosie being loaded and driving away to her new owner!
Boarding school took my riding to a local riding school – Moat House. It was used also by Princess Anne's School, Beneden, so we quite often competed at the same Interschool Hunter Trials Competitions.
After School, unfortunately, my riding slowed down, as I had to attend TAFE. My father was determined that I would not have a career with horses, so it was a car or a horse...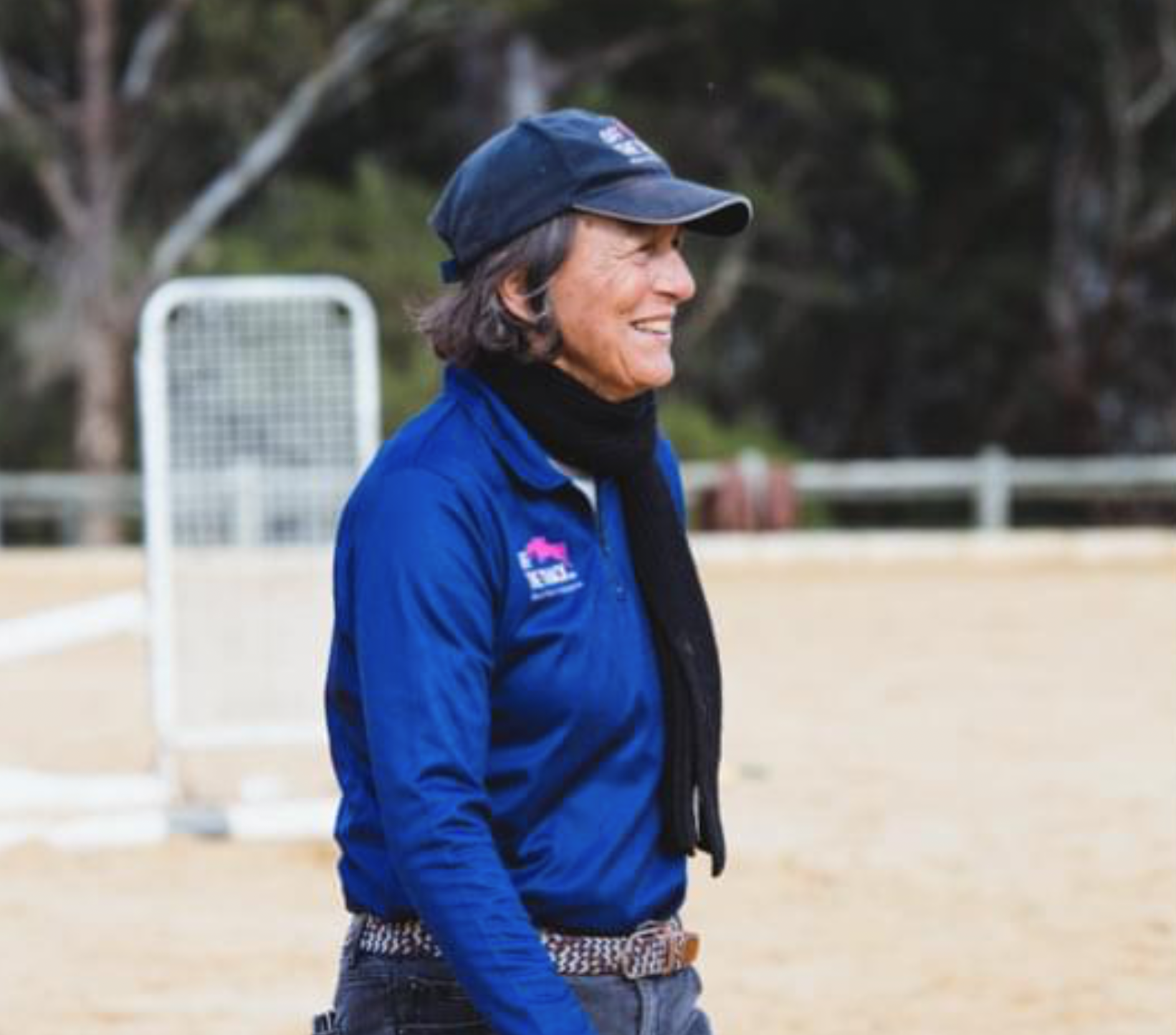 Rosemary coaching at an Off the Track clinic
I arrived in Australia in 1968, returned home to be married in 1970, and then came back to live in Boyup Brook, Western Australia, for the next 27 years. In that time, because we had a property, I was straight back into horses again, building stables in an old grain shed and setting up paddocks.
My children were born in 1972 and 1975, and both rode from a young age. My son rode until he could help muster the sheep and cattle, then he was allowed to have a motorbike. But my daughter never lost her enthusiasm to ride until she turned 40, and became a champion triathlete!
We both rode mainly in Eventing, but dabbled in most things, including Jumping, Dressage, Campdrafting, and Games. Pretty much anything that was within our reach at the time.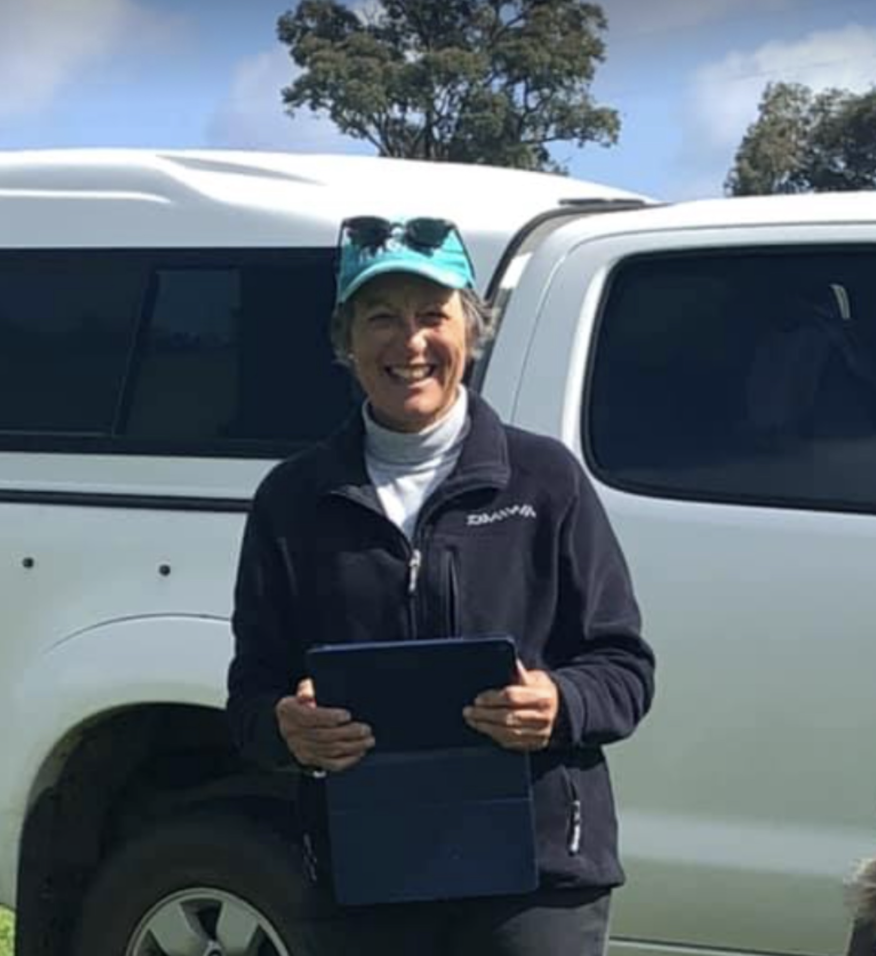 Coach-turned-all-important-videographer for her students at Wooroloo Horse Trials
During my time in Boyup Brook, I obtained my NCAS Level One with Tor Burman in 1987. This experience was indeed a real eye-opener and fairly daunting at that time!
I was awarded my Pony Club C Examiners Certificate with Kay Irving, and later a C* Examiner. I let my NCAS lapse in the nineties, while I had six years in Kalgoorlie, but on returning to Perth at the end of 2002, the EWA/NCAS ran a course for lapsed coaches, so I jumped at the chance to become re-accredited and am still current.
Outside of that, I spent a few years on the PC State Coaching Panel and as an Eventing TD. I am currently a National Steward for Jumping and a Level One Jumping Judge.
I have been extremely fortunate to meet and work with so many well known and influential equestrians all over Australia, but particularly in WA; all who have contributed and mentored me along my Australian equestrian path.
Since 1975, I have been very involved in the Mayanup Pony Club (close to Boyup Brook), Kalgoorlie H&PC, and currently, I'm a member and coach of Swan Valley H&PC at Brigadoon in Perth.
I spent seven years on the committee of Perth Horse Trials (2004 – 2011) and was Chairman when we ran the first 3DE at Worooloo, which has been held every year since.
Currently, I am 72 years old, and am Chair of the WA Show Jumping Association (WASJA), and have been on this committee for the past 10+years! WASJA run five shows a year, culminating in the very prestigious Patrons Cup three-day weekend in October.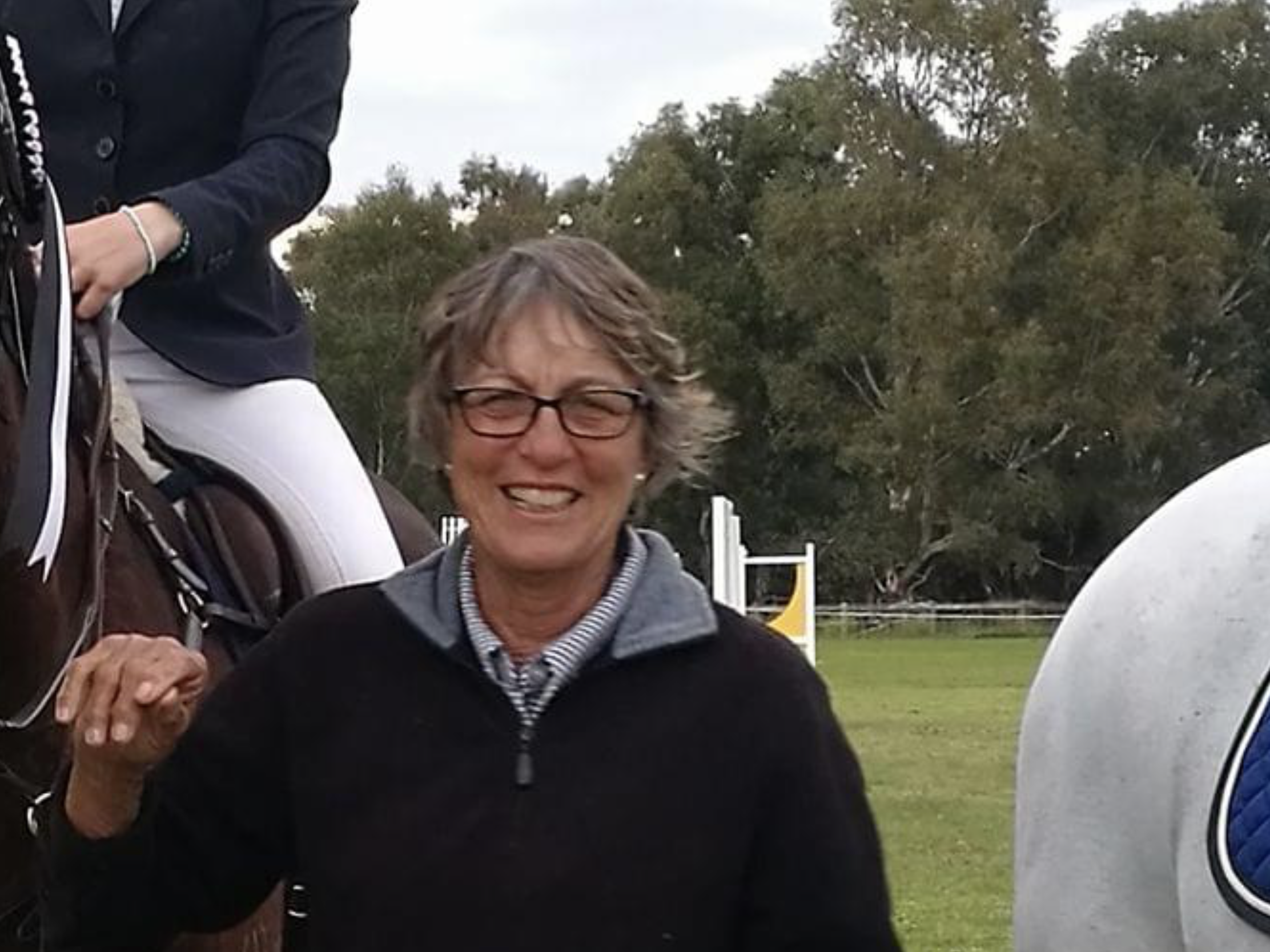 Rosemary loves helping every rider get the best out of their horse
Coaching has been something I have always thoroughly enjoyed, at any level and any discipline, but mainly these days at Pony Club rallies, Adult Riding Club's and Off the Track Clinics. These mainly involve helping the not so experienced, recreational and sometimes nervous riders, get the best out of their horses. I also aim to help the horses have a better connection with their riders.
Looking ahead, I plan to just keep on keeping on for as long as I can be useful! Who knows what's around the next corner.
I am extremely humbled to have been nominated by my peers in WA as Coach of the Month."
Rosemary Inglis
VIEW ALL THE PREVIOUS STORIES ...