Photo credit Kerrs Afford Photography and Amy Sue Alston
COACH OF THE MONTH Ruth Schneeberger
COACH OF THE MONTH is a regular Education series on our website. It is a way of highlighting the EA coaches and educators who work with dedication and passion all over Australia.
Ruth Schneeberger is an EA level 2 General and Dressage Coach based in Mount Torrens, South Australia. She was born and grew up in Switzerland where she achieved the highest level in her coaching qualifications before moving to Australia, becoming an Instructor, that is the highest International Expert level, as defined by the International Group for Equestrian Qualifications (IGEQ).
Already at an early age, Ruth was very interested in horses. "Nobody else in my family was "horsey" and in Switzerland it is not common at all, to grow up with a pony in the backyard!" So it wasn't until she turned 14, that she started riding. "I found a farm about a half an hour bicycle ride from home, that had horses. Soon I spent every free afternoon and weekends there, helping with all sorts of chores and as payment being allowed to ride! There was no arena, all the riding was out in the forest and surrounding fields." shares Ruth.
When the dedicated rider turned 18, she started a three-year apprenticeship as a Bereiter mit fahigkeitsausweis (Equivalent of an EA Level 2 General Coach) at a riding school with a qualified Instructor. For the first time, she enjoyed proper riding lessons in Dressage and Jumping. During those three years, she also started teaching people at the riding school. She passed the exams at the end of the apprenticeship and after a further two years working there, she passed her next exam to become a Bereiter mit Berufsprufung (Equivalent to an EA Level 3 General Coach). When she turned 25, she took and passed the exams to become a Dipliméirter Reitlehrer or Instructor (no equivalent in Australia).
During all those years she competed in Dressage (up to medium level), Showjumping and Eventing (up to 2-star level), mainly on school horses, or some horses owned by other people. 
Ruth stayed at the same riding school for another 3 years, teaching full-time and riding. Then she decided to take 6 months off to travel part of the world! On her travels, she came to New Zealand and Australia and got the opportunity to work in South Australia. "I applied for a working permit and was successful on the basis that my coaching level equalled level 3 here. I was given the level 2 General and Dressage. After 4 years I applied for permanent residency and became an Australian citizen in 2001!" she says.
The first 7 years in Australia, Ruth worked for Sylvia McLachlan in Mount Pleasant. She gave me her the opportunity to train and compete several horses, and also as part of her earnings gave Ruth her first horse called Superstar. He was a 4-year-old thoroughbred/stock horse cross, and with him,  Ruth learned over the years all the movement up to Grand Prix!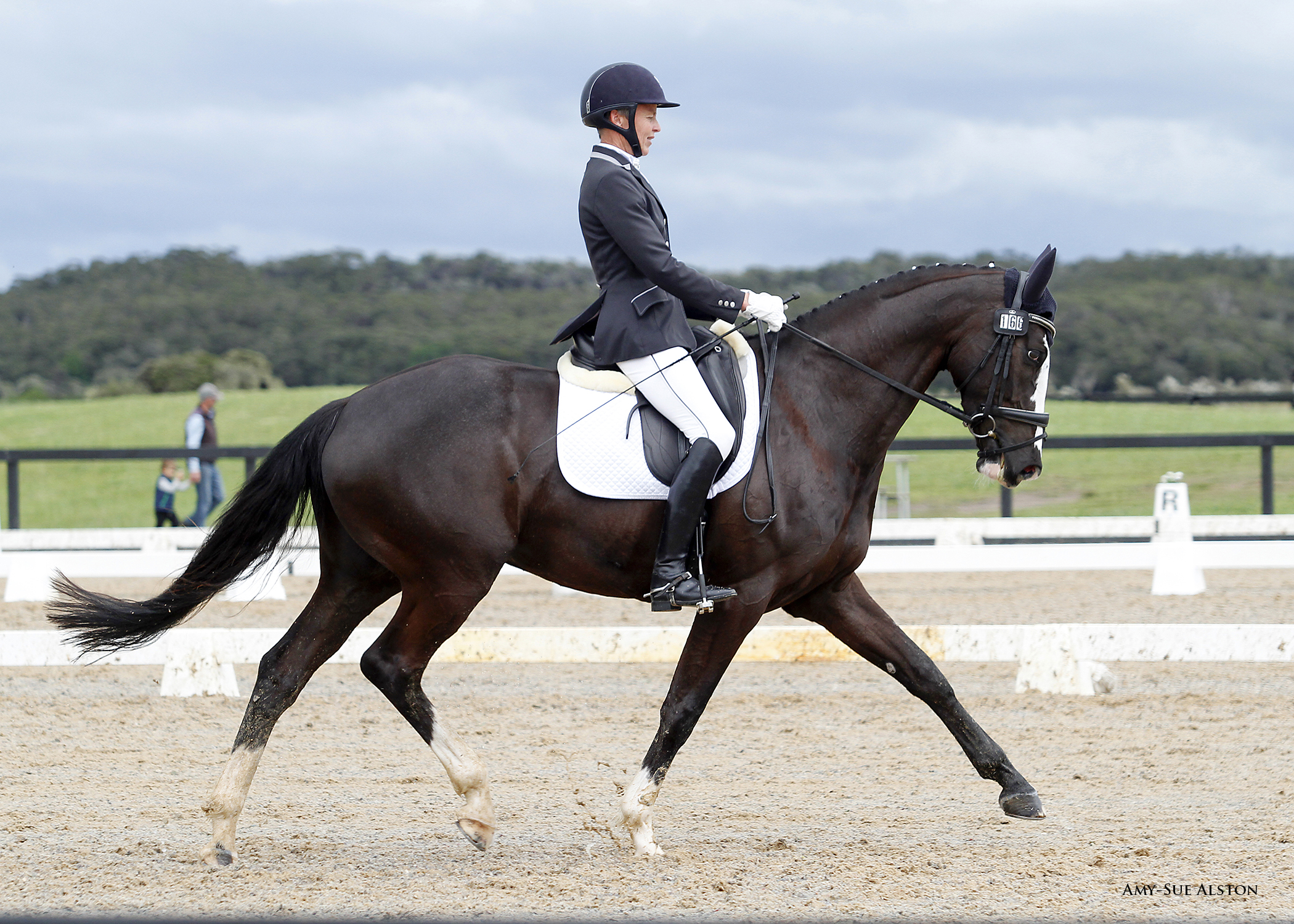 Her partner Hennie is a draftsman by trade, and they have they own property, 20 acres, in Mount Torrens. Hennie doesn't ride but is a little bit involved, helps Ruth where possible and does all the work on the property. When they bought the property, there was only a house and a garage on it. "Hennie has done all the fencing, plumbing, designed and built the stables, shelters etc. and maintains and keeps improving things all the time!" says Ruth proudly.
About 16 years ago Ruth started regular lessons with Dianne Jenkyn, who found for Ruth her next horse: Hervey Bay, at the time a 5-year-old warmblood. With Dianne's help, they got to Grand Prix and competed at that level in SA and also in Werribee and Sydney. Over the last 20 years, Ruth was lucky to work with a lot of different horses! She trained and competed horses up to Prix St. Georges/Intermediate 1, the last one being Ponderosa Stud Royal Dancer. Ruth still train and organise clinics with Dianne Jenkyn about six times a year!
At the moment Ruth has 4 competition horses: Roxleigh Fidelio, a 6-year-old gelding, training at medium level; Miramar Serene, a 6-year-old mare, which she only bought 4 months ago, training novice/elementary; Cooramin Rialto Hit, a 7-year-old gelding, training at medium/advanced level, owned by Cheryl Hatswell from the Ponderosa Stud and Evie, a 6-year-old mare, training novice/elementary, owned by Jo McEvoy.
"Roxleigh Fidelio has been the star these last few months, being reserve novice champion and fourth in the elementary championship at the 2017 Australian Dressage Championships, and also reserve novice and reserve elementary champion at the Dressage Festival in Werribee. He was SA elementary state champion 2017, and ended up EA Dressage Horse of the Year 2017 in South Australia. Exciting times ahead with those four horses, especially as they start moving up the levels!" explains Ruth.
Along with all the riding and training, Ruth enjoys teaching as well! "It is very rewarding to see riders improving themselves and their horses. I always try to improve a horse's self-carriage, try to teach the rider, how to achieve and maintain it! Another really important thing for me is accuracy! Accuracy in riding a dressage test as much as accuracy in riding movements in training! Riding accurate movements will help improve self-carriage and if a horse is in self-carriage, it is much easier to ride correct movements!"
Ruth teaches quite a wide range of riders and horses at different levels. "I think it is important to take the correct steps in teaching a horse or rider, there is no point in taking shortcuts! Sometimes someone wants to start flying changes, but the canter isn't a good enough quality! Or there are the opposite ones that still haven't started a basic leg yield with a horse already a few years under saddle. I try to adapt to each rider and horse duo capabilities!"
A little over two years ago Ruth joined the South Australian Dressage Committee, as the Riders Representative and award coordinator. "Doing this, I feel I can give something back to the sport, which is my profession, my hobby and my passion!" she says.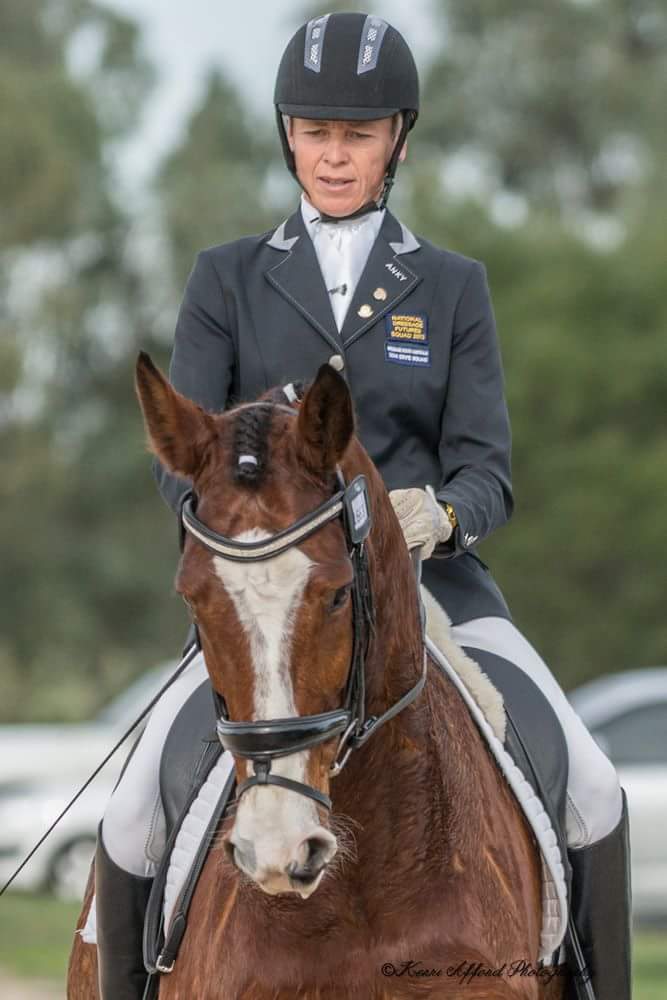 VIEW ALL THE PREVIOUS STORIES ...