Photos Courtesy of Trudy Dougall
COACH OF THE MONTH Trudy Dougall
COACH OF THE MONTH is a regular Education series on our website. It is a way of highlighting the EA coaches and educators who work with dedication and passion all over Australia.
Trudy Dougall is an EA Level 2 General Coach and Coach Educator, who lives in Prenzlau, Queensland. She has been a secondary teacher for 32 years and holds her TAE (Trainer and Assessor) accreditation. Together with her daughter, Brooke, Trudy runs Team Dougall.
"I did not come from a particularly horsey family. My dad emigrated from Germany just after the Second World War and was a competitive sailor (maybe this is where my competitive streak came from) and my mum did not have anything to do with horses except for her uncle's Clydesdales.
From a young age, I was horse mad and would ride at the local riding school as often as mum and dad could afford it. Being the youngest of four, money was not readily available for those little extra things. However, finally at the age of eleven, my parents decided they needed to find a way to help their horse-mad daughter. They purchased a dapple grey Australian Pony for me, by the name of "Blue Boy". I joined the local Pony Club and did not look back.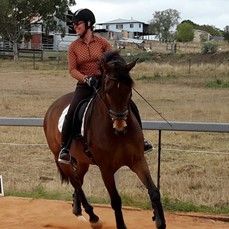 Trudy having fun with her horse "My Locky"
Other horses entered my life. Living in suburbia I was lucky that we lived in a relatively new estate and that there were a number of acreage properties around us that offered agistment. I would ride my bike every morning and afternoon to where we had the horses agisted and that went on for a number of years.
During my senior high school years, mum would take pity on me and drive me on her way to work, I think this was to ensure I actually got to school and did not spend the day riding.
Pony Club taught me so much. With a lot of hard work and dedication, I achieved my A certificate in horsemanship and riding. I went on to complete my instructor certificates (achieving then, a Level 3 Instructors) and was a member of the QLD State Chief Instructors Panel.
When I was 16, my mum bought me a first-cross Andalusian gelding, by the name of "Montenegro". With him being only three years old, it was a long journey, however my goodness he was an amazing horse. He was so brave and we did everything, even competed in sidesaddle.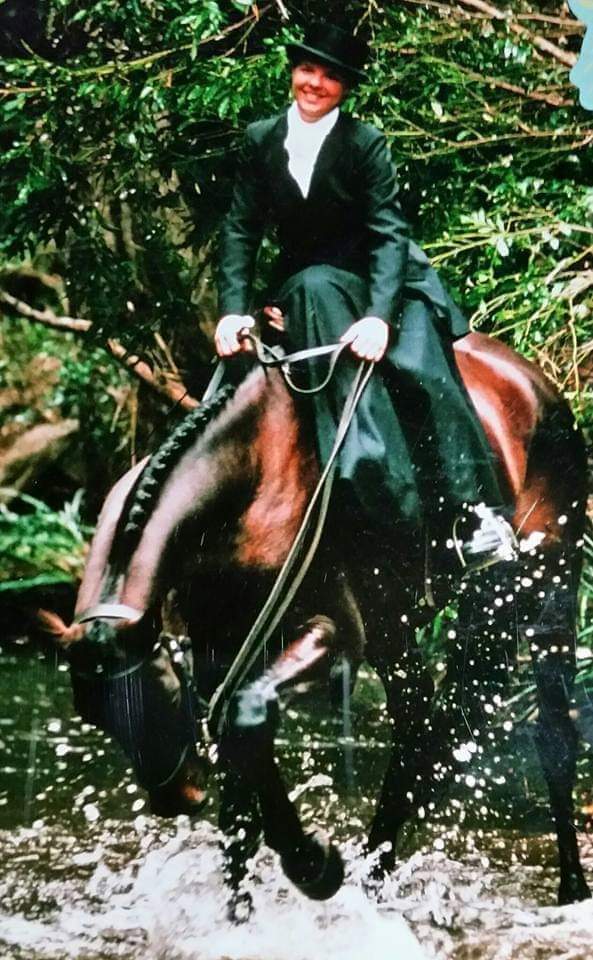 Trudy enjoying sidesaddle with "Montenegro"
At the age of 21, I sat my EA Level 1 coaching examination, while at the same time graduating from University with a Degree in Education. I loved teaching and coaching and found a way to combine both. My classroom would change on the weekends, as I swapped the chalkboard for the dressage arena, and show jump and cross-country paddocks.
I loved Eventing and campaigned my horses at what was then Pre novice and Novice level.
After my first year of teaching, I transferred to my country service and my horses of the time came with me. I continued to coach and compete, however, I started to do Jumping and Dressage more, as Eventing was a little scarce in the regional areas. After three years teaching out west, I transferred back to metropolitan and was able to start back Eventing once again.
When I got married, my long-suffering husband, Michael, supported my dream to coach fulltime and I took leave from the classroom to work as an equestrian coach and trainer. Soon after Michael and I were married, we moved onto a small acreage property and so my life-long dream of having my own centre was realised as "Kirraweena" was established. It was during this time I achieved my EA Level 2 General Coaching accreditation and went on to complete my Coach Educator qualification.
My leave from the education department was up and I decided to re-enter the classroom. I continued to coach as much as I could and was still competing two horses in Eventing. It was a bit of a juggling act but I would not change a thing.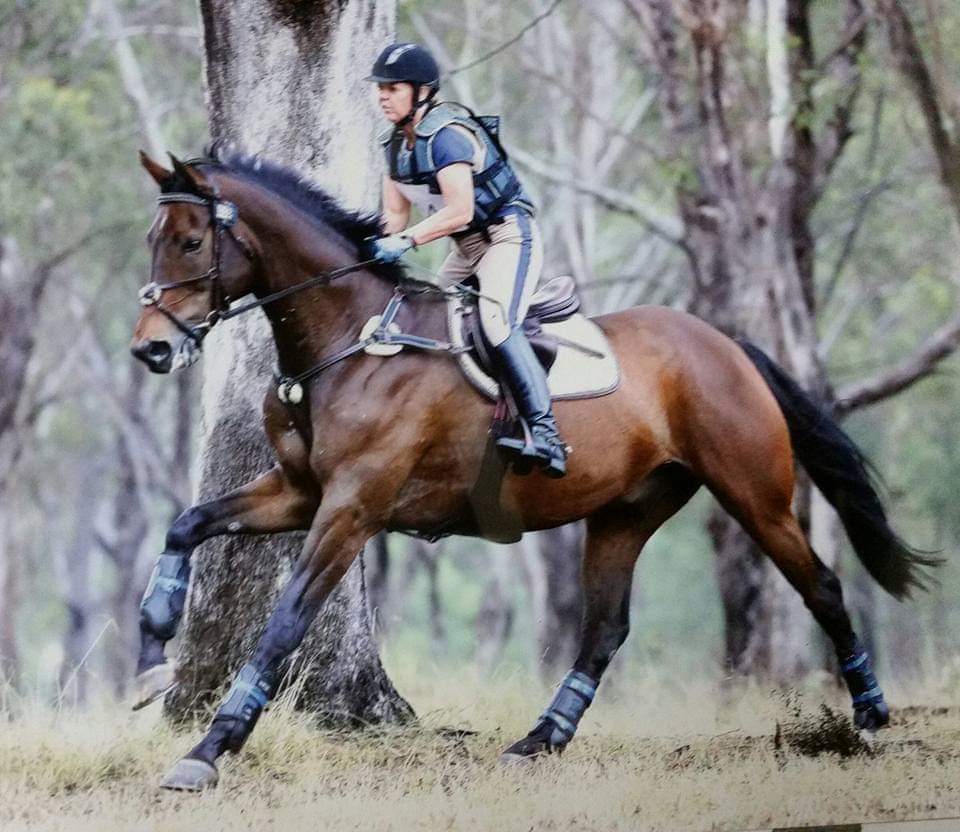 Trudy and "My Locky" out on the cross country course
In 2001 my daughter Brooke was born. It was evident from day one she also loved her ponies and it was not long before she was also in the saddle.
I have been lucky enough to have some wonderful horses. It was not always easy as every horse I owned either was off the track or green broken. However, my parents invested in lessons with some wonderful coaches. Sandra Pearson Adams or SPA to her students, Jocelyn Park and Guy Creighton really gave me such a strong foundation, not only in my riding however in my coaching as well.
Our homebred horses have been lovely and are horses that we compete today. One particular horse, "My Locky", is Hanoverian x Thoroughbred and is incredibly special. Born during EI, he is a fantastic individual. I took him through to one star and he is now competing at 3* with Brooke. Our other youngster, "Macca" is only just starting out and I look forward to seeing him develop.
I have a real soft spot for the Off the Track Thoroughbred. We have two here at home at the moment, one competing at 2* and the other just starting his competition career. There is also a third Thoroughbred that we have just started breaking in. He is a sweet horse and so far has been accepting of everything we have asked of him.
My daughter Brooke is now nineteen and is a passionate event rider. She works for Fairview Performance Horses, a professional show jumping stable local to us. She is learning heaps and it is certainly an advantage to her with her Eventing.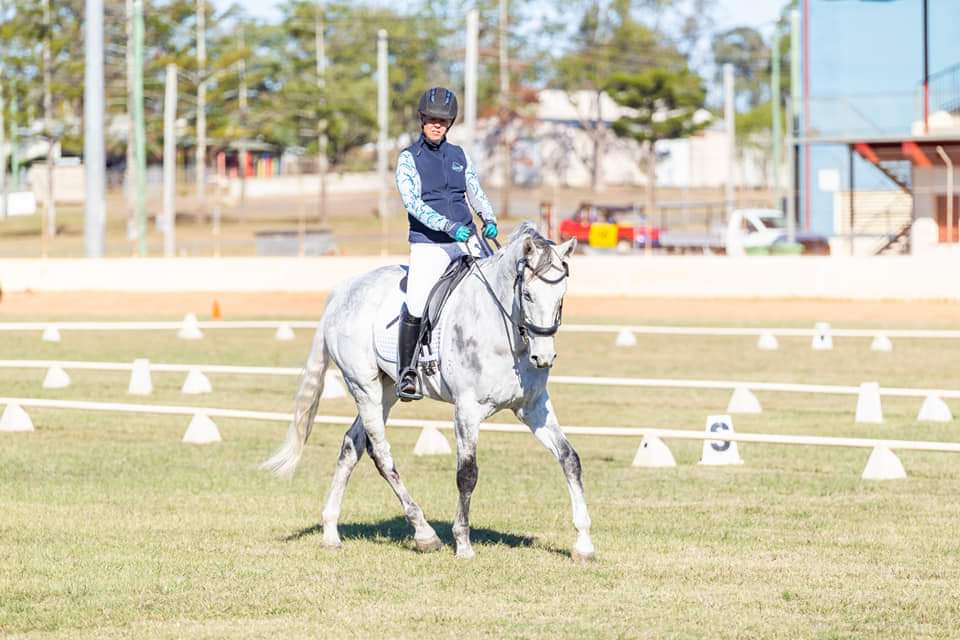 Trudy's latest Off the Track Thoroughbred "Gandy" is a promising young horse
I guess over the last few years my own competing has been on hold while I have focused my time and energy on Brooke. However, I do not regret a moment spent on the road and have enjoyed spending time with the young ones and helping to keep the competition horses in work.
This year I have started getting back into the competition arena. I am enjoying the journey with a lovely Off the Track Thoroughbred, "Gandy", that I have started.
My passion has always been education. As well as my teaching and coaching qualifications, I hold a Trainer and Assessor certification that has taken me into the world on Vocational Education.
I love coaching all ages and work with riders with differing aspirations. I particularly love my grassroots riders. They are like sponges and just want to improve their skills and have a thirst for knowledge.
I coach some lovely mums, for them, their riding is their time away from family and the stress of work. We have a lot of fun. I also teach a couple of riders who have physical challenges and, every time I work with them, they inspire me.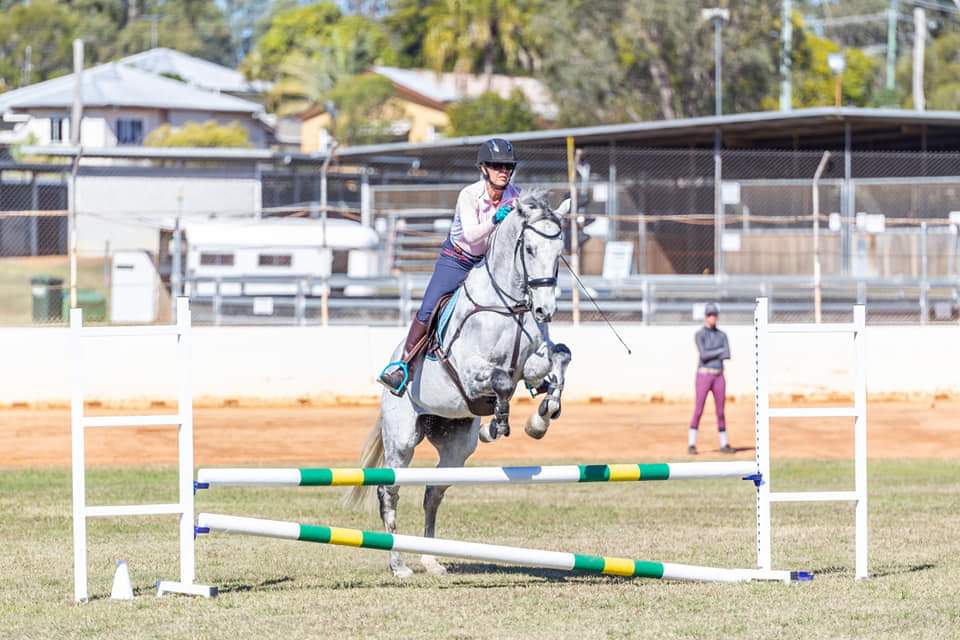 "Off the Track Thoroughbred "Gandy" is showing his emerging talent as a sport horse
Nowadays, as a member of the Queensland Coaches Advisory group, I am dedicated to the development of coaching in Queensland. I love helping new coaches start on their journey.
I still teach in the classroom, it will be 31 years this year. 
Together, Brooke and I run "Team Dougall". I coach, ride and compete as well as support Brooke in her dreams and aspirations. Somewhere in there, I find time to spend with my husband Michael. Life is never boring.
Long-term, at 52 years of age I just want to keep riding for as long as I can and keep learning. I am fascinated with the science of proprioception and biomechanics and its application to the rider and the horse to improve performance.
I am still keen to breed another couple of horses in the future, as I love our homebred horses and knowing what has gone into them. To put it simply, horses are a big part of who I am and I hope to keep doing what I am doing for as long as I can.
Trudy and "My Locky" at the Horse's Inside Out tour
Lastly, I would like to say what an honour this is and I am actually feeling quite humbled to have received this nomination. Our sport is so wonderful and each day I am grateful I get to work with these amazing creatures and their amazing owners."
Trudy Dougall
VIEW ALL THE PREVIOUS STORIES ...